High-SchoolNew-York:

New York Giants
September, 11, 2011
9/11/11
2:15
PM ET
By
Lucas O'Neill
| ESPN.com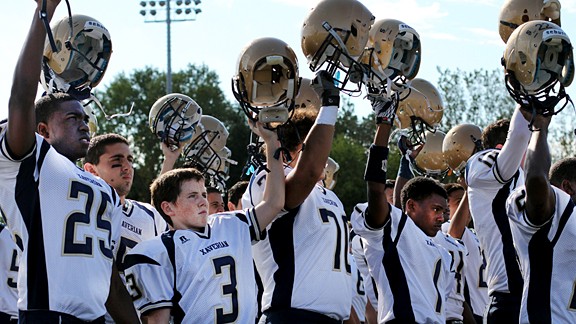 Lucas O'Neill/ESPNHSBrooklyn Xaverian (N.Y.) players raise their helmets to the sky at the close of the national anthem in Middletown, N.Y., on Saturday, Sept. 10.
In the grand scheme of things, sports are trivial. They're games. Rarely is that more clear than on a day like today, the 10-year anniversary of the attacks of Sept. 11, 2001.
But there's also little doubt that in the wake of 9/11, sports helped many people move on in the wake of the devastation, to return to a kind of normalcy.
There was, for instance, the football game between the NYPD and FDNY held at Giants Stadium in May 2002, that year's exceptional iteration of the annual showdown between NYC's Bravest and Finest.
Tomas Batis, a lieutenant with the Ladder 39 company in the Bronx, played in that game. He's also an assistant coach for the Pine Bush football team, which yesterday participated in an event in which sports served another function — as a vehicle to raise money for the victims.
Middletown High School hosted a football triple-header between Section IX and CHSFL teams on Saturday, with all proceeds going to 9/11 victim and first-responder funds.
Batis arranged for the Pine Bush coaching staffing to don FDNY hats for the game, and for the placement of Sept. 11 memorial stickers on the team's helmets. Many in attendance on Saturday made similar gestures, and NYPD and FDNY gear abounded.
"It's a little touch that shows we're aware and we sympathize with the victims and their loss," Batis said.