High-SchoolNew-York:

Ryan Spelman
September, 11, 2011
9/11/11
2:15
PM ET
By
Lucas O'Neill
| ESPN.com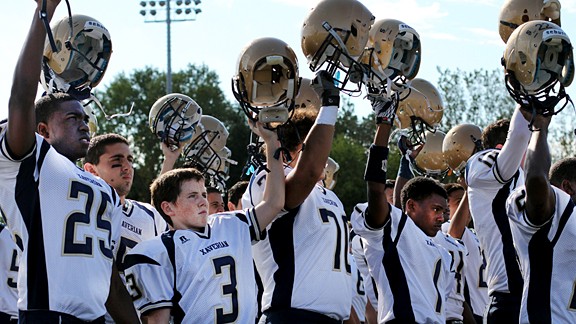 Lucas O'Neill/ESPNHSBrooklyn Xaverian (N.Y.) players raise their helmets to the sky at the close of the national anthem in Middletown, N.Y., on Saturday, Sept. 10.
In the grand scheme of things, sports are trivial. They're games. Rarely is that more clear than on a day like today, the 10-year anniversary of the attacks of Sept. 11, 2001.
But there's also little doubt that in the wake of 9/11, sports helped many people move on in the wake of the devastation, to return to a kind of normalcy.
There was, for instance, the football game between the NYPD and FDNY held at Giants Stadium in May 2002, that year's exceptional iteration of the annual showdown between NYC's Bravest and Finest.
Tomas Batis, a lieutenant with the Ladder 39 company in the Bronx, played in that game. He's also an assistant coach for the Pine Bush football team, which yesterday participated in an event in which sports served another function — as a vehicle to raise money for the victims.
Middletown High School hosted a football triple-header between Section IX and CHSFL teams on Saturday, with all proceeds going to 9/11 victim and first-responder funds.
Batis arranged for the Pine Bush coaching staffing to don FDNY hats for the game, and for the placement of Sept. 11 memorial stickers on the team's helmets. Many in attendance on Saturday made similar gestures, and NYPD and FDNY gear abounded.
"It's a little touch that shows we're aware and we sympathize with the victims and their loss," Batis said.
September, 6, 2011
9/06/11
2:02
PM ET
By
Brandon Parker
| ESPN.com
With St. Joe's Collegiate a year wiser and with a bit more hype, many expected this year's season opener between the Marauders and defending Class A champ Aquinas Institute to be closer this time around.
But a year after putting together a 48-21 victory, the Little Irish looked just as good, coming away with a 40-20 win in a matchup of top 10 teams on Saturday.
Junior tailback Billy Lombardi led the charge with 221 yards and three touchdowns, as Aquinas scored the game's first 20 points and never looked back. Lombardi's monstrous game is a welcome sign for the Little Irish, who are looking to replace standout runner Mike Messina.
St. Joe's QB Chad Kelly finished the game with a total of 251 yards and two touchdowns. For Kelly's thoughts on the game, check back here later today for the first installment of his senior diary.
Speaking of quarterbacks, how about Monroe-Woodbury's Ryan Spelman? Then again, I should probably use the term "quarterback" loosely with Spelman after what he did Friday. In the Crusaders' 61-28 victory against Warwick, Spelman ran for 415 yards and six touchdowns, tying him for the 18th-best rushing output in state history. The senior also threw for two touchdowns in the rout.
*Since the majority of New York teams don't begin play until this coming weekend, our first weekly state rankings will be released next Monday, so ya'll come back now.
Brandon Parker covers New York for ESPNHS magazine and ESPNHIGHSCHOOL.com. Follow him on Twitter @brandoncparker or email him at brandon.c.parker@espn.com.