High-SchoolNorth-Carolina:

ESPNHS
March, 29, 2012
3/29/12
7:19
PM ET
By
Jason Jordan
| ESPN.com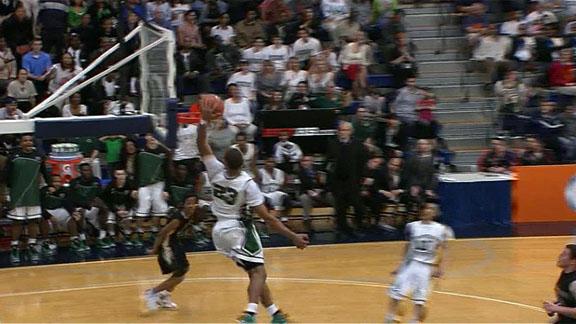 BETHESDA, Md. -- Instant analysis from No. 2 seed Montrose Christian's (Rockville, Md.) 64-48 win over No. 7 seed Ravenscroft (Raleigh, N.C.) in the quarterfinals of the National High School Invitational at Georgetown Prep Thursday:
Overview:
Montrose Christian, ranked No. 9 in the
POWERADE Fab 50
, caught fire early, draining three 3-pointers in the first quarter to claim an early 16-7 lead. Montrose forward
Justin Anderson
had two of his own and ramped up the defensive pressure to help the Mustangs force eight turnovers and keep the Ravens at bay for much of the first half.
Montrose shot 60 percent from the 3-point line in the first half. Then Mustangs went on a 9-0 run midway through the third that devastated Ravenscroft.
The Ravens started forcing tough, contested threes and folding under the Mustangs' intense defensive pressure.
"We had to get our rhythm back because we hadn't played in a long time," said Montrose coach Stu Vetter. "But these guys are strong and they really battled. Our defensive intensity was the difference in the game. We picked up our momentum defensively and that's what got it done."
Turning Point:
Up just 36-32 midway through the third quarter, Montrose forward
Ishmail Wainright
caught Yuri Togashi's missed three off the rim and flushed it with authority, sending the Montrose-heavy crowd into a frenzy. On the next play, the Mustangs forced a turnover and found Anderson in the right corner for the three. Then, after another Ravenscroft turnover, Togashi threw Anderson an alley-oop in transition.
That sequence of events seemed to take the Ravens' heart.
"Their physicality hurt us," Ravenscroft coach Kevin Billerman said. "We'd cut it to four, but then they went on that explosion and that made it really tough for us."
Key Player:
Anderson was a matchup problem for the Ravens all night. When they sagged off he drained threes and when they pushed up on him he drove the lane and made plays. Anderson finished with 21 points, four rebounds and three assists.
"Justin's one of the best players in the country," Vetter said. "I've coached a lot of great players and he's one of the best players I've ever coached. I think a lot of people have overlooked him as far as McDonald's and Jordan All-American games. He's one of the best players in the country without question."
Ravenscroft guard
Anton Gill
drained two 3-pointers in the loss, tying the Ravenscroft record for career 3-pointers at 106, which had been held by Corwin Davis, who starred at Ravenscroft from 1997-2001.
Key Stat:
The Ravens shot just 4 of 21 (19 percent) from the 3-point line in their loss. During the regular season they shot 34 percent and broke a school record for 3-pointers made with 138. The old record was 130.
"We haven't played a game in 32 days," Billerman said. "We've only had seven practices over that time so that's rough. We had good looks, but we just couldn't get them to fall."
Up Next:
The Mustangs will face No. 3 seed Montverde (Fla.) Friday (11:30 a.m. ET on ESPN2) in the semifinals. Montverde, ranked No. 12 in the
POWERADE FAB 50
, knocked off La Lumiere (La Porte, Ind.) 62-54 Thursday in the quarterfinals.
"They're a great team," Wainright said of Montverde. "They really play hard, and I'm looking forward to playing against them."
Jason Jordan is the basketball editor for ESPNHS. He can be reached at
jason.x.jordan.-ND@espn.com
. Don't forget to follow him on Twitter:
@JayJayESPN
.
February, 6, 2012
2/06/12
5:42
PM ET
By
Rodney Purvis
| ESPN.com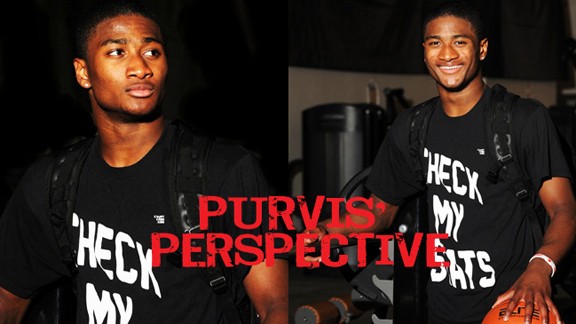 Scott Kurtz/ESPNHSESPNHS Student Blogger: Rodney Purvis
Rodney Purvis
| Senior | Shooting Guard | Upper Room Christian Academy (Raleigh, N.C.)
Purvis Blog 1
|
Purvis Blog 2
|
Purvis Blog 3
|
Purvis Blog 4
|
Purvis Blog 5
|
Purvis Blog 6
|
Purvis Blog 7
|
ESPNHS - North Carolina
Rodney Purvis is the No. 6 shooting guard in the ESPNU 100. Purvis, a senior at Upper Room Christian Academy (Raleigh, N.C.), ended one of the hottest recruitments of the summer in late September by picking North Carolina State. He's agreed to give ESPNHS exclusive access to his life and chronicle his thoughts in a monthly blog.
What's up world.
It's your boy Rodney Purvis again, and as you probably already know by now I'm a Jordan Brand All-American! I'm really excited about making this game because it's been a dream of mine for a long time now.
My bro
John Wall
played in this game and my bro
Dezmine Wells
did, too. When I told them about making the game they both said that they were proud of me and that they wanted to see me do my thing.
I'm honored and blessed to be a part of this game.
Michael Jordan
is the greatest so I'm looking forward to meeting him.
I was at school when I got the text from one of the Nike guys saying that I was picked for the game. I was so excited for the rest of the day I couldn't even think straight.
I was shocked. I've never been the type of player to think I automatically will be given things because I've always had to work for it. I just thanked him and called my mom immediately. Of course she was excited too.
I'm looking forward to seeing all of the guys down there at Jordan. I haven't really seen most of the guys since the summer in AAU. I know we'll have a good time together.
My bros
Kyle Anderson
and
Shabazz Muhammad
are coming so I already know we're gonna be buggin' out the whole time.
I know that a lot of people will come out to watch the game and I'm hoping a lot of N.C. State fans can make the game too. I would love to see guys who have played in this game in the past like John and
Kemba Walker
come back and watch us. That would be cool.
I don't really have any expectations about stats or anything like that. I just want to make an impact on the game and leave my mark.
That's it.
As always, thanks for reading my blog and check back soon for my next entry.
Take care y'all.
Don't forget to follow Rodney Purvis on Twitter:
@RPurvis_5