High-SchoolNorth-Carolina:

ESPNHS Basketball
April, 20, 2012
4/20/12
11:22
AM ET
By
Rodney Purvis
| ESPN.com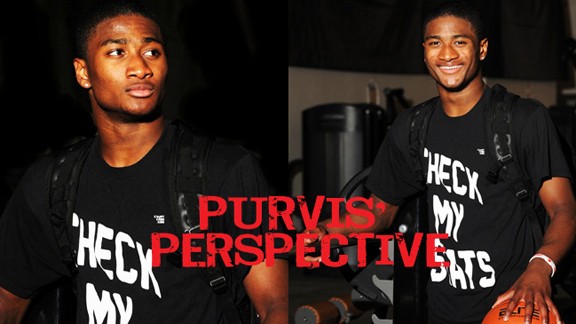 Scott Kurtz/ESPNHSESPNHS Student Blogger: Rodney Purvis
Rodney Purvis
| Senior | Shooting Guard | Upper Room Christian Academy (Raleigh, N.C.)
Purvis Blog 1
|
Purvis Blog 2
|
Purvis Blog 3
|
Purvis Blog 4
|
Purvis Blog 5
|
Purvis Blog 6
|
Purvis Blog 7
|
ESPNHS - North Carolina
Rodney Purvis is the No. 5 shooting guard in the ESPNU 100. A senior at Upper Room Christian Academy (Raleigh, N.C.), Purvis ended one of the hottest recruitments of the summer in late September by picking North Carolina State. He's agreed to give ESPNHS exclusive access to his life and chronicle his thoughts in a monthly blog.
Hey what's going on everybody, it's your boy Rodney Purvis back with another blog. I know it's been a long time since my last blog but things have been pretty busy lately.
I just got back from the Jordan Brand Classic last weekend and that was a great time just getting the chance to hang out with all my bros like
Kyle Anderson
and
Shabazz Muhammad
. I've known them for a long time now and we all knew that this would be the last time we'd all be together for a while so we just bugged out and had a good time all week.
We got a chance to tour the ESPNU studio in Charlotte and that was real cool too. I met Jimmy Dykes and Dino Gaudio and both of them are really knowledgeable and gave us some great advice.
Of course we got a chance to see Shabazz and
Nerlens (Noel)
commit. That was my first time being in a studio and
watching someone commit
so that was different. I know both of them are gonna do big things at UCLA and Kentucky.
It was a blessing to be able to
win co-MVP
of the (Jordan Brand Classic). That's what I wanted coming in to the game because my mom bought so many tickets and my family had a big section so I wanted to give them a good show.
It was the perfect way to end my high school career, I just wish we could've won the game!
But I had a great time down there in Charlotte all week.
Of course by now everyone knows that my bro
C.J. Leslie
is gonna be back with the Pack next year. That's obviously big for us and I'm just glad because we're really close. I've known him forever.
We made it pretty far this season, but I know that we'll be able to go even further next season. Coach (Mark) Gottfried didn't recruit any of those players on that team last year and to get them all to buy in to what he was doing was really impressive to me. I've already bought in and I know everyone else feels the same way too.
The sky is the limit for us.
I'm still hoping we can get another guy or two. I'm talking to
Amile Jefferson
and even
Tony Parker
, even though we're late in the game.
You never know what those guys are gonna do though. I don't crowd them. I give them their space and let them make their own decision.
But I always tell them that I'll support wherever they go. I do feel pretty strongly about our chances with Amile though.
I also want to say something to younger group that's coming up behind me: Don't worry about rankings. Don't pay attention to them at all. Good or bad. That won't make or break you. That's just someone's opinion and it honestly doesn't even matter. College coaches aren't worried about that stuff. They just want good players. So work on your game and don't worry about stuff like that.
Now that the season's over I'm just trying to develop stronger discipline headed into college. I'm focusing on my books and my training. I get up at 5 a.m. every day and train. I want to be as prepared as possible for my first year.
OK guys I'm gonna head out now, but I appreciate you guys checking out my blog.
Take care.
Don't forget to follow Rodney Purvis on Twitter:
@RPurvis_5
March, 22, 2012
3/22/12
10:46
PM ET
By
Jason Jordan
| ESPN.com
Team:
No. 7 seed Ravenscroft (Raleigh, N.C.)
Record, FAB 50 Rank:
31-3, NR (No. 19 in the Southeast)
Head Coach:
Kevin Billerman (12th year at school, 279-70 career record
Key Players:
Madison Jones

Jones initiates the Ravens' offense and brings a gritty, tough element that becomes infectious as the game progresses. Jones averages 16.5 points, 6.5 assists and 3.4 steals per game and serves as the team's vocal leader on the floor. "He's a true point guard and he just controls our team in all areas," Billerman said. "He's a great leader."
Anton Gill

Gill is a freak of an athlete and, at 6-foot-4, will have one of the best high-wire acts at the NHSI. Gill, a Louisville commit, averages 18.1 points, 5.1 rebounds and 3.1 assists per game. When the Ravens are in need of a bucket to break a scoring drought, Gill is the player whose number Billerman typically calls.
Marcus Bryan

Bryan, a 6-foot-8 center, is the Ravens' low post presence and averages 14.3 points and 12.1 rebounds per game. Bryan is versatile enough to step out and consistently knock down the 17-footer, making him a tough draw for most opposing big men.
Road to NHSI:
Ravenscroft knocked off North Carolina powerhouse Christ School (Arden, N.C.) twice in convincing fashion and also won the High School OT Holiday Invitational in December. In that tournament the Ravens knocked off Wesleyan Christian (High Point, N.C.) and United Faith (Charlotte, N.C.). Ravenscroft also knocked off Greensboro Day (Greensboro, N.C.) to claim the state title.
"We beat all of the top private school teams in our state," Billerman said. "The guys really stepped up and met every challenge."
Inside Scoop:
The Ravens lockup defensively and are almost always hounding the opposition with a suffocating man-to-man set. Offensively, the Ravens remain in attack mode at all times whether it's pushing the ball up the court in transition or running one of the 16 plays in the halfcourt set.
"With Anton and Madison scoring a lot of points, obviously, we shoot a lot of jump shots," Billerman said. "Both of them are very smart players and they pick their spots well."
The Ravens average 71 points per game.
Jason Jordan is the basketball editor for ESPNHS. He can be reached at jason.x.jordan.-ND@espn.com. Don't forget to follow him on Twitter: @JayJayESPN.
February, 6, 2012
2/06/12
5:42
PM ET
By
Rodney Purvis
| ESPN.com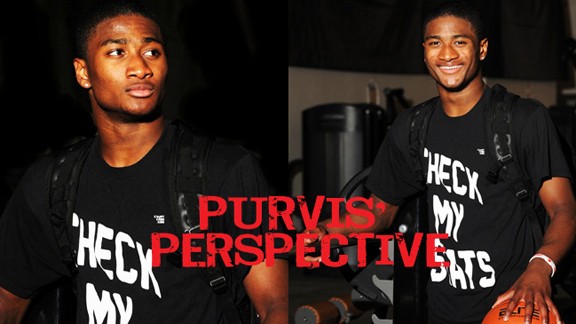 Scott Kurtz/ESPNHSESPNHS Student Blogger: Rodney Purvis
Rodney Purvis
| Senior | Shooting Guard | Upper Room Christian Academy (Raleigh, N.C.)
Purvis Blog 1
|
Purvis Blog 2
|
Purvis Blog 3
|
Purvis Blog 4
|
Purvis Blog 5
|
Purvis Blog 6
|
Purvis Blog 7
|
ESPNHS - North Carolina
Rodney Purvis is the No. 6 shooting guard in the ESPNU 100. Purvis, a senior at Upper Room Christian Academy (Raleigh, N.C.), ended one of the hottest recruitments of the summer in late September by picking North Carolina State. He's agreed to give ESPNHS exclusive access to his life and chronicle his thoughts in a monthly blog.
What's up world.
It's your boy Rodney Purvis again, and as you probably already know by now I'm a Jordan Brand All-American! I'm really excited about making this game because it's been a dream of mine for a long time now.
My bro
John Wall
played in this game and my bro
Dezmine Wells
did, too. When I told them about making the game they both said that they were proud of me and that they wanted to see me do my thing.
I'm honored and blessed to be a part of this game.
Michael Jordan
is the greatest so I'm looking forward to meeting him.
I was at school when I got the text from one of the Nike guys saying that I was picked for the game. I was so excited for the rest of the day I couldn't even think straight.
I was shocked. I've never been the type of player to think I automatically will be given things because I've always had to work for it. I just thanked him and called my mom immediately. Of course she was excited too.
I'm looking forward to seeing all of the guys down there at Jordan. I haven't really seen most of the guys since the summer in AAU. I know we'll have a good time together.
My bros
Kyle Anderson
and
Shabazz Muhammad
are coming so I already know we're gonna be buggin' out the whole time.
I know that a lot of people will come out to watch the game and I'm hoping a lot of N.C. State fans can make the game too. I would love to see guys who have played in this game in the past like John and
Kemba Walker
come back and watch us. That would be cool.
I don't really have any expectations about stats or anything like that. I just want to make an impact on the game and leave my mark.
That's it.
As always, thanks for reading my blog and check back soon for my next entry.
Take care y'all.
Don't forget to follow Rodney Purvis on Twitter:
@RPurvis_5