High-SchoolNorth-Carolina:

K'Hadree Hooker
January, 12, 2012
1/12/12
2:46
PM ET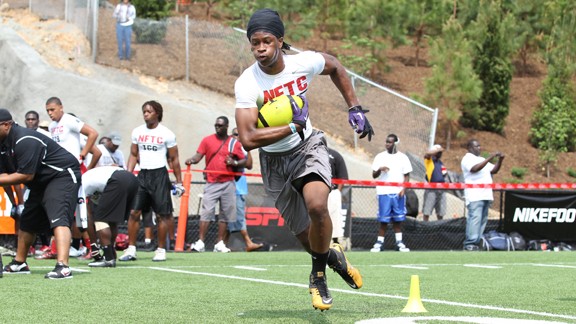 Tom Hauck/ESPNHSTodd Gurley, a senior tailback at Tarboro (N.C.), will announce his college decision on Friday. His top four schools are Clemson, Georgia, NC State and UNC.
Todd Gurley, a senior at Tarboro (N.C.), is one of the top-rated running backs in the nation, possessing the ability to play multiple positions. As a highly sought-after recruit with offers from the likes of Auburn, UNC, Georgia, Virginia Tech, Clemson and NC State, Gurley agreed to chronicle his senior season and recruiting experience leading up to his decision through a diary with ESPNHS.
What's up World!
This Friday the 13th at 2 p.m. is when I will be announcing the school that I'll be taking my talents to next year. On this blog, I will be writing about my top four schools.
The first school I'd like to talk about is UNC. Now, UNC was one of the first schools I had at the top of my list from day one, just to be able to visit them so many times helped me get a feel for the college, and actually at one point of time I thought that was gonna be the place for me for the next four years. But when all the NCAA investigation stuff happened, I kind of fell back to see how everything was gonna work out. I still always kept them on my list, though.
With NC State, if you don't know, one of my bros committed there in
K'hadree Hooker
(Follow him on Twitter
@bighook74
) and I also got cool with a lot of other recruits during this process who had committed there. So I knew I would have NC State on my list the whole time. Plus, it's close to home, so all of my family and friends could come see play. Also, being there multiple times on campus to basketball games, the spring game and the football game vs. Maryland — the atmosphere was crazy!
My next top school is UGA, which is a school I visited three times and I see why people say it's a great school. First of all, the food is the best and that's my favorite thing about the school. My bro
Keith Marshall
goes there now and that would be good to have two NC boys in the backfield representing for our state. Plus, the relationship I developed over time with (running backs) coach Bryan McClendon and coach Richt has been great. Two great coaches running a great program.
My last school is the Clemson Tigers, a school I always wanted to play for after watching C.J. Spiller run there and break records. That was something I dreamed about and now that I have the opportunity to go there, it's just crazy to have my dreams come true. My Clemson visit was the best out of all the schools I visited because the time I had with the players was so much better then every other school, so that's a plus in my book. Even though they offered me late and stopped recruiting for a while, I didn't really care about that because that's just the business of it, so it didn't affect me too much.
I'd like to thank God first for blessing me with this opportunity, my coaches, friends, family, and my town of Tarboro. And a special shoutout to my bros who have been with me through this recruiting process — K'hadree Hooker,
Keith Marshall
, and
Ronald Darby
That's it for now. Thanks for reading all my blogs, follow me on Twitter for more updates
@TG1UNO
and stay tuned Friday at 2 p.m. for the big announcement!
October, 13, 2011
10/13/11
1:41
PM ET
The rosters were released today for the 75th Shrine Bowl of the Carolinas, a contest pitting the top prep football players from North Carolina and South Carolina in what is the nation's oldest high school all-star football game.
Of course, there's plenty of star power, but some familiar names from North Carolina made the list, like our recruit blogger,
Todd Gurley from Tarboro
, as well as
South Lenoir's K'Hadree Hooker
.
Click here
for the complete North Carolina roster and
here
for the complete South Carolina roster. The game will be played at 1 p.m. on December 17 at Wofford College in Spartanburg, S.C.
Brandon Parker covers North Carolina for ESPNHS magazine and ESPNHIGHSCHOOL.com. Follow him on Twitter @brandoncparker or email him at brandon.c.parker@espn.com.
September, 8, 2011
9/08/11
4:52
PM ET
By
Brandon Parker
| ESPN.com
On K'Hadree Hooker's Facebook page, it says his place of employment is "on the football field." Trust me, the South Lenoir star isn't lying.
Fresh off a junior campaign of 79 tackles and seven sacks, the senior defensive lineman has continued to wreak havoc on the football field this season for the 2-1 Blue Devils. Hooker joined me for a "Twinterview" (an interview in the format of a Twitter conversation) this week to discuss the season, his commitment to N.C. State, meeting up with Mario Williams and his unique pre-game ritual.
@bighook74
How do you feel your team is doing so far this year?
@brandoncparker
In my opinion, I think we're doing pretty good. We've got a young team, but we work hard and I think we're going to surprise a lot of people.
@bighook74
What would you say has made you so successful in football?
@brandoncparker
I study film a lot. Also, I played fullback as a freshman and played basketball up until this year, so that helped with my quickness off the line. I still want to get better at my pass rushing, though.
@bighook74
So how'd you go from fullback to playing on the defensive line?
@brandoncparker
I came in at about 230 pounds and after my freshman year, my coach said he needed a lineman and moving there would be my best chance to play at the next level. So I put on about 50 pounds just getting in the weight room and eating right.
@bighook74
Of course, you committed to N.C. State recently, but before then, what was the recruiting process like?
@brandoncparker
It picked up my sophomore year and it really got out of control in my junior year. It was wild, but a good experience. I got handwritten letters and cards in the mail from coaches wanting me to come visit. I got about 20 letters in the mail every day for a good while.
@bighook74
On Facebook, I saw a picture of you in an Auburn jersey standing next to the BCS championship trophy. What was it like to see that?
@brandoncparker
Oh man, that was an awesome experience. It makes you want to get one so bad. I remember telling my mom after that that I
had
to get that trophy.