High-SchoolNorth-Carolina:

Riley Ferguson
January, 20, 2012
1/20/12
9:43
AM ET
By
Brandon Parker
| ESPN.com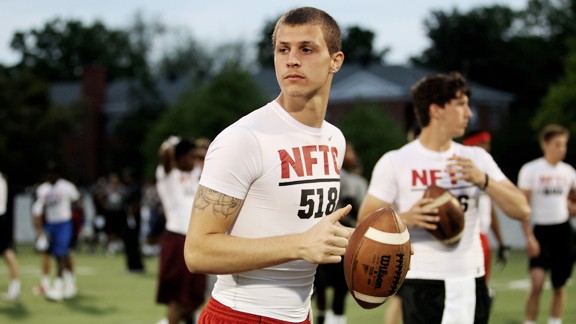 Tom Hauck/ESPNHSButler (Matthews, N.C.) junior quarterback Riley Ferguson shined at last year's Elite 11 regionals.
Throughout this offseason, we'll spotlight Class of 2013 quarterbacks who have a shot at making the Elite 11 finals in July. Last week we profiled future Wolverine Shane Morris. This week we profile Butler (Matthews, N.C.) standout Riley Ferguson.
While holding his own at the
Champion Gridiron Kings in Florida last summer
,
Riley Ferguson
made it clear where he hopes to be this July, saying "hopefully I will be at Elite 11 next year." The junior, who already has two 4AA state championships under his belt, made a strong case for an invitation this past season, throwing for 3,345 yards and 48 touchdowns. Ferguson took time to talk to us about the bad taste from his first playoff loss as well his strong desire to make the Elite 11 finals.
ESPNHS:
After winning the last two state titles, this past season began and ended with rare losses. What's your take on why things played out like they did?
Ferguson:
When we lost at the beginning of the season, I took it kind of hard because it was the first time I'd lost since being in high school. But everybody takes losses, so I thought we'd focus and come back stronger, and that's what we did. When we got to Page (Greensboro, N.C.) [in the 4AA quarterfinals], I think some of us were thinking it would be a cakewalk in the playoffs instead of having to work for it. And we ended up paying for it.
ESPNHS:
How much does last season's outcome motivate you for your senior season?
Ferguson:
It'll motivate me more than anything. Taking two losses in one season killed me. Last year was also the last time I will play with my brother Zach, so that hurt. But I'm just going to go hard and play for our team to get back on top.
ESPNHS:
Do you think there will be the same target on your back next season even though you guys aren't the defending champs?
Ferguson:
Of course we'll still have the target because of our program's history and all of the top prospects we have. But I don't like seeing it us as just a bunch of star players. I think of us as being a team and winning together. As long as we remember that and play together, we can overcome that target.
ESPNHS:
After you finish playing basketball, what are some things you will work on in the offseason?
Ferguson:
I need to get in the weight room and work on my strength. I also want to do a bunch of agility stuff. Pretty much, I'll be working on everything because you can always get better and there's always something to work on.
ESPNHS:
What was the experience like to compete at the Elite 11 regionals last summer?
Ferguson:
It helped a lot because it was invitation-only, so everybody there was a good quarterback and the best from their area. I talked to a lot of other quarterbacks and learned some good things from the experience. Going to the NFTC [Nike Football Training Camp] was a real challenge and helpful for me, too.
ESPNHS:
If you are invited to the national Elite 11 competition, what would you hope to gain from the experience?
Ferguson:
Oh man, it would be unbelievable to get invited there. It's an amazing opportunity to go to California and be in that atmosphere with great quarterbacks and coaches. I hear that NFL and college players are there, too, so I would be real excited to learn from them.
ESPNHS:
You recently received some new offers from school. How many offers do you have and who are your favorites?
Ferguson:
I've got offers from Clemson, LSU, Michigan, Virginia Tech, Louisville, Maryland and Notre Dame. At this point, I'm accepting all offers and it'll come down to whichever school feels the best. I haven't really narrowed the list down; I might do that sometime this summer. But whenever I feel like I've found the right school, which could be in the summer or fall or anytime, that's when I'll make my decision.
RILEY FERGUSON
School:
Butler (Matthews, N.C.)
Position:
QB
Class:
2013
2011 Team Record:
11-2 (Lost in Class 4AA quarterfinal)
2011 Stats
Completions-Attempts:
184-279 (.659)
Yards:
3,345
TD:
48
INT:
8
Brandon Parker covers high school sports for ESPNHS magazine and ESPNHS.com. Follow him on Twitter @brandoncparker or email him at brandon.c.parker@espn.com.
December, 13, 2011
12/13/11
11:37
AM ET
By
Brandon Parker
| ESPN.com

Monday | Tuesday |

Wednesday | Thursday | Friday

Whether you're putting together a grouping of best quarterbacks or worst albums, or you're making that special list for Santa, there's nothing quite like a good list. So in honor of the holiday season we're bringing you lists all week long — Merry List-Mas! Today: The top underclassmen in high school football.

The state championships are over and the Class of 2012 had their run, but it's never too early to start looking at the impressive players in the Class of 2013 and beyond. Who's going to rule the gridiron in North Carolina next season? We give you the early rundown of who to watch for.

5. Connor Mitch (JR), Wakefield, QB


Credentials: 3,832 passing yards, 48 touchdowns, nine interceptions

4. Greg Gilmore (JR), Hope Mills, DL


Credentials: 68 tackles, sack, blocked field goal, four forced fumbles, two fumble recoveries, offers from Clemson, Virgina Tech, South Carolina

3. Peter Kalamabyi (JR), Butler, LB


Credentials: Nine offers, including Clemson, Michigan and Virginia Tech

2. Uriah LeMay (JR), Butler, WR


Credentials: 19 touchdowns (14 receiving and five rushing), 43 catches for 842 yards, 38 rushes for 397 yards, offers from a dozen schools, including LSU and Georgia.

1. Riley Ferguson (JR), Butler, QB


Credentials: 3,002 passing yards, 45 touchdowns, six interceptions, led Bulldogs to 2010 Class 4AA state title, offers from LSU, Michigan and Clemson.

Click here

to check out some of the other states in our Five Days of List-Mas

Tomorrow: POWERADE state hoops rankings Brandon Parker covers North Carolina for ESPNHS magazine and ESPNHS.com. Follow him on Twitter @brandoncparker or email him at brandon.c.parker@espn.com.
November, 21, 2011
11/21/11
12:52
PM ET
By
Brandon Parker
| ESPN.com
For the first time in three years, there will be a new Class 4AA champion.
With two-time defending champ Butler up 20 points in its third-round matchup with Greensboro Page, it appeared most local fans would get what they wanted: a rematch between Butler and Mallard Creek in the next round. But the Bulldogs' dream matchup vanished after a nightmarish second half.
Page capitalized on the Bulldogs' penalties and five turnovers to reel off 34 unanswered points and secure a 40-26 win on Friday. The Pirates, who were led by QB James Summers' 248 total yards and five touchdowns, will face Mallard Creek in this week's 4AA state semifinals.
Summers scored twice on runs to open the second half and tie the game before a one-yard TD pass to Orlando Hatfield gave the Pirates the lead for good with 4:48 to play. Meanwhile, Butler junior QB Riley Ferguson threw three picks in the final 15 minutes to thwart the Bulldogs' chances for a comeback.
Needless to say, Butler dropped out of the latest
POWERADE FAB 50
, while Mallard Creek moved up to No. 13 in the national rankings.
Garner will take on Jack Britt in the other 4AA semifinal after both teams rode their rushing attacks to victory. Garner was led by tailback Juwan Moye's 285 total yards and three scores in a 42-21 win against previously undefeated Leesville Road. The Pride got 402 total yards from do-everything player Braxton Berrios, but it wasn't enough to overcome the Trojans' quick start.
Meanwhile, Jack Britt ran the ball 60 times for 333 yards to push past Middle Creek, 28-14. After starting 2-2, the Buccaneers have won nine straight, including four straight shutouts prior to last week's third-round win.
A new 4A champion will be crowned as well after top-ranked Scotland knocked off defending champ Hillside. The Fighting Scots' were paced by the three-headed monster of QB Kwashaun Quick and tailbacks Tony McRae and Caison Murphy, who accounted for all seven of the the team's scores in the 35-7 win. Next up will be New Bern, which downed New Hanover, 31-20.
On the other hand, West Rowan has bounced back from a slow start to make sure there won't be a new champion in the 3A ranks. The three-time defending champs have won their last six games by an average of nearly 20 points, but face quite the test in a 13-1 Burns squad that has similar success on the scoreboard of late.
Brandon Parker covers North Carolina for ESPNHS magazine and ESPNHIGHSCHOOL.com. Follow him on Twitter @brandoncparker or email him at brandon.c.parker@espn.com.
November, 14, 2011
11/14/11
6:32
PM ET
By
Brandon Parker
| ESPN.com
A weekend filled with rematches ended up as a major case of deja vu:
*Butler beat Independence for the fifth straight time, riding Riley Ferguson's four touchdowns to a 42-20 win.
*Leesville Road continued to light up the scoreboard, beating Cap 8 rival Wake Forest-Rolesville for the second time in three weeks. Braxton Berrios proved unstoppable, scoring six times in the 49-20 win. Next up: undefeated Garner.
*Middle Creek did it again, using a late charge to push past Fuquay-Varina, 34-20. For their second third-round trip in school history, the Mustangs will face Jack Britt, which has shut out its last four opponents.
*The second time was a bit easier for Asheville, as it beat rival Erwin, 26-7, to keep its undefeated season in tact. Brandon Williams led the way with 123 rushing yards and two scores. Next up: Crest.
This past weekend's outcomes sets up a juicy slate of third-round playoff matchups. Check back here Thursday to catch a preview.
Brandon Parker covers North Carolina for ESPNHS magazine and ESPNHIGHSCHOOL.com. Follow him on Twitter @brandoncparker or email him at brandon.c.parker@espn.com.
October, 17, 2011
10/17/11
12:16
PM ET
By
Brandon Parker
| ESPN.com
Results as of Saturday, Oct. 15
Sophomores aren't supposed to play like Elijah Hood did in last Friday's big game between Charlotte Catholic and Berry Academy. Too bad for Berry Academy that Hood didn't get that memo.
The Cougars running back continued his impressive campaign, rushing for 179 yards and four touchdowns to push his team to a 48-26 win in MEGA 7 play. The effort was enough to overcome 187 all-purpose yard by Berry Academy receiver/kick returner Germone Hopper and position the Cougars for a conference title showdown in the season finale against Olympic.
Meanwhile, Richmond looked like its old self after an up-and-down two weeks. The Raiders knocked off previously undefeated Lumberton, forcing three late turnovers to pull out the 27-22 win.The outcome also revives the intrigue surrounding the season finale between Richmond and No. 4 Scotland on Oct. 28.
Nationally, Mallard Creek and Butler both moved up one spot in
this week's POWERADE FAB 50
, with the Mavericks taking over the No. 21 slot and the Bulldogs now at 35th.
Here are this week's rankings (last week's rankings are in parentheses):
1. Mallard Creek (Charlotte) 8-0 (1)
Mavericks easily took care of Hopewell by the score of 65-6. Next up: West Charlotte.
2. Butler (Matthews) 7-1 (2)
After trailing 10-7 early, the Bulldogs reeled off 35 straight points in 42-10 win against Providence. Riley Ferguson threw for five touchdowns. Next up: South Mecklenburg.
3. Greensboro Page 8-0 (3)
The Pirates put together their best offensive output of the season, blanking Southern Alamance, 70-0. Next up: Dudley.
Click here for the full POWERADE weekly North Carolina football rankings.
October, 7, 2011
10/07/11
2:15
PM ET
By
Brandon Parker
| ESPN.com
The majority of the weekend contests haven't even started, but with all the drama and scoring in Butler's 43-40 win against Ardrey Kell, the game of the week is probably already in the books.
After three quarters, Butler held what appeared to be a comfortable 35-17 lead, but in one period, Ardrey Kell showed why it's entered many conversations in the North Carolina prep football landscape. Suddenly, with 3:45 to play, the Knights had closed the gap to 35-33, with a recovered onside kick, a gritty Josh Duggan rush TD and a slew of Butler penalties sparking the comeback.
A pick-6 by Ian Dibble gave the Knights' a 40-35 lead with two minutes left and great hope for a huge upset of their Southwestern 4A rivals. But the Ferguson brothers proved ice cold, with Riley finding his brother Zach for a 50-yard gain and 12-yard touchdown strike to seal the win.
Check out the Charlotte Observer story for more details of this barnburner.
This game could speak volumes for how the 4A playoffs are decided. It could be the type of win Butler needs to push them past Mallard Creek and to a third straight title. Or it could provide the confidence for Ardrey Kell to pull a playoff run and upset similar to what Vance did last year when it shocked Mallard Creek. Only time will tell.
Here are two other games that we can only hope are just as exciting:
Lumberton (6-0) at Hoke County (6-1)

Both of these teams have pulled off big wins, with Lumberton downing Jack Britt and Hoke County fresh off a huge upset of previous No. 3 Richmond. Hoke County is fueled by tailback Detrez Newsome, who's ran for 780 yards and 13 touchdowns this year. But the senior will be coming up against a stingy defense in Lumberton that has allowed just 9.2 points per game. Heck, the Pirates have beaten Seventy-First by the score of 9-8 and South View by a count of 8-2. Hoke County's defense isn't quite as stout, but as they say, the best defense is a good offense.
My pick:
Hoke County 21, Lumberton 17
Wakefield at Wake Forest-Rolesville

I expect these two to light up the scoreboard in a game that could mirror the Butler-Ardrey Kell matchup. Why? For one, Wakefield is averaging nearly 50 points per game and is coming off a contest in which it scored 58 points and still lost! Wake-Forest Rolesville has plenty of offensive weapons, too, with tailback Chris Love and Petey Williams (two special teams touchdowns last week). That puts on the onus on the defenses to make key stops to decide this close matchup.
My pick:
Wake Forest-Rolesville 38, Wakefield 35
Brandon Parker covers North Carolina for ESPNHS magazine and ESPNHIGHSCHOOL.com. Follow him on Twitter @brandoncparker or email him at brandon.c.parker@espn.com.
October, 3, 2011
10/03/11
11:35
AM ET
By
Brandon Parker
| ESPN.com
After games ending Sunday, Oct. 2.
An upset that few saw coming as well as a powerful squad that keeps on coming highlight this week's POWERADE ESPNHS North Carolina football rankings.
Let's start with the upset. In 34 prior meetings, Richmond had never lost to Hoke County. But that all changed Friday, as the Raiders fell 24-21 in their Southeastern Conference opener. Hoke County forced two fumbles and held the Raiders to just 14 plays in the first half. Richmond held a 21-17 lead midway through the fourth quarter, but the Bucks went ahead for good on a David Walrath touchdown. Just like that, Richmond went from having Hoke County's numbers to looking up at the Bucks in the conference standings.
Also on Richmond's heels is a surging South Point squad,
whom I mentioned last week was on the cusp of entering the top 10
. Led by fullback
Troy Leeper
, the Red Raiders have won their last three games by an average of nearly 41 points, outscored opponents 349-88 and downed a solid Burns program during a 7-0 start. Plus, during last week's 56-7 win against Ashbrook, they unleashed another weapon in quarterback Patrick Horne, who threw for 414 yards and ran for another 159 and two scores. With that type of power (along with the fact that former No. 10 A.L. Brown lost its lone game to a ranked team by 28 points), it's impossible to keep the Red Raiders out of the top 10 any longer.
Nationally, Mallard Creek continued its move up the
POWERADE FAB 50
by securing the No. 24 spot while Butler stood pat at No. 39.
Without further ado, here are this week's rankings (last week's rankings are in parentheses):
1. Mallard Creek (Charlotte) 6-0 (1)
Mavericks avenged last year's loss in the 4AA West region semifinal, easily beating Vance 55-20 behind quarterback Andrew Goodman's five touchdown passes. The state's top team will play North Mecklenburg this Friday.
2. Butler (Matthews) 5-1 (2)
The Bulldogs posted their first shutout of the season, downing East Mecklenburg, 45-0. Riley Ferguson threw for three touchdowns, two of which went to older brother, Zach. An intriguing matchup against surging Ardrey Kell is up next.
3. Greensboro Page 6-0 (4)
After resting up on their bye week, the Pirates rolled to a 49-0 win against Grimsley and, amid Richmond's loss, cemented their new No. 3 spot. Next up: Ben L. Smith.
Click here for the full POWERADE North Carolina weekly football rankings.
September, 21, 2011
9/21/11
4:55
PM ET
By
Brandon Parker
| ESPN.com
Quarterbacks rule in this week's edition of the
North Carolina All-State Football
stock watch, as one signal-caller has entered the national discussion for player of the year while the other gunslinger keeps putting up huge numbers through the air. Scary thing is, both are only juniors.
UP — Riley Ferguson, Butler QB

Ferguson told me his team's season-opening loss was his worst game ever and ever since then, he's been driven to redeem himself. Let's just say he's done a pretty good job. In not even a full four quarters, Ferguson threw for 265 yards and five touchdowns. Then to top things off, the junior caught his first touchdown pass in the Bulldogs' 77-14 win against Myers Park. On the season, Ferguson now has 1,148 passing yards and 17 total touchdowns, earning him consideration for the
ESPNHS Mr. Football USA award
.
DOWN — Keith Marshall, Millbrook RB
It's been a rough past two weeks for our
ESPNHS September cover boy
, as defenses continue to key in on Marshall. And what else would you expect when playing against the
nation's top running back
? In each of his last two games, Marshall has failed to reach 100 yards rushing, and last week, he was outgained 116 to 43 by Broughton standout senior RB Chris Mangus. Marshall's track record has earned him such attention, and with his gamebreaking speed, it won't be long before he's back to his old ways of piling up yards and touchdowns.
UP — B.J. Beecher, Concord QB
This junior has put up big numbers all season, so last week's output was no surprise. Beecher completed 16 of his 22 throws for 253 yards and three scores in the Spiders' fourth win of the season. With that effort, Beecher pushed his season totals to 1,218 yards and 16 touchdowns.
Brandon Parker covers North Carolina for ESPNHS magazine and ESPNHIGHSCHOOL.com. Follow him on Twitter @brandoncparker or email him at brandon.c.parker@espn.com.
September, 20, 2011
9/20/11
11:41
AM ET
By
Brandon Parker
| ESPN.com
If you haven't done so yet, do yourself (and me) a favor by checking out
this feature on Butler junior wideout Uriah LeMay
. Kid's got a bright future and a heck of a pedigree with his older brother, Christian, currently a freshman QB at Georgia and his dad being a former player at Florida A&M.
With this post, I introduce to you "The Chop Chop." For just about every story we write for the ESPNHS magazine and website, a lack of space leads to some interesting tidbits getting left on the cutting room floor — hence, the "chop chop" name. But since the Internet has unlimited (or so they say), here's our chance to let you guys see some of those golden quotes and anecdotes that you might otherwise miss.
On a little-known secret:
"Some people call me "Kid Usher" or "Trey Songz" because they say I sound like them when I sing. I've been told I could be a singer, but I'm not really pursuing it. But hey, if the opportunity ever came up, I might try (
laughs
).
"Me and Uriah's locker are right besides each other, so I sing with him and Brandon Cook. We sing it all. But Uriah's actually really good. I always tell him if he doesn't play football, he could be a gospel singer or something" -
Riley Ferguson, Butler QB
On Butler being a target after consecutive state titles:
"Butler is always a target because of what we've been able to do and our past success. Every summer, I'll talk to some guys at surrounding schools and areas, and they'll say their coach just named a whole week of workouts after Butler. That tells you that people see us as a threat."
Butler coach Brian Hales on LeMay's work ethic:
"I can't remember a time that I've had to say, 'Uriah get to work.' It just doesn't happen. With his size and the way he works, we could put him at tight end, defensive end, wherever, and he'll make plays."
Brandon Parker covers North Carolina for ESPNHS magazine and ESPNHIGHSCHOOL.com. Follow him on Twitter @brandoncparker or email him at brandon.c.parker@espn.com.
September, 16, 2011
9/16/11
5:27
PM ET
By
Brandon Parker
| ESPN.com
We're five weeks into the football season, which is around the time the contenders begin to separate from the pretenders. Here's what to watch out for this weekend:
Hillside (3-1) at Southern Durham (2-2)

Southern Durham is desperately in need of a win after dropping two straight games, and as a result, out of the top 10. On the other hand, Hillside has played well since falling in its opener. The defending 4A champs have been led by running back Khris Francis on offense and All-State DL Jamal Marcus on defense, making for a balanced attack. Most of Marcus' focus tonight will be on Southern Durham QB Dorian Belcher. who has played well despite the Spartans' struggles. In last week's overtime loss to Dunbar, Belcher finished with 224 yards and three touchdowns. Southern will put up a fight, but it won't be enough to take down a surging Hornets squad.
My pick:
Hillside 24, Southern Durham 21
Nash Central (4-0) at New Bern (3-1)
Ever since defeating two-time defending 2A state champ Tarboro to start the season, Nash Central has been on a tear. Credit quarterback Jalen Hendricks, who has excelled as a dual threat with 658 total yards, six touchdowns and zero turnovers. New Bern's offense has been just as electric of late. After giving up 51 points in a loss to Havelock, the Bears have put up 114 points (!) in their last two games. Though I doubt they'll put points at the same ridiculous rate, expect the 4A Bears to extend their win streak against the 3A Bulldogs.
My pick:
New Bern 30, Nash Central 24
Millbrook (3-1) at Broughton (1-2)
Millbrook should have the advantage in this contest, but the main intrigue comes at the tailback position. Of course, Millbrook boasts the nation's top running back in
Keith Marshall
, our
cover boy for the ESPNHS September mag
. Meanwhile, Broughton is led by recent Va. Tech commit Chris Mangus, who had 251 rushing yards and three scores in leading the Capitals to their first win of the season.
My pick:
Millbrook 24, Broughton 17 (Oh, and I've got Marshall winning the yardage battle against Mangus)
Myers Park (3-1) at No. 2 Butler (3-1)

Who would have thought these two teams would have the same record when they met up? Myers Park is off to its best start since 2005, when it ended up reaching the state semifinals, but Butler is...well, Butler. Minus a few lapses, the Bulldogs have looked like their scary selves since losing to No. 1 Mallard Creek. Expect the four-headed offensive monster of QB Riley Ferguson, RB Josh Glisson and WRs
Uriah LeMay
and Zach Ferguson to keep chugging along.
My pick:
Butler 40, Myers Park 21
Brandon Parker covers North Carolina for ESPNHS magazine and ESPNHIGHSCHOOL.com. Follow him on Twitter @brandoncparker or email him at brandon.c.parker@espn.com.
September, 16, 2011
9/16/11
10:37
AM ET
By
Brandon Parker
| ESPN.com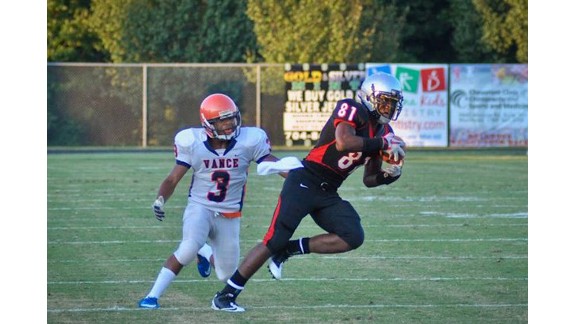 Don Atkins/ESPNHSButler's Uriah LeMay (81) snags a pass during a Sept. 9 win against Vance. In four years, the junior wideout has endured only one loss on the field.
Defeat has a way of finding some athletes more than others, but for four years, Uriah LeMay had no idea what it felt like.
Sure, there were some close calls, times when a loss tried to creep up from behind wielding an idle threat. Yet from LeMay's eighth-grade year to his stint on JV to last season's repeat 4AA championship for Butler, victory was his.
For some reason though, Aug. 19 was different. After the Bulldogs fell behind early to powerhouse Mallard Creek, LeMay caught a touchdown pass to tie the score. When the Mavericks went up again, LeMay answered with another TD reception. Ultimately, despite LeMay's efforts, defeat had the last word in a 28-20 loss.
"It just showed we have a lot more to work on and every loss is another opportunity to learn from," said LeMay, a junior for the Bulldogs. "It hurt a lot, though, because that was the first one I had experienced in a long time."
Before that rare loss in August, LeMay's effort could almost never be questioned, resulting in 900 total yards and 12 touchdowns during the Bulldogs' 15-0 state-title run last year. But since then, LeMay has upped the ante, making sure he and his teammates' effort will never come up short again.
August, 29, 2011
8/29/11
11:10
AM ET
By
Brandon Parker
| ESPN.com
After watching another weekend of upsets on the gridiron, I teetered between two feelings:
-I know nothing when it comes to
preseason rankings
.
-If this keeps happening, will an "upset" as we know it still be an "upset" on the North Carolina football scene?
Eventually, I settled on the first notion.
Of course, it's early, so there's no need for teams to panic. But for perennial powers like Jack Britt (lost 21-14 to Lumberton in overtime) and Wake Forest-Rolesville (lost 20-17 in OT) who joined Butler, West Rowan and Hillside on the upset list, a wake-up call has been served.
August, 21, 2011
8/21/11
11:11
PM ET
By
Brandon Parker
| ESPN.com
The first Friday of football left most fans with their jaws dropped. And rightfully so.
Three defending state champions, including one squad in the POWERADE FAB 50 and another with the nation's longest current win streak, fell victim to defeat, making it clear that the 2011 campaign will be a memorable one.
One of the nation's biggest showdowns took place in Charlotte, with top-ranked Butler (
No. 8 in the POWERADE FAB 50...for now
) traveling to Mallard Creek. And star power was heavy in Mallard Creek's 28-20 upset of Butler.