High-SchoolNorth-Carolina:

United Faith Christian
January, 5, 2012
1/05/12
12:48
PM ET
By
Brandon Parker
| ESPN.com
Each week, we'll take a look back at our
North Carolina preseason All-State basketball team
and update you on how some of those players are faring this year. There will be a Prime-Time Player (PTP), an Other Top Player (OTP) and an Under the Radar (UTR) player who is making his case as one of the state's top ballers.
Here's who to keep an eye on:
PTP: Allerik Freeman, Olympic, Junior
The highly touted junior earned MVP honors at the Upward Classic in South Carolina after leading the top-ranked Trojans to a big win against defending 4A champ West Charlotte in the tournament final. Freeman then put on a show in a 90-45 rout of West Mecklenburg, scoring 11 points on three 3-pointers and a dunk with UNC coach Roy Williams in attendance during the Jan. 3 contest. The Trojans need a similar effort Friday with No. 7 Harding on tap.
OTP: Peter Jurkin, United Faith Christian, Senior
The Falcons have struggled this season with a 9-8 record, but if Jurkin continues to play like he did in a 90-69 win against Gaston Day, things could turn around. The Indiana commit tallied 21 points, 13 rebounds and four blocks on Jan. 3.
UTR: Jalen Ross, Greensboro Day, Senior

The Bengals are on pace to make history in consecutive weeks. Ross, who recently committed to Eastern Michigan, earned MVP honors as the Bengals overcame a 12-point deficit to beat Northwest Guilford and win its 10th Pizza Hut Invitational title on Dec. 28, tying Dudley for the most tournament crowns. On Saturday, Ross will look to help his coach, Freddie Johnson, become the state's all-time winningest high school coach. With a win against Providence Day, the Bengals coach would move into first with 819 career victories. With this rèsumè and a 14-1 record, don't be surprised to see the Bengals in next week's rankings.
Brandon Parker covers North Carolina for ESPNHS magazine and ESPNHS.com. Follow him on Twitter @brandoncparker or email him at brandon.c.parker@espn.com.
December, 12, 2011
12/12/11
11:35
AM ET
By
Brandon Parker
| ESPN.com

Click here

to check out some of the other states in our Five Days of List-Mas.

Brandon Parker covers North Carolina for ESPNHS magazine and ESPNHS.com. Follow him on Twitter@brandoncparker or email him at brandon.c.parker@espn.com.
December, 8, 2011
12/08/11
5:03
PM ET
By
Brandon Parker
| ESPN.com
Despite starting 5-0, Olympic coach Ty Baumgardner admits that his team could stand to play better in the first quarter after having to put together multiple rallies. But when it comes to the first state rankings, the Trojans are starting off just fine. With an assist from United Faith Christian's slow start (4-3) and Harding's upset of previous No. 2 West Charlotte, the Trojans have earned the top spot.
Allerik Freeman, ranked ninth in the junior class
, leads the squad with 17.2 points per game.
"Because of the natural progression, we happen to be the team that's No. 1, which is great, but to be honest, we don't worry about that stuff," Baumgardner said. "It's still yet to be determined if this is the best team I've ever coached, but without question, this is the most talented team I've ever had."
As a result of its big win as well as the impressive play of Jarvis Haywood (23.2 points), Harding makes its debut in the rankings. Likewise, Christ School, which has won the last five 3A crowns in the private ranks, leaps to No. 4. Junior transfer Shannon Hale leads the Greenies with 14.0 points per game.
Here's how the state rankings shake out (preseason rankings in parentheses):
1. Olympic (Charlotte) 5-0 (4)
The Trojans take over the top spot, having beat five tough opponents by an average of 19.4 points.
2. West Charlotte 1-1 (2)
The defending 4A champ Lions were upset by Harding, 67-66, in their second game, but will look to bounce back against Hopewell and at the tough Nike Hoops Festival on Dec. 10.
3. Ravenscroft (Raleigh) 5-1 (6)
Led by star junior Anton Gill, the Ravens are off to quick start, including a win against No. 8 Wesleyan Christian.
Click here for the full POWERADE weekly North Carolina basketball rankings
November, 30, 2011
11/30/11
4:46
PM ET
By
Brandon Parker
| ESPN.com
This story originally appeared in the Holiday issue of ESPNHS magazine's North Carolina edition. West Charlotte opened the season Tuesday with a 79-54 win against West Mecklenburg.
Coach Baronton Terry calls it simply a matter of "peaking at the right time." Some say they had it all along. But no matter what you label it, one thing became clear last season when the West Charlotte Lions won the Class 4A title: They were just getting started.
In 2009-10, the Lions blew a lead and lost in the state semifinals. They made sure the same didn't happen last year, breezing through the state tourney before letting the one they call Big Baby take over in the title game.
Kennedy Meeks
recorded 12 points, nine blocks and 19 rebounds (the fourth most in championship game history) to earn MVP honors. As for this season? Well, let's hear it from the coach himself.
"We return 13 kids off the state championship team. And not only do they return, I know they all got better," says Terry, who is entering his fourth year as coach. "My job is a lot easier because I don't have to convince them of what it takes."
Part of what it takes — talent — lies in guys like Meeks, a junior ranked
No. 29
in the
ESPNU 60
, as well as forwards
Mike Brown
and
Juwan Byers
, who missed part of last season with a shoulder injury.
Another part is grit, and with a tough schedule ahead, the Lions should be battle-tested. Along with playing in the tough I-MECK conference, the champs will mix it up at the Chick-fil-A Classic with several
POWERADE FAB 50
schools, including United Faith Christian and Oak Hill Academy (Mouth of Wilson, Va.).
"Everybody wants to beat us now, so it's going to be tough," Terry admits. "But it'll be rewarding to watch them grow and develop. My main concern is playing in March."
Of course, that's when the state title game rolls around. And if the past is any indicator, it's also when this talented bunch will begin to peak for another title run.
Brandon Parker covers North Carolina for ESPNHS magazine and ESPNHS.com. Follow him on Twitter @brandoncparker or email him at brandon.c.parker@espn.com.
November, 15, 2011
11/15/11
10:03
AM ET
By
Jason Jordan
| ESPN.com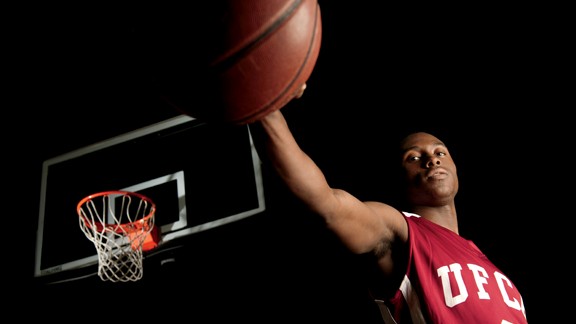 Andrew Craft/ESPNHSUnited Faith Christian Academy senior Braxton Ogbueze settles for nothing less than excellence; that's why he's the top-ranked point guard in North Carolina.
This story originally appeared in the Holiday issue of ESPNHS magazine's North Carolina edition.
With the moon still hovering over the Charlotte skyline early on a September morning, Braxton Ogbueze hops out of his parents' teal Saturn and walks across the vacant University City YMCA parking lot.
It's 4:55 a.m., and the United Faith Christian senior point guard has beaten most of the employees here. "Nothing new," according to one member.
Braxton has an urgency in his stride as he approaches the double doors. He's a good 10 steps in front of his father, Godwin, and his mother, Sharon, almost as if he's late for his own sold-out, nationally televised game.
The irony is that he's rushing to launch hundreds of jump shots and run through dozens of drills that no one will ever see.
All because of one principle.
"Focus," says Braxton, a Florida recruit who is rated No. 35 in the ESPNU 100. "My success, my drive, everything; it all has to do with focus."
And it's not your average level of focus. Braxton's would be abnormal for a 10-year NBA veteran, let alone a 17-year-old.
"He's definitely a different type of guy," says Rodney Purvis, a senior combo guard at Upper Room Christian Academy who teamed up with Braxton during the AAU season with the CP3 All-Stars. "Not in a bad way. He's got that type of focus that you just know will make him successful."
October, 19, 2011
10/19/11
12:18
PM ET
By
Brandon Parker
| ESPN.com
Last year, a broken hand forced Braxton Ogbueze to miss the first two months of United Faith Christian's season. The campaign ended with the Falcons losing in the NCISAA 1A final for the first time in three years.
Mix that motivation with a full season for Ogbueze and you see why the Falcons are our top preseason team in North Carolina and
No. 30 in the POWERADE FAB 50 rankings.
Not far behind, though, is West Charlotte, the defending 4A champs who return 13 players this year. That bunch includes junior center Kennedy Meeks, who dominated last season's tournament and has college coaches drooling.
Stay tuned for more in the ESPNHS holiday/basketball issue, but for now, let these rankings hold you over:
1. United Faith Christian (Charlotte)
2. West Charlotte
3. Charlotte Christian
Click here for the full POWERADE preseason North Carolina basketball rankings
September, 27, 2011
9/27/11
12:39
PM ET
By
Brandon Parker
| ESPN.com