High-SchoolNorth-Carolina:

Upper Room Christian
December, 29, 2011
12/29/11
10:10
AM ET
By
Brandon Parker
| ESPN.com
The year 2011 is winding down to a close and what a year it's been in sports. Here are the top 10 stories from the North Carolina high school sports scene:
10. Tragedy Strikes Twice

Unfortunately, sports is sometimes not about victory and triumph but loss and tragedy. So was the case in August, when Williams High QB Harry Cohen died from an accidental overdose just days after leading his team to victory, and in December, when Alleghany wrestler Luke Hampton was paralyzed during a match just days after earning the state's top ranking in Class 1A at 182 pounds. Our prayers go out to both families.
9. Stuntin' Like My Daddy

You could say it's in the genes and then some when it comes to Dillon Maples. A year after breaking his father's school record of 17 strikeouts by one, the Pinecrest senior tied his own mark with 18 Ks. Maples finished the year with a 9-1 record, 143 strikeouts and a 0.92 ERA. Similiar to his father, Tim, who was picked by the Orioles, the Cubs selected Dillon in the 14th round of the MLB Draft. Maples initially enrolled at UNC, but in August, he agreed to a deal with the Cubs that included a $2.5 million signing bonus.
8. Cardinal Rule
Cardinal Gibbons dethroned two-time defending Class 3A champ Chapel Hill this past fall by the smallest of margins — one point. The Crusaders placed five runners in the top 20, including individual champion Steven Phillips, who clocked a time of 15:49.
7. Last Hope
Midway through the season, Green Hope soccer coach Andrew Chadwick surprised his team by announcing he would retire at the end of the year. The Falcons made sure their coach ended on a good note by winning the Class 4A title in a 2-1 overtime thriller against Myers Park.
6. West is the Best

In 2010, West Charlotte blew a lead and lost in the state semifinals. They made sure the same didn't happen last year, breezing through the state tourney before letting the one they call Big Baby take over in the title game. Kennedy Meeks recorded 12 points, nine blocks and 19 rebounds (the fourth most in championship game history) to earn MVP honors.
5. New Faces Reach New Places

This past football season saw some unusual suspects claim state crowns. Scotland won its first ever state title by going 15-0 en route to the Class 4A crown and Havelock dethroned three-time defending Class 3A champ West Rowan.
4. Golden Graham
Thomas Graham painted the picture of dominance during his prep career, winning four straight NCISSA 3A state cross country championships. Graham also held his own on the national scene by copping ninth at the Foot Locker Nationals and 15th in the final DyeStat rankings.
3. A Page Out of History
Despite entering the postseason undefeated and as a top seed, Greensboro Page had quite the tough road to the Class 4AA title. That didn't faze the Pirates, who knocked off two-time defending champ Butler and season-long favorite Mallard Creek
in consecutive weeks before beating Garner in the 4AA championship.
2. Purvis Picks 'Pack

Earlier this year, Rodney Purvis was headed to Louisville, which rested in the same Blue Grass State that another top NC recruit by the name of John Wall played his college ball. But an assistant coaching shake-up led Purvis to decommit in May. After months of thinking, the Upper Room Christian senior guard decided to stay in his backyard and play for N.C. State.
1. Top Dog
On Dec. 6, Keith Marshall went to sleep a Clemson Tiger but woke up a Georgia Bulldog. After narrowing his choices, the speedy Millbrook tailback and the nation's sixth-best recruit decided on his childhood favorite team of Georgia, where he plans to enroll in January.
Brandon Parker covers North Carolina for ESPNHS magazine and ESPNHS.com. Follow him on Twitter
@brandoncparker
or email him at brandon.c.parker@espn.com.
December, 12, 2011
12/12/11
11:35
AM ET
By
Brandon Parker
| ESPN.com

Click here

to check out some of the other states in our Five Days of List-Mas.

Brandon Parker covers North Carolina for ESPNHS magazine and ESPNHS.com. Follow him on Twitter@brandoncparker or email him at brandon.c.parker@espn.com.
November, 15, 2011
11/15/11
10:03
AM ET
By
Jason Jordan
| ESPN.com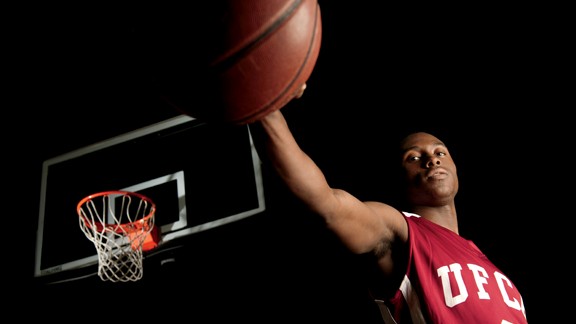 Andrew Craft/ESPNHSUnited Faith Christian Academy senior Braxton Ogbueze settles for nothing less than excellence; that's why he's the top-ranked point guard in North Carolina.
This story originally appeared in the Holiday issue of ESPNHS magazine's North Carolina edition.
With the moon still hovering over the Charlotte skyline early on a September morning, Braxton Ogbueze hops out of his parents' teal Saturn and walks across the vacant University City YMCA parking lot.
It's 4:55 a.m., and the United Faith Christian senior point guard has beaten most of the employees here. "Nothing new," according to one member.
Braxton has an urgency in his stride as he approaches the double doors. He's a good 10 steps in front of his father, Godwin, and his mother, Sharon, almost as if he's late for his own sold-out, nationally televised game.
The irony is that he's rushing to launch hundreds of jump shots and run through dozens of drills that no one will ever see.
All because of one principle.
"Focus," says Braxton, a Florida recruit who is rated No. 35 in the ESPNU 100. "My success, my drive, everything; it all has to do with focus."
And it's not your average level of focus. Braxton's would be abnormal for a 10-year NBA veteran, let alone a 17-year-old.
"He's definitely a different type of guy," says Rodney Purvis, a senior combo guard at Upper Room Christian Academy who teamed up with Braxton during the AAU season with the CP3 All-Stars. "Not in a bad way. He's got that type of focus that you just know will make him successful."
September, 1, 2011
9/01/11
1:00
PM ET
By
Brandon Parker
| ESPN.com
Fresh off an impressive showing at the Boost Mobile Elite 24 in Cali (including one-on-one battles with Kemba Walker AND John Wall), Upper Room Christian's Rodney Purvis refocused his basketball recruitment.
You might remember that Purvis had committed to Louisville earlier this year before decommitting when assistant Tim Fuller departed for Missouri. The new list for the
No. 16 senior in the ESPNU 100
features eight schools, including UConn, N.C. State and Virginia Commonwealth.
Notably gone is Duke, which dropped from consideration after a recent talk between Purvis and Coach K. Click
here
to find out why along with much more in Purvis' ESPNHS blog, set up by my man (and ESPNHS basketball editor) Jason Jordan (
@JayJayESPN
).
Brandon Parker covers North Carolina for ESPNHS magazine and ESPNHIGHSCHOOL.com. Follow him on Twitter @brandoncparker or email him at brandon.c.parker@espn.com.