High-SchoolNorth-Carolina:

Uriah LeMay
December, 13, 2011
12/13/11
11:37
AM ET
By
Brandon Parker
| ESPN.com

Monday | Tuesday |

Wednesday | Thursday | Friday

Whether you're putting together a grouping of best quarterbacks or worst albums, or you're making that special list for Santa, there's nothing quite like a good list. So in honor of the holiday season we're bringing you lists all week long — Merry List-Mas! Today: The top underclassmen in high school football.

The state championships are over and the Class of 2012 had their run, but it's never too early to start looking at the impressive players in the Class of 2013 and beyond. Who's going to rule the gridiron in North Carolina next season? We give you the early rundown of who to watch for.

5. Connor Mitch (JR), Wakefield, QB


Credentials: 3,832 passing yards, 48 touchdowns, nine interceptions

4. Greg Gilmore (JR), Hope Mills, DL


Credentials: 68 tackles, sack, blocked field goal, four forced fumbles, two fumble recoveries, offers from Clemson, Virgina Tech, South Carolina

3. Peter Kalamabyi (JR), Butler, LB


Credentials: Nine offers, including Clemson, Michigan and Virginia Tech

2. Uriah LeMay (JR), Butler, WR


Credentials: 19 touchdowns (14 receiving and five rushing), 43 catches for 842 yards, 38 rushes for 397 yards, offers from a dozen schools, including LSU and Georgia.

1. Riley Ferguson (JR), Butler, QB


Credentials: 3,002 passing yards, 45 touchdowns, six interceptions, led Bulldogs to 2010 Class 4AA state title, offers from LSU, Michigan and Clemson.

Click here

to check out some of the other states in our Five Days of List-Mas

Tomorrow: POWERADE state hoops rankings Brandon Parker covers North Carolina for ESPNHS magazine and ESPNHS.com. Follow him on Twitter @brandoncparker or email him at brandon.c.parker@espn.com.
September, 26, 2011
9/26/11
11:53
AM ET
By
Brandon Parker
| ESPN.com
After games ending Saturday, Sept. 24
The rich seem to keep getting richer in North Carolina. Mallard Creek and Butler continued to establish their dominance with routes of Lake Norman and Rocky River, respectively. Meanwhile, Richmond, Page, Scotland and Porter Ridge all had time to rest before looking to continue their undefeated runs this week. Thanks to heavy rain showers, No. 8 Garner also got some rest before facing East Wake on Monday, but the Trojans now have two games in one week.
All of these teams should keep a watchful eye on their rearview mirror, though. A.L. Brown appears to be back on track, shutting out its second straight opponent in Central Carrabus. Plus, Burns looked impressive in a 27-26 win against previously undefeated Freedom while South Point continues to roll behind
star fullback Troy Leeper
.
On the national front, Mallard Creek moved up to No. 27 while Butler re-entered the top 40 at No. 39 in the
POWERADE FAB 50.
Here are this week's rankings (last week's rankings are in parentheses):
1. Mallard Creek (Charlotte) 5-0 (1)
Behind Jela Duncan's 192 rushing yards and four touchdowns, the Mavericks blanked Lake Norman, 55-0. Next up: Vance.
2. Butler (Matthews) 4-1 (2)
Sparked by Uriah LeMay's 56-yard touchdown run on the first play of the game, the Bulldogs racked up 312 rushing yards en route to a 52-6 win against Rocky River. A matchup with East Mecklenburg is next.
3. Richmond (Rockingham) 5-0 (3)
The surging Raiders got some time to regroup during their bye week before facing Hoke County this Friday.
Click here for the full POWERADE North Carolina weekly football rankings.
September, 20, 2011
9/20/11
11:41
AM ET
By
Brandon Parker
| ESPN.com
If you haven't done so yet, do yourself (and me) a favor by checking out
this feature on Butler junior wideout Uriah LeMay
. Kid's got a bright future and a heck of a pedigree with his older brother, Christian, currently a freshman QB at Georgia and his dad being a former player at Florida A&M.
With this post, I introduce to you "The Chop Chop." For just about every story we write for the ESPNHS magazine and website, a lack of space leads to some interesting tidbits getting left on the cutting room floor — hence, the "chop chop" name. But since the Internet has unlimited (or so they say), here's our chance to let you guys see some of those golden quotes and anecdotes that you might otherwise miss.
On a little-known secret:
"Some people call me "Kid Usher" or "Trey Songz" because they say I sound like them when I sing. I've been told I could be a singer, but I'm not really pursuing it. But hey, if the opportunity ever came up, I might try (
laughs
).
"Me and Uriah's locker are right besides each other, so I sing with him and Brandon Cook. We sing it all. But Uriah's actually really good. I always tell him if he doesn't play football, he could be a gospel singer or something" -
Riley Ferguson, Butler QB
On Butler being a target after consecutive state titles:
"Butler is always a target because of what we've been able to do and our past success. Every summer, I'll talk to some guys at surrounding schools and areas, and they'll say their coach just named a whole week of workouts after Butler. That tells you that people see us as a threat."
Butler coach Brian Hales on LeMay's work ethic:
"I can't remember a time that I've had to say, 'Uriah get to work.' It just doesn't happen. With his size and the way he works, we could put him at tight end, defensive end, wherever, and he'll make plays."
Brandon Parker covers North Carolina for ESPNHS magazine and ESPNHIGHSCHOOL.com. Follow him on Twitter @brandoncparker or email him at brandon.c.parker@espn.com.
September, 16, 2011
9/16/11
5:27
PM ET
By
Brandon Parker
| ESPN.com
We're five weeks into the football season, which is around the time the contenders begin to separate from the pretenders. Here's what to watch out for this weekend:
Hillside (3-1) at Southern Durham (2-2)

Southern Durham is desperately in need of a win after dropping two straight games, and as a result, out of the top 10. On the other hand, Hillside has played well since falling in its opener. The defending 4A champs have been led by running back Khris Francis on offense and All-State DL Jamal Marcus on defense, making for a balanced attack. Most of Marcus' focus tonight will be on Southern Durham QB Dorian Belcher. who has played well despite the Spartans' struggles. In last week's overtime loss to Dunbar, Belcher finished with 224 yards and three touchdowns. Southern will put up a fight, but it won't be enough to take down a surging Hornets squad.
My pick:
Hillside 24, Southern Durham 21
Nash Central (4-0) at New Bern (3-1)
Ever since defeating two-time defending 2A state champ Tarboro to start the season, Nash Central has been on a tear. Credit quarterback Jalen Hendricks, who has excelled as a dual threat with 658 total yards, six touchdowns and zero turnovers. New Bern's offense has been just as electric of late. After giving up 51 points in a loss to Havelock, the Bears have put up 114 points (!) in their last two games. Though I doubt they'll put points at the same ridiculous rate, expect the 4A Bears to extend their win streak against the 3A Bulldogs.
My pick:
New Bern 30, Nash Central 24
Millbrook (3-1) at Broughton (1-2)
Millbrook should have the advantage in this contest, but the main intrigue comes at the tailback position. Of course, Millbrook boasts the nation's top running back in
Keith Marshall
, our
cover boy for the ESPNHS September mag
. Meanwhile, Broughton is led by recent Va. Tech commit Chris Mangus, who had 251 rushing yards and three scores in leading the Capitals to their first win of the season.
My pick:
Millbrook 24, Broughton 17 (Oh, and I've got Marshall winning the yardage battle against Mangus)
Myers Park (3-1) at No. 2 Butler (3-1)

Who would have thought these two teams would have the same record when they met up? Myers Park is off to its best start since 2005, when it ended up reaching the state semifinals, but Butler is...well, Butler. Minus a few lapses, the Bulldogs have looked like their scary selves since losing to No. 1 Mallard Creek. Expect the four-headed offensive monster of QB Riley Ferguson, RB Josh Glisson and WRs
Uriah LeMay
and Zach Ferguson to keep chugging along.
My pick:
Butler 40, Myers Park 21
Brandon Parker covers North Carolina for ESPNHS magazine and ESPNHIGHSCHOOL.com. Follow him on Twitter @brandoncparker or email him at brandon.c.parker@espn.com.
September, 16, 2011
9/16/11
10:37
AM ET
By
Brandon Parker
| ESPN.com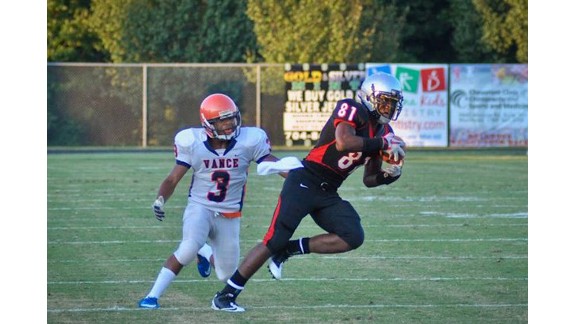 Don Atkins/ESPNHSButler's Uriah LeMay (81) snags a pass during a Sept. 9 win against Vance. In four years, the junior wideout has endured only one loss on the field.
Defeat has a way of finding some athletes more than others, but for four years, Uriah LeMay had no idea what it felt like.
Sure, there were some close calls, times when a loss tried to creep up from behind wielding an idle threat. Yet from LeMay's eighth-grade year to his stint on JV to last season's repeat 4AA championship for Butler, victory was his.
For some reason though, Aug. 19 was different. After the Bulldogs fell behind early to powerhouse Mallard Creek, LeMay caught a touchdown pass to tie the score. When the Mavericks went up again, LeMay answered with another TD reception. Ultimately, despite LeMay's efforts, defeat had the last word in a 28-20 loss.
"It just showed we have a lot more to work on and every loss is another opportunity to learn from," said LeMay, a junior for the Bulldogs. "It hurt a lot, though, because that was the first one I had experienced in a long time."
Before that rare loss in August, LeMay's effort could almost never be questioned, resulting in 900 total yards and 12 touchdowns during the Bulldogs' 15-0 state-title run last year. But since then, LeMay has upped the ante, making sure he and his teammates' effort will never come up short again.