High-SchoolOhio:

Basketball
December, 14, 2011
12/14/11
6:30
PM ET
By
David Auguste
| ESPN.com

Monday

|

Tuesday

|

Wednesday

| Thursday | Friday

After games ending Wednesday, Dec. 13

Taft has held on to the No. 1 spot with three convincing wins, but they will be tested all year by Division I powers Northland and Moeller and D-II standout Dunbar. SVSM and Garfield fell out the top five by virtue of a loss, allowing Shaker Heights to jump into the top five. New to the mix is No. 10 Middletown, which is off to a 3-0 start. Some other impressive teams early on are Cleveland Heights, Elida and Mentor.

Click here

for the entire POWERADE Ohio Basketball Rankings.
December, 8, 2011
12/08/11
5:11
PM ET
By
David Auguste
| ESPN.com
With the bulk of its starting lineup intact, you had to figure Taft would be one of Ohio's premier teams this season. But who knew they would emerge as a national power just a week into the season? A 2-0 start for the Senators was enough to convince the voters to add the Cincy power to the first regular-season POWERADE FAB 50 hoops rankings, which dropped earlier today.
Taft checks in as the state's lone ranked team at No. 38 on the heels of blowout victories against Aiken and Western Hills. The Senators have a tough slate of games over the next few weeks, so we should get a good gauge of just how good the team really is.
Northland (No. 11) and Moeller (16) are both ranked in the Midwest Region.
Click here for the entire
FAB 50 Rankings
.
Click here for the
Midwest Region rankings
.
November, 29, 2011
11/29/11
3:02
PM ET
By
David Auguste
| ESPN.com
This story originally appeared in the Holiday issue of ESPNHS magazine's Ohio edition.
If you missed the ESPN 30 for 30 "Guru of Go," don't sweat it — Taft will be performing a re-enactment of Loyola Marymount's run-and-shoot attack all over the country this winter.
"It's like organized chaos," says head coach Mark Mitchell. "Every three to eight seconds, there's going to be a shot that goes up. We play both offense and defense fast."
That exhilarating style of play had scoreboard operators working overtime and produced the first title (Taft won the D-III crown) in any sport for a school trying to debunk the myth that nothing good happens in that part of Cincinnati.
"The title was significant for us being an inner-city school," says Martin. "It was a galvanizing moment. It proved good things can come to the inner city."
With four starters back this winter, there may be even more good news on the horizon for the Taft community.
Running the show is 5-foot-8 senior guard
Orlando Berry
(15 points, nine assists last year), while classmate
Jaelean Lowe
, who averaged 12 points a game, is deadly from beyond the arc. Senior
Adolphus Washington
, an Ohio State football recruit, also brings plenty of talent to the hardwood. He tallied a team-high 18 points in the state final and averaged 18 points and 15 boards a game on the season.
Seniors
Dwayne Stanford II
, who will play football at Oregon, and
Jamaine Freeman
are athletic, intelligent players, while senior transfer
Jabari Watkins
brings lockdown defense to the squad. Things will get tougher for Taft after a move up to D-II play, but Mitchell is confident his team will be up to the challenge.
"You can't rest on what you've done if you want to continue greatness," he says. "Anyone can win one. Now win two and that puts you in good company."
David Auguste is an associate editor for ESPNHS and ESPNHIGHSCHOOL.com. Follow him on Twitter @ESPNHSAuguste or email him at David.Auguste@espn.com.
November, 18, 2011
11/18/11
11:00
AM ET
By
David Auguste
| ESPN.com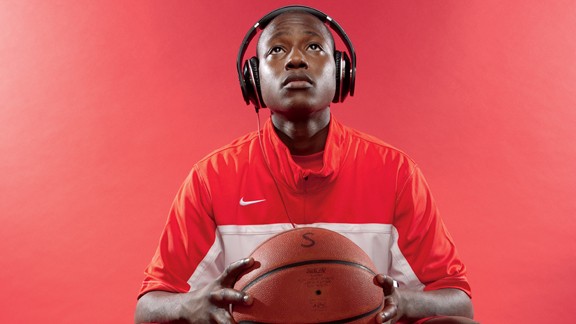 Danny Vega/ESPNHSShaker Heights guard Terry Rozier will take his talents to Louisville next year.
This story originally appeared in the Holiday issue of ESPNHS magazine's Ohio edition.
Coach, Terry Rozier just made my day. I'm going to call the other three guards (we're recruiting) and let them know we got the guard that we want.
— Voicemail from Rick Pitino to Shaker Heights basketball coach Danny Young
Danny Young won't be erasing that message anytime soon.
The Shaker Heights coach received the voicemail in early September, moments after Rozier had called Pitino to verbally commit to the Cardinals.
"I just felt like what he said was genuine and sincere (about Rozier being his No. 1 choice)," says Young. "He said he wanted to continue what myself and our staff had begun with Terry."
Rozier, a 6-foot-1 point guard rated No. 88 in the ESPNU 100, had been overlooked for much of his recruitment — garnering offers from only Cleveland State and Akron through his junior season. So the fact that he ended up No. 1 on the wish list of an elite Big East program shows just how far things had come in the past year. And interest was growing. The day before Rozier committed, Pitino was joined at a Shaker open gym by West Virginia coach Bob Huggins and Cincinnati assistant George Jackson.
November, 8, 2011
11/08/11
3:22
PM ET
By
David Auguste
| ESPN.com
See all 51 All-State teams.
With the 2011-12 hoops season set to tip off, ESPNHS has all the info you need on the top players in Ohio.
We've broken down the state's top 20 players into four teams based on their talent, and included several other players who just missed the cut. Keep in mind, these selections are based on past accomplishments and projected on-court performance in addition to recruit rankings.
For a list of the top senior basketball recruits in Ohio,
click here
.
Ohio All-State Basketball
First team
G: Terry Rozier, Shaker Heights, 6-1/182, Senior


Helped Team USA Midwest grab gold at the Nike Global Challenge.
F: Tony Farmer, Garfield Heights, 6-6/210, Junior


Averaged 17 points, eight rebounds and three blocks last winter.
F: Deontae Hawkins, Dunbar, 6-7/200, Senior


Improved his status nationally playing for All-Ohio Red.
F: Kenny Kaminski, Medina, 6-7/245, Senior


Michigan State recruit will miss his senior year with a shoulder injury.
C: Marc Loving, St. John's (Toledo), 6-8/200, Junior

OSU commit will battle Farmer for title of Ohio's top junior.
November, 8, 2011
11/08/11
12:51
AM ET
By
David Auguste
| ESPN.com
John Hay senior standout and ESPNHS All-State guard
Devon Carter
has made a verbal commitment to attend Lehigh University in Pennsylvania next year. Carter announced his decision earlier this week via his Twitter account.
"I choose Lehigh because you can't beat their academics there and I feel that I can contribute to their success early (in my career)," Carter told ESPNHS. "Family is also important to me and I felt like I was a part of their family when I was there."
Carter, one of the state's top combo guards, averaged 20 points and six dimes last year to help the Hornets advance to the Division II region title game. The 6-foot-3, 195 pounder is rated a
two-star recruit
by ESPNU, and Lehigh's coaching staff envisions him earning significant minutes as a freshman. The Hawks went 16-15 last year and have another Ohio star on the roster in former GlenOak guard C.J. McCollum.
Carter planned to sign with Lehigh later this week then turn his attention to his final season at Hay. "The goal is a state championship," he says. "Everything else will take care of itself."
October, 19, 2011
10/19/11
11:11
AM ET
By
David Auguste
| ESPN.com
Adolphus Washington
and state champ
Taft
open the winter as Ohio's No. 1 squad. The Senators went 26-1 in Division III play last season and now have their sights set on a repeat after moving up to Division II. D-I runner-up
Northland
holds the second spot and looks to advance to the finals behind
Jalen Robinson
and
Devon Scott
, while
Moeller
,
SVSM
and
Garfield Heights
round out the top five.
Here's how the top three looks like heading into the 2011-12 season:
1. Taft
2. Northland
3. Moeller
Go here
for the entire POWERADE Ohio Basketball Rankings.