High-SchoolOregon:

ESPNHS Magazine
April, 5, 2012
4/05/12
12:59
PM ET
This story originally appeared in the April 2012 issue of ESPNHS Oregon.
It's easy for gifted athletes to gain national exposure in this generation of social media and camera phones, right?
Yeah, try telling that to
Lane Richards
. The Pendleton senior 2B/SS made a name for himself locally with his exceptional defense and ability to spray doubles all over the park. But when it came to love from pro scouts and Division I schools, Richards was pretty much slept on. It felt like typical big-fish, small-pond swag.
That was the case until an eye-opening performance at last summer's Area Code Games led to a meteoric rise in his stock.
"Going there and playing well proved I could play with anyone in the country," says Richards. "I was always looking for an opportunity like that."
It didn't take long for Richards to garner the attention he craved from those in attendance. His deft glove work and pinpoint lasers to first and home during infield drills were enough for scouts to cosign him a certified stud. Soon after, messages from big-time programs flooded his inbox and Richards rose to the state's No. 2-ranked prospect by Perfect Game, trailing only good friend
Carson Kelly
of Westview.
His confidence soared, too, something the Notre Dame recruit hopes carries over and helps him improve on last year's production (.460/school-record 42 runs).
"He's a guy who gives you confidence when the ball is put in play," says head coach Greg Whitten. "Lane can handle the bat: drag bunt, sac bunt, hit-and-run, anything. I feel confident he will get the job done."
The Buckaroos have reached the state finals four times and have been knocking on the door in recent seasons. With Richards' renewed confidence and a supporting cast that includes sophomore
Tommy Lane
and senior
Reese
Merriman
, this team is ready to make people take notice. Stay tuned.
David Auguste covers high school sports for ESPNHS. Be sure to follow him on Twitter @ESPNHS_Auguste or email him at David.Auguste@espn.com.
March, 2, 2012
3/02/12
12:00
PM ET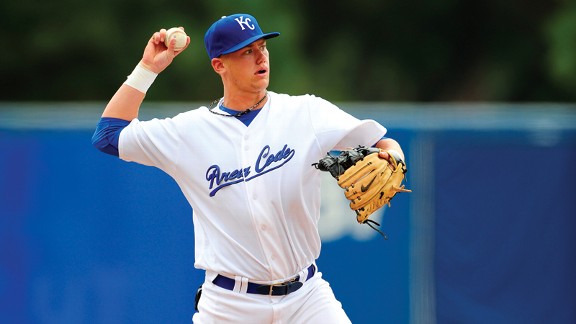 Dustin Snipes/ESPNHSOregon commit Carson Kelly is rated the No. 4 corner infielder by ESPNHS.
This story originally appeared in the March 2012 issue of ESPNHS Oregon.
It seems like everyone in Oregon can regale you with a story about what makes Westview senior
Carson
Kelly
a rare talent.
Some point to the astounding power he displayed while cranking a mammoth homer (450 feet, some say) against Jesuit. Others bring up Kelly's brilliant outing against Lake Oswego, in which he was one strike shy of a perfect game.
And there are numerous stories about his penchant for delivering in clutch situations, like his five-K effort that clinched a gold medal at the 2011
Pan Am Games
.
But the story Kelly wants people to tell is still unwritten.
"Just looking back on the last couple of years has been great," he says. "But there's no finish line in my life. There's always work to be done to become the person I want to be."
The person Kelly was last spring was the leader of Westview's first title-winning squad and the Gatorade State Player of the Year. He tagged opposing pitchers for 13 homers and 48 RBIs and was nearly unhittable on the mound, posting a 9-1 mark with a 1.72 ERA and 67 K's.
"Without him, there's no way we're playing for our fourth straight Metro League or back-to-back 6A titles," says coach Steve Antich.
Expectations are even higher for Kelly this spring as the team was rocked by graduation and pro scouts are sure to occupy any ballpark the Westview bus pulls into.
"It doesn't get overwhelming because I love the game," Kelly says of the pressure.
Kelly is hoping the next chapter of his story includes another state crown and a selection in the upcoming MLB draft. But even then you won't be able to place the final period just yet; with Kelly the best is yet to come.
"Carson has big dreams, and he knows he has not achieved them yet," says Antich. "He could easily say, 'I'm a good high school player,' and cruise. But he wants to be great."
David Auguste is an associate editor for ESPNHS and ESPNHS.com. Follow him on Twitter
@ESPNHSAuguste
or email him at David.Auguste@espn.com.
November, 29, 2011
11/29/11
3:59
PM ET
This story originally appeared in the Holiday issue of ESPNHS magazine's Oregon edition.
You can't blame people at Corvallis for envisioning another championship celebration in March.
Not when reigning 5A Player of the Year
Jake Ehlers
and a host of other talented seniors are returning to the hardwood. But no one suiting up for the team is buying into that talk. Coach Greg Garrison simply won't allow it.
"We're not going to use the words defend our title or repeat bid," says Garrison. "They need to earn success through hard work, and this team needs to put its own stamp on things."
Ehlers was the one doing the stamping during last year's title run, connecting for 36 points against Benson to clinch the championship.
"He's probably the most skilled player I've had in a long time," says Garrison. "He hates to lose and hates not to perform well."
Ehlers, who at 6-foot-7 is a nightmare assignment for defenders with his multi-dimensional offensive arsenal, has pledged to play at Portland. Another key returner is senior forward
Nolan
Hansen
, an imposing presence in the middle and the team's second-leading scorer in the playoffs. Senior wing
Joey Spiegelberg
is a sniper from long distance and keeps teams from packing the paint on Ehlers, while senior guards
Keith Johnson
and
Henry
Parker
are explosive finishers who do most of their damage in transition.
"We like to get up and down, push the ball up and run a secondary break," says Garrison.
Last winter's championship resulted in a spike in attention as Corvallis will play in the prestigious Les Schwab Invitational along with
POWERADE FAB 50
No. 3 Oak Hill Academy (Va.) and 6A power Central Catholic.
"The kids are looking forward to a challenge," says Garrison. "They want to get better at every facet of the game." And they'll have to if they want to repeat.
David Auguste is an associate editor for ESPNHS and ESPNHIGHSCHOOL.com. Follow him on Twitter @ESPNHSAuguste or email him at David.Auguste@espn.com.
November, 24, 2011
11/24/11
10:00
AM ET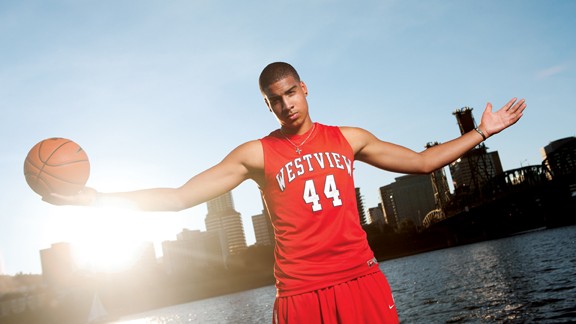 Quavondo/ESPNHSLanden Lucas averaged a double-double during his sophomore season at Sunset, leading the team to 18 wins.
This story originally appeared in the Holiday issue of ESPNHS magazine's Oregon edition.
Landen Lucas is used to life on the road.
His first passport photo was taken less than two weeks after he was born, a necessary step in the family's move to Tokyo, where his father, Richard, was playing professional basketball.
The Lucases moved back to Eugene when Landen was 3, and he spent his elementary school days in Portland before returning to Japan for his sixth-grade year with his mom, Shelley.
Then last year, after spending his first two high school years at Sunset, Lucas played his junior season for national basketball powerhouse Findlay Prep in Henderson, Nev., a city roughly 20 minutes outside of Las Vegas. Lucas traveled across the country with the Pilots, capping his season at the ESPNHS National High School Invitational in North Bethesda, Md.
Shortly after Findlay Prep's loss in the NHSI quarterfinals, Lucas started talking with his parents about returning to Portland for his senior season. His plan came to fruition this summer when he transferred to Westview, ensuring that he'll spend his final high school campaign in front of family and friends.
Lucas couldn't be happier with his decision. Shelley won't need to rack up the frequent-flyer miles just to see him play, as she often did last year. He gets to walk his golden retriever, Buddy, every day in the park, a simple activity he missed while at Findlay. And he gets to be a regular high school student again — albeit one who is rated Oregon's top player by ESPNU and has signed on to play for national hoop power Kansas next winter.
"He's a big-time game-changer," says Westview coach Pat Coons.
The 6-foot-10, 240-pound center is ready to dominate this year after taking some time off from basketball following his demanding yearlong sojourn at Findlay. There, Lucas spent every day playing, practicing and thinking about hoops.
"The hardest part was the year-round basketball," he says. "AAU was overlapping with my basketball season, and I was getting tired."
Though Lucas felt burnt out, he doesn't regret leaving Sunset for Findlay following his sophomore year. Lucas was coming off a season in which he averaged 12.6 points, 10.5 rebounds and 1.7 blocks per game for the Apollos. During the playoffs, he set Class 6A state tournament records with three-game totals of 45 rebounds and 11 blocks. And in his final game at Sunset, he was a monster, tallying 17 points, 20 boards and two blocks in the Apollos' 60-49 win over McKay in the fourth-place game.
"His state tournament run was dominant," says Sunset coach Todd Sherwood.
Despite his breakout season, Lucas wasn't happy with his play. He felt his work ethic wasn't there and his game had peaked. Findlay offered the perfect opportunity to change all that.
"He needed a new challenge," his mom says.
At Findlay, he faced plenty of challenges on the court. The Pilots' training regimen mirrors a college workout routine, and practices featured some of the nation's top players.
Lucas slowly got acclimated to playing for Findlay, and by the end of the year he was starting for the Pilots. He finished the season averaging 5.8 points, 5.2 rebounds and 2.0 blocks per game.
"He made huge strides," says Findlay coach Michael Peck.
However, Lucas didn't need to adjust to being away from home. He was used to it thanks to his time in Japan.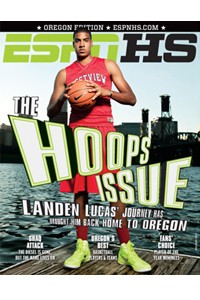 Quavondo/ESPNHSWestview senior center Landen Lucas is back in Oregon after spending last season at Findlay Prep in Nevada.
He spent the first part of his life learning primarily Japanese. When he returned to Oregon, he enrolled at the International School in Portland, which teaches classes in Japanese. (Lucas was also taught classes in English for an hour a day.)
His mother put him in the International School because she didn't want Lucas to lose the Japanese he learned in Japan. And she decided to return to Japan with her son when he was in sixth grade so he could master the language.
Lucas and his mom moved to the city of Fukui so he could be fully immersed in the local culture. There, unlike in Tokyo, everything was in Japanese.
"My mom didn't speak Japanese that well, so I had to do most of the translating," recalls Lucas. "Being away there made it easier for me to go to Findlay, and it will make it easier once I go off to college. It may be a new environment, but it's not that new to the point where you can't read signs and go food shopping and don't know what you're getting."
Lucas also played basketball in Japan, where all-day practices instilled in him the importance of hustle and sacrifice. He's also learned the value of hard work from his father, whose all-out style of play made him a fan favorite at the University of Oregon.
"From Day 1, I tried to impart that rebounding was so important," says Richard. "If you can make that an integral part of your game, the points will come and the accolades will come."
Lucas is hoping his play will help lead Westview to a state title this season, though he'll be under a microscope having transferred to Sunset's archrival. Westview and Sunset play a home-and-home series in February.
"The decision was not wanting to not go to Sunset," says Lucas. "It was being more comfortable at Westview."
"I think everyone is moving forward," adds Sherwood.
"I hope he has success this year, except against us, and
I wish the best for him."
Lucas is prepared for the scrutiny he's going to face, but he's more concerned with enjoying his senior year on and off the court. Already a stellar student, he's focused on improving his 3.8 GPA, and he plans on trying out for the golf team in the spring.
"I'm looking to have a lot of fun this year," says Lucas.
Sounds like a kid who's happy to be home.