High-SchoolOregon:

Recruiting
September, 27, 2011
9/27/11
4:49
PM ET
The bad news just keeps coming for the
Aloha
football team.
Back-to-back losses has the defending Class 6A champs sitting at 2-2 in the competitive Metro League, and now star RB
Thomas Tyner
has been diagnosed with a slight concussion. He will miss this Friday's contest against Westview.
"I'm taking it easy, this week I'm out," Tyner said.
The head injury occurred during the Warriors' 47-40 loss to Lakeridge Friday night.
"I just took a blow throwing a halfback option pass," says Tyner, who piled up 187 yards and scored a pair of long touchdowns before sustaining the injury early in the fourth quarter.
The junior, who graced
our cover
in September and was a ESPNHS All-American as a sophomore, is currently second in the state with 700 rushing yards. He recently received an offer from USC to go with interest from UW, Oregon and Oregon State.
September, 27, 2011
9/27/11
4:11
PM ET
For the October issue of the ESPNHS Oregon edition, we teamed up with our resident soccer expert Sheldon Shealer to identify the top 22 soccer players in the state. The mags hit schools this week but if you haven't received your copy yet, here's a look at the Starting 11 and an additional 11 elite players starring on the pitch for the upcoming spring season. To get your fill of high school soccer info, check out the
ESPNHS soccer homepage.
The Starting 11
[F] Dustin Munger, McMinnville, Senior, FC Portland

Highly touted recruit was a Class 6A All-State first-teamer in '10
[F] Yanphol Patino, Beaverton, Senior, Westside Metros

Former Sunset star makes Beaverton a contender in 6A
[F] Jaime Velasco, Westview, Senior, Westside Metros

Uncanny ability to create scoring opportunities for teammates
September, 21, 2011
9/21/11
12:44
PM ET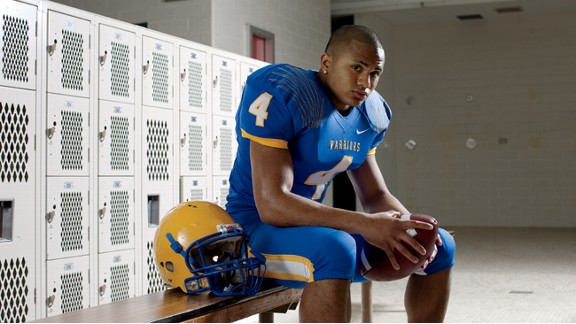 Quavondo/ESPNHSAloha RB Thomas Tyner is taking the state by storm.
We can't always fit everything we want in the pages of ESPNHS, so we bring you the Cutting Room Floor. Think of it as the deleted scenes portion of your favorite Blu-ray. We get things started with Aloha RB
Thomas Tyner
, who relives his Pop Warner glory days, tells us his inspirations and when he plans to commit. If you haven't checked out his feature, check it out
here
.
On his nicknames —
People call me Dash and Boobie, after the guy on Friday Night Lights.
On Pop Warner days —
I started in third grade playing in the Aloha Youth Football. I didn't really know how to play running back. I was successful, though. I had like 35 touchdowns one season and 25 the next.
On coach Chris Casey —
He's a blue-collar coach in a blue-collar community. He works us harder than everyone else. We have to work hard because things aren't going to be given to us. He likes to torture us. I'm just rolling my eyes and trying to get it over with. It's horrible. You can't feel your legs after the workouts.
September, 20, 2011
9/20/11
1:33
PM ET
It's time for the All-State Stock Watch, as we look at
All-State
football players who saw their potential value rise or fall over the past week. A player could have performed well in a game, gotten a big-time scholarship offer, broken his leg or just had an off game.
UP — Jordan Visarraga, Willamette, RB

After three weeks of action, Visarraga is the state's leading rusher with 672 yards. He posted 189 yards with three TDs and a pair of picks in a Week 2 win then added 225 yards and six scores to lead the Wolverines over Eagle Point, 52-22, last weekend. The senior exploded for 152 yards and four scores in the second half of the Eagle Point contest.
DOWN — Jacob Hollister, Mountain View, QB

Sherwood's defense has been known to make things hard on the state's most accomplished passers. After Friday night, Hollister can attest to that. The senior signal-caller struggled to find his groove, going 4-of-11 for 40 yards in a 41-18 loss to the defending 5A champs. Now don't trip, Hollister has a pair of offers in hand and interest from programs all over the west coast, so chalk this performance up to an off day and great Sherwood defense. We fully expect his stock to rise over the coming weeks.
UP — Lochlin Deeks, West Salem, DL

Playing against many of his former West Linn teammates on Friday night, Deeks headlined a swarming West Salem defense that held its ground on three red zone trips to capture a 24-3 win. Deeks made life miserable for West Linn's O-Line, helping hold the Lions under 300 yards of total offense. Buoyed by the play of its defense, West Salem has won consecutive contests after a blowout loss in Week 1.
September, 15, 2011
9/15/11
12:56
PM ET
It's time for the All-State Stock Watch, as we look at
All-State
football players who saw their potential value rise or fall over the past week. A player could have performed well in a game, gotten a big-time scholarship offer, broken his leg or just had an off game.
UP — Oshay Dunmore, Newport, QB/DB

Newport trailed Astoria 14-7 at the half of Friday night's game before Dunmore took over. The Oregon recruit led the offense to 29 unanswered points as the Cubs claimed a 43-20 road win. Dunmore hooked up with receiver Drew Dinwoodie for a long TD then added a pair of scoring runs on the ground. He finished the contest with 338 offensive yards and five total touchdowns.
DOWN — Paris Penn, Grant, QB

Before the season, Grant coach Diallo Lewis stressed his team's need to execute better down the stretch and limit turnovers. That wasn't the case in Week 2 as the Generals turned the ball over six times in a 49-24 loss to Tigard. Penn struggled against the Tigers' defense, throwing three picks and losing a fumble during the loss. He has a chance to right the ship this weekend when Grant faces defending 6A champ Aloha.
UP — Thomas Tyner, Aloha, RB

Tyner was a beast on the ground in the Warriors' 16-14 win over Tualatin Friday night. The junior RB rushed for 295 yards, highlighted by a scintillating 63-yard burst that got the Aloha offense rolling. Tyner produced a remarkable second half, tallying 197 yards after the half. He posted a 8.2 YPC average to keep Aloha undefeated. Tyner has racked up 490 yards and three TDs in two contests.
September, 9, 2011
9/09/11
4:36
PM ET
Game of the Week: Jesuit (1-0) vs. Sheldon (1-0)
Are you ready for some offense? These two Class 6A powers put up fireworks in Week 1, combining for a ridiculous 118 points last week. We hope for more of the same this week as Jesuit QB Nicholas Rothstein looks to outmatch Sheldon signal-caller Dillon Miller.
David's pick: I think Sheldon takes this one, 35-27.
Some more to watch
Lake Oswego (1-0) at Westview (1-0)
No one in Class 5A could stop Steven Long last season. It's looking like 6A teams won't have the answer either. Westview will look to keep the Sherwood transfer in check after he collected four TDs in his Lake Oswego debut. The Wildcats will try to start and finish strong after allowing a 17-point lead to slip away against Grant in Week 1. Westview QB C.J. Garcia (3 TDs last week) will look to avenge last year's 13-point loss to the Lakers.
Tualatin (1-0) at Aloha (1-0)
This rematch of last year's Class 6A title game will pit a stingy Tualatin defense against a Thomas Tyner-led Warriors team that has won 13 consecutive contests dating back to last year. Tualatin QB Travis Johnson leads the Timberwolves' attack, while Tyner enters the contest less than 50 yards from 2,500 career-rushing yards.
Newport (1-0) at Astoria (1-0)
Newport can take a big step in proving it's a legit Class 4A contender with a win against Astoria, a nine-win team that lost in the state quarterfinals last fall. Oregon commit Oshay Dunmore is the player to watch in this matchup.
August, 25, 2011
8/25/11
9:23
PM ET
Name:
Dustin Munger
School:
McMinnville
Sport:
Soccer
The Scoop:
We could easily reserve this honor for a McMinnville soccer player every fall. Munger gets the nod this time around after powering the Griz to a 13-2-1 mark and a spot in the second round of the playoffs in 2010. The versatile senior D/MF is the reigning Pacific Conference MVP and has committed to play at Portland next year. Munger is also a member of the ESPNHS West Region's
Starting 11.
August, 25, 2011
8/25/11
9:14
PM ET
Name: Tyrone Holmes
School: Eagle Point
Sport: Football
The Scoop: A pair of gold medals during last spring's Class 5A track meet helped elevate Holmes' status as a multi-sport standout. His ticket to the next level appears to be with his play on the gridiron, however. The 240-pound senior lineman contributed 37 tackles (seven for a loss) in 2010, which generated interest from several Pac-12 schools. Holmes currently holds offers from Idaho, Oregon State and Washington State.
August, 24, 2011
8/24/11
12:09
PM ET
Name:
Isaac Seumalo
School:
Corvallis
Sport:
Football
The Scoop:
This 6-foot-3, 281-pounder's stock soared over the summer after he stood out at the Nike Football Training Camp in Eugene. Seumalo took MVP honors for the fourth time at a Nike event, becoming the first player to earn that distinction. The Oregon State-bound two-way lineman enters the season as the area's top recruit and the No. 65 senior in the
ESPNU 150
. Seumalo helped the Spartans' offense top the 30-point mark five times in 2010.
August, 22, 2011
8/22/11
11:04
PM ET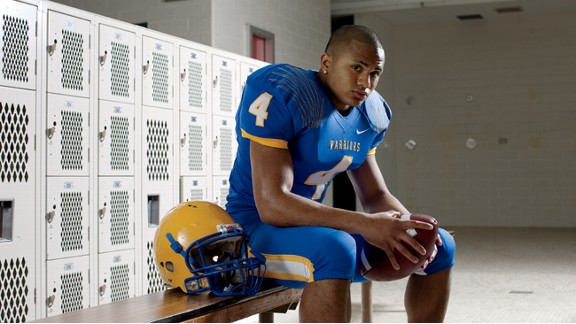 Quavondo/ESPNHSAloha RB Thomas Tyner is taking the state by storm.
The Aloha football team was never considered a title contender in either the Metro League or in Class 6A. The Warriors were usually a middle-of-the-pack squad and usually played the background to more decorated squads like Jesuit and Lake Oswego.
That is of course before Thomas Tyner stepped foot on campus.
The junior has emerged as the state's fastest player and earned the hardware to back it up last year. He validated his status as an elite athlete in two sports, leading Aloha to its first state crown on the gridiron and snagged gold and a state record in the sprints during spring track.
As fast as he is, we were able to keep Tyner in place long enough to get him on our September cover.
Get the lowdown
on this burgeoning star and see how he plans to be an even better player in 2011.
August, 22, 2011
8/22/11
3:13
PM ET
As promised here is the ESPNHS All-State team that appears in the September issue that drops this week. We also added 30 more players you should keep an eye on this fall. Think we missed someone for the list, give us a shout on Twitter @ESPNHSAuguste or in the comments section below.
Note: The team is based on projected on-field performance and accomplishments, not necessarily recruiting potential. For a list of the top football recruits in the state,
click here
.
First Team Offense
[QB] Maximo Espitia Jr., South Salem, Senior
Do-all senior played WR last year; premier DB on defense
[QB] Alex Matthews, Lake Oswego, Senior
First-year starter was MVP of Eugene's Nike Football Training Camp
[QB] Dillon Miller, Sheldon, Senior
Reigning Southwest Conference Offensive Player of the Year
[QB] Paris Penn, Grant, Senior
Dual-threat QB will play at Portland State in 2012