High-SchoolOregon:

Central Catholic
December, 14, 2011
12/14/11
11:25
AM ET
By
David Auguste
| ESPN.com
Central Catholic girls' volleyball player Martenne Bettendorf was named the Gatorade Oregon Volleyball Player of the Year this morning.
Bettendorf, a senior outside hitter, was key to the Rams claiming their third consecutive Class 6A championship. She posted 511 kills, 149 digs and 57 blocks to earn a spot on the American Volleyball Coaches Association Under Armour All-American first team. She finished her career with a school-best 1,839 kills.
For a breakdown of Bettendorf's award,
click here
.
October, 24, 2011
10/24/11
12:18
PM ET
Jesuit
's surprising loss to
Southridge
knocked the Crusaders from the top 10 and into a tie atop the Metro League standings.
Central Catholic
took advantage of the loss and vaults back into the rankings. Since losing to Jesuit in Week 2, the Rams have won five straight contests.
Grant
also found its way back at No. 9. Not much movement at the top of the rankings as all teams won convincingly. Aloha is a team which could jump back in the rankings this season with
Thomas Tyner
making a big impact (228 yards, five TDs) in his return Friday night.
Here's how the top three teams fared last week:
Sheldon — defeated Thurston, 56-14 (last week No. 1)
Lake Oswego — defeated West Linn, 28-20 (last week No. 2)
Sherwood — defeated Sandy, 66-28 (last week No. 3)
Click here for the rest of the
POWERADE Oregon Football Rankings
.
David Auguste is an associate editor for ESPNHS and ESPNHIGHSCHOOL.com. Follow him on Twitter
@ESPNHSAuguste
or email him at David.Auguste@espn.com.
October, 21, 2011
10/21/11
11:33
AM ET
By
David Auguste
| ESPN.com
We're abandoning the standings for another week as Steven Long wasn't able to make his picks. We should be back rolling next Friday, though. Taylor Walcott did return to make some picks for this week's top action. Like always, we love fan participation and we want to shout out LakeOswegoFootball for going 4-0 in round 3.

If you want to get involved, leave your picks in the comments section and we will chart your results in next week's challenge. You can also make your picks on Twitter by tweeting me @ESPNHSAuguste with who you think will win in Week 8. On to the picks.


September, 19, 2011
9/19/11
12:00
PM ET
By
David Auguste
| ESPN.com
Aloha
's stunning loss to
Grant
shook up the top three as a new No. 1 has emerged in Oregon.
Sheldon
has been the most consistent team in the state with statement wins over
West Salem
and
Jesuit
and therefore gets top billing. The Irish have eclipsed the 50-point mark in each contest while the defense has posted a pair of shutouts.
Lake Oswego
posted a huge victory over Skyline (Sammamish, Wash.) behind a huge effort from ESPNHS Regional Football Player of the Week
Steven Long
. The senior racked up 424 yards and scored seven times in the 54-46 shootout.
Aloha falls to No. 3 after dropping a 51-27 contest at Grant, which re-enters the rankings at No. 9.
Central Catholic
's loss to No. 4
Jesuit
dropped the Rams from the rankings, while
Tigard
moved up a few spots to No. 7.
Here is how the top three teams fared last week:
1. Sheldon — defeated South Eugene, 56-0 (last week No. 2)
2. Lake Oswego — defeated Skyline, 54-46 (last week No. 3)
3. Aloha — lost to No. 9 Grant, 51-27 (last week No. 1)
Click here for the rest of the
POWERADE Oregon Football Rankings
.
September, 16, 2011
9/16/11
2:39
PM ET
By
David Auguste
| ESPN.com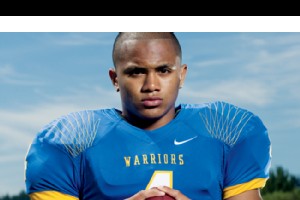 Quavondo/ESPNHSThomas Tyner knows his football.
The start of the Week 3 slate of games is just hours away. Here's some of the best action this weekend will offer.
Game of the Week: Central Catholic (1-1) at Jesuit (1-1)

A pair of top 10 teams Catholic schools collide in the 2011 "Holy War." This contest may have lost some of its luster when Rams QB Ben Cook went down with an injury last week, but Central's defense and team speed should help even the score against Jesuit's size and exceptional QB play. Look for Central senior RB Hayward Demison III to get the lion's share of carries on the ground as the Rams look to neutralize Jesuit's explosive offense.
For more on this game, we asked Aloha RB
Thomas Tyner
to give us his breakdown:
"Jesuit always has been the hype team, and Central has some outstanding athletes. Dallin Leavitt on defense should be a huge factor for Central. Rocky (Nicholas Rothstein) will be a huge threat at quarterback. I predict Rocky will get huge rushing yards off draw plays."
Tyner's pick
:
Jesuit 28, Central Catholic 21
David's pick (1-0)
: The Crusaders have won the last four in this head-to-head series and that will continue tonight, Jesuit 34-14
Other Games of note:
Aloha (2-0) at Grant (1-1)

These two rosters are littered with athletic playmakers ready to put on a show. On the Aloha side, you have the state's fastest player and Gatorade Player of the Year candidate Thomas Tyner (490 yards and 3 TDs). Behind him, the Warriors boast several other thoroughbreds with Sheldon Prince, Ryan Russo and Christian Wood all capable of taking it to the house from any spot on the field. Grant counters with the pitch-and-catch tandem of QB Paris Penn and WR Daniel Halverson and senior T.J. Sly-Cain, another exceptional athlete and a game-changer on special teams.
Thurston (2-0) at Crater (2-0)

These two high-octane attacks will keep the scoreboard operators busy tonight. Thurston QB Chad Olson leads the state in passing (706 yards) and is coming off a 3-TD effort in a win against West Albany. McNary senior Chance Fahndrich is a load to handle on the ground and has scored two touchdowns in each of the team's first two games to help the Comets put up 102 points.
Skyline (1-1) at Lake Oswego (2-0)

The Lakers are looking to knock off the perennial Seattle power this weekend and gain a measure of revenge after last year's loss. The Lakers' offense has thrived with senior Steven Long (229 yards, five touchdowns) in the backfield and receivers Blake Dutton and Stevie Coury on the outside. Skyline LB Peyton Pelluer will have the daunting task of limiting Long's contributions in this one. Junior Max Browne, an ESPNHS All-American and the recipient of several Pac-12 offers marshals Skyline's potent offense. Browne has gotten off to a fast start this season with five touchdown passes but threw a pair of costly picks in last week's loss to Bellevue.
Eagle Point (1-1) at Willamette (2-0)

Getting to see Eagle Point senior DL Tyrone Holmes try to stop Willamette senior RB Jordan Visarraga (437 yards, 7 touchdowns) alone should be worth the price of admission.
September, 14, 2011
9/14/11
4:20
PM ET
By
David Auguste
| ESPN.com
After losing quarterbacks Ben Cook and Aiden Wilder to injuries in recent weeks, Central Catholic coach Steve Pyne has one player in mind he'd like to see under center.

"I wish we had Joey Harrington," Pyne joked. "That's who I envision us starting against Jesuit (tomorrow night)."

The injury bug hit Central Catholic just in time for its matchup with the one-loss Crusaders, who will be looking for retribution after a 52-37 loss to Sheldon last week. The Rams lost several starters for large portions of last season due to injuries, but the team still managed an 8-3 record.

"I wouldn't wish that year on my worst enemy," Pyne told ESPNHS just before the season.

He must be feeling a bit of déjà vu this fall.

Cook injured his knee while throwing a pass during the first half of Central's 39-28 win over Canby. He underwent an MRI earlier in the week and will miss between two and four games.

"He just needs to get things in order, and I think he'll be back soon," says Pyne.

Wilder had a pre-existing foot injury that has worsened over the past few weeks.

"He's a wait-and-see kid," Pyne says of Wilder's expected return.

While Pyne won't be able to trot out Harrington, a Central Catholic alum who amassed 50 offensive touchdowns in the late '90s, the coach is high on his up-and-coming sophomore options. Clayton Welsh and Holden Oglesbee will be under center as the Rams go for their second win of the season.

Welsh has displayed a strong football acumen and has been poise during practices, while Oglesbee is elusive once he leaves the pocket and is a threat on the ground.

Of course, Jesuit can also expect a heavy dose of RBs Hayward Demison III, Dallin Leavitt (three TDs last week) and Moli Langi.

"Part of it will be predicated on our offensive line," says Pyne. "I hope we can play good, physical defense because [Jesuit is] going to pound the rock."