High-SchoolOregon:

ESPNU 150
September, 16, 2011
9/16/11
2:39
PM ET
By
David Auguste
| ESPN.com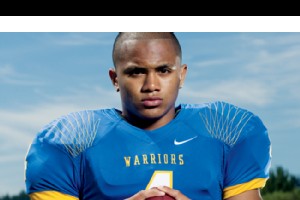 Quavondo/ESPNHSThomas Tyner knows his football.
The start of the Week 3 slate of games is just hours away. Here's some of the best action this weekend will offer.
Game of the Week: Central Catholic (1-1) at Jesuit (1-1)

A pair of top 10 teams Catholic schools collide in the 2011 "Holy War." This contest may have lost some of its luster when Rams QB Ben Cook went down with an injury last week, but Central's defense and team speed should help even the score against Jesuit's size and exceptional QB play. Look for Central senior RB Hayward Demison III to get the lion's share of carries on the ground as the Rams look to neutralize Jesuit's explosive offense.
For more on this game, we asked Aloha RB
Thomas Tyner
to give us his breakdown:
"Jesuit always has been the hype team, and Central has some outstanding athletes. Dallin Leavitt on defense should be a huge factor for Central. Rocky (Nicholas Rothstein) will be a huge threat at quarterback. I predict Rocky will get huge rushing yards off draw plays."
Tyner's pick
:
Jesuit 28, Central Catholic 21
David's pick (1-0)
: The Crusaders have won the last four in this head-to-head series and that will continue tonight, Jesuit 34-14
Other Games of note:
Aloha (2-0) at Grant (1-1)

These two rosters are littered with athletic playmakers ready to put on a show. On the Aloha side, you have the state's fastest player and Gatorade Player of the Year candidate Thomas Tyner (490 yards and 3 TDs). Behind him, the Warriors boast several other thoroughbreds with Sheldon Prince, Ryan Russo and Christian Wood all capable of taking it to the house from any spot on the field. Grant counters with the pitch-and-catch tandem of QB Paris Penn and WR Daniel Halverson and senior T.J. Sly-Cain, another exceptional athlete and a game-changer on special teams.
Thurston (2-0) at Crater (2-0)

These two high-octane attacks will keep the scoreboard operators busy tonight. Thurston QB Chad Olson leads the state in passing (706 yards) and is coming off a 3-TD effort in a win against West Albany. McNary senior Chance Fahndrich is a load to handle on the ground and has scored two touchdowns in each of the team's first two games to help the Comets put up 102 points.
Skyline (1-1) at Lake Oswego (2-0)

The Lakers are looking to knock off the perennial Seattle power this weekend and gain a measure of revenge after last year's loss. The Lakers' offense has thrived with senior Steven Long (229 yards, five touchdowns) in the backfield and receivers Blake Dutton and Stevie Coury on the outside. Skyline LB Peyton Pelluer will have the daunting task of limiting Long's contributions in this one. Junior Max Browne, an ESPNHS All-American and the recipient of several Pac-12 offers marshals Skyline's potent offense. Browne has gotten off to a fast start this season with five touchdown passes but threw a pair of costly picks in last week's loss to Bellevue.
Eagle Point (1-1) at Willamette (2-0)

Getting to see Eagle Point senior DL Tyrone Holmes try to stop Willamette senior RB Jordan Visarraga (437 yards, 7 touchdowns) alone should be worth the price of admission.
September, 15, 2011
9/15/11
12:56
PM ET
By
David Auguste
| ESPN.com
It's time for the All-State Stock Watch, as we look at
All-State
football players who saw their potential value rise or fall over the past week. A player could have performed well in a game, gotten a big-time scholarship offer, broken his leg or just had an off game.
UP — Oshay Dunmore, Newport, QB/DB

Newport trailed Astoria 14-7 at the half of Friday night's game before Dunmore took over. The Oregon recruit led the offense to 29 unanswered points as the Cubs claimed a 43-20 road win. Dunmore hooked up with receiver Drew Dinwoodie for a long TD then added a pair of scoring runs on the ground. He finished the contest with 338 offensive yards and five total touchdowns.
DOWN — Paris Penn, Grant, QB

Before the season, Grant coach Diallo Lewis stressed his team's need to execute better down the stretch and limit turnovers. That wasn't the case in Week 2 as the Generals turned the ball over six times in a 49-24 loss to Tigard. Penn struggled against the Tigers' defense, throwing three picks and losing a fumble during the loss. He has a chance to right the ship this weekend when Grant faces defending 6A champ Aloha.
UP — Thomas Tyner, Aloha, RB

Tyner was a beast on the ground in the Warriors' 16-14 win over Tualatin Friday night. The junior RB rushed for 295 yards, highlighted by a scintillating 63-yard burst that got the Aloha offense rolling. Tyner produced a remarkable second half, tallying 197 yards after the half. He posted a 8.2 YPC average to keep Aloha undefeated. Tyner has racked up 490 yards and three TDs in two contests.
September, 12, 2011
9/12/11
9:17
PM ET
By
David Auguste
| ESPN.com
There was some major movement within the top four this week after Sheldon dropped Jesuit, 52-37. The loss bumped the Crusaders down to No. 4, while Sheldon moved into the vacated spot at No. 2.
Defending Class 6A champ Aloha used a dominant effort from junior Thomas Tyner to secure a comeback win over Tualatin and continue its stranglehold of the No. 1 spot. New to the rankings is Tigard, a team that took down then No. 7 Grant last week and features one of the state's most prolific offenses.
Here's how the top three teams fared:
1. Aloha — defeated Tualatin, 16-14 (last week No. 1)
2. Sheldon — defeated Jesuit, 52-37 (last week No. 4)
3. Lake Oswego — defeated Westview, 35-3 (last week No. 3
For a look at the rest of the moves, check out the full
POWERADE Oregon Football Rankings
.
September, 9, 2011
9/09/11
4:36
PM ET
By
David Auguste
| ESPN.com
Game of the Week: Jesuit (1-0) vs. Sheldon (1-0)
Are you ready for some offense? These two Class 6A powers put up fireworks in Week 1, combining for a ridiculous 118 points last week. We hope for more of the same this week as Jesuit QB Nicholas Rothstein looks to outmatch Sheldon signal-caller Dillon Miller.
David's pick: I think Sheldon takes this one, 35-27.
Some more to watch
Lake Oswego (1-0) at Westview (1-0)
No one in Class 5A could stop Steven Long last season. It's looking like 6A teams won't have the answer either. Westview will look to keep the Sherwood transfer in check after he collected four TDs in his Lake Oswego debut. The Wildcats will try to start and finish strong after allowing a 17-point lead to slip away against Grant in Week 1. Westview QB C.J. Garcia (3 TDs last week) will look to avenge last year's 13-point loss to the Lakers.
Tualatin (1-0) at Aloha (1-0)
This rematch of last year's Class 6A title game will pit a stingy Tualatin defense against a Thomas Tyner-led Warriors team that has won 13 consecutive contests dating back to last year. Tualatin QB Travis Johnson leads the Timberwolves' attack, while Tyner enters the contest less than 50 yards from 2,500 career-rushing yards.
Newport (1-0) at Astoria (1-0)
Newport can take a big step in proving it's a legit Class 4A contender with a win against Astoria, a nine-win team that lost in the state quarterfinals last fall. Oregon commit Oshay Dunmore is the player to watch in this matchup.
September, 7, 2011
9/07/11
5:03
PM ET
By
David Auguste
| ESPN.com
I want to welcome you all to the first installment of our weekly All-State Stock Watch. Each week we'll put three of our preseason All-State selections under the microscope to see who is living up to the hype and who may be falling behind.
I don't want to make this a one-man effort, so chime in with your picks for the state's biggest movers in the comment's section below. For a refresher on the players in the running, here is our preseason
All-State team
. Let's get going with the stock report.
OREGON ALL-STATE STOCK WATCH
Up — Steven Long, Lake Oswego, RB


The Lakers got everything they hoped for and more in Long's debut. The Sherwood transfer ignited Lake Oswego's offense by reaching pay dirt four times and racking up 110 yards in the team's 49-28 win over Central Catholic.
Down — Brenden Shaffer, West Salem, QB


We predict Shaffer will eventually settle in as West Salem's starting QB, but he struggled mightily in his debut under center. The do-everything senior went 3-for-8 for 12 yards with a pair of picks. It was his first start after earning All-State honors as a wide receiver in 2010. Shaffer could get on track this week against a South Eugene defense that allowed 37 points in its opener.
UP — Taylor Walcott, Marist, WR


Walcott set a goal of 20 touchdowns this season, and he got off to a good start by hauling in a pair to lift Marist over Corvallis, 16-14. His numbers weren't eye-popping (46 yards receiving) but Walcott continues to stand out in this high-powered offense.
August, 24, 2011
8/24/11
12:09
PM ET
By
David Auguste
| ESPN.com
Name:
Isaac Seumalo
School:
Corvallis
Sport:
Football
The Scoop:
This 6-foot-3, 281-pounder's stock soared over the summer after he stood out at the Nike Football Training Camp in Eugene. Seumalo took MVP honors for the fourth time at a Nike event, becoming the first player to earn that distinction. The Oregon State-bound two-way lineman enters the season as the area's top recruit and the No. 65 senior in the
ESPNU 150
. Seumalo helped the Spartans' offense top the 30-point mark five times in 2010.