High-SchoolOregon:

Oregon State
December, 22, 2011
12/22/11
2:09
PM ET
Corvallis senior
Isaac Seumalo
was the lone Oregon football player picked for the ESPNHS Football All-American squad.
The Oregon State commit was selected to the second team after guiding the Spartans to a 7-4 mark and a berth in the Class 5A playoffs. His two-way play in the trenches helped Corvallis average nearly 30 points a game on offense while yielding only 13.9 on defense. Seumalo will also play in January's Under Armour All-American game.
Click here to see the entire list of
2011 All-Americans
.
September, 30, 2011
9/30/11
6:24
PM ET
Last week wasn't a great showing
picking games
for myself and
Taylor Walcott
, and things just got a lot more difficult with
Steven Long
entering the challenge. The senior RB has the Lakers ranked No. 2 in the P
OWERADE Oregon Football Rankings
, and now he's looking to claim first place in our weekly picks. If Skyline's defense couldn't stop him, how am I supposed to?
Anyways, here's what the standings look like after Round 1:
Taylor Walcott, Marist WR — 3-2
David Auguste, ESPNHS Oregon — 3-2
Steven Long, Lake Oswego — 0-0
This week's docket includes a clash of unbeaten 6A squads as South Medford travels to Roseburg and a matchup of Class 4A contenders in Scappoose and Astoria. We'd love for you guys to challenge us "experts" by leaving your winners and Player of the Game nominees in the comment section below. Let's get on with the picks.
Games of the Week

South Medford (4-0) at Roseburg (4-0)
McMinnville (2-2) at Tualatin (3-1)
Sunset (4-0) at No. 8 Jesuit (2-2)
Scappoose (3-1) at Astoria (3-1)
Liberty (2-2) at Sherwood (4-0)
My Picks
(
@ESPNHSAuguste )
South Medford —
Defense wins championships and it will prove to be the difference in this contest as well. South Medford has one of the state's elite units, holding opponents to 10.5 points per game. Roseburg QB
Jack Singler
could be in for a long night.
Tualatin —
The Timberwolves have posted back-to-back shutouts against Hillsboro and Newberg and have allowed only 17 points in four games. The offense found its groove last week, exploding for 45 points behind ESPNHS All-State pick
Brady Watts
(2 TDs). However, look for
Spencer Payne
(more than 800 rushing yards and 15 total TDs) to help keep McMinnville within striking distance.
Jesuit —
Can't imagine Jesuit losing three games in the first five weeks of the season. The Crusaders have been victimized by a brutal schedule, but they bounce back in a big way tonight. I'll let the other guys speak on
Nicholas Rocky Rothstein
's impact on this game, but I think RB
A.J. Glass
will be huge in this contest, churning out big yards on the ground when Sunset keys in on Rothstein.
Astoria —
The Fishermen have had the edge in this series, winning the last three contests including last year's thrilling 35-34 road win. Scappoose will have a tough time trying to shut down an Astoria offense averaging 32.5 points per game and marshaled by senior QB
Conor Harber
and his primary target
Wyatt Wullger
. The winner will be alone in first in the Cowapa League.
Sherwood —
The Bowmen are riding a 17-game win streak and are coming off a victory over St Helen's in which they amassed an insane 470 rushing yards. RB
Paul Dodson
and WR
A.J. Spencer
are a tough assignment for Brett Bafaro and the rest of Liberty's defense.
Taylor's picks (@Tayla_Jay_9)
Roseburg —
They just beat Thurston at home and Thurston's not a bad team.
Tualatin —
No specific reason, just my pick.
Jesuit —
I'm going with Jesuit still despite their record. They still got Rocky who can run all over people.
Astoria —
We played them when we were in Class 4A and they were pretty good.
Sherwood —
I like their running back, Dodson. He's like 6-1, big and fast.
Steven's picks (@S_Long11)
Roseburg —
They played a tough preseason schedule and they will have home-field advantage.
Tualatin —
They were unner-up in the state finals and I think they'll take care of business with Brady Watts.
Jesuit —
They're a big, physical defense. I think they'll pound the ball and have Rocky be a force in the run game.
Astoria —
They have a good coach and they know how to finish a game strong.
Sherwood —
Brandon Blackshear
and
Dusty Crabtree
wll lead them to 5-0. I think Sherwood' an awesome team. No bias here
Note: Long transferred from Sherwood.
David Auguste is an associate editor for ESPNHS and ESPNHIGHSCHOOL.com. Follow him on Twitter @ESPNHSAuguste or email him at David.Auguste@espn.com.
September, 28, 2011
9/28/11
3:16
PM ET
It's time for the All-State Stock Watch, as we look at
All-State
football players who saw their potential value rise or fall over the past week. A player could have performed well in a game, gotten a big-time scholarship offer, broken his leg or just had an off game.
UP — Junior Espitia, South Salem, QB
Espitia pledged to Oregon State earlier in the fall, but he called an audible last week by
switching his commitment to Cal
. The 6-foot-3 senior could move to fullback with the Bears after previously being recruited as a receiver. No matter where he lines up, Espitia should be a major asset on offense. He has been a bright spot for the winless Saxons with 16 touchdowns (eight rushing, eight passing) this fall.
DOWN — Nathan Halverson, Grant, DB

The Generals are off to a 3-1 start despite Halverson having not played a down this fall. The junior is considered the team's best pure athlete and is a shutdown corner, but he has yet to make an impact due to a fracture in his ankle. Halverson could return to action in the next few weeks and should help fortify a defense that is allowing a whopping 33.7 points a game.
UP — Isaac Seumalo, Corvallis, DL

Seumalo took up permanent residence in Jefferson's backfield during Friday night's 56-6 win over the Democrats. The Oregon State commit anchored a defense that forced five fumbles, held Jefferson to one-yard passing and six yards on the ground. The Seumalo-led defense has yielded 54 points during its 3-1 start.
September, 27, 2011
9/27/11
4:49
PM ET
The bad news just keeps coming for the
Aloha
football team.
Back-to-back losses has the defending Class 6A champs sitting at 2-2 in the competitive Metro League, and now star RB
Thomas Tyner
has been diagnosed with a slight concussion. He will miss this Friday's contest against Westview.
"I'm taking it easy, this week I'm out," Tyner said.
The head injury occurred during the Warriors' 47-40 loss to Lakeridge Friday night.
"I just took a blow throwing a halfback option pass," says Tyner, who piled up 187 yards and scored a pair of long touchdowns before sustaining the injury early in the fourth quarter.
The junior, who graced
our cover
in September and was a ESPNHS All-American as a sophomore, is currently second in the state with 700 rushing yards. He recently received an offer from USC to go with interest from UW, Oregon and Oregon State.
September, 21, 2011
9/21/11
12:44
PM ET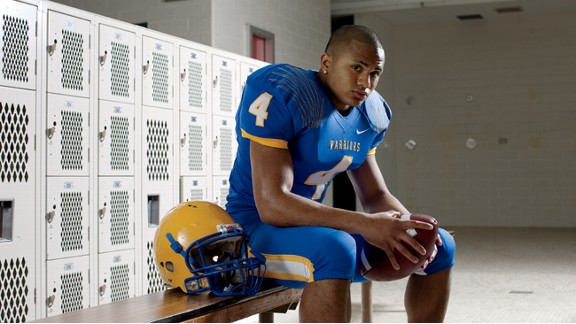 Quavondo/ESPNHSAloha RB Thomas Tyner is taking the state by storm.
We can't always fit everything we want in the pages of ESPNHS, so we bring you the Cutting Room Floor. Think of it as the deleted scenes portion of your favorite Blu-ray. We get things started with Aloha RB
Thomas Tyner
, who relives his Pop Warner glory days, tells us his inspirations and when he plans to commit. If you haven't checked out his feature, check it out
here
.
On his nicknames —
People call me Dash and Boobie, after the guy on Friday Night Lights.
On Pop Warner days —
I started in third grade playing in the Aloha Youth Football. I didn't really know how to play running back. I was successful, though. I had like 35 touchdowns one season and 25 the next.
On coach Chris Casey —
He's a blue-collar coach in a blue-collar community. He works us harder than everyone else. We have to work hard because things aren't going to be given to us. He likes to torture us. I'm just rolling my eyes and trying to get it over with. It's horrible. You can't feel your legs after the workouts.
August, 25, 2011
8/25/11
9:14
PM ET
Name: Tyrone Holmes
School: Eagle Point
Sport: Football
The Scoop: A pair of gold medals during last spring's Class 5A track meet helped elevate Holmes' status as a multi-sport standout. His ticket to the next level appears to be with his play on the gridiron, however. The 240-pound senior lineman contributed 37 tackles (seven for a loss) in 2010, which generated interest from several Pac-12 schools. Holmes currently holds offers from Idaho, Oregon State and Washington State.
August, 24, 2011
8/24/11
12:09
PM ET
Name:
Isaac Seumalo
School:
Corvallis
Sport:
Football
The Scoop:
This 6-foot-3, 281-pounder's stock soared over the summer after he stood out at the Nike Football Training Camp in Eugene. Seumalo took MVP honors for the fourth time at a Nike event, becoming the first player to earn that distinction. The Oregon State-bound two-way lineman enters the season as the area's top recruit and the No. 65 senior in the
ESPNU 150
. Seumalo helped the Spartans' offense top the 30-point mark five times in 2010.
August, 22, 2011
8/22/11
11:04
PM ET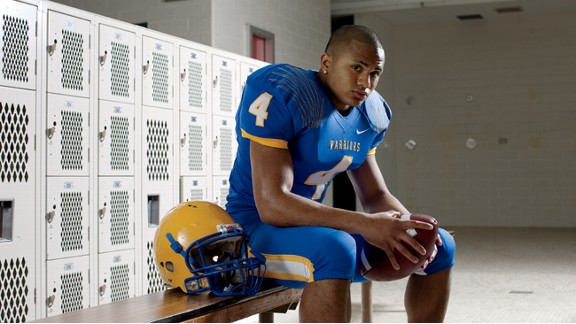 Quavondo/ESPNHSAloha RB Thomas Tyner is taking the state by storm.
The Aloha football team was never considered a title contender in either the Metro League or in Class 6A. The Warriors were usually a middle-of-the-pack squad and usually played the background to more decorated squads like Jesuit and Lake Oswego.
That is of course before Thomas Tyner stepped foot on campus.
The junior has emerged as the state's fastest player and earned the hardware to back it up last year. He validated his status as an elite athlete in two sports, leading Aloha to its first state crown on the gridiron and snagged gold and a state record in the sprints during spring track.
As fast as he is, we were able to keep Tyner in place long enough to get him on our September cover.
Get the lowdown
on this burgeoning star and see how he plans to be an even better player in 2011.