High-SchoolOregon:

Thomas Tyner
January, 16, 2012
1/16/12
9:08
AM ET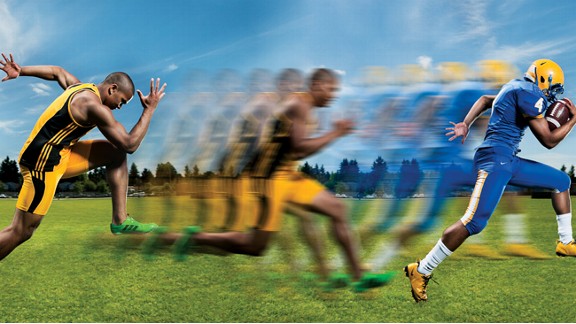 Quavondo /ESPNHSAloha (Ore.) junior running back and Oregon commit Thomas Tyner is also an elite sprinter.
Sometimes, things just don't go according to plan.
Take
Thomas Tyner's
junior season on the gridiron for instance. Coming off a huge 2010 season in which he helped produce the
school's first Class 6A title
, the Aloha running back set individual goals of 2,000 yards and 25 TDs and a repeat at state for his 2011 campaign.
His season started off with a bang as Tyner gashed Lincoln's defense to the tune of 198 yards and two scores in Week 1 then ripped Tualatin for 295 yards and a score a week later.
But then things began to go awry.
The Warriors lost their next two games and
Tyner
would miss significant time after suffering a concussion. He returned a few weeks later, but his comeback was short-lived as a fractured tibia ended his season.
The injuries derailed what could've been another monster year for Thomas, who tried to remain positive as his team limped to a 5-6 mark without him and were ousted from postseason play in the first round.
"It was very disappointing," said Tyner, who finished with nearly 1,200 yards and 13 total scores — well short of his season goals. "It hurt standing on the sidelines. Some of my best friends were seniors and not playing with them the entire season hurt."
There was a silver lining to the fall, however. Tyner alleviated a lot of stress from his upcoming season by
committing to the Ducks
. With that decision out of the way, Tyner has a new plan that's beginning to take shape.
The dual-sport star is switching his focus from an injury-riddled fall to repeating as the state's top sprinter during the track season and getting his body ready for the rigors of being a potential top 50 football recruit next fall.
"I love football and to be one of the top 50 players in the nation, you're really fortunate and blessed," says Tyner. "I don't think there have been a lot of top guys from here. It would be big for Oregon."
So make a plan to get familiar with this blur of a runner before he's putting Pac-12 cats on skates at Autzen Stadium.
ESPNHS:
How does your faith help you get through tough situations like this past season?
Tyner:
I go to church every Sunday and try to go to youth group on Wednesdays. My church buddies and family were all praying for me to heal. I also read my favorite scripture Philippians 4:13 a lot. I knew I just had to keep the strength and faith that the Lord would keep me strong though it all.
ESPNHS:
What can you take away from this past season?
Tyner:
It definitely served as a wake-up call. I think we got big heads after winning state and opening ranked No. 1. Going through the losses we went through, I think it will motivate everyone next year.
ESPNHS:
You're good friends with Lake Oswego RB Steven Long. He finished the fall with 38 TDs — think you can beat that?
Tyner:
He was amazing this year. [His season] gives me motivation for next year. I know he works hard, and I got to work as hard as him. But you're not going to get me to say I'm going to beat him. Haha.
ESPNHS:
I hear Oregon fans are pretty die-hard. Do you have any good stories?
Tyner:
Yeah. I was in my hotel elevator before heading to the Rose Bowl. This woman was on there wearing all Ducks gear. I asked if she was going to the game and she said, "Hell yeah." I told her I committed there recently and she said, "You're Thomas Tyner." I'm only a junior, and she was from Arizona, but she knew me. At the game, even little 5-year-olds were pointing at me.
ESPNHS:
What are you more excited about: Playing your first home game or getting to wear all of Oregon's different jerseys?
Tyner:
Home game! That Autzen feel is like none other. Playing in front of that crowd will be amazing. The excitement in the stands and energy in the stadium makes it special.
ESPNHS:
What about the jerseys, do you have a favorite?
Tyner:
The one from the BCS game against Auburn. Just the colors made it look hot. I don't know how many jerseys they have, probably 100, but I like them.
ESPNHS:
You're Oregon's fastest runner, but do you think you could beat (Oregon running back)
De'Anthony Thomas
in a race?
Tyner:
I don't know his best high school time, but I watched him play and he's fast. I won't say I'll beat him, but it would be a good race. Hopefully we'll make it on the relay squad together and qualify for nationals.
ESPNHS:
What's the deal with someone on Twitter saying you look like Trey Songz?
Tyner:
(Laughs) I didn't see that Tweet. But my ex-girlfriend said I look like him. He's my favorite artist. I model myself after him. He's a crazy dude, but a lot of ladies love and like him, so I have to agree with the comparisons. I don't even try to sing, though.
Thomas Tyner
School: Aloha (Beaverton, Ore.)
Class: 2013
Position: Running back
HT: 6-0
WT: 215
FAVORITES
TV Show:
"SpongeBob SquarePants"
Movie:
Any horror flick. I just saw "The Devil Inside"
Athlete:
Tyson Gay
Musical Artist:
Trey Songz and Chris Brown
Bible Verse:
Philippians 4:13
Actor:
The dude that plays Deebo (Tommy 'Tiny' Lister) from "Friday"
Former Duck:
Jonathan Stewart
Next Up:
Spring Track
December, 8, 2011
12/08/11
3:55
PM ET
By
Thomas Tyner
| ESPN.com
We want to welcome aboard Aloha junior running back Thomas Tyner as a guest blogger at ESPNHS Oregon. The Oregon recruit is one of the state's premier athletes (track and football) and has developed an interest in journalism, which made him a no-brainer for a high school correspondent. He will make guest spots throughout the year to assist us in coverage of Oregon sports. We asked Thomas to give us his take on this weekend's Class 6A title game between Lake Oswego and Sheldon for his first assignment. Take it away, Thomas.
As the state is set to declare the top dog in Class 6A, both Sheldon and Lake Oswego are preparing mentally and physically one day at a time. The two spread-type teams will battle it out on the field Saturday afternoon at 1 p.m. at Jeld-Wen Field. Both teams boast explosive offenses that can get it done on the ground and through the air, which will be huge Saturday. Throughout the season both defenses have held opponents to a minimum of points, but neither unit has faced a high-octane offense like what they will experience in the finals. Central Catholic gave Sheldon a test, but Sheldon's defense came on strong in the end. Jesuit also gave Lake O a test, but its defense came out strong as well.
Besides last week's 18-9 semifinal victory over Central Catholic, Sheldon has outscored opponents by more than 20 points a game this season. Sheldon's players have wanted to play Lake O all season after they took a 45-14 beating from the Lakers in last year's playoff quarterfinals. The Irish will come into this game looking for revenge and to walk out with a ring on their fingers.
Lake O has the potential to change the crowd's mind on the outcome as Sheldon enters the contest
No. 1 in the state
. Sherwood transfer and Portland State commit Steven Long has had a big impact on offense this year and brings energy out of the backfield in this championship matchup. Long has made a successful debut in jumping from 5A to 6A, earning Gatorade Player of the Year honors and rushing for more than 1,800 yards and 33 touchdowns.
This will be the fourth time Lake O competes in the state championship in the past decade. This team will not only be playing to get a ring, but playing for the 27 seniors on the team who have worked their entire high school career for this moment. Sheldon has won three state championships in the last decade, but will they have enough to make it four? Four titles in one decade; that would be unbelievable.
My prediction:
Sheldon, 28-24.
November, 21, 2011
11/21/11
12:04
PM ET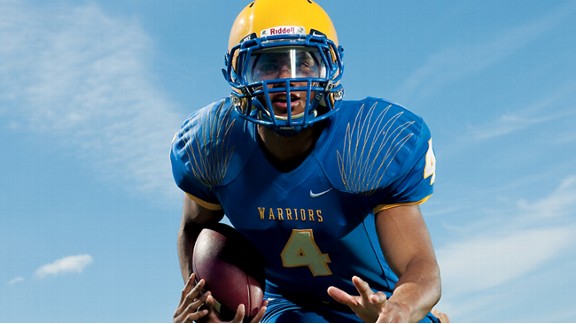 Quavondo /ESPNHSThomas Tyner will take his blazing speed to the Oregon Ducks' football program.
The Oregon football team likely dropped from the national championship battle this weekend, but the Ducks came out on top in the race for ESPNU 150 Watch List running back
Thomas Tyner
. Despite garnering interest from a number of BCS programs, the Aloha (Beaverton, Ore.) junior gave a verbal commitment to Chip Kelly moments after the Ducks' 38-35 loss to Pac-12 rival USC.
"I chose Oregon because I've been going to all their home games, and I got that 'family' feeling," Tyner told ESPNHS. "I really think I can do some damage in the spread offense. Just getting out in the open (field) would be great for my speed."
Tyner was satisfied with the recruiting pitch from Kelly and his staff and elected to make his decision early to alleviate any stress during his senior season. He originally joked about announcing during a scripted touchdown celebration next season.
The commitment concluded a tumultuous fall for Tyner, who battled myriad injuries as the Warriors fell in the first round of the state playoffs while he watched from the sidelines. He played in only half of Aloha's games, racking up more than 1,000 yards and scoring 12 times. As a sophomore, Tyner guided Aloha to its first Class 6A crown and was Gatorade State Player of the Year last fall.
He expects to be back to 100 percent for the spring track season, when he hopes to repeat as state champ in the 100 and defend his title as Oregon's fastest sprinter.
At Oregon, Tyner hopes to compete in both football and track while he pursues a degree in journalism.
"The track tradition there is excellent," he said. "I also want to [work] in broadcasting after my sports career, possibly for ESPN."
Tyner appeared on the cover of the ESPNHS Oregon Magazine in September. Check out the
feature here
.
November, 11, 2011
11/11/11
2:32
PM ET
Aloha vs. Thurston
Aloha limped to a.500 record this season due in large part to injuries to junior RB Thomas Tyner. They will begin their title defense without him as well. Tyner will sit out tonight's contest with a leg injury. "It gets me heated (missing this game) because I haven't played too much this year," Tyner said. "This is such a big part of my life, and it kind of just slipped away this season. I'll come back with a vengeance for sure." In his absence, look for coach Chris Casey to rely more on QB Cory Sinner (3 TDs last week) and the play up front of Brayden Kearsley and Co.
Jefferson vs. Mountain View
This Class 5A matchup pits surprising Jefferson against Mountain View's high-octane attack. Jefferson won five of its final six games to turn a disappointing start to a league crown and a playoff berth. The offense was the main catalyst behind the team's rejuvenation, as the Democrats averaged 31.3 points a contest during the stretch. Mountain View's offense regularly frustrates opposing defensive coordinators. The Cougars closed the year on a six game win streak and scored 402 points in their nine contests. IMC Offensive Player of the Year Jacob Hollister spreads the ball to his receivers and has found a good connection with his brother, Cody, and TE Nick Gentry.
Gresham vs. Lincoln
Only Sunset and Central Catholic were able to slow down Gresham's attack this fall. QB Devon Shields marshaled an offense that exploded for nearly 40 points a contest. They look to put away a feisty Lincoln team that won four out of five down the stretch.
Hermiston vs. Sherwood
Hermiston is back in the playoffs and their reward is a matchup against a Sherwood squad that has claimed victories in 34 of its last 36 outings. The defending state champs and their powerful offense could make it a short playoff trip for Hermiston.
Newport vs. Klamouth Union
Sure, (Newport will have the best player on the field in Oregon commit Oshay Dunmore, but don't count out the Pelicans who have won seven straight after dropping their first two contests.
Click here
for the entire playoff brackets.
October, 14, 2011
10/14/11
12:41
PM ET
Commitments to their football teams kept Taylor Walcott and Steven Long from making predictions for this week's games. Don't fret, they should be back next week. In their absence we'll put together an abbreviated version of Friday football pick em. Here are the top three games for this weekend's action with the expected winner in bold.

No. 6 Jesuit (4-2) at Aloha (2-4)
Thomas Tyner and Sheldon Prince are likely to skip this game with injuries which means Aloha's losing streak will continue. Without the duo, the defending state champs just don't have enough weapons to hang with Jesuit. Look for big games from A.J. Glass and Nicholas Rothstein, again.

No. 1 Sheldon (6-0) at Roseburg (5-1)
ESPNHS All-State QB Dillon Miller has Sheldon's offense rolling. He has completed better than 70 percent of his throws and has passed for nearly 1,600 yards and 18 scores.

Southridge (3-3) at Sunset (4-2)
Sunset has dropped its last two contests after beginning the year at 4-0. The losing skid comes to a halt tonight.

Here's some quick highlights from last night's games.
No. 9 West Linn posted a big win for the second straight week, sending Lakeridge to its second straight loss, 31-26. Senior Mason Finnerty piled up 228 yards and three scores to set up a first-place duel with No. 2 Lake Oswego next week.

Central Catholic appears to have rounded back into form after clinching its fourth straight win last night. QBs Aiden Wilder and Ben Cook combined for four TDs in a 37-13 defeat of Gresham.

Grant captured its first league victory and Nathan Halverson recorded his first pick of the season in the Generals' 28-14 defeat of Redmond.
October, 3, 2011
10/03/11
1:11
PM ET
There is one glaring absence in this week's rankings:
Aloha
. The Warriors dropped their third straight game to fall to 2-3 on the season. The Class 6A champs hope to get junior RB Thomas Tyner (concussion) back this week in hopes of getting back to .500. No. 9
Lakeridge
makes its debut this week, boasting a 5-0 record and a Week 4 win over Aloha.
Jesuit
got back on track Friday and moved up a spot, joining eight other ranked teams as Week 5 winners.
Here's how the top three teams fared last week:
1. Sheldon — defeated North Medford, 57-7 (last week No. 1)
2. Lake Oswego — defeated Canby, 41-14 (last week No. 2)
3. Sherwood — defeated Liberty, 38-8 (last week No. 3)
Click here for the rest of the

POWERADE Oregon Football Rankings.
David Auguste is an associate editor for ESPNHS and ESPNHIGHSCHOOL.com. Follow him on Twitter
@ESPNHSAuguste
or email him at David.Auguste@espn.com.
September, 27, 2011
9/27/11
4:49
PM ET
The bad news just keeps coming for the
Aloha
football team.
Back-to-back losses has the defending Class 6A champs sitting at 2-2 in the competitive Metro League, and now star RB
Thomas Tyner
has been diagnosed with a slight concussion. He will miss this Friday's contest against Westview.
"I'm taking it easy, this week I'm out," Tyner said.
The head injury occurred during the Warriors' 47-40 loss to Lakeridge Friday night.
"I just took a blow throwing a halfback option pass," says Tyner, who piled up 187 yards and scored a pair of long touchdowns before sustaining the injury early in the fourth quarter.
The junior, who graced
our cover
in September and was a ESPNHS All-American as a sophomore, is currently second in the state with 700 rushing yards. He recently received an offer from USC to go with interest from UW, Oregon and Oregon State.
September, 23, 2011
9/23/11
2:25
PM ET
We're trying to keep things Ziploc fresh around here, so we'll be churning out new content and talking to as many local stars whenever it's possible. Football Pick 'em is some new flavor we'll be adding to the mix on a weekly basis. We've enlisted the services of Marist senior WR Taylor Walcott to go head-to-head with me in picking the winners of the weekend's top games. We'll keep a yearlong tally to see who had the most success for the season.

We'd love for you guys to participate also by leaving your picks in the comment section and the top commenters will get some love in the following week's post. So go ahead and see if you can hang with us experts.

With no further ado, lets get going with this week's slate of games.

No. 2 Lake Oswego (3-0) at No. 4 Jesuit (2-1) — live on ESPNU, 7 p.m.
Lakeridge (3-0) at Aloha (2-1)
Scappoose (3-0) Central (3-0)
Roseburg (3-0) at Thurston (3-0)
Beaverton (2-1) at Grant (2-1)

Taylor's picks (Record 0-0)
Lake Oswego, 56-49 — Steven Long is tearing it up, so I feel like Lake Oswego got it. It will be a high-scoring game.
Aloha, 36-28 — The Warriors will give Thomas Tyner the ball often and they will win.
Central, by a good amount — We played them two years ago and they were good. Don't know the score, but they will win.
Thurston, 35-28 — Thurston will get theirs on offense and Trevor Westover will be the player of the game.
Grant, 50-14 — I have to go with Grant. I see all their players at combines and their talented.

My picks (Record 0-0)
Lake Oswego, 42-35 — Both teams feature high-powered offenses, but Steven Long has been the best player in the state over the first month of the season. I'm riding the hot hand.
Aloha, 24-10 — Chris Casey won't let his team play uninspired ball this weekend, especially not at home. The Warriors begin a new winning streak tonight with Brayden Kearsley and the O-line dominating in the trenches.
Scappoose, 34-28 — Scoreboard operators should get paid overtime for this contest. Scappoose pulls off an upset against arguably the top Class 4A squad.
Thurston, 42-28 — Both of these unbeaten squads feature potent offensive attacks led by prolific passers. I'm giving a slight edge to Thurston's Chad Olson over Hayden Lent in this one.
Grant 42-21 —I can't pick against Paris Penn after he dismantled Aloha's defense last week with 457 total yards and 3 TDs.
September, 21, 2011
9/21/11
12:44
PM ET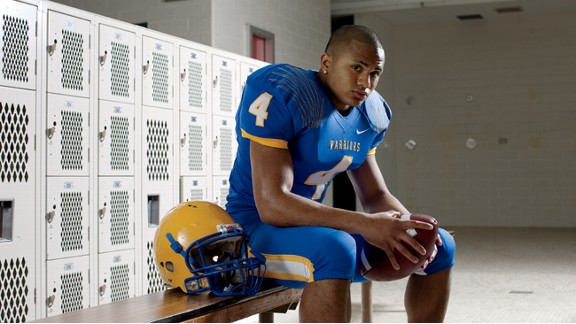 Quavondo/ESPNHSAloha RB Thomas Tyner is taking the state by storm.
We can't always fit everything we want in the pages of ESPNHS, so we bring you the Cutting Room Floor. Think of it as the deleted scenes portion of your favorite Blu-ray. We get things started with Aloha RB
Thomas Tyner
, who relives his Pop Warner glory days, tells us his inspirations and when he plans to commit. If you haven't checked out his feature, check it out
here
.
On his nicknames —
People call me Dash and Boobie, after the guy on Friday Night Lights.
On Pop Warner days —
I started in third grade playing in the Aloha Youth Football. I didn't really know how to play running back. I was successful, though. I had like 35 touchdowns one season and 25 the next.
On coach Chris Casey —
He's a blue-collar coach in a blue-collar community. He works us harder than everyone else. We have to work hard because things aren't going to be given to us. He likes to torture us. I'm just rolling my eyes and trying to get it over with. It's horrible. You can't feel your legs after the workouts.
September, 16, 2011
9/16/11
2:39
PM ET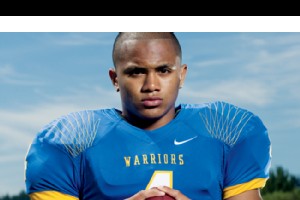 Quavondo/ESPNHSThomas Tyner knows his football.
The start of the Week 3 slate of games is just hours away. Here's some of the best action this weekend will offer.
Game of the Week: Central Catholic (1-1) at Jesuit (1-1)

A pair of top 10 teams Catholic schools collide in the 2011 "Holy War." This contest may have lost some of its luster when Rams QB Ben Cook went down with an injury last week, but Central's defense and team speed should help even the score against Jesuit's size and exceptional QB play. Look for Central senior RB Hayward Demison III to get the lion's share of carries on the ground as the Rams look to neutralize Jesuit's explosive offense.
For more on this game, we asked Aloha RB
Thomas Tyner
to give us his breakdown:
"Jesuit always has been the hype team, and Central has some outstanding athletes. Dallin Leavitt on defense should be a huge factor for Central. Rocky (Nicholas Rothstein) will be a huge threat at quarterback. I predict Rocky will get huge rushing yards off draw plays."
Tyner's pick
:
Jesuit 28, Central Catholic 21
David's pick (1-0)
: The Crusaders have won the last four in this head-to-head series and that will continue tonight, Jesuit 34-14
Other Games of note:
Aloha (2-0) at Grant (1-1)

These two rosters are littered with athletic playmakers ready to put on a show. On the Aloha side, you have the state's fastest player and Gatorade Player of the Year candidate Thomas Tyner (490 yards and 3 TDs). Behind him, the Warriors boast several other thoroughbreds with Sheldon Prince, Ryan Russo and Christian Wood all capable of taking it to the house from any spot on the field. Grant counters with the pitch-and-catch tandem of QB Paris Penn and WR Daniel Halverson and senior T.J. Sly-Cain, another exceptional athlete and a game-changer on special teams.
Thurston (2-0) at Crater (2-0)

These two high-octane attacks will keep the scoreboard operators busy tonight. Thurston QB Chad Olson leads the state in passing (706 yards) and is coming off a 3-TD effort in a win against West Albany. McNary senior Chance Fahndrich is a load to handle on the ground and has scored two touchdowns in each of the team's first two games to help the Comets put up 102 points.
Skyline (1-1) at Lake Oswego (2-0)

The Lakers are looking to knock off the perennial Seattle power this weekend and gain a measure of revenge after last year's loss. The Lakers' offense has thrived with senior Steven Long (229 yards, five touchdowns) in the backfield and receivers Blake Dutton and Stevie Coury on the outside. Skyline LB Peyton Pelluer will have the daunting task of limiting Long's contributions in this one. Junior Max Browne, an ESPNHS All-American and the recipient of several Pac-12 offers marshals Skyline's potent offense. Browne has gotten off to a fast start this season with five touchdown passes but threw a pair of costly picks in last week's loss to Bellevue.
Eagle Point (1-1) at Willamette (2-0)

Getting to see Eagle Point senior DL Tyrone Holmes try to stop Willamette senior RB Jordan Visarraga (437 yards, 7 touchdowns) alone should be worth the price of admission.
September, 12, 2011
9/12/11
9:17
PM ET
There was some major movement within the top four this week after Sheldon dropped Jesuit, 52-37. The loss bumped the Crusaders down to No. 4, while Sheldon moved into the vacated spot at No. 2.
Defending Class 6A champ Aloha used a dominant effort from junior Thomas Tyner to secure a comeback win over Tualatin and continue its stranglehold of the No. 1 spot. New to the rankings is Tigard, a team that took down then No. 7 Grant last week and features one of the state's most prolific offenses.
Here's how the top three teams fared:
1. Aloha — defeated Tualatin, 16-14 (last week No. 1)
2. Sheldon — defeated Jesuit, 52-37 (last week No. 4)
3. Lake Oswego — defeated Westview, 35-3 (last week No. 3
For a look at the rest of the moves, check out the full
POWERADE Oregon Football Rankings
.
August, 22, 2011
8/22/11
11:04
PM ET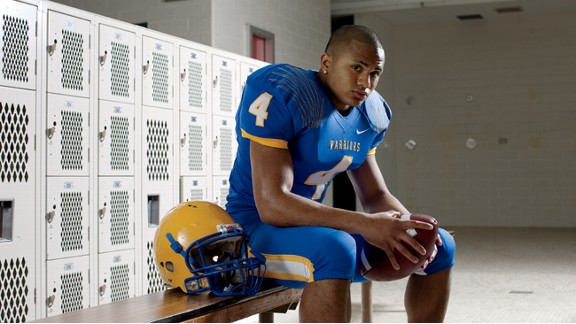 Quavondo/ESPNHSAloha RB Thomas Tyner is taking the state by storm.
The Aloha football team was never considered a title contender in either the Metro League or in Class 6A. The Warriors were usually a middle-of-the-pack squad and usually played the background to more decorated squads like Jesuit and Lake Oswego.
That is of course before Thomas Tyner stepped foot on campus.
The junior has emerged as the state's fastest player and earned the hardware to back it up last year. He validated his status as an elite athlete in two sports, leading Aloha to its first state crown on the gridiron and snagged gold and a state record in the sprints during spring track.
As fast as he is, we were able to keep Tyner in place long enough to get him on our September cover.
Get the lowdown
on this burgeoning star and see how he plans to be an even better player in 2011.
August, 22, 2011
8/22/11
11:37
AM ET
Jesuit
's reign over the Metro League came to a screeching halt last fall.
Aloha
juniors
Thomas Tyner
and
Brayden Kearsley
made sure of that. Tyner piled up 289 rushing yards and scored three times running behind Kearsley and others as the Warriors defeated Jesuit in the regular season to announce a changing of the guard. Aloha went on to grab the state title. Therefore, we're rewarding them with the No. 1 spot in the Oregon preseason rankings.
Senior
Nicholas Rothstein
and the Crusaders come in at No. 2, while
Steven Long
's transfer to
Lake Oswego
helps the Lakers occupy the third spot.
Grant
is a team loaded with playmakers and has something to prove after a mediocre 2010 campaign.
Central Catholic
was hit hard by injury last year, but could be a top five squad by the time the playoffs start.
Here's the rest of the list. Chime in with your thoughts in the comment section below:
Aloha
Jesuit
Lake Oswego
Sheldon
West Salem
Marist
Sherwood
Central Catholic
Grant
Tualatin
Bubble Teams:
Cascade Christian, Central, Baker, Douglas, Astoria, Liberty, Corvallis, Eagle Point, Thurston, Rainier, Ontario, West Linn, Scio, Hillsboro, Mountain View, Newport, Santiam Christian, Willamette, Estacada