ESPNHS Pennsylvania:

ESPNHS Magazine
November, 29, 2011
11/29/11
10:32
AM ET
By
Christopher Parish
| ESPN.com
This story originally appeared in the Holiday issue of ESPNHS magazine's Pennsylvania edition.
With five consecutive prep team state titles and a handful of individual national championships under their belts, the Wyoming Seminary wrestlers have lots of opportunities to rest on their laurels. But you'll seldom see athletes on this team looking back on their accomplishments. Especially when they know a sixth state title and a prep national championship are within reach.
"We've had a resurgence here over the last few years," head coach Scott Green says.
Seminary offers wrestlers a chance to tackle a challenging national schedule, and they take full advantage. Look no further than senior
DOMINICK MALONE
, who won the prep national tournament at 119 pounds last year and ended the season ranked No. 12 in his weight class by InterMat. The Northwestern recruit has his sights set on winning again and staying unbeaten this season.
"He's been at that level for quite some time, but last year was his breakout year," Green says. "He's training for an undefeated season. He's relaxed, and he'll stay driven."
Another nationally ranked wrestler, junior
ERIC MORRIS
, was consistently one of the best in the country at 152 pounds last year and hopes to continue that dominance at 160 this winter.
"He is very focused and very motivated," Green says. "He's a year-round wrestler. He really loves the sport."
Senior
A.J. VIZCARRONDO
, who's headed to West Virginia, and senior
EVAN BOTWIN
, who was fourth at the prep national meet last year, make this team nearly unbeatable top to bottom. And the rich get richer — incoming freshman
MICHAEL JOHNSON
will anchor the team at heavyweight and already has a Cadet Nationals crown.
Christopher Parish is an associate editor with ESPNHS magazine. You can reach him on Twitter
@CParishESPNHS
.
November, 28, 2011
11/28/11
8:57
AM ET
By
Christopher Parish
| ESPN.com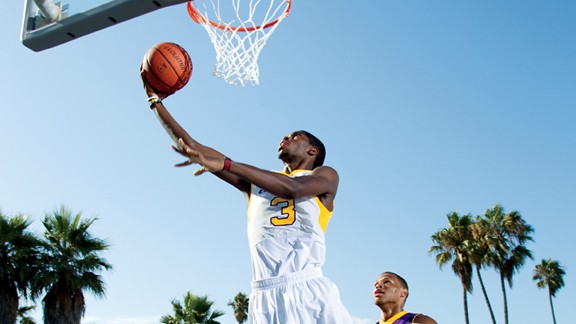 Kelly Kline/ESPNHSFriends' Central senior Amile Jefferson, the nation's No. 24 player in the ESPNU 100, is one of the nation's most sought-after recruits.
This story originally appeared in the Holiday issue of ESPNHS magazine's Pennsylvania edition.
Amile Jefferson and his teammates were powerless.
Jordan Hamilton was putting on a show, and nothing they were doing could slow him down.
Jefferson remembers being in Las Vegas with his AAU team — Philly's Finest — and going up against Hamilton's team during the summer between the eighth and ninth grades. He had been playing with the same team since he picked up the game. For Jefferson, basketball was a way to do something fun with his friends.
They loved to play and they loved to win. They played whenever they could, wherever they could and against the best competition they could find. And they usually won.
But Jefferson vividly recalls how that changed when he took the floor against Hamilton, the future Texas star who was the Dallas Mavericks' first-round pick in the 2011 NBA draft before being traded to the Denver Nuggets.
"He was amazing," Jefferson says. "I think we all tried to guard him. It didn't go too well."
But as Jefferson chased Hamilton aimlessly around the floor that day, it made him look at the game differently. He found himself in awe of the one-man show.
"That made me say, 'This is not just a game anymore,'" Jefferson says. "It's more serious than that. After I watched him play, I wanted to get into the gym and get better."
A few years later, Jefferson is now the one-man wrecking crew. Countless hours of hard work have turned the Friends' Central senior into the nation's No. 24 recruit in the ESPNU 100.
Last year, the 6-foot-9, 200-pound swingman averaged 17.7 points, 9.7 rebounds and 1.9 blocks per game to lead Friends' Central to a third consecutive PAISAA title. The spectacular season culminated with Jefferson winning the Gatorade State Player of the Year award.
As the state's top-rated player, there's no doubt Jefferson has hit his stride. But as his high school career began, the memory of Hamilton running roughshod over him and his team was still fresh in his mind. He arrived at Friends' Central without any guarantees — no starting role, no assured playing time and a coach who didn't really know who he was.
"That was the year," Jefferson says. "You're not the big fish anymore. You're the little fish in the big pond. I had to establish myself. It became more than just playing the game. It became almost like a business."
With coach Jason Polykoff scouting his prospective players, Jefferson wanted to make a statement early. It didn't take long for him to prove he belonged.
"As a freshman, he was playing in a game that featured a lot of guys who are playing D-I ball now," Polykoff says. "One of the guys went up for a layup, and Amile went sprinting over, picked it off the backboard and yelled, 'Get that out of here!'"
Jefferson wasn't trying to show up his opponent. It was an athletic play fueled by passion. And it worked — Polykoff remembered the play and still lists it as one of the most impressive things he's ever seen Jefferson do.
"The thing that everyone says about him is that he's a winner," Polykoff says. "When you look at our practices, our drills, any time there's a competition involved, he ends up winning. He always finds a way."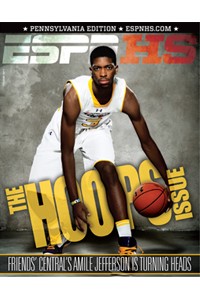 Kelly Kline/ESPNHSAmile Jefferson averaged 17.7 points and 9.7 rebounds per game for Friends' Central last winter, helping the team win the Independent League (PAISAA) title.
Looking at his career, it's clear Jefferson isn't accustomed to losing. Over the past three seasons, Friends' Central has a record of 75-9. With a third straight Independent Schools title on the line last winter, Jefferson and his team bested Malvern Prep, 65-37. Of the team's four losses last season, only one came against in-state competition.
Among all the winning, Jefferson knows there's no room for complacency.
"Every year you want to get better," he says. "That's what it's all about. You're continuing to progress. You don't want to be at your best right now because then there's nowhere else to go but down."
The fear of trending downward has Jefferson working harder than ever this season. Friends' Central lost a star in Devin Coleman (now playing at Clemson) to graduation, so Jefferson is the prime target for opposing teams and will be the go-to player for the squad this winter.
"I have to do more this year," he acknowledges. "It's just how it goes in high school. Every year, your role changes. I have to be the leader this year, and I have to do whatever it takes to win."
It's a new challenge, but it's one Polykoff thinks Jefferson can handle.
"He's not flashy, but he's so efficient," the coach says. "He gets the job done. He scores, rebounds, passes the ball, you name it. He may not make the highlight film, but at the end of the day he'll still be playing."
At this summer's Boost Mobile Elite 24 in Venice Beach, Calif., Jefferson proved he's got the game to play with anyone. Against some of the nation's top players, he started the game, played 20 minutes and scored 23 points. He didn't have to chase around players out of his league. This time, he fit right in.
"It was very humbling for me," he says. "Being able to be recognized as one of those top players is great. But I know that once these things are given to you, they can just as easily be taken away. It's hard to maintain. It definitely puts a bull's-eye on your back."
And Jefferson has big goals in mind. College comes first — he's considering programs such as UConn, Syracuse, Ohio State, Villanova and Georgetown, to name a few. And after that, if things go well, he's hoping for a shot at the NBA.
After all, Jefferson would love another crack at Jordan Hamilton.
Christopher Parish is an associate editor with ESPNHS magazine. You can reach him on Twitter
@CParishESPNHS
.
September, 27, 2011
9/27/11
4:30
PM ET
By
Christopher Parish
| ESPN.com
The Pennsylvania All-State soccer team will be unveiled in our October issue of the magazine. But if you haven't seen it yet, here's who we picked as the top players in the state.

STARTING 11
Position/Name, School, Year, Club Team

[F] Brett Campbell, Haverford School, Junior, FC Delco
Led talented Haverford squad in scoring as freshman and sophomore
[F] Kelton Cheney, State College, Senior, PA Classics
Earned a call-up to Philadelphia Union reserve squad this summer
[F] Christian Kaschak, Dallastown, Senior, PA Classics
YAIAA Player of the Year led Dallastown to District 3 crown last year
[MF] Andrew Herr, Penn Manor, Senior, FC Delco
Has started in all four seasons for his high school squad
[MF] Harrison Kendall, Haverford School, Senior, FC Delco
Syracuse commit led Haverford to Inter-Ac runner-up finish last fall
[MF] Drew Klingenberg, Pine-Richland, Senior, Pittsburgh Strikers
Post-Gazette North POY has committed to Penn State
[MF] Jared Martinelli, Cumberland Valley, Senior, HMMS Eagle FC
Scored 31 goals, added 12 assists last season; pledged to Temple
[MF] Colton Storm, Cumberland Valley, Junior, HMMS Eagle FC
Star midfielder recently returned from U-17 residency program
[D] Michael Discavage, Council Rock South, Senior, FC Delco
Anchored defense that gave up more than one goal just twice
[D] Steven Machi, Upper St. Clair, Senior, Internationals
High Point pledge led Upper St. Clair to district semifinals
[GK] Zack Steffen, Malvern Prep, Junior, FC Delco
Played on USA U-14 and U-15 National Teams

OTHER TOP PLAYERS
Position/Name, School, Year, Club Team

[F] Darius Madison, La Salle, Senior, Philadelphia SC
Earned NSCAA/adidas All-American honors as a junior
[F] Connor Maloney, Bishop McDevitt, Junior, PA Classics
Soccer star also handles kicking duties for football team
[F] Melvin Snoh, Malvern Prep, Senior, Penn Fusion
Named captain as a junior; earned All-Main Line Times first team
[F] Josh Turnley, Beaver, Senior, Century United
Post-Gazette West POY scored 43 goals last season
[MF] Kyle Bitterman, Hempfield, Senior, PA Classics
Fordham recruit helped Hempfield win PIAA state title last fall
[MF] Zach Pfeffer, Upper Dublin, Junior, Philadelphia Union
Former member of U-17 residency team; also played for MLS squad
[MF] Zach Shiposh, Abington Heights, Senior
FC Delco Former HS star now playing on Braunschweig U19 team in Germany
[MF] Matt Venanzi, Peters Township, Senior, Beadling SC
His 13 goals and 25 assists helped Indians win the WPIAL AAA title
[D] Shane Campbell, Dallastown, Senior, FC Delco
Played midfield last year; scored 17 goals and added eight assists
[D] Tyler Graziani, West Allegheny, Senior, Beadling FC
Defender in club, forward in HS; tallied 21 goals last season
[GK] Patrick Lestingi, Pennsbury, Senior, YMS
Temple pledge led Pennsbury to PIAA Class AAA state quarters

Note: The Starting 11 is comprised of the best players in Pennsylvania who were projected to suit up for their high school teams this year. The Other Top Players are comprised of high school players as well as club-only players.
August, 22, 2011
8/22/11
4:18
PM ET
By
Christopher Parish
| ESPN.com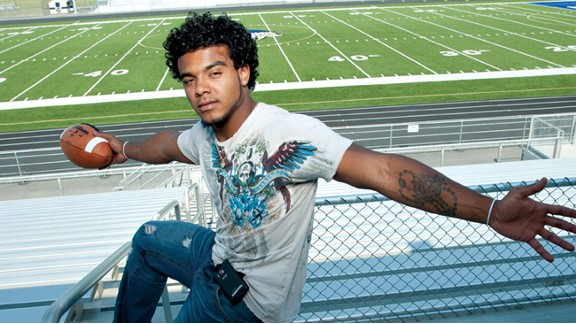 Danny Vega/ESPNHSRushel Shell of Hopewell is the nation's No. 3 running back in the ESPNU 150
Hopewell senior Rushel Shell graced the cover of the September issue of our ESPNHS Pennsylvania magazine, which hit schools this week. Shell, rated
the nation's No. 24 player and No. 3 running back in the ESPNU 150
, enters this season on the verge of some impressive state records. By equaling his rushing totals from his junior season, he'll end his career as Pennsylvania's all-time leading rusher.
In an
interview with the Pittsburgh Tribune-Review
, Shell has indicated he's made his college choice but isn't announcing his decision until October, possibly to coincide with Hopewell's nationally televised game against Central Valley on Oct. 14.
To read Shell's impressive story,
click here
.
August, 22, 2011
8/22/11
10:48
AM ET
By
Christopher Parish
| ESPN.com
Below is our preseason All-State football team for Pennsylvania, as featured in our ESPNHS Pennsylvania magazine, plus an additional 50 top players. The team is based on projected on-field performance and accomplishments, not necessarily recruiting potential. For a list of the top football recruits in the state,
click here
.
Want to see the All-State teams for the other 49 states?
We've got 'em right here
.
Think there's someone we're missing? Tell us about him in the comments or reach out on Twitter (
@CParishESPNHS
).
OFFENSE
Skyler Mornhinweg, St. Joseph's Prep, QB, Senior
Penn State pledge rated the nation's No. 19 QB in the ESPNU 150