High-SchoolPennsylvania:

Must See
May, 24, 2012
5/24/12
10:11
AM ET
By
Mark Tennis & Doug Huff
| ESPN.com
(After games of Tuesday, May 22)

One player is chosen from each region of the country. The only other criteria is that no player will be chosen more than once during a season.

EAST

Ben Hartz, Shady Side Academy (Pittsburgh)
The senior pitcher-first baseman led the Indians on the mound and at the plate in a 4-3 Western Pennsylvania Interscholastic Athletic League Class AA first-round 4-3 playoff victory over Waynesburg (Pa.). Hartz struck out 14 batters in a four-hit effort and helped his own cause with two hits and a pair of RBIs. The four-year starter has been impressive his last three seasons with a combined .520 batting average, 77 RBIs, 16 pitching wins and 150 strikeouts.

SOUTHEAST

Blaine Crain, Spanish Fort (Ala.)
Crain was named MVP of the Class 5A state championship series after going 3-for-6 with two RBIs to help Spanish Fort defeat Southside (Gadsden, Ala.) in a two-game sweep. It was Spanish Fort's third straight state title. Crain, who had a game-winning RBI in the team's victory that sent them to the state finals, played despite very difficult personal circumstances. Six weeks ago, his father, Kurt, a former All-American linebacker at Auburn and an assistant football coach at South Alabama, died from a self-inflicted gunshot wound.

MIDWEST

Eric Veglahn, La Crescent (Minn.)
The senior left-handed pitcher had an inning to remember in a 4-1 victory over Hayfield (Minn.), striking out five batters to close out the game in the bottom of the seventh inning. He fanned the first two batters, but the next two strikeout victims reached base on passed balls by the catcher. He then wrapped up the victory with his fourth and fifth strikeouts of the inning plus the 12th and 13th of the game.

MIDLANDS

Tate Matheny, Westminster Christian (Town & Country, Mo.)
The son of new St. Louis Cardinals' manager Mike Matheny is in the midst of a monster senior season. Earlier this week, in Westminster's 3-0 win over Orchard Farm (St. Charles, Mo.) in the Class 3 sectional tourney, Matheny belted a two-run homer, his 11th of the season. Last week in a 11-1 romp in five innings against MICDS of St. Louis, Matheny went 3-for-3 with a double and homer. Prior to the game against Orchard Farm, he was batting .614 with 10 homers, 10 triples, 52 runs scored and 47 RBIs. Matheny's team also improved to 26-3 after that win and upped its winning streak to 23 games.

WEST

Troy Conyers, El Capitan (Lakeside, Calif.)
The 6-foot-5, 230-pound left-handed pitcher struck out 16 and pitched a four-hitter in El Capitan's 7-1 win last week against Monte Vista (Spring Valley, Calif.). Conyers also went 1-for-3 with a double at the plate. He pitched a one-hitter with 11 strikeouts in his previous start and has led the Vaqueros to a 27-5 record and No. 37 FAB 50 national ranking. Heading into this week, Conyers was batting .395 with 24 RBIs and had an 8-1 mound record with 114 strikeouts and a 0.72 ERA. He was the San Diego Union-Tribune Player of the Year as a junior and has signed with the University of San Diego.
April, 2, 2012
4/02/12
10:00
AM ET
By
Christopher Parish
| ESPN.com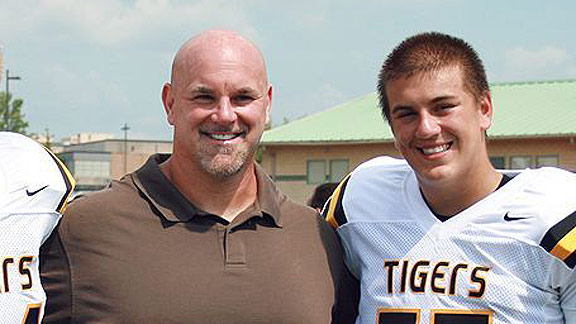 Kugler family North Allegheny (Wexford, Pa.) junior Patrick Kugler (right) has learned a lot about playing the line from his father, Sean (left), the offensive line coach for the Pittsburgh Steelers.
Few things are certain in high school football, but it's always safe to assume North Allegheny (Wexford, Pa.) is going to be in the state-title discussion.
Last season, the Tigers lost in the Class AAAA state semifinals by three points and finished No. 49 in the
POWERADE FAB 50
. And this fall, with many of their skill players returning, the Tigers will again be among the favorites to bring home the hardware.
One of the biggest reasons for the team's consistent success is an always-strong offensive line, and junior offensive lineman
Patrick Kugler
is as good as you'll find in the nation. The
ESPNU 150 Watch List
recruit and Michigan commit was named an
ESPNHS Underclass All-American
this past fall.
Kugler's father, Sean, is the offensive line coach for the Pittsburgh Steelers. And his brother, Robert, is currently in his first season at center at Purdue.
Clearly, it's a family that knows the O-line. And Patrick might be the best of the bunch.
"He's one of those guys who just loves to play," says North Allegheny head coach Art Walker. "He plays hard every snap, he's physical, he's aggressive, and he's a good locker room guy as well.
What makes this stellar junior one of the nation's top offensive linemen? It's time to
Get Familiar
with Patrick Kugler.
ESPNHS
: How's the offseason going? What are you up to so far?
Kugler
: It's been going really good. I've been doing some lifting, and this summer I'm hoping to play some AAU football. I'm staying busy.
ESPNHS
: Is there a specific goal behind your lifting? Are you trying to get bigger, just gain strength, or just kind of stay where you're at now?
Kugler
: I'm definitely always trying to get stronger, and right now I'm just trying to mold my body. I have a little bit of a gut, and it would be awesome to get rid of that right now and just mold my body into a college-type body instead of a big wide-body high school hooligan.
ESPNHS
: You play at a school — North Allegheny — that is always right in the state title discussion. What are your expectations for this upcoming season?
Kugler
: If we don't win a championship, it's an unsuccessful season. We've got a great team coming back this season — great quarterback, great running game, great receivers and a great defense. The only question is going to be who starts on that offensive line, and obviously I'll be there, and hopefully I can help give us a great shot at winning state.
ESPNHS
: What are some of the things you think you need to work on before you get to college?
Kugler
: Technically, I always want to improve on my pass blocking. I think we're going to pass a lot more this year because we have a good quarterback and good receivers, and so that's something I'm going to need to improve on. After that, it's just keeping my feet underneath me and not losing my balance.
ESPNHS
: Tell us about the process that went into your college decision.
Kugler
: Well, I committed to Michigan a month ago, and it's been nice having it over with and not having to talk to any other coaches.
ESPNHS
: What were your favorite and least favorite parts of the whole process?
Kugler
: My favorite part was just learning about all of the different schools, some prestigious programs. And my least favorite part was having to talk to all of these people who were trying to recruit me and continuously having to talk to people even if I knew I wasn't going to their school.
ESPNHS
: You're from a family that knows its offensive line, between your dad and your brother. What are those conversations around the dinner table like?
Kugler
: My dad doesn't really talk a lot of football with us. We're not criticized unless we ask for it, and then he'll give us his two cents. But he'll help us work out and improve. It's not forced.
ESPNHS
: Your brother just went through this whole recruiting process. How was he able to help you?
Kugler
: He's definitely really helped. He told me all sorts of schools to look at, and he told me what were some fun schools to go to and check out. He's happy I chose a Big Ten school.
ESPNHS
: You won't line up directly against him, but is Purdue-Michigan the new rivalry now?
Kugler
: Oh, definitely. We're looking forward to it.
Patrick Kugler
School:
North Allegheny (Wexford, Pa.)
Position:
OL
HT:
6-4
WT:
280
College:
Michigan
FAVORITES
TV Show:
"Family Guy"
Athlete:
Maurkice Pouncey
Sports Team:
Pittsburgh Steelers
Food:
Steak
Video Game:
"Assassin's Creed"
February, 29, 2012
2/29/12
10:11
AM ET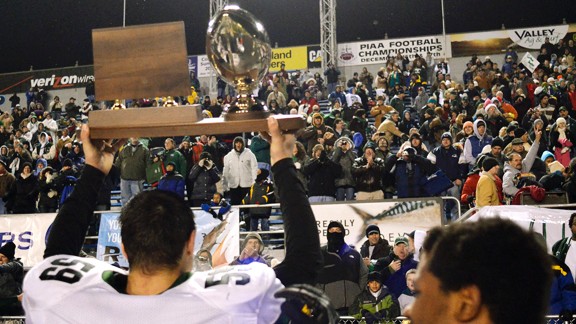 Ralph Wilson/APCentral Dauphin (Harrisburg, Pa.) players celebrate with fans after winning the school's first state football title in December.
During the offseason, we'll check out one team per week that looks like a sure bet to be among the best in the nation for next fall.
FAB 50 Offseason Primer Archive
This week's team:
Central Dauphin (Harrisburg, Pa.).
2011
Season
: 15-1,
PIAA AAAA state champion
, No. 38 in the final
POWERADE FAB 50
.
Projected
2012
Preseason
Ranking
: Top 15. The Rams celebrated their first state title last season with a team that featured several underclass standouts. Coach Glen McNamee's squad won its final 14 games after losing to rival Bishop McDevitt (Harrisburg, Pa.). The team defeated defending state champ North Allegheny (Wexford, Pa.) in the semifinals and then upended perennial contender North Penn (Lansdale, Pa.) in the championship. The Rams will likely enter the reason ranked No. 1 in the Keystone State, a spot that's always going to translate to a high ranking in the FAB 50.
Team
Strengths
: The three most productive offensive players for the Rams will return for their senior seasons in the fall and that spells problems for upset-minded foes. Quarterback Brandon LaVia ran a balanced attack, throwing for 1,490 yards and 16 touchdowns and rushing for four scores. Running back/linebacker
Zayd Issah
was league MVP on offense, but he's just as touted on the defensive side. He finished the year rushing for 1,345 yards and 21 touchdowns and catching 10 touchdown passes on offense and racking up 123 tackles and 14 sacks on defense. Junior running back/defensive back Drew Scales had nine touchdowns on offense and was also a dynamic kickoff returner.
Another
Pennsylvania
team
to
watch
: North Allegheny (Wexford, Pa.) had its unbeaten season and bid for a second straight PIAA AAAA state crown halted in the state semifinals by Central Dauphin, which won 23-20 on a last-second field goal. The Tigers, who finished No. 49 in the FAB 50, could be in the running for another state crown in the fall with the return of eight all-conference players, three of which earned all-state honors.
ESPNHS Underclass All-American
and two-way lineman
Patrick Kugler
, a Michigan commit, will anchor both lines. Quarterback Mack Leftwich will run the offense after accounting for 36 touchdowns as a junior.
February, 24, 2012
2/24/12
3:17
PM ET
Earlier this week
we profiled top recruit
and
SPARQ Rating standout
David Williams of West Catholic (Philadelphia) in our
Get Familiar series
. Williams' story is unique not just because he's coveted by several major college programs but also because the junior running back's high school was scheduled to close its doors after this school year, sending him on a hunt for a new school and team to finish out his high school career.
Beset by serious budget issues, the Archdiocese of Philadelphia was set to close four high schools in the area in June -- West Catholic, Conwell-Egan (Fairless Hills, Pa.), St. Hubert Catholic High School for Girls (Philadelphia) and Monsignor Bonner-Archbishop Prendergast (Drexel Hill, Pa.). But the Philadelphia Inquirer
reported on Friday afternoon
that the schools will live on for several more school years thanks to significant private endowments.
This news comes as a particular surprise for Williams' school given that West Catholic was the only of the four high schools to not appeal the closure decision. It appears that Williams will remain a Burr for his final season, allowing him to focus primarily on his important college decision.
February, 20, 2012
2/20/12
7:59
AM ET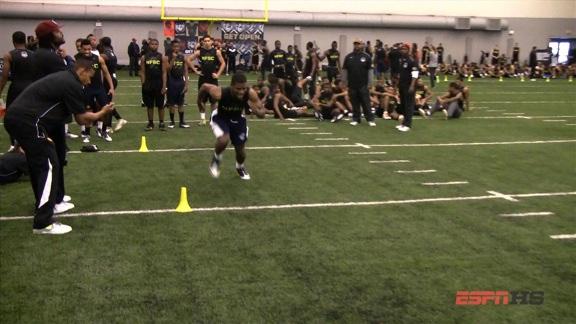 In a city known for triumphant underdogs, it's fitting that
David Williams
of West Catholic (Philadelphia) went from third on the depth chart at running back for the Burrs as a sophomore to star status early into his junior campaign this past fall. Now coveted by major college programs across the country, with an
offer from Ohio State
being the most recent evidence of this reality, the
ESPNU 150 Watch List
standout must navigate the process of making a difficult college decision.
But before he decides where he'll take his considerable talents on the college level, the speedy back -- who clocked a 4.44 40-yard dash at the
Philadelphia Nike Football SPARQ Combine
-- must first find a high school to attend for his senior season. West Catholic, which dates back to 1916, is closing its doors in a wave of Catholic school closings across the Philadelphia area.
Williams is mulling local powers like LaSalle (Wyndmoor, Pa.) and
POWERADE FAB 50
powerhouse Archbishop Wood (Warminster, Pa.) as potential landing spots for his senior year. He says he finds value in this unique process as it helps him on the road to the next level.
It's time to Get Familiar with David Williams.
ESPNHS:
Your game is a blend of power and speed. Is there a running back in the pros or on the college level that you model your style after?
Williams:
It's
DeMarco Murray
, no doubt. He's a complete back; he's strong when you need those short yards but also versatile in the passing game. I guess I also identify with him being an underdog and when he got the chance with the Cowboys, he ran with it. I like when a back can show off speed but then also isn't afraid to drop that shoulder and play physical.
ESPNHS:
With West Catholic closing after this school year, how are you navigating your next step in high school?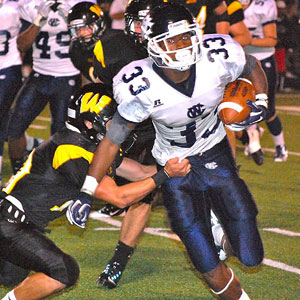 Courtesy of West Catholic High SchoolDavid Williams already has offers from Notre Dame, UConn, Maryland, Pitt, Rutgers, Temple and Virginia.
Williams:
It's sad that my school and others in the area are closing. There will be a lot of talented players that have to find new schools and new teams after this year. But to get a positive out of it I have to see the side of all this that is helping prepare me for my college decision. It's like a smaller version of the college decision, with a lot of the same priorities being used. If I had to pick the two main factors for me right now, it would have to be the quality of the education at my next school and as a running back, of course, the offensive line on the team there. It's not something I was thinking about too much until lately because I had to focus on my team at West Catholic and my grades here, but I just want to find a place where I'm comfortable in the classroom and on a team that is in a position to win.
ESPNHS:
You seem to have a lot of pride, like most guys from Philly, in your city and the brand of football that comes out of the area. Do you think the quality of the game from that side of the state deserves more props?
Williams:
Football can be overlooked in Philly. Not just by basketball being a major sport around here, but also by Western Pennsylvania and the way people appreciate the game out there. But if you look at the past couple of years, this side of the state has had contenders in the state playoffs and even the championship games regularly, so it's also just a perception thing that the football in this area isn't as strong. It's definitely getting there. My school has shown well in the playoffs versus some teams across the state and just look at what Archbishop Wood and LaSalle have proven over the past few years.
DAVID WILLIAMS
School:
West Catholic (Philadelphia)
Class:
2013
Position:
Running back
HT:
6-1
WT:
185
FAVORITES
Movie:
"Law Abiding Citizen"
TV Show:
Anything on NFL Network
Song:
"Who Gon Stop Me" by Jay-Z & Kanye West
Musical artist:
Young Jeezy
Subject:
Algebra
February, 6, 2012
2/06/12
2:48
PM ET
By
Christopher Parish
| ESPN.com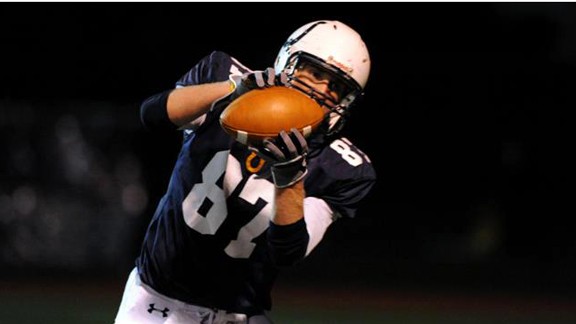 Courtesy of Samuel F. Getty DCCedar Cliff (Camp Hill, Pa.) junior Adam Breneman is the only tight end in the Class of 2013 rated a five-star recruit by ESPN RecruitingNation.
In the past three seasons, no tight end recruit has earned a five-star rating by ESPN RecruitingNation.
Adam Breneman
is the first to break that streak.
When RecruitingNation released its early look at the
top 100 prospects in the class of 2013
last week, the Cedar Cliff junior was one of 26 athletes to earn the coveted honor. But it shouldn't come as much of a surprise considering how well Breneman has played.
The 6-foot-5, 225-pounder caught 72 passes for 1,120 yards and 12 touchdowns this season and was selected to the
ESPNHS Underclass All-American team
. Breneman helped Cedar Cliff advance to the district quarterfinals, where the Colts fell to eventual state champ Central Dauphin.
But for as good as he was in the receiving game, he might have been an even better blocker -- a source of pride for the junior who has close to 30 scholarship offers.
So what makes this stellar tight end so good? It's time to Get Familiar with Adam Breneman.
January, 31, 2012
1/31/12
9:56
PM ET
By
Mark Tennis & Doug Huff
| ESPN.com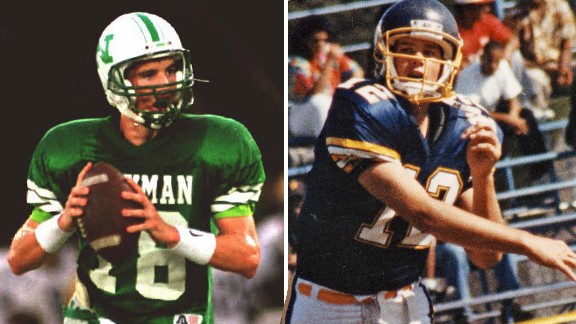 AP Photo, Serra High SchoolBefore they led their teams to Super Bowl XLVI, Eli Manning (left) and Tom Brady were high school standouts at Isidore Newman (New Orleans) and Junipero Serra (San Mateo, Calif.), respectively.
With signing day upon us and the the Super Bowl not far behind, it's a busy time for all levels of the game. Given that every player in Super Bowl XLVI played as a prep back in the day, we decided to break down the rosters for the New England Patriots and New York Giants by state and by high school.
Emerging superstar tight end
Rob Gronkowski
and fullback
Lousake Polite
of the Patriots are both from Woodland Hills (Pittsburgh). These two are also the only two players from Pennsylvania from the Patriots in this year's game.
For the Giants, star receiver
Hakeem Nicks
from Independence (Charlotte, N.C.) was part of the school's legendary 109-game win streak from 2000 to 2009 that still stands as the second-longest in U.S. history.
And with the
Great State Debate
still fresh on our minds, it's worth mentioning that California leads the way for Super Bowl participants this season with 13, while Florida (11) and Ohio (9) aren't far behind in the tally.
ALABAMA
Giants LB
Michael Boley
(Elkmont)
Giants WR
Jerrel Jernigan
(Eufaula)
Giants DL
Justin Tuck
(Central Coosa County, Rockford)
Giants DL
Osi Umenyiora
(Auburn)
ARIZONA
Giants DB
Prince Amukamara
(Apollo, Glendale)
ARKANSAS
Giants OL
Mitch Petrus
(Carlisle)
CALIFORNIA
Giants WR
Ramses Barden
(Flintridge Prep, La Canada)
Patriots QB
Tom Brady
(Junipero Serra, San Mateo)
Giants QB
David Carr
(Stockdale, Bakersfield)
Patriots DB
Patrick Chung
(Rancho Cucamonga)
Patriots WR
Julian Edelman
(Woodside)
Patriots OL
Logan Mankins
(Mariposa)
Patriots DB
Sterling Moore
(Deer Valley, Antioch)
Giants TE
Bear Pascoe
(Granite Hills, Porterville)
Giants LB
Spencer Paysinger
(Beverly Hills)
Patriots WR
Matthew Slater
(Servite, Anaheim)
Giants DL
Dave Tollefson
(Ygnacio Valley, Concord)
Patriots RB
Shane Vereen
(Valencia)
Patriots OL
Ryan Wendell
(Diamond Bar)
COLORADO
Giants DB
Derrick Martin
(Thomas Jefferson, Denver)
Patriots OL
Nate Solder
(Buena Vista)
CONNECTICUT
Patriots TE
Aaron Hernandez
(Bristol Central, Bristol)
Patriots LB
Niko Koutouvides
(Plainville)
Patriots OL
Donald Thomas
(Career Magnet, New Haven)
FLORIDA
Giants OL
David Baas
(Riverview, Sarasota)
Giants OL
Kevin Boothe
(Pine Crest, Fort Lauderdale)
Giants DL
Linval Joseph
(Santa Fe, Alachua)
Patriots WR
Chad Ochocinco
(Miami Beach)
Giants DB
Kenny Phillips
(Carol City, Miami)
Giants DL
Jason Pierre-Paul
(Deerfield Beach)
Giants DB
Antrel Rolle
(South Dade, Homestead)
Giants K
Lawrence Tynes
(Milton)
Patriots DL
Gerard Warren
(Union County, Lake Butler)
Giants LB
Jacquian Williams
(Riverview, Sarasota)
Patriots DL
Vince Wilfork
(Santaluces, Lantana)
GEORGIA
Patriots
Deion Branch
(Monroe, Albany)
Giants DB
Deon Grant
(Josey, Augusta)
Patriots LB
Gary Guyton
(Bradwell Institute, Hinesville)
Patriots DL
Kyle Love
(North Clayton, College Park)
Giants RB
D.J. Ware
(Rockmart)
ILLINOIS
Patriots DB
Sergio Brown
(Proviso East, Maywood)
Giants OL
David Diehl
(Brother Rice, Chicago)
Patriots LB
Rob Ninkovich
(Lincoln-Way Central, New Lenox)
INDIANA
Giants OL
James Brewer
(Arlington)
Giants LB
Mathias Kiwanuka
(Cathedral, Indianapolis)
Giants P
Steve Weatherford
(North Vigo, Terre Haute)
IOWA
Giants DB
Tyler Sash
(Oskaloosa)
KENTUCKY
Patriots DL
Brandon Deaderick
(Elizabethtown)
LOUISIANA
Patriots RB
Kevin Faulk
(Carencro, Lafayette)
Patriots RB
BenJarvus Green-Ellis
(St. Augustine, New Orleans)
Giants RB
Brandon Jacobs
(Assumption, Napoleonville)
Giants QB
Eli Manning
(Isidore Newman, New Orleans)
Giants DB
Corey Webster
(St. James)
MARYLAND
Patriots DB
Kyle Arrington
(Gwynn Park, Brandywine)
MASSACHUSETTS

Patriots DL
Ron Brace
(Burncoat, Worcester)
Giants LS
Zak DeOssie
(Phillips Academy, Andover)
Patriots DB
James Ihedigbo
(Amherst-Pelham Regional, Amherst)
MICHIGAN
Patriots OL
Nick McDonald
(Ford, Sterling Heights)
Giants WR
Devin Thomas
(Canton)
MISSISSIPPI
Patriots K
Stephen Gostkowski
(Madison Central, Madison)
Patriots RB
Stevan Ridley
(Trinity Episcopal, Natchez)
MISSOURI
Patriots OL
Dan Connolly
(Marquette, Chesterfield)
MONTANA
Patriots LB
Dane Fletcher
(Bozeman)
NEBRASKA
Patriots RB
Danny Woodhead
(North Platte)
NEW JERSEY
Giants WR
Victor Cruz
(Paterson Catholic, Paterson)
Patriots DB
Nate Jones
(Scotch Plains-Fanwood, Scotch Plains)
Patriots DB
Devin McCourty
(Saint Joseph Regional, Montvale)
Giants OL
Kareem McKenzie
(Willingboro)
Giants DL
Justin Trattou
(Don Bosco Prep, Ramsey)
Patriots WR
Tiquan Underwood
(Notre Dame, Lawrenceville)
NEW YORK
Giants DL
Jimmy Kennedy
(Roosevelt, Yonkers)
NORTH CAROLINA
Giants DL
Chris Canty
(Charlotte Latin, Charlotte)
Giants WR Hakeem Nicks (Independence, Charlotte)
Patriots LB
Brandon Spikes
(Crest, Shelby)
OHIO
Giants TE
Jake Ballard
(Springboro)
Giants LB
Chase Blackburn
(Marysville)
Giants OL
Jim Cordle
(Lancaster)
Patriots QB
Brian Hoyer
(Saint Ignatius, Cleveland)
Giants LB
Greg Jones
(Archbishop Moeller, Cincinnati)
Patriots OL
Matt Light
(Greenville)
Patriots
Zoltan Mesko
(Twinsburg)
Giants WR
Mario Manningham
(Harding, Warren)
Patriots DB
Antwaun Molden
(Glenville, Cleveland)
OKLAHOMA
Patriots DL
Mark Anderson
(Booker T. Washington, Tulsa)
Patriots WR
Wes Welker
(Heritage Hall, Oklahoma City)
PENNSYLVANIA
Patriots TE Rob Gronkowski (Woodland Hills, Pittsburgh)
Giants LB
Mark Herzlich
(Conestoga, Berwyn)
Giants RB
Henry Hynoski
(Southern Columbia, Catawissa)
Patriots RB Lousaka Polite (Woodland Hills, Pittsburgh)
Giants RB
Da'Rel Scott
(Plymouth Whitemarsh, Plymouth Meeting)
Giants OL
Chris Snee
(Montrose)
RHODE ISLAND
Giants DB
Will Blackmon
(Bishop Hendricken, Warwick)
SOUTH CAROLINA
Patriots DL
Shaun Ellis
(Westside, Anderson)
Patriots LB
Tracy White
(Timberland, St. Stephen)
TEXAS
Giants DL
Rocky Bernard
(Sterling, Baytown)
Patriots OL
Marcus Cannon
(Odessa)
Patriots QB
Ryan Mallett
(Texas, Texarkana)
Giants DB
Aaron Ross
(Tyler)
Giants OL
Tony Ugoh
(Westfield, Houston)
Patriots OL
Brian Waters
(Waxahachie)
Patriots DB
Malcolm Williams
(South Grand Prairie, Grand Prairie)
VIRGINIA
Patriots LS
Danny Aiken
(Cave Spring, Roanoke)
Giants RB
Ahmad Bradshaw
(Graham, Bluefield)
Patriots LB
Jerod Mayo
(Kecoughtan, Hampton)
WISCONSIN
Giants TE
Travis Beckum
(Oak Creek)
Note: List does not include OL Sebastian Vollmer of the Patriots, who is not from a U.S. high school (Germany); Rob Gronkowski attended Williamsville North (Williamsville, N.Y.) before transferring to Woodland Hills for his senior year
January, 14, 2012
1/14/12
5:22
PM ET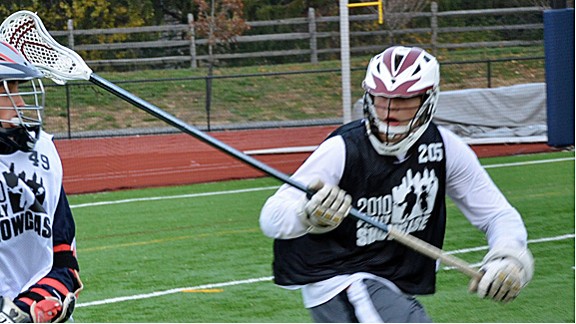 ESPNHSAustin Pifani from Abington (Pa.) was a standout at the Fab 40 All-Star game at the 2010 Philly Lacrosse Showcase.
Related Commitment Links:
Most Recent Commits
|
Class of 2013 Boys
|
LaxPower Recruit Database
Abington (Abington, Pa.) junior defensemen Austin Pifani has confirmed to ESPNHS via Facebook that he has made a verbal commitment to play men's college lacrosse for the University of North Carolina.