POY Potential: Top Hawaii football recruits
September, 30, 2011
9/30/11
3:29
PM ET
The Gatorade Player of the Year Program honors athletes who meet comprehensive and exacting criteria in high school sports. Candidates are judged on athletic production and impact in the current season. Contenders also must demonstrate high academic achievement and exemplary personal character, including volunteerism, sportsmanship and community leadership. Senior status has no bearing on a candidate's merit and selections are made independent of ESPNU's recruit rankings.
That being said, the state's top five football recruits as ranked by ESPNU are sure to enter the 2011-12 Gatorade Football Player of the Year conversation at some point. Here they are …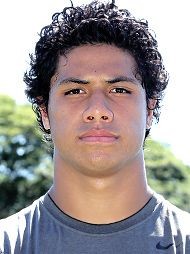 file photo/ESPNHSLuke Kaumatule is Hawaii's No. 1 senior recruit
1.
Punahou School (Honolulu, HI) defensive end
Luke Kaumatule
ESPNU 150 rank: No. 39 DE
Height: 6-foot-7
Weight: 242 pounds
College: Stanford (verbal)
Testing results: 4.99 40-yard dash; 29.3 vertical jump
Traits: Run defense, pass rushing, strength
ESPNU scouting report: "A defensive end was the top player from Hawaii in 2011 and it would not be shocking if a D-end leads the way again this year with Kaumatule coming from the Islands. This prospect is a towering kid who displays good physical upside. He is a tall kid and while he has solid listed bulk he does still seem a little lean and will need to add more good bulk to his frame. With time in a college weight program though, he should be able to develop his frame further."
2.
Kamehameha High (Honolulu, HI) offensive tackle
Kihaakeanu Sai
ESPNU 150 rank: No. 73 OT
Height: 6-foot-4
Weight: 300 pounds
College: Utah (verbal)
Traits: Pass blocking, space blocking, strength, toughness
ESPNU scouting report: "Sai possesses the upper body explosion and playing strength necessary to dominate his present level opponent's. Although a dominant run blocker once he gets his hands on defenders we want to see improved explosion coming out of his stance. Has the size and athleticism for the offensive tackle position at the major level of competition. It appears his frame can handle additional body mass over time."
3.
Kealakehe High (Kailua-Kona, HI) athlete
Psalm Wooching
ESPNU 150 rank: No. 111 ATH
Height: 6-foot-2
Weight: 210 pounds
College: UCLA (verbal)
Traits: Versatility
ESPNU scouting report: "Woochung is a big and physical high school back who could actually get recruited to play several positions at the college level. Tall, well-built but still lean enough to add another 10-15 pounds of muscle making it likely he will outgrow the position. For his size he displays a very good blend of size, strength and straight-line speed. Hits the line with urgency and makes sharp subtle cutbacks while staying square and losing little downhill momentum."
4.
Punahou School (Honolulu, HI) running back
Steven Lakalaka
ESPNU 150 rank: No. 68 RB
Height: 5-foot-10
Weight: 211 pounds
College: UCLA (verbal)
Traits: Power, vision
ESPNU scouting report: "Lakalaka is a strong, aggressive runner with good downhill production. Has very good size; compact, thick with a wide power-base. Long speed is minimal but he displays good burst through the hole and has some quick strike ability. A decisive runner who does not waste lateral cuts and is quick to square up and get North"
5.
Kamehameha High (Honolulu, HI) tight end
Keoni Bush-Loo
ESPNU 150 rank: No. 60 TE
Height: 6-foot-4
Weight: 241 pounds
College: Undecided
Testing results: 4.90 40-yard dash; 27.7 vertical jump
ESPNU scouting report: "Bush-Loo is a prospect who displays the tools to be a productive tight end. He has good height and carries good bulk and displays a frame that could support more good size with time in a college weight program. He can get the job done as a blocker, but at this stage his effort can surpass his substance at times."
A dedicated POY team at ESPNHS manages the Gatorade Player of the Year program selection process and oversees all research, reporting, comparative analysis and criteria-compliance on the award program's behalf.