High-SchoolSoftball:

Club softball
January, 26, 2012
1/26/12
8:09
AM ET
By
Andrew Linnehan
| ESPN.com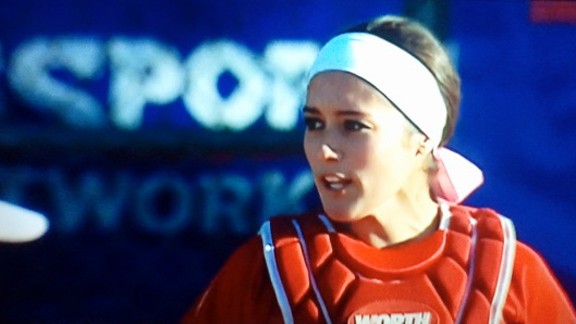 Courtesy of Jon Rico Bella Secaira is hoping to play softball this spring after surviving a 35-foot fall from the roof of an apartment building in June 2011. "This whole experience changed my life and the way I look at things."
This is not a story about softball. Nor is this a story for the fainthearted, the weak-minded or the jelly-legged.
This is a story for all of us who are inspired by people who exemplify the can-do, never-give-up spirit so necessary in sports and perhaps even more in life.
The story begins on June 3, 2011 -- a Friday. Bella Secaira, a catcher at Newport Harbor (Newport Beach, Calif.) who had just been named the Daily Pilot Newport-Mesa Player of the Year, was trying to help out a friend.
"She was having a bad day, and I was trying to convince her to talk," Secaira said. "So I told her, 'Let's go up on the roof. We'll get away from everything and no one will be able to hear us.'"
Her friend agreed. They'd go up on Secaira's apartment roof and talk it out. Just two teenagers trying to remove themselves from the world and have a heart-to-heart. But when they got to the roof and decided to move to an even more secluded sanctuary on the roof of the apartment building next door, June 3 turned into anything but a normal Friday in the Secaira household.
"We had to climb through a tree to get to the next house," Secaira said. "[My friend] went first and made it."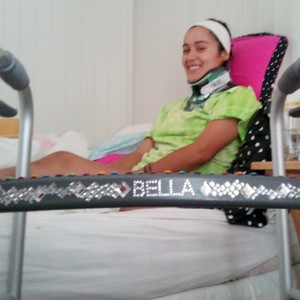 Courtesy of Jon Rico"The first thing I noticed at the hospital was the calmness and peacefulness in her face and in her eyes," Firecrackers coach Tony Rico said.
But then, as Secaira attempted to duplicate her friend's movements, the sudden snap of a branch underneath her feet sent her on a 35-foot free fall.
For Secaira, perhaps the only thing scarier is that she remembers every detail.
"I still have dreams about it," she said. "There was so much pain when I landed. I tried to sit up, but then everything went numb and I fell back down."
The bodily damage was severe: a broken rib had punctured her lung and she had more bumps and bruises than a seasoned UFC fighter. But what offered the most peril was a broken C2 vertebra in her neck, an injury that forced doctors to induce unconsciousness so her body stayed completely still. If her body had moved the wrong way, she could have been paralyzed.
After 24 hours of unconsciousness, Secaira woke up to find Tony Rico, her 18 Gold Worth Firecrackers coach, holding her hand at bedside. The doctors told the family that she wouldn't play softball for at least a year, but Secaira told Rico that she'd be back much sooner than that.
"The first thing I noticed at the hospital was the calmness and peacefulness in her face and in her eyes," Rico said. "She had to communicate to me by writing words on a board because she had a tube in her throat, and her first words to me were 'Thank you.' It wasn't about her, it was about the people around her."
Immediately, this determined Firecracker went to work, starting first with lower-body workouts because any activity above the waist was off limits. And day by day, the Firecracker shone brighter, earning the respect and admiration of all who were witnesses.
One friend who noticed was Firecrackers teammate Karley Wester, now a junior outfielder at Edison (Huntington Beach, Calif.).
"I just admired the way she worked so hard to get back out onto the field again," Wester said. "I always thought to myself, 'I wonder if I could ever rebound from that.'"
Little did Wester know, she'd get her chance. In August, on the very day that Secaira got her neck brace removed and came to the field to cheer on her teammates, Wester was stealing second base and collided shin-on-shin with the covering shortstop, shattering her left tibia.
"They pulled me off the field and Bella was there telling me to hang in there," Wester said. "Her accident and the way she handled it with such a positive attitude really helped me to stay positive through the pain as well."
To this day, Secaira, who was cleared by doctors to play in September and hopes to be ready for her junior season this spring, continues to inspire people by the way she handled her near-fatal fall. Recently, at one of Rico's clinics, she made a statement to the audience about the importance of remaining positive, whether you're striking out or you can't pay your bills.
"She got a standing ovation from people of all ages," Rico said.
"This whole experience changed my life and the way I look at things," said Secaira, who has committed to Utah. "At the end of the day, it's about making sure you're happy. Maybe that's why I'm still here. So I can teach people that being successful is about being happy, in sports and in life."
Broken neck or not, that's a girl with extraordinary backbone.
November, 25, 2011
11/25/11
11:18
AM ET
By
Andrew Linnehan
| ESPN.com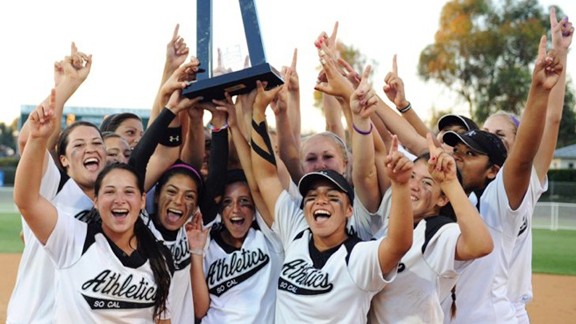 Scott KurtzAfter winning the national softball championship in 2010, the SoCal Athletics started to hear whispers that they weren't really the best team in the country.
It's the holy grail of sport: a championship. You lift weights for it. You practice for it. You study for it. All to experience that moment on top. That one thing that can confirm, without question, that it's all worthwhile.
Phil Jackson, coach of the most championships in NBA history (11), once said, "I thrive on challenges, and there is no more imposing challenge for someone in my profession than winning an NBA title."
But what if Phil was wrong? What if he forgot something? What if the one thing harder than winning a championship is to do it again?
Such was the task of the SoCal Athletics, an 18 Gold softball club based in southern California.
In 2010, the Athletics' title run seemed overshadowed by the Worth Firecrackers, a team that bowed out of the national tournament without the services of a handful of Junior National Team members.
"All our team kept hearing was, 'Oh, if the Firecrackers had their junior national members, they would've beat them,' " Athletics coach Bruce Richardson said. "So we had a quiet motto in 2011: 'We don't have any girls on the Junior National Team, but we'll beat you anyway.' "
To defend a title, a team must find a unique sort of motivation. This was theirs.
"One of the biggest things we deal with in club ball is the motivational game," Richardson said. "You don't play competitive games all the time, so everything revolves around gearing the girls up for the summer."
And this past summer, the defending champs were more than ready. Ready for another title run, but also ready to prove to their naysayers that the Athletics could beat the Firecrackers at full strength. They got their chance last August in the national title game in Irvine, Calif.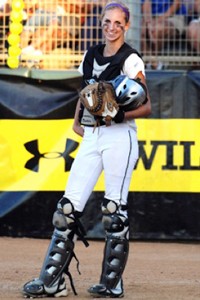 Scott Kurtz"It's never over with our team," Athletics catcher Aubree Munro says.
The Athletics jumped out to a 3-1 lead through the first three innings thanks to an Alexis Mercado three-run home run. But the Firecrackers scored a run in both the fourth and fifth innings to tie the game. In the sixth they plated three more runs to double up the Athletics 6-3, in what seemed like a death blow.
But, as catcher Aubree Munro will tell you, a true champion will never let any score or circumstance dictate an attitude.
"Our team was on the same page in the dugout because we had done it last year. We were all like, 'We can do this!' It's never over with our team."
They answered with three runs in the bottom half of the sixth, tying the game at 6-6 as it headed for a seventh and final inning.
The Firecrackers threw a haymaker in the top of the seventh. With two runners on and one out, Kathlyn Medina singled home Cheyanne Tarango to drain the Athletics' momentum and take a 7-6 lead. Now the Firecrackers needed only three more outs to accomplish what many people thought they would've done in 2010 had they fielded their full squad.
Groundout. Groundout.
Quicker than you can put on a batting glove, there were two outs in the Athletics' half of the seventh inning.
But then, it started to happen. Nobody can define it or determine how to control it, but that's why we play sports. That's why we love sports. And especially softball, where it can happen at any moment, because there is no time limit. As long as you have an out to play with, you have a chance to define yourselves.
"With two outs in the seventh they walk Jenna Kelly and I'm sitting in the on-deck circle saying, 'OK they're walking her to get to me,' " said Munro, who admits that defense -- not hitting -- is her specialty. But she took a deep breath and knuckled a two-strike pitch to the right side of the infield that spun its way between the first and second basemen, prolonging the inning and giving leadoff hitter Danica Mercado a chance to swing the bat.
"At that time I was getting my ankle taped because I had sprained it," Mercado said. "But then they walked Jenna and Aubree gets the hit, and I was like, 'Oh my God, I might bat!' "
And bat she would, after Jasmine Smithson-Willett was hit by a pitch to load the bases.
So Mercado strolls to the plate to live the dream: Bottom of the last inning, two outs, bases loaded, your team down by a run, and you're up.
"She goes 3-0 on me and I'm thinking that I need to draw a walk to tie the game," Mercado said. "But then the next pitch was a strike and I just wanted to hit after that."
And as that fifth pitch flew toward the plate, Richardson, just a year removed from standing atop the club softball mountain, felt something tug at his insides.
"When stuff like that happens, there's gotta be some logical reason it happens to a team," he said. "And I told the Firecrackers that they were such a great team, but we heard what people were saying. Our team knew that our win last season was tainted in some people's eyes."
So as that fifth pitch sailed in and Mercado swung as hard as she could, it's no wonder why aluminum contacted leather with the most magical of pops, and two runners scored on a hit up the middle.
The SoCal Athletics had accomplished what many had told them they wouldn't have done in 2010 had the Firecrackers been whole: beaten a team loaded with national-team-level talent.
And while the Athletics were piling on top of each other, the Firecrackers were packing their bags in the dugout with a newfound motivation: the agony of defeat.
Already, both teams have begun to retool for 2012 summer season and national tournament. Fall ball has given them the chance to target the best fits for next year's squad. In the last month, the Athletics have called up three players from their 16U team, plucked one from another 16U team, and welcomed a pitcher from Washington.
In a nutshell, that's sports. Each team searching for the motivation to lift, practice, and study harder than it did the year before. And when two teams as talented as the Firecrackers and Athletics get together, it's what creates these storybook moments. Rivalries, like stories, can always produce those three magic words:
To be continued.