High-SchoolSoftball:

Softball
July, 11, 2012
7/11/12
10:02
AM ET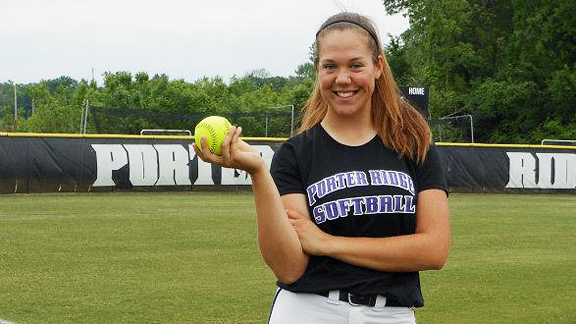 Courtesy of Lael RorieAuburn recruit Lexi Davis pitched every game for Porter Ridge and posted a 33-1 record, including 22 shutouts.
There was one constant during the first softball state title run for Porter Ridge (Indian Ridge, N.C.).
Lexi Davis was in the cirlce for all 34 games.
The result: a 33-1 record, a Class 4A state championship and the No. 2 spot in the final
POWERADE FAB 50 national rankings
.
For her performances as a pitcher and as a batter, the Auburn University recruit has been selected the ESPNHS National Softball Player of the Year. Players from the handful of states that conduct softball as a fall sport were not considered for the award.
"That's awesome," Davis said when informed of her selection. "Our team felt we had some unfinished business this season and we really bonded together to close the deal with the school's first state title. This is icing on the cake and I'm very grateful."
The 6-foot-1 right-handed pitcher has been a dominant player for four seasons, but the Pirates couldn't pocket a state crown until this year. Last spring, they lost in the state playoffs to eventual champion Alexander Central (Taylorsville, N.C.). This spring, they avenged the state quarterfinal loss with a 1-0 win over an Alexander Central team that was ranked No. 6 in the final FAB 50 and was led by two-time state player of the year
Chelsea Wilkinson
.
"That win was the first of two straight games which were keys to our season," Davis said. "The next playoff game was our only loss (4-1 to North Davidson) and was our wake-up call that we had to stay focused to achieve our main goal of a state title."
The Pirates rebounded from their only loss of the season in the best-of-three semifinal series with wins of 2-1 and 1-0 over North Davidson before posting two 2-0 wins in the one-day finals over Holly Springs (N.C.).
Davis and her teammates played nine playoff games in 22 days with wins over teams ranked No. 1, No. 3, No. 4 and No. 5 in the final regular-season state poll. Porter Ridge was ranked No. 2 behind defending champion Alexander Central.
The National Player of the Year ended the season with a 33-1 record, 22 shutouts and a 0.23 ERA. The three-time all-state choice and
Gatorade State Player of the Year
as a senior also led her team at the plate. She hit .450 with eight home runs and 42 RBIs. She was one of only two seniors -- along with shortstop Haley Secrest -- in the underclass-dominated lineup.
"Our team has had some tough losses the last couple of years," Davis said. "We were sort of on a mission to go the distance this year and get the state title. It was the result of a lot of hard work by our team as we improved and grew together. I wouldn't change anything that's happened to us this season."
The softball diamond isn't the only place Davis excels. She maintained a 3.89 GPA in the classroom and plans to major in pre-medicine, specializing in biomedical science, at Auburn.
June, 7, 2012
6/07/12
10:11
AM ET
By
Mark Tennis & Doug Huff
| ESPN.com
(After games of Tuesday, June 5)

Here are the final ESPNHS Softball Players of the Week for the 2012 season. One player is chosen from each region of the country. The only other criteria is that no player can be chosen twice in the same school year.

EAST

Jordyn Moquin, Southington (Conn.)
The junior pitcher led the Lady Knights into their first Class LL state championship game since 2004. In a 5-1 semifinal victory over Masuk (Conn.), she hurled a no-hitter through five innings and wound up with a three-hitter. She also helped her own cause with a two-run double in the fourth inning. Southington will play Amity (Woodbridge, Conn.) Friday in the title game.

SOUTHEAST

Meredith Burroughs, Aycock (Pikeville, N.C.)
Just a sophomore, Burroughs already is one of the most feared hitters in North Carolina. In Aycock's 7-2 win last weekend over Foard (Newton, N.C.) that gave the Golden Falcons the Class 3A state title, Burroughs hammered a two-run homer in the first inning and later ripped a three-run homer in the third. The two homers also put Burroughs' season total at 19, which ties the state single-season record. Burroughs' team won its first-ever fastpitch state title and ended the year with 27 wins in its last 28 outings.

MIDWEST

Lindsay Swipas, Champion (Warren, Ohio)
The four-year Golden Flashes pitcher saved one of her best efforts until last as she led her team to its second straight Division III state championship. In the 2-0 title-game victory over Bloom-Carroll (Carroll, Ohio), Swipas didn't allow a hit until the bottom of the seventh inning and wound up with a one-hitter while striking out 10 batters to help Champion win its fifth state crown. She yielded a leadoff single in the final inning before retiring the next three batters to seal the victory. In 2011, she led Champion to a 28-0 record while winning 19 times. Swipas plans to attend Ohio State University and study accounting.

MIDLANDS

Kristen Davenport, Deer Park (Texas)
There's a good reason why Deer Park is celebrating the first state title in school history since the 1955 football season. It's due to Davenport's dominance. When the Lady Deer opened up the Class 5A state semifinals by blowing past O'Connor (Northside, Texsas) 13-2, Davenport pitched five innings and went 3 for 4 with four RBIs. Her two-run double also ignited a 10-run uprising in one inning, which set a state tournament record. Then with just one more win to go for the state title, Davenport got the job done in a 6-0 triumph over Klein Collins (Klein, Texas). She pitched a three-hitter and went 2 for 4 with two RBIs at the plate.

WEST

Amber Padilla, Pomona Catholic (Pomona, Calif.)
The senior standout fired a perfect game and struck out eight to lead the Pacers past Bellarmine-Jefferson (Burbank, Calif.) 1-0 in the CIF Southern Section Division VII championship. Padilla also went 1 for 3 at the plate, but it was in the semifinals when her hitting was more prominent. She went 3 for 5 with three RBIs in that game as Pomona Catholic routed Mesa Grande Academy (Calimesa, Calif.) 24-0. For the season, Padilla finished 24-7 as a pitcher with a 0.94 ERA. Her hitting totals include a .567 average and 50 RBIs.
May, 31, 2012
5/31/12
10:05
AM ET
By
Mark Tennis & Doug Huff
| ESPN.com
(After games of Tuesday, May 29)

Here are this week's high school softball players of the week. One player is chosen from each region of the country. The only other criteria is that no player will be chosen more than once during a season.

EAST

Susan Pardo, Kellenberg Memorial (Uniondale, N.Y.)
The senior right-handed pitcher led the Firebirds to a 29-0 record and the school's first Catholic High School Athletic Association state title by tossing a pair of shutouts in a doubleheader. The two-time CHSAA Pitcher of the Year struck out 26 and allowed only three hits in the two games. The Wesleyan University recruit fanned 15 batters, including the side in the seventh to finish the game, and yielded only two hits and two walks in the 5-0 final game win over defending champion Archbishop Molloy (Middle Village, N.Y.). In the 2-0 semifinal win over Sacred Heart Academy (Buffalo, N.Y.), she allowed only a first-inning leadoff single and fanned 11 batters.

SOUTHEAST

Samantha Smith, Gibbs (Knoxville, Tenn.)
After firing two shutouts earlier in the Class AA state tournament, Smith came up with a two-hitter to lead the Eagles past Goodpasture (Madison, Tenn.) 2-0 in a win that gave them the state title. Smith's pitching sparked a 22-game win streak for Gibbs, which finished 42-5 and won its first state crown since 2000. Smith also is one of the top scholar-athletes in Tennessee with a 4.0 GPA and she is among the top 10 academically in her senior class.

MIDWEST

Mariah Schultz, Luther (Onalaska, Wis.)
The 5-foot-8 junior pitcher was perfect in a 3-0 Knights' victory over Melrose-Mindoro (Melrose, Wis.) in the Division 3 state regional tournament. Schultz, who was conference Most Valuable Player as a sophomore, hurled her perfect game for the 20-4 Knights while striking out 12 batters. She also provided the only run needed to win with a homer.

MIDLANDS

Cali Lanphear, Montgomery (Texas)
A senior catcher who is headed to Texas A&M, Lanphear has been on a slugging tear for the Bears in the Class 4A state playoffs. Three weeks ago, she blasted a grand slam to end a 2-0 sweep of Nederland (Texas). Two weeks ago, in a 2-0 sweep of Manvel (Texas), Lanphear had three hits in one game and had two homers and a double in the other. Then last week in the regional final, sandwiched around a loss to Little-Cypress (Mauriceville, Texas), she hit two-run homers in the two games that Montgomery won. Lanphear enters this week's Class 4A state semifinals with 21 homers for the season.

WEST

Lindsey Clarkson, Central (Fresno, Calif.)
Facing a Clovis West (Fresno, Calif.) team that had upset FAB 50-ranked El Diamante (Visalia, Calif.) in its previous game, Clarkson put it all together and pitched a perfect game for the Bears in their 4-0 victory over the Golden Eagles in the CIF Central Section Division I championship. Clarkson only struck out five, but got numerous pop-ups and grounders and only went to a three-ball count twice. Central finished 28-6 and won its first CIF section title.
May, 24, 2012
5/24/12
11:30
AM ET
By
Mark Tennis & Doug Huff
| ESPN.com
(After games of Tuesday, May 22)

Here are this week's high school softball players of the week. One player is chosen from each region of the country. The only other criteria is that no player will be chosen more than once during a season.

EAST

Steph Thomas, Immaculate Heart (Washington Township, N.J.)
The sophomore pitcher has led the unbeaten Eagles to the state No. 1 ranking with three victories while allowing no earned runs in the last week. Included were three perfect innings with six strikeouts in a key victory over Passaic (N.J.). On the season, she is 20-0 with 15 shutouts and a 0.51 ERA while allowing only one extra-base hit in 123 innings.

SOUTHEAST

Courtney Roberts, Hillcrest (Simpsonville, S.C.)
With a two-hitter that included eight strikeouts and no walks, Roberts concluded an inspirational ride in the South Carolina AAAA state playoffs. Her last pitching performance came in a 6-0 win over Carolina Forest (Myrtle Beach, S.C.) that gave Hillcrest a second straight win after the team lost the opening game of the state title series. Roberts also drove in the first run of the game with a double. Earlier in the postseason, Roberts pitched a perfect game against Mauldin (S.C.) and had a two-hit shutout over Boiling Springs (S.C.). She did all this in the aftermath of the sudden death of her father, Paul, who suffered a heart attack on April 9. Paul Roberts, 49, also was a well-known Greenville-area mentor to many other softball players.

MIDWEST

Kendra Marshall, Warsaw (Warsaw, Ind.)
The senior was a perfect 5 for 5 at the plate in a win over Tippecanoe Valley (Akron, Ind.) with three doubles and two home runs. On the week, she also belted four homers and six doubles with nine runs scored and 14 RBIs. In addition, Marshall batted .750 for the week to boost her season average to .517 with 40 RBIs.

MIDLANDS

Kelsee Selman, Hudson (Lufkin, Texas)
A junior who has committed to LSU, Selman led the Lady Hornets past Hargrave (Huffman, Texas) in last week's Class 3A regional semifinals. In the first game of a best-of-three series, Selman pitched a five-hitter with 11 strikeouts and went 2 for 3 with a home run, double and four RBIs. Hudson won the series with an 8-6 win in eight innings in the second game. Selman hit a two-run homer to tie the score in the seventh inning and gave up one earned run in eight innings of pitching with eight strikeouts. She has 405 strikeouts on the season and is batting .358 with seven homers and 32 RBIs.

WEST

Cheridan Hawkins, Anderson (Calif.)
For the second year in a row, Hawkins and her ability to strike out batters has lifted Anderson to the CIF Northern Section Division IV title. The University of Oregon recruit struck out 14 in the Cubs' 3-1 win against Wheatland (Calif.) in last weekend's championship game. Earlier in the week, she had a no-hitter with 16 Ks as Anderson defeated Lassen (Susanville, Calif.). Hawkins ended the season with 440 strikeouts after collecting 510 as a junior and had nearly 1,300 for her career.
May, 17, 2012
5/17/12
10:05
AM ET
By
Mark Tennis & Doug Huff
| ESPN.com
(After games of Tuesday, May 15)

Here are this week's high school softball players of the week. One player is chosen from each region of the country. The only other criteria is that no player will be chosen more than once during a season.
EAST
Natalya Smarra, Sto-Rox (McKees Rocks, Pa.)

The senior right-handed pitcher hurled a five-inning perfect game and batted in four runs as the Vikings (18-0) blanked Avella (Pa.) 14-0 in the first round of the Western Pennsylvania Interscholastic Athletic League Class A tournament. The four-year starter, who was a catcher/shortstop as a freshman before taking over the main pitching role as a sophomore, improved to 16-0 this season with a 1.09 ERA. She also has a .522 batting average and plans to play in college.
SOUTHEAST
Cristina Sacramento, Pembroke Pines Charter (Fla.)

If Niceville (Fla.) had won the Class 6A state title, it would have finished as Florida's No. 1-ranked team for the season and would have been no worse than No. 7 in the final
POWERADE FAB 50
national rankings. But Sacramento and her teammates had other ideas as her one-hitter helped pin a 1-0 loss on Niceville's aspirations. Sacramento ended with 18 strikeouts and just one walk. In the semifinals, the senior standout also shined with a five-hit shutout in a 4-0 win against Lakewood Ranch (Bradenton, Fla.). In that game, she also went 2 for 4 and drove in the first run. It was Pembroke Pines Charter's first state title after three runner-up finishes. One of those state title losses prevented the Jaguars (who are now No. 33 in the FAB 50) from being the mythical national champion.
MIDWEST
Abbie Voas, Chanhassen (Minn.)

The junior infielder recorded a productive offensive week to lead her 13-4 team to six victories. She went 10 for 19 at the plate with five home runs, three doubles, 12 RBIs and 10 runs scored for the Division 1 team. Voas also set a school record during the week by belting three home runs in a 9-1 victory over New Prague (Minn.).
MIDLANDS

Abby Donnell, Rider (Wichita Falls, Texas)

A leadoff-hitting phenom who has committed to Texas A&M, Donnell did it all in leading Rider past Canyon (Randall, Texas) 9-0 in a Class 4A regional quarterfinal. Still just a junior, Donnell went 3 for 5 with three runs scored and also pitched a one-hitter with nine strikeouts. In Rider's earlier 6-2 playoff win over Andress (El Paso, Texas), Donnell went 3 for 3 with two runs scored and pitched a three-hitter with 13 strikeouts. For the season, as 29-5-1 Rider gets ready to play Midway (Waco, Texas) in this week's regional semifinals, Donnell is batting .594 with 57 hits, including 10 triples.
WEST
Heather Morales, Indio (Calif.)

In a 7-3 victory over Coachella Valley (Thermal, Calif.), Morales closed her regular season by smashing two home runs to give her 20 for the season. The junior first base/pitcher has moved to No. 2 on the state's all-time single-season home run list, but may not be able to move up to No. 1 since the record is 27. She also could slip a few spots as several other girls in California are putting up monster home run totals, including Sierra Romero of Vista Murrieta (Murrieta, Calif.) with 19. Still, it's been a breakthrough season for Morales. She had two homers, two doubles and 10 RBIs in a game last month against Cathedral City (Calif.) and hit three home runs in a game twice. She also pitches (7-5, 0.69 ERA, 117 strikeouts) and has committed to play at Hawaii.
May, 10, 2012
5/10/12
11:05
AM ET
By
Mark Tennis & Doug Huff
| ESPN.com
(After games of Tuesday, May 8)

Here are this week's high school softball players of the week. One player is chosen from each region of the country. The only other criteria is that no player will be chosen more than once during a season.
EAST
Dominique Chamberlain, Nazareth (Pa.)
The junior outfielder had a career game in a 15-0, four-inning rout of Easton (Pa.). The part-time starter knocked in six runs with a grand slam plus two doubles in three at-bats during the mercy-rule shortened game. Chamberlain, a left-handed batter, now has three homers on the season as the Blue Eagles improved to 11-6.
SOUTHEAST

Whitney Gillespie, Pelham (Ala.)

She may not have the gaudy strikeout totals of other pitchers in Alabama, but considering the schedule that Pelham has played and what she has done at the plate, there aren't many players in the state quite like her. In Pelham's 3-0 triumph last week over Oak Mountain (Birmingham, Ala.) that gave Pelham a Class 6A area title, Gillespie hit a two-run homer and pitched a three-hitter. She went 2 for 3 with a run scored in the team's previous state playoff game. For the season entering this week's next round of the state playoffs, Gillespie has a 19-4 pitching record with a 0.91 ERA. She also had 48 RBIs and a .434 batting average.
MIDWEST
Cassie Gillespie, Notre Dame Academy (Toledo, Ohio)

The sophomore pitcher helped the Eagles avenge two regular-season losses to Clay (Oregon, Ohio) and capture a Division 1 sectional title with a 4-0 win. Gillespie hurled a complete-game, four-hit shutout and helped her own cause with a two-out, three-run home run in the fourth inning. The win advances the Eagles into the regional tournament semifinals this week against Central Catholic (Toledo, Ohio).
MIDLANDS
Katie Doerre, Tomball (Texas)

The offensive sparkplug for the No. 22 team in this week's
POWERADE FAB 50,
Doerre came through with two hits and a homer when Tomball defeated Round Rock (Texas) 10-3 in the deciding game of a best-of-three Class 5A playoff series. Doerre also extended her latest hitting streak to 17 games. During the streak, she's had one 4-for-4 and two 3-for-3 outings. Bound for Texas State University, Doerre heads into this week's playoffs batting .563 for the season with 27 runs scored and 25 RBIs.
WEST
Shelby Abeyta, Copper Hills (West Jordan, Utah)

Two weeks ago in the title game of the Swing for Life tourney, Abeyta doubled and was the winning pitcher when Copper Hills beat Juab (Utah) 6-5. That accomplishment was entirely appropriate because just two years ago Abeyta herself survived a diagnosis of ovarian cancer. She's now one of the team leaders at Copper Hills and had a four-hitter last week in a win over Jordan (Utah). Already this week, Abeyta struck out nine in a 3-1 win over Brighton (Salt Lake City). In addition to her outstanding play and courage in the face of adversity, Abeyta also is a member of Utah's academic all-state team.
April, 19, 2012
4/19/12
10:03
AM ET
By
Diana Kelly
| ESPN.com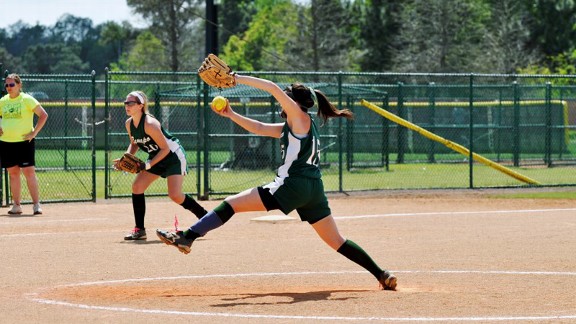 Courtesy of Frank IncantalupoA creative sign -- and not from her catcher -- greeted Ramapo (Franklin Lakes, N.J.) pitcher Melanie Psota before the sixth inning of a game earlier this month.
The sixth inning of a scoreless softball game between Ramapo (Franklin Lakes, N.J.) and Ridgewood (N.J.) was just about to start on April 5 when Ramapo junior Anthony Sclafani gathered his nerves, stood up, held tightly to his signs and started calling the pitcher's name during her warm-up.
Sophomore starter Melanie Psota was focused on her pitches and didn't hear the "Hey, Melanie" calls from the opposing team's stands.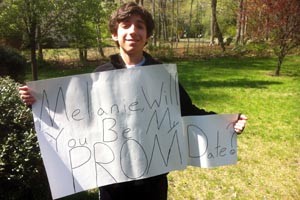 Courtesy of Grazia SclafaniAnthony Sclafani knew it was risky when he held up signs asking Melanie Psota to go to prom during one of her softball games.
Eventually, a loud "Melanie" call by Sclafani made its way to the circle, and she paused to look at her friend holding up two signs. One poster said, "Melanie, will you be my prom" and the other, smaller poster next to it said, "date?"
After reading the signs, Psota smiled, nodded yes, and gave Sclafani a thumbs up, which some fans rewarded with a round of applause.
Relieved, Sclafani sat back down to watch the game and cheer on Psota and her team.
"That was risky," a Ridgewood male fan nearby commented to Sclafani.
"I know," Sclafani said.
He was so nervous before the game, he didn't even realize he was sitting in the opposing team's stands.
Perhaps that fan had a premonition, because Ridgewood's batters rallied and scored three runs that inning. After being held to three singles through the first five innings, Ridgewood batters connected with the ball right away and took advantage of some fielding errors.
"Ridgewood had some timely and well-placed hits that inning," Psota said after the 3-1 loss. "We were able to come back with one run in the bottom of that inning with hits from Alyssa Incantalupo and Caitlyn Hickey, but fell short."
"I think for the most part we played pretty solid defense," Ramapo head coach Leslie Stephen said in an interview with
NorthJerseySports.com
. "Ridgewood put the ball in play and forced us to make some plays, and we did pretty well. Unfortunately we made some mistakes, but that is what you are going to get with a young team sometimes."
Sclafani left the game before the seventh because he hadn't been feeling well that day anyway. He texted Psota later that night to confirm, "You said yes right?" She replied, "Yea, sorry that was so awkward."
The two have been friends since they met on the Ramapo fencing team in the fall. Sclafani said he knew he wanted to ask Psota to prom for about a month and he wanted it to be clever. He learned that she played softball and said he thought this strategy would be cute.
"I was thinking I'd do it while she was warming up," Sclafani said. "I thought it would be the best time … but apparently it wasn't because afterwards they lost. I felt bad because maybe she was kind of in the zone and I sort of messed with that a little bit."
After the game, Psota's teammates were excited about her invitation to the May 3 dance and joked around with her, saying, "Melanie's going to prom!"
Just a few words of advice for anyone thinking of stealing Sclafani's strategy. It's not a bad idea, kind of cute, actually, but both the pitcher and her prom date said it might be better to wait until after the game. Or, if you do it during the game, make sure your prospective date's team is winning -- by a lot.