High-SchoolSoftball:

Aubree Munro
December, 23, 2011
12/23/11
2:17
PM ET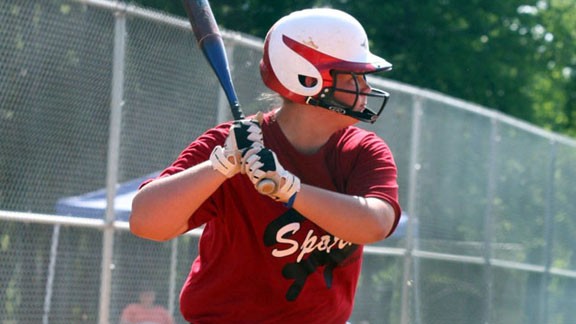 Courtesy of Laz DenesShelby Holley set two national home run records in 2011 and led Pisgah (Ala.) to a state title.
Softball featured dramatic rallies, historic seasons, inspirational players and a whole lot of reasons to celebrate in 2011. Here are 10 stories we'll remember well into the New Year.
Winning Woodlands

The Woodlands put together one of the best seasons in Texas history, posting a 44-1 record to claim the Class 5A state championship and the POWERADE FAB 50 national championship. The Highlanders beat defending champion Pearland 6-0 in the semifinals and then clipped O'Connor (San Antonio) 7-5 to win the championship. Faith Bohack and Jessica Snyder hit home runs to back pitcher Paige McDuffee, who ended her season with a 37-1 record.
Gabriel goes international

Pitcher Erin Gabriel of Poland Seminary, the Gatorade State Softball Player of the Year for Ohio, became the lone high schooler to represent the United States as a member of the Junior National Team. She also was the first player from Ohio ever to be selected to the squad. The senior, who plans to play at Tennessee next year, went 1-0 as the U.S. won the
2011 ISF Junior Women's World Championship
in South Africa in mid-December.
Sweet ending

With two outs and two strikes and her team trailing 1-0 in the bottom of the seventh inning of the CIF Southern Section Division I championship, Lauren Sweet of Santiago (Corona, Calif.) hit a grand slam to give her team a 4-1 win. Sweet was later named an Under Armour All-American, the Cal-Hi Sports Ms. Softball Player of the Year and an ESPNHS first-team All-American. Santiago's victory also enabled the Sharks to finish No. 1 in the final state rankings and No. 5 in the final POWERADE FAB 50.
Catcher recovers

Catcher Bella Secaira of Newport Harbor (Newport Beach, Calif.), who suffered a collapsed lung, a spinal-cord fracture and a concussion after falling 30 feet from the roof of her apartment building in June, recovered and returned to her club team with a new perspective. "You strike out five times, your life's not over," she told the
Orlando Sentinel
in September. "Are you healthy? Are you happy? Then you're good." Secaira expects to be back playing for her high school team in the spring and has given a verbal commitment to the University of Utah.
McDuffee stays busy

It was quite a year for lefty pitcher Paige McDuffee. Arguably the top recruit in the country, McDuffee decommitted from LSU and then committed to UCLA after legendary LSU head coach Yvette Girouard retired. McDuffee also won the Gatorade National Softball Player of the Year Award after she led The Woodlands (Texas) to a state and national title.
Crandol on the mend
After a six-month battle with cancer, pitcher Katie Crandol of Andrean (Merrillville, Ind.) celebrated the Thanksgiving holiday with family and friends. After Crandol was diagnosed with the disease in March, doctors removed a three-inch tumor from her brain, and she underwent rounds of radiation and chemotherapy. In October, an MRI came back clear. Through it all, the community rallied around the Crandol family -- softball teams cleaned her parents' house and cooked meals, T-shirts were sold, dinners were hosted in her honor and local businesses held fundraisers. Now Crandol can start to look ahead to 2012. "This spring I want to get out there and show my coach -- all of them -- that I can do it," she told nwitimes.com in November.
Alabama slammer

With her big bat, Shelby Holley of Pisgah (Ala.) set two national home run records in 2011. Her last blast, which came in her final at-bat, set the single-season mark at 35. For her career, Holley hit 72 home runs, another national record. Holley's record-setting season helped lead Pisgah to the Class 3A state championship. She has signed with Jacksonville State.
Sweet repeat

Down by a run and down to their final out, the SoCal Athletics staged a dramatic rally to defeat the favored Worth Firecrackers and claim their second consecutive PGF Nationals national championship. "Our team was on the same page in the dugout because we had done it last year," catcher Aubree Munro said. "We were all like, 'We can do this!' It's never over with our team."
Whole lot of Swagger

Playing in their final game before heading off to college, Team Swagger got an extra-inning, walk-off double from Sara Driesenga to defeat Team Hype 6-5 at the 2011 Under Armour All-America Game at ESPN Wide World of Sports in Lake Buena Vista, Fla. Driesenga, who was named MVP, is set to play at Michigan in the spring.
Sport spreads

Beverly Bandits, a top travel team based in Illinois, won the Louisville Slugger Independence Day Tournament in Boulder, Colo., for the second time in four years. By winning one of the summer's biggest and best tournaments, which is a combination of recruiting and championship play, the Bandits showed that softball is alive and well throughout the country.
November, 25, 2011
11/25/11
11:18
AM ET
By
Andrew Linnehan
| ESPN.com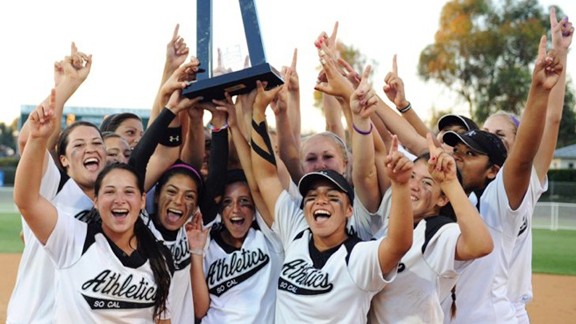 Scott KurtzAfter winning the national softball championship in 2010, the SoCal Athletics started to hear whispers that they weren't really the best team in the country.
It's the holy grail of sport: a championship. You lift weights for it. You practice for it. You study for it. All to experience that moment on top. That one thing that can confirm, without question, that it's all worthwhile.
Phil Jackson, coach of the most championships in NBA history (11), once said, "I thrive on challenges, and there is no more imposing challenge for someone in my profession than winning an NBA title."
But what if Phil was wrong? What if he forgot something? What if the one thing harder than winning a championship is to do it again?
Such was the task of the SoCal Athletics, an 18 Gold softball club based in southern California.
In 2010, the Athletics' title run seemed overshadowed by the Worth Firecrackers, a team that bowed out of the national tournament without the services of a handful of Junior National Team members.
"All our team kept hearing was, 'Oh, if the Firecrackers had their junior national members, they would've beat them,' " Athletics coach Bruce Richardson said. "So we had a quiet motto in 2011: 'We don't have any girls on the Junior National Team, but we'll beat you anyway.' "
To defend a title, a team must find a unique sort of motivation. This was theirs.
"One of the biggest things we deal with in club ball is the motivational game," Richardson said. "You don't play competitive games all the time, so everything revolves around gearing the girls up for the summer."
And this past summer, the defending champs were more than ready. Ready for another title run, but also ready to prove to their naysayers that the Athletics could beat the Firecrackers at full strength. They got their chance last August in the national title game in Irvine, Calif.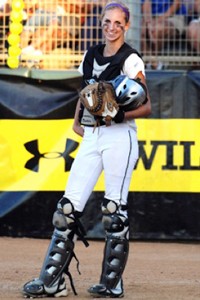 Scott Kurtz"It's never over with our team," Athletics catcher Aubree Munro says.
The Athletics jumped out to a 3-1 lead through the first three innings thanks to an Alexis Mercado three-run home run. But the Firecrackers scored a run in both the fourth and fifth innings to tie the game. In the sixth they plated three more runs to double up the Athletics 6-3, in what seemed like a death blow.
But, as catcher Aubree Munro will tell you, a true champion will never let any score or circumstance dictate an attitude.
"Our team was on the same page in the dugout because we had done it last year. We were all like, 'We can do this!' It's never over with our team."
They answered with three runs in the bottom half of the sixth, tying the game at 6-6 as it headed for a seventh and final inning.
The Firecrackers threw a haymaker in the top of the seventh. With two runners on and one out, Kathlyn Medina singled home Cheyanne Tarango to drain the Athletics' momentum and take a 7-6 lead. Now the Firecrackers needed only three more outs to accomplish what many people thought they would've done in 2010 had they fielded their full squad.
Groundout. Groundout.
Quicker than you can put on a batting glove, there were two outs in the Athletics' half of the seventh inning.
But then, it started to happen. Nobody can define it or determine how to control it, but that's why we play sports. That's why we love sports. And especially softball, where it can happen at any moment, because there is no time limit. As long as you have an out to play with, you have a chance to define yourselves.
"With two outs in the seventh they walk Jenna Kelly and I'm sitting in the on-deck circle saying, 'OK they're walking her to get to me,' " said Munro, who admits that defense -- not hitting -- is her specialty. But she took a deep breath and knuckled a two-strike pitch to the right side of the infield that spun its way between the first and second basemen, prolonging the inning and giving leadoff hitter Danica Mercado a chance to swing the bat.
"At that time I was getting my ankle taped because I had sprained it," Mercado said. "But then they walked Jenna and Aubree gets the hit, and I was like, 'Oh my God, I might bat!' "
And bat she would, after Jasmine Smithson-Willett was hit by a pitch to load the bases.
So Mercado strolls to the plate to live the dream: Bottom of the last inning, two outs, bases loaded, your team down by a run, and you're up.
"She goes 3-0 on me and I'm thinking that I need to draw a walk to tie the game," Mercado said. "But then the next pitch was a strike and I just wanted to hit after that."
And as that fifth pitch flew toward the plate, Richardson, just a year removed from standing atop the club softball mountain, felt something tug at his insides.
"When stuff like that happens, there's gotta be some logical reason it happens to a team," he said. "And I told the Firecrackers that they were such a great team, but we heard what people were saying. Our team knew that our win last season was tainted in some people's eyes."
So as that fifth pitch sailed in and Mercado swung as hard as she could, it's no wonder why aluminum contacted leather with the most magical of pops, and two runners scored on a hit up the middle.
The SoCal Athletics had accomplished what many had told them they wouldn't have done in 2010 had the Firecrackers been whole: beaten a team loaded with national-team-level talent.
And while the Athletics were piling on top of each other, the Firecrackers were packing their bags in the dugout with a newfound motivation: the agony of defeat.
Already, both teams have begun to retool for 2012 summer season and national tournament. Fall ball has given them the chance to target the best fits for next year's squad. In the last month, the Athletics have called up three players from their 16U team, plucked one from another 16U team, and welcomed a pitcher from Washington.
In a nutshell, that's sports. Each team searching for the motivation to lift, practice, and study harder than it did the year before. And when two teams as talented as the Firecrackers and Athletics get together, it's what creates these storybook moments. Rivalries, like stories, can always produce those three magic words:
To be continued.