High-SchoolSoftball:

Courtney Roberts
June, 15, 2012
6/15/12
10:48
AM ET
By
Andrew Linnehan
| ESPN.com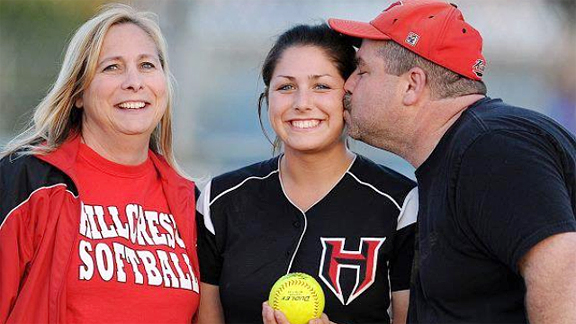 Courtesy of the Roberts family"Something my dad used to tell me all the time was that it's really good to have softball," says Courtney, pictured here with her mom and her dad. "It has just become an escape for me because you get tired of being sad all the time."
Kim Givens was having a rough day.
Stranded on the side of the road with a flat tire last summer, the fourth-year head coach at Hillcrest (Simpsonville, S.C.) spotted help in the distance. Approaching Givens was Paul Roberts, a well-known club softball coach in the area and father of Courtney Roberts, one of Givens' prized players at Hillcrest. When Paul got out of his car, he walked up to his daughter's coach and said, "We're winning state this year."
No hello, nothing about the flat tire, just a bold statement about the Hillcrest softball team, which was still months away from starting its season.
But from the first fall practice of the year, Givens noticed a different Hillcrest team than the seven teams before it, each of which had won the district title but floundered in the state playoffs.
"The drive mentally was not always there," Givens said. "They said they wanted it but I don't think deep down they really did. Before this season, though, you could tell a difference. They were willing to practice a little longer, they had a little more determination. I could tell as a coach that this could be the year."
On the girls went throughout the winter months and into the start of the season in the spring, placing extra emphasis on practice and with a newfound dedication to each other and the team's mission. They wanted a state title, and this time they truly meant it.
It was at one of these practices, however, that the team would be faced with a new challenge, one so daunting that it alone threatened to destroy the team's entire mission. On April 9, Courtney's grandparents came to the field to tell her that her father, Paul, had died suddenly of a heart attack.
"That was one of the toughest things that I've ever had to deal with," Givens said. "I had 26 little girls looking at me, and you can't tell them it's going to be OK."
It was especially tough for someone like Givens, who always tells her players that she's a "fixer," and encourages them to approach her with any problems. So when one of the players walked up to her in tears and asked how to make the situation better, Givens responded, "I'm so sorry, I can't fix this. I can't make you feel better."
Preparing for the postseason suddenly became secondary to Courtney and her teammates, many of whom had a travel-ball connection to their suddenly distraught teammate's father. One day, Paul was sitting behind the backstop holding up his pointer finger, telling them they were No. 1. The next day, no one. Paul's passion for softball and support of the girls were left to memories and imagination. Remarkably, Courtney fought through the tragedy with a courage only found in the strongest of guts. And it showed on the field.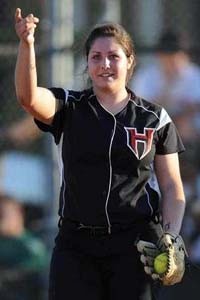 Courtesy of the Roberts family/ESPNHSCourtney Roberts stood tall and strong during the playoffs and helped lead Hillcrest to a state title.
Givens said that Courtney's attitude and continued commitment to the team kept everyone upright.
"They could have easily said, 'Why are we playing ball?' I always tell them that the best play in softball is the next play, and Courtney just kept going to the next game, and the next day. Dealing with softball became a metaphor for dealing with her life."
Mere days after her father's death, Courtney was leading Hillcrest again, first to the district championship, but then into waters previously unchartered for the school. After districts, they won their region, and then started steamrolling competition in the state tournament. All throughout, Courtney had elevated her performance (and her riseball) to heights that simply baffled opponents. In a game against Mauldin (S.C.), she was perfect. In another against Boiling Springs (S.C.), a two-hit shutout.
"Something my dad used to tell me all the time was that it's really good to have softball," Courtney said. "He said this is something I could do if I had a bad day, and it has just become an escape for me because you get tired of being sad all the time."
No one will ever know if Paul Roberts' death was responsible for injecting this team with the mental fortitude Givens thought it lacked in years past. Nor will anyone be able to decipher if the tragedy guided Hillcrest to the South Carolina AAAA state championship game, in which Courtney shut out Carolina Forest (Myrtle Beach, S.C.) in a 6-0 win. But what we do know is that Paul's presence -- and then his absence -- made everyone affiliated with the Hillcrest softball team grow.
"Did Courtney pitch like she pitched in the playoffs because her daddy died?" wondered Givens. "Maybe. But that's my team, and I saw that determination this year even before Paul died. But I will say the girls' strength and determination shined a lot brighter because of it."
Much like the stickers on the back of the Hillcrest batting helmets will tell you, the championship run was dedicated to Paul Roberts. But deep down, the girls know that their talent, courage and perseverance also played pivotal roles in the championship season.
"I think we still would've won state if it hadn't have happened, but I think it made it all worthwhile," Courtney said.
Especially on this Father's Day weekend, that'll put a big smile on her daddy's face.
May, 24, 2012
5/24/12
11:30
AM ET
By
Mark Tennis & Doug Huff
| ESPN.com
(After games of Tuesday, May 22)

Here are this week's high school softball players of the week. One player is chosen from each region of the country. The only other criteria is that no player will be chosen more than once during a season.

EAST

Steph Thomas, Immaculate Heart (Washington Township, N.J.)
The sophomore pitcher has led the unbeaten Eagles to the state No. 1 ranking with three victories while allowing no earned runs in the last week. Included were three perfect innings with six strikeouts in a key victory over Passaic (N.J.). On the season, she is 20-0 with 15 shutouts and a 0.51 ERA while allowing only one extra-base hit in 123 innings.

SOUTHEAST

Courtney Roberts, Hillcrest (Simpsonville, S.C.)
With a two-hitter that included eight strikeouts and no walks, Roberts concluded an inspirational ride in the South Carolina AAAA state playoffs. Her last pitching performance came in a 6-0 win over Carolina Forest (Myrtle Beach, S.C.) that gave Hillcrest a second straight win after the team lost the opening game of the state title series. Roberts also drove in the first run of the game with a double. Earlier in the postseason, Roberts pitched a perfect game against Mauldin (S.C.) and had a two-hit shutout over Boiling Springs (S.C.). She did all this in the aftermath of the sudden death of her father, Paul, who suffered a heart attack on April 9. Paul Roberts, 49, also was a well-known Greenville-area mentor to many other softball players.

MIDWEST

Kendra Marshall, Warsaw (Warsaw, Ind.)
The senior was a perfect 5 for 5 at the plate in a win over Tippecanoe Valley (Akron, Ind.) with three doubles and two home runs. On the week, she also belted four homers and six doubles with nine runs scored and 14 RBIs. In addition, Marshall batted .750 for the week to boost her season average to .517 with 40 RBIs.

MIDLANDS

Kelsee Selman, Hudson (Lufkin, Texas)
A junior who has committed to LSU, Selman led the Lady Hornets past Hargrave (Huffman, Texas) in last week's Class 3A regional semifinals. In the first game of a best-of-three series, Selman pitched a five-hitter with 11 strikeouts and went 2 for 3 with a home run, double and four RBIs. Hudson won the series with an 8-6 win in eight innings in the second game. Selman hit a two-run homer to tie the score in the seventh inning and gave up one earned run in eight innings of pitching with eight strikeouts. She has 405 strikeouts on the season and is batting .358 with seven homers and 32 RBIs.

WEST

Cheridan Hawkins, Anderson (Calif.)
For the second year in a row, Hawkins and her ability to strike out batters has lifted Anderson to the CIF Northern Section Division IV title. The University of Oregon recruit struck out 14 in the Cubs' 3-1 win against Wheatland (Calif.) in last weekend's championship game. Earlier in the week, she had a no-hitter with 16 Ks as Anderson defeated Lassen (Susanville, Calif.). Hawkins ended the season with 440 strikeouts after collecting 510 as a junior and had nearly 1,300 for her career.