High-SchoolSoftball:

Florida softball
May, 16, 2012
5/16/12
2:08
PM ET
By
Mark Tennis
and
Doug Huff
| ESPN.com
If the upcoming CIF Southern Section Division I playoffs and the North Carolina Class 4A state playoffs turn out like the state playoffs in Arizona and Florida, then it's anybody's guess which team will end up No. 1 in the final
POWERADE FAB 50
national rankings.
In Arizona on Monday night, while FAB 50-ranked Red Mountain (Mesa, Ariz.) held form and won its third straight state title in Division I, FAB 50-ranked Sunrise Mountain (Peoria) and Ironwood Ridge (Tucson) were beaten by longtime nemesis Canyon del Oro (Tucson) in Division II. Previously unbeaten Estrella Foothills (Goodyear) did not even win in Division III.
In Florida, which at one time had the No. 1 team, Palm Beach Gardens, state titles were won last Saturday by numerous teams that avenged losses and beat higher-ranked opponents. After analyzing all the game-by-game results of all the champions, Chamberlain (Tampa, Fla.) has the strongest resume and went from unranked to No. 17 in this week's rankings.
If either FAB 50 No. 1 Norco (Calif.) or No. 2 Pacifica (Garden Grove, Calif.) wins the CIF Southern Section Division I title, then that team will end up No. 1 in the FAB 50. This scenario still holds even though Pacifica was handed its second loss of the season last week. Both teams have played schedules that are hard to beat and either one could still finish 31-2 with the nation's toughest championship in its pocket.
Click here for the complete Week 11 rankings.
May, 9, 2012
5/09/12
11:56
AM ET
By
Mark Tennis
and
Doug Huff
| ESPN.com
By the time next week's
POWERADE FAB 50 rankings
are released, there could be as many as one-third of the slots for the final rankings of the season sewn up.
Florida's state championships will be decided this weekend, and then all the trophies in Arizona will be hoisted by Tuesday.
Red Mountain (Mesa, Ariz.) is the highest-ranked team from either state heading into this week, and if the Mountain Lions win a third straight state title, this time in Division I, they have an outside shot of finishing No. 1. For that to happen, though, at least three top teams in California, plus Alexander Central (Taylorsville, N.C.), would have to lose.
Click here for the complete Week 10 rankings.
April, 25, 2012
4/25/12
11:06
AM ET
By
Mark Tennis
and
Doug Huff
| ESPN.com
It might not have been due to a strange gravitational pull of the planets, but it can be blamed on Jupiter that there is a new No. 1 team in this week's
POWERADE FAB 50
.
Due to a loss last week by previous No. 1 Palm Beach Gardens (Palm Beach Gardens, Fla.) to Jupiter (Fla.) in a Class 8A district final, the Gators had to fall from their perch. They can still come back to win the Class 8A state title (result from Tuesday night game not included), but to finish No. 1 in the nation will probably require help from teams in Southern California.
New No. 1 Pacifica (Garden Grove, Calif.) and new No. 2 Norco (Calif.) have both played strong schedules and both project to get seeded in the top two spots for the CIF Southern Section Division I playoffs. Pacifica is ranked higher because it hasn't lost since early March and won a tournament that Norco played in as well. Norco, however, will probably get the No. 1 seed because it has a win over Pacifica in the title game of the Arizona Tournament of Champions.
Either way, whether it's Pacifica or Norco, if one of those two teams can run the table in the section playoffs and finish the season with just one loss, then it looks like that's the team that will be No. 1 for the final rankings. Of course, the CIF Southern Section Division I playoffs is the toughest in the nation and it's single-elimination, too. One bad bounce is often the difference.
Click here for the complete Week 8 rankings
.
April, 2, 2012
4/02/12
10:41
AM ET
By
Andrew Linnehan
| ESPN.com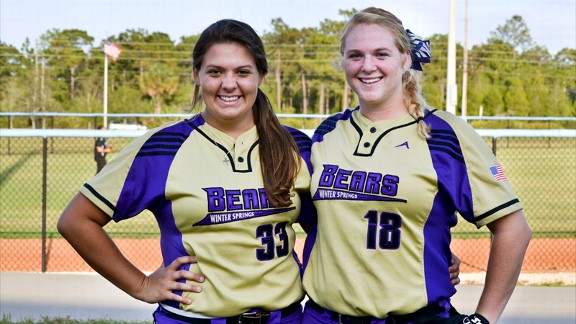 Courtesy of Don BirleKiersten Coffman (left) and Elizabeth Birle pitched the first two perfect games in Winter Springs (Fla.) history in back-to-back games last month.
READ MORE
:
Florida's best head to Kissimmee Classic
First impressions are a funny thing.
Initially, two pitchers from Winter Springs (Fla.) seem very different. On one hand, you have Elizabeth Birle, a smiley, gregarious junior who oozes positive energy and is frequently seen laughing on the softball field. On the other, you have Kiersten Coffman, a focused, driven senior whose all-business demeanor in the circle might make Donald Trump jealous.
But, as the adage goes, opposites attract, and these two best friends recently accomplished a softball feat that proved they have a lot in common: For two consecutive games, they were both perfect.
Perfect games don't come along very often. They are a rare gem that requires the perfect combination of talent and luck, and rarely does this concoction survive batter after batter for an entire game, much less an entire two games.
Such was the case last month when Winter Springs, which is ranked 19
th
in the
POWERADE FAB 50
, looked to bounce back from a narrow 2-1 loss to a district rival with games against 8A teams (the highest level in Florida high school softball) Lyman (Longwood, Fla.) and Lake Brantley (Altamonte Springs, Fla.).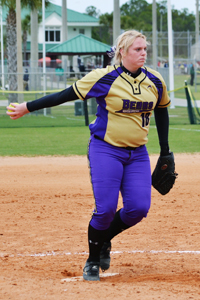 Courtesy of Don BirleElizabeth Birle's response to pitching a perfect game? "Oh, really?"
Birle, who has given a verbal commitment to Virginia Tech, would take the circle in the game against Lyman on March 5 to try and shut down the opposition and enable her Bears to bounce back from their first loss of the season. After a 1-2-3 first inning, a Lyman hitter scalded a grounder to third, where third baseman Brooke Potchen took a stab to her left and nonchalantly threw out the runner at first.
"Plays like that really make you realize that your fielders have your back," Birle said. "Even if other people don't recognize it, you as a pitcher appreciate the effort even more because they make it look so routine. It really got me going."
She's not kidding. From that point on, it was all Lyman could do to make contact with Birle's pitches, and its hitters never truly squared up on a ball the rest of the night (only two batters got the ball to the outfield).
Calling pitches for Birle that night was her father, Eric, who is an assistant coach on the Winter Springs team.
"I understood Elizabeth had a perfect game going in the top of the fourth, but of course I'm not allowed to say that to anybody else," said Eric, who pitched in college for Old Dominion's baseball team. "So I go up to her after the game and I say, 'Great job! That was a perfect game,' and she goes, 'Oh, really?' "
Classic Birle.
Next up was Coffman, the senior captain who had taken the previous week's loss especially personal. Coffman apologized to the team, saying, "That was my fault, I didn't have enough fun," and told the team that it needed to start taking care of its business. This would be her first opportunity to lead by example in the circle.
Much like Birle's outing the night before, Coffman was on point with her delivery and rarely allowed Lake Brantley hitters to square up on her pitches. In fact, just as in Elizabeth's outing, a mere two balls even escaped the infield's perimeter. Twelve out of 21 batters didn't even get the chance to run to first base as they were retired via strikeout.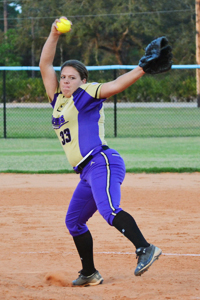 Courtesy of Don Birle"I feel that our team is very blessed in that we all love each other," Kiersten Coffman says.
As the workhorse of the Winter Springs staff, Coffman's performance might have been the more predictable of the two. Even Birle admits that she was elated for her friend.
"She has had like 20 no-hitters and 50 one-hitters," Birle said. "But to pitch a perfect game, now you know that you've accomplished something."
The game had to be especially gratifying for Coffman, who will pitch for the University of Delaware next season, as her immense talent may have been slightly underestimated on the collegiate level as a result of nagging injuries her sophomore and junior years.
That's why Winter Springs coach Mark Huaman had to work extra hard to keep his composure during her historic run.
"Every inning I knew [a second consecutive perfect game] was possible, but I also knew that I had to keep my mouth shut," Huaman said. "Then she struck out the last girl on an absolutely evil change-up. I jumped off the ground and the girls made fun of me because they actually saw air underneath my feet."
That's how excited he was. And deservedly so. In the 15-year history of the Winter Springs softball program, there had never been a perfect game. Now there had been two in as many days by as many pitchers.
No runs. No walks. No hits. No errors. No bragging either. The only thing Birle and Coffman did to celebrate was give the other a shout out on Twitter.
That kind of modest leadership is why Winter Springs is aiming to reach at least the state semifinals for the third consecutive year.
"I feel that our team is very blessed in that we all love each other," Coffman said. "I think that's a really unique thing in high school softball, and it really helps me to stay focused on what we're trying to do."
Huaman, a father of three daughters (ages 3, 6, and 9), echoed Coffman's sentiment and credited the leadership of his pitching staff for making his job as a coach much less stressful.
"If my daughters turn out like either of them I will think I did a pretty good job," Huaman said.
And why wouldn't he? After all, they'd be perfect.
April, 2, 2012
4/02/12
10:36
AM ET
By
Andrew Linnehan
| ESPN.com
READ MORE:
Back-to-back perfect games at Winter Springs
Florida high school softball's Kissimmee Klassic has turned into a colossal collision course between two budding softball powerhouses. Palm Beach Gardens (Fla.) and Winter Springs (Fla.) will both grace the 32-team field, which brings together many of Florida's top high school softball teams and will run from April 5-7.
Winter Springs, the tournament's No. 2 seed this year, has defeated top-seeded Palm Beach Gardens in each of the last two seasons in the Kissimmee Klassic, but both years Palm Beach Gardens has responded with victories over Winter Springs in the state tournament.
"I think it's so much fun to play Palm Beach Gardens at the Kissimmee Klassic," said Winter Springs' junior pitcher Elizabeth Birle. "You just want that revenge after losing to them in the state tournament. You want to be like, 'Hey! We can still beat you!' "
Chamberlain (Tampa, Fla.) and Gulliver Prep (Miami), two more teams in ESPNHS's Fab50, will also compete at this year's Klassic. Chamberlain won the tournament in 2000 while Gulliver Prep finished 3rd in both 2009 and 2011.
Click here for more information about the tournament.
March, 29, 2012
3/29/12
4:51
PM ET
By
Mark Tennis
and
Doug Huff
| ESPN.com
It's still spring break tourney time for many teams around the country, and the outcomes at two tournaments last week bring a new team into the No. 1 slot in this week's POWERADE FAB 50.
At the SlamFest tourney hosted by Gulliver Prep in Miami, last week's No. 1 team, Palm Beach Gardens (Fla.), took its first loss of the season in a 5-1 game to Bishop Snyder (Jacksonville, Fla.).
One loss doesn't wreck a season, but undefeated teams that are still going strong move to the top.
Enter Norco (Calif.).
No. 2 in last week's rankings, the Cougars move up to No. 1 after winning their spring break tourney by blanking North (Torrance, Calif.) 8-0 to win top honors at the Torrance National Tournament.
With the loss, Palm Beach Gardens drops to No. 3.
Click here for the complete Week 4 rankings.