High-SchoolSoftball:

Kassi Farmer
December, 14, 2011
12/14/11
2:03
PM ET
By
Garland Cooper
| ESPN.com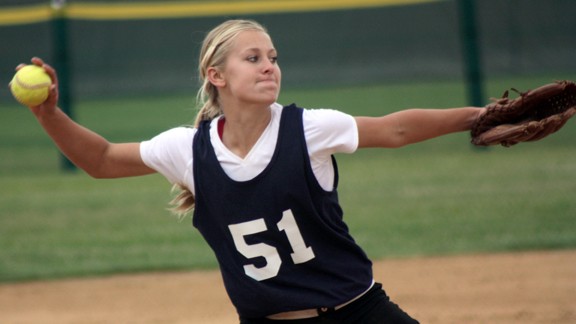 Garland Cooper/ESPNHSKayla Bonstrom, a senior at Canyon del Oro (Oro Valley, Ariz.), has signed with Stanford.
Going through the recruiting process can be difficult and stressful.
Now that the fall recruiting season is over, it's time to take a step back, take a deep breath and focus on what matters.
Several athletes who have already been through the process shared their thoughts on the most important things to remember when going through the recruiting process.
1. Take the initiative
"Be proactive communicating with college coaches. Send emails (weekly) to your top schools to let them know that you want to be there."
-- Sterling Shuster, current freshman at Loyola Marymount
"I would say to start early, and reach out to as many places you know of."
-- Stephanie Meeuwsen, Liberty (Hillsboro Ore.), class of 2012, signed with Lamar University
2. Keep an open mind
"Never be satisfied. Keep your mind open to everything, even if you think that's not the school you want to go to because you never know what could change your mind."
-- Kelsey Stewart, Arkansas City (Kan.), class of 2012, signed with Florida
"Don't just contact the big schools. Yes, it would be cool to play for a big-name college, but the reality is there is not enough for all of the softball players to go to a big school, and in the end it is about the education you get out of it. Be sure to contact some smaller schools in your recruiting process. Not everybody gets the chance to put on a college uniform, so take it in, no matter how big or small the school is."
-- Meeuwsen
3. Make up your own mind
"Make it your decision and don't let anyone decide for you. It's your life and your softball career, not theirs."
-- Stewart
"You shouldn't feel rushed to make a decision. And remember: it's your decision, not anyone else's."
-- Kassi Farmer, Columbia (Ill.), class of 2012, signed with Indiana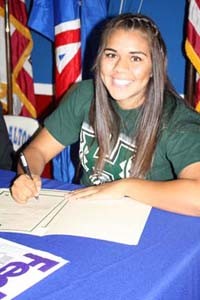 Courtesy of the Villalpando familyAlyssa Villalpando, a senior at Los Altos (Calif.), signs with Hawaii.
4. Attitude is everything
"Always stay positive and focus on your goals and dreams. Work hard and always play with heart and give 110 percent in everything you do."
-- Alyssa Villalpando, Los Altos (Calif.), 2012 class, signed with Hawaii
"Enjoy it because it is an amazing experience."
-- Kayla Bonstrom, Canyon del Oro (Oro Valley, Ariz.), class of 2012, signed with Stanford
5. It's not all about softball
"I would say to take it slow and go on lots of visits to make sure you are making the right choice. Ask yourself, 'Would I still want to go to this place if I were to get hurt and not be able to play softball again?' Talk to everyone you can, including players who go to school there."
-- Andrea Hawkins, Bay City (Texas), class of 2012, signed with Alabama
"Make the right decision instead of a fast decision. Make sure to take into consideration both academics and athletics with your decision."
-- Bonstrom
"Don't settle for less. The coach should want you just as much as you want to go to their university. Find a coach and organization that will stick with you through the good and bad times."
-- Farmer