High-SchoolSoftball:

Katie Browne
July, 12, 2012
7/12/12
10:10
AM ET
By
Mark Tennis
and
Doug Huff
| ESPN.com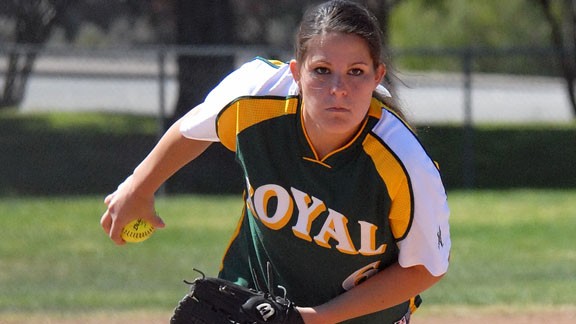 John T. Thorsen/ESPNHSNancy Bowling of Royal went 25-3 this past season with a 0.43 ERA and 246 strikeouts in 163 innings.
SEC schools Alabama, Auburn and LSU all landed two future softball players among the 30 who are first-team 2012 ESPNHS All-Americans. The only other college to have two on the first team is Stanford.
POWERADE FAB 50 national champion
Norco
(Calif.) is represented with one player on the first team and one player on the second team. The only other schools with two ESPNHS All-Americans are No. 3 Red Mountain (Mesa, Ariz.) and No. 7 Keystone (LaGrange, Ohio).
FIRST-TEAM CATCHERS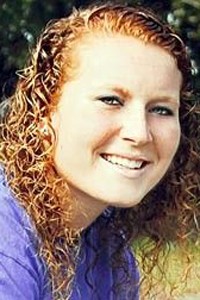 ESPNHSTaylore Fuller
Taylore Fuller, Chiefland (Fla.) Sr.

The Class 1A State Player of the Year posted some eye-opening numbers at the plate. A Florida recruit, Fuller batted .778 with 14 home runs, nine doubles, six triples and 33 RBIs while scoring 52 runs for the small school program. She also is one of the nation's highest-ranked college prospects at the catching position.
Cali Lanphear, Montgomery (Texas) Sr.
Recently named the Class 4A Player of the Year by the Texas Sports Writers Association, Lanphear also is the 2012 All-Montgomery County Player of the Year. She nearly led the Bears to the state final for the first time in school history. As a power hitter, there were few in the nation like her as she smacked 21 homers with 64 RBIs and batted .600. Lanphear has signed with Texas A&M.
Janelle Lindvall, West Ranch (Valencia, Calif.) Sr.
The Oregon-bound standout hit .524 with six home runs and 28 RBIs to earn all-state and all-region honors. Her junior season hitting stats were better, but she excels in all other facets of the position and plays in one of the toughest leagues in Southern California.
FIRST-TEAM PITCHERS
Nancy Bowling, Royal (Simi Valley, Calif.) Sr.

A California standout since she was named State Freshman of the Year in 2009, Bowling concluded her career by going 25-3 with a 0.43 ERA and 246 strikeouts in 163 innings. She bounced back from a left knee injury that caused her to miss one season and is regarded as one of the top incoming recruits at Arizona. Bowling, who already has been named the Los Angeles Daily News Player of the Year, also had a .366 batting average with 20 RBIs.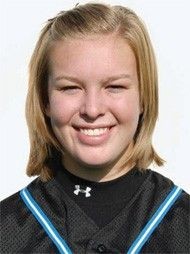 ESPNHSLilly Fecho
Lilly Fecho, Glenbard North (Carol Stream, Ill.) Sr.

The 6-foot, left-handed pitcher went 27-3 this season with a 0.88 ERA and had 254 strikeouts in 192 innings. The
Gatorade State Player of the Year
also batted .393 with eight home runs and 33 RBIs while scoring 28 runs. Fecho will play next at Purdue.
Tori Finucane, Bishop O'Connell (Arlington, Va.) Jr.

The
Gatorade State Player of the Year
led the Lady Knights to a 27-1 record, a Virginia Independent Schools' title, and the No. 43 ranking in the final
POWERADE FAB 50
. A Missouri recruit, she was 27-1 on the mound with a 0.09 ERA and 332 strikeouts in 161 innings. She also batted .363.
Erin Gabriel, Poland Seminary (Poland, Ohio) Sr.
The four-year starter and Tennessee recruit led the Bulldogs to a 26-3 record and No. 21 ranking in the
POWERADE FAB 50
. A two-time Gatorade State Player of the Year as a sophomore and junior, which were the same years the Bulldogs won the Division II state title,
Gabriel
compiled a 16-2 record this season with 232 strikeouts and batted .461 with 28 RBIs and 35 runs scored.
Holly Kern, Plano East (Plano, Texas) Sr.

A force in the circle and at the plate, she was named District 8-5A MVP and Dallas Area Player of the Year by Dallas Morning News. Kern led the Panthers to the Class 5A state semifinals. In the circle, she went 33-4 while at the plate she hit .365 with 10 home runs and 47 RBIs. She is headed next to the University of Texas.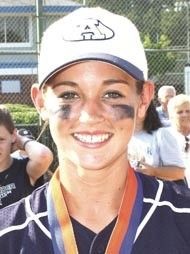 ESPNHSChelsea Wilkinson
Madi Schreyer, Woodinville (Wash.) Jr.

Named the
Gatorade State Player of the Year
in Washington, she helped lead the Falcons to the Class 4A state championship and a perfect 26-0 season. In addition to her own perfect record of 21-0, Schreyer's ERA of 0.28 also was exceptional. She also whiffed 189 batters in 123 innings. Schreyer already has committed to Stanford and also already is a member of the Canadian Junior National Team.
Chelsea Wilkinson, Alexander Central (Taylorsville, N.C.) Sr.

The four-time all-state selection and two-time Gatorade State Player of the Year as a sophomore and junior makes the ESPNHS All-American team for a second straight season. Although the team didn't win another Class 4A state title, it did finish 28-2 and was No. 6 in the final
POWERADE FAB 50
. A Georgia recruit,
Wilkinson
was 24-1 this season with 333 strikeouts and a 0.26 ERA. She also set two state career records with 112 wins and 84 shutouts while striking out 1,406 batters.
FIRST-TEAM INFIELD
Bianka Bell, Chamberlain (Tampa, Fla.) Sr.
The
Gatorade State Player of the Year
led the Chiefs to a 27-5 record and the Class 7A title. The team also ended at No. 12 in the
POWERADE FAB 50
. The shortstop and LSU recruit posted big numbers with a .731 batting average, 11 homers, 35 RBIs and 52 runs scored. She batted .727 in the playoffs alone.
Emily Carosene, Pine Castle Christian (Orlando, Fla.) Sr.

She's a very rare seven-year starter as she goes to a school and plays in a state in which seventh-graders and eighth-graders can play on the varsity. The Auburn recruit and Central Florida Player of the Year put up huge numbers for the Class 2A state runner-up team. Carosene batted .645 with 14 doubles, 10 triples and seven homers. She also had 24 RBIs while scoring 51 runs. She played on three state title-winning teams.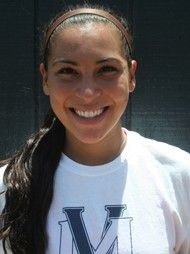 ESPNHSSierra Romero
Nikki Girard, Chino Hills (Calif.) Sr.

The CIF Southern Section Division III Player of the Year led the Huskies to a 32-3 record and No. 9 finish in the final
POWERADE FAB 50
national rankings. Girard, who is headed to Arizona State in the fall, had a .423 batting average with seven homers, 12 doubles and 37 RBIs. She's been a four-year starter and set school records for runs scored, hits, doubles and RBIs.
Sierra Romero, Vista Murrieta (Murrieta, Calif.) Sr.

A finalist for the California Ms. Softball Player of the Year, Romero also earned herself a spot in the state record book as she hit 21 homers, the second-best single-season total. Romero, who also had 45 career homers, hit .556 with 38 runs scored, 23 walks and 54 RBIs. She will be headed to Michigan next season.
Lindsey Schmeiser, Northern (Owings, Md.) Sr.

The Washington D.C. Metro Player of the Year led the Patriots to a 25-0 record, a record fifth straight Class 3A state title and the No. 17 ranking in the
POWERADE FAB 50
. The Maryland recruit also batted .641 with four homers, 34 RBIs and 49 runs scored.
Allison Stewart, Olathe East (Olathe, Kan.) Soph.

One of just two sophomores to earn a first-team All-American selection, Stewart was assured of such a high honor by leading Olathe East (24-1) to the Class 6A state title and being named
Gatorade State Player of the Year
. She set a school record with 52 RBIs and also hit .532 with five homers. As a pitcher, she added a 13-0 record with 118 strikeouts and a 0.20 ERA. Stewart has committed to Arkansas.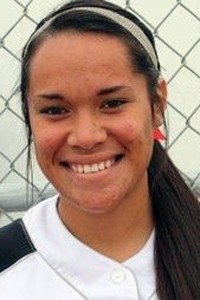 ESPNHSDarian Tautalafua
Kelsey Stewart, Maize (Kan.) Sr.

The "other" Stewart from Kansas to land on the All-American team happens to be one of the top 10 major college prospects in the nation. Kelsey racked up eye-popping totals with her bat – a .649 average, 12 homers, 65 RBIs -- and was amazing in the field. She is headed next to LSU.
Melissa Taukeiaho, Etiwanda (Calif.) Sr.

Before heading to the University of Washington, Taukeiaho earned her second straight all-state selection and also has been named All-Inland Valley MVP. She scored 41 runs and drove in 39 and also finished with 16 homers and a .543 average. Taukeiaho also had five wins inside the circle for the Eagles.
Darian Tautalafua, Carson (Calif.) Sr.

After hitting 15 home runs as a junior, Tautalafua hammered 17 homers as a senior and tied the state career record with 53. She also batted .490 this season, scored 50 times and knocked in 45 runs. Tautalafua was named the CIF L.A. City Section Player of the Year and will play next at Long Beach State.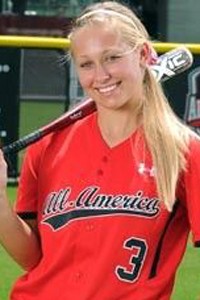 ESPNHSKayla Bonstrom
FIRST-TEAM OUTFIELD
Kayla Bonstrom, Canyon del Oro (Tucson, Ariz.) Sr.

The Arizona Daily Republic Big Schools Player of the Year could have been listed in the multi-purpose category since she was the top pitcher for her team in 2012, but she's mostly known as an outfielder and that's where she'll play next season at Stanford. Bonstrom led Canyon del Oro, which finished 13th in the
POWERADE FAB 50
, to the Division II state championship by hitting a two-run homer in the top of the eighth inning of the final game against Sunrise Mountain (Peoria, Ariz.), and then she retired the side in order. Bonstrom finished the season with a .603 batting average, ripped 16 homers and also had 18 doubles and 63 RBIs.
Steph Hartness, Niceville (Fla.) Sr.

The Class 6A State Player of the Year led the Eagles to a 29-3 record, a state runner-up finish, and a No. 34 ranking in the
POWERADE FAB 50
. A Florida State recruit, she batted .518 with four home runs and 36 RBIs.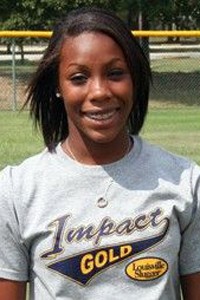 ESPNHSAndrea Hawkins
Andrea Hawkins, Bay City (Texas) Sr.

Rated by some experts as the No. 1 prospect in the entire nation, this talented outfielder will be headed to play for
Alabama next season
. During her senior season, Hawkins hit .539, and during her final two seasons of high school ball, she struck out a total of just two times. As a senior, she also stole 34 bases. She was recently selected to the Class 4A All-State Team by the Texas Sports Writers Association.
Haylie McCleney, Mortimer Jordan (Kimberly, Ala.) Sr.

The
Gatorade Player of the Year
in Alabama and the Alabama Sportswriters Association Player of the Year batted .692 for the Class 5A state runner-up. The Alabama recruit also had 90 hits, including nine home runs with 64 runs scored and 65 stolen bases. McCleney struck out only once during her entire senior season.
FIRST-TEAM MULTI-PURPOSE (Hitting, pitching, fielding)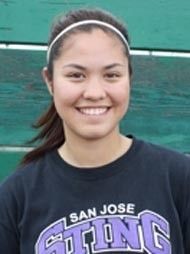 ESPNHSVanessa Alvarez
Vanessa Alvarez, Archbishop Mitty (San Jose, Calif.) Sr.

After being named player of the year for the second straight season by the San Jose Mercury News, Alvarez is headed to Cal where she could play second base. Her pitching helped Mitty finish 28-2 with a No. 8 final FAB 50 ranking. She went 25-1 with a 0.86 ERA and 197 strikeouts. At the plate, Alvarez batted leadoff and shined with a .450 average and .491 on-base mark.
Kenzie Conrad, Keystone (LaGrange, Ohio) Sr.

The
Gatorade State Player of the Year
and Akron recruit led the Wildcats to a 32-0 record, a Division II state title and a No. 7 ranking in the
POWERADE FAB 50
. She was 25-0 on the mound with a 0.74 ERA and 178 strikeouts. She also batted .485 with 11 homers and 44 RBIs.
Lexi Davis, Porter Ridge (Indian Ridge, N.C.) Sr.

The
ESPNHS National Player of the Year
and
Gatorade state honoree
pitched every game for the 33-1 Class 4A state champion Pirates. The team also finished No. 2 in the
POWERADE FAB 50
. The Auburn recruit, four-year starter and three-time all-state choice posted a 0.23 ERA and batted .450 with eight homers and 42 RBIs.
Emily Lockman, Norco (Calif.) Sr.

Lockman's 0.35 ERA may be surpassed by other top pitchers around the nation, but none of those pitchers faced the type of opposition that Lockman did. Her pitching and hitting led Norco (31-2) to the 2012 FAB 50 national title and she already has been selected as the Ms. Softball Player of the Year for the state. Lockman also shut out more opponents (22) than batters were walked (11). As a batter, she shined with a .389 average and had four homers and 30 RBIs. The 4.0 GPA student-athlete will play next at Nebraska.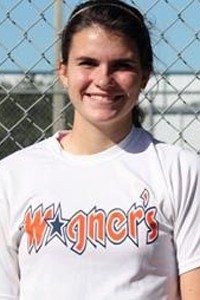 ESPNHSErica Nunn
Breanna Macha, Red Mountain (Mesa, Ariz.) Soph.

Despite being just a sophomore, Macha pitched like a senior as she was named to the All-Arizona first team by The Arizona Republic. Leading the Mountain Lions to their second straight state championship, a 35-3 record and No. 3 ranking in the final
POWERADE FAB 50
, Macha went 14-2 as a pitcher with a 1.24 ERA. At the plate, she hit .440, drove in 47 runs and hit 10 home runs.
Erica Nunn, Holly Springs (N.C.) Sr.

The four-year starter and South Florida recruit helped the Golden Hawks to a Class 4A state runner-up finish. She was 22-5 on the mound and struck out 335 batters. At the plate, she hit .612. Career-wise, the left-handed pitcher won 73 games with 1,068 strikeouts.
Heather Stearns, Hebron (Carrollton, Texas) Sr.

Before heading to Baylor next year, Stearns was named the
Gatorade State Player of the Year
in Texas as the Hawks reached the Class 5A Region I finals. At the plate, she hit .415 with 15 home runs and 41 RBIs, which included a four-homer game in a 13-4 win over Pilot Point. In the circle, she went 18-9 with a 1.29 ERA and struck out 313 batters in 190 innings.
SECOND-TEAM CATCHERS

Katie Browne
, Zachary (La.) Sr.
Erin Shireman, Lutheran South (Pearland, Texas) Sr.
SECOND-TEAM PITCHERS

Maryssa Becker, North Medford (Medford, Ore.) Jr.
Lindsey Fadnek, Coalfield (Tenn.) Sr.
Johanna Grauer, Amador Valley (Pleasanton, Calif.) Soph.
Cheridan Hawkins, Anderson (Calif.) Sr.
Katie Marks, Katy (Texas) Sr.
Samantha Martin, Chiles (Tallahassee, Fla.) Jr.
Taylor Nowlin, Sunrise Mountain (Peoria, Ariz.) Jr.
Shelby Turnier, Palm Beach Gardens (Fla.) Sr.
SECOND-TEAM INFIELD

Bryanna Blanco, Maryville (Tenn.) Sr.
Kelsey Dominik, Kingsway Regional (Woolwich Township, N.J.) Sr.
Gabrielle Maurice, Johansen (Modesto, Calif.) Jr.
Erin Pond, Keystone (La Grange, Ohio) Sr.
Alex Powers, Eau Gallie (Melbourne, Fla.) Sr.
Kylie Reed, Norco (Calif.) Jr.
SECOND-TEAM OUTFIELD

Kylie Johnson, Kankakee (Ill.) Sr.
Siera Phillips, Red Mountain (Mesa, Ariz.) Sr.
Natalie Sheffey, Daniel Boone (Gray, Tenn.) Jr.
Megan Sorlie, Andover Central (Andover, Kan.) Sr.
Katie St. Pierre, Flower Mound (Texas) Sr.
SECOND-TEAM MULTI-PURPOSE

Alyson Ambler, Walla Walla (Wash.) Sr.
Brooke Boetjer, South Putnam (Greencastle, Ind.) Sr.
Katie Brignac, John Curtis Christian (River Ridge, La.) Soph.
Briana Combs, Ladywood (Livonia, Mich.) Sr.
Kristen Davenport, Deer Park (Texas) Sr.
Kelsey Nunley, Soddy-Daisy (Tenn.) Sr.
Nisa Ontiveros, Ridgeview (Bakersfield, Calif.) Sr.
Kenedy Urbany, O'Connor (Northside, Texas) Jr.
April, 23, 2012
4/23/12
2:22
PM ET
By
Andrew Linnehan
| ESPN.com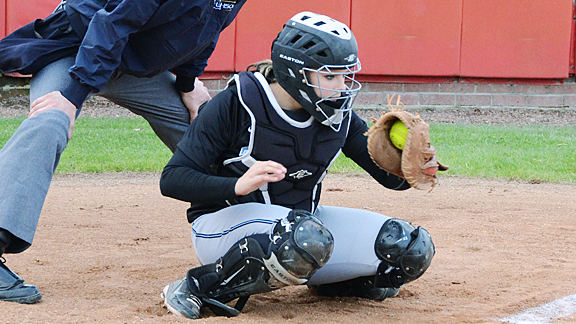 Courtesy of Rhonda GeraldKatie Browne, a senior catcher at Zachary (La.), has overcome a tumultuous childhood and will play softball for Georgia next spring.
There are some people you just have to root for.
Katie Browne, a senior catcher at Zachary (La.), is one of those people.
Browne was honored last week with the Louisiana Young Heroes Award for the courage, fortitude and perseverance she's shown in navigating a childhood so tumultuous that it would rattle the nerves even of Hollywood's merchants of horror stories.
One year ago, April 22, Katie was waiting for her mother, Hope, to come home so they could go see Katie's older sister, Jessie, play in a softball game for Southeastern Louisiana University.
Hope never came home. Instead, a police officer came to the house to let Katie know that her mother had been killed in a car accident at the most dangerous intersection on Highway 1 in Addis, La.
"At that moment, this 18-year-old girl lost her sole support, her sounding wall, her cuddling partner -- her mother," said Leslie Efferson, the head softball coach at Zachary.
At that moment, Katie also lost a person that had fought with her through two decades of family drama and tragedy.
When Katie was 3, Hope removed herself and her two daughters from a troubled relationship with her then-husband in Virginia and moved the girls to Lodi, Ohio. Battling the challenges that come with being a single mother, Hope found refuge in the fact that Katie and Jessie both displayed a passion and gift for softball, a sport that Hope had wanted to play growing up, but there were only all-boys teams.
The next of life's roadblocks was encountered in January of 2008, when Hope took the kids down to New Orleans to see her brother, Les Miles, coach in college football's national championship game. Miles' LSU Tigers were pitted against a team from the Brownes' home state: the Ohio State Buckeyes.
LSU beat Ohio State 38-24 in the title game, but the sweet taste of victory quickly turned sour when the Brownes arrived back to Ohio and found their house engulfed in flames. Police reports indicate arson and witnesses say there were intruders living in the house while the Brownes were away. The family suspects that the criminals were Ohio State fans that had learned of their ties to LSU, but no one has been charged in the case.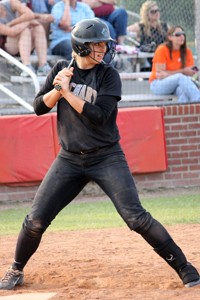 Courtesy of Crystal Etue"She always wants to get better, and you so rarely see that in kids today," Zachary assistant coach Robert Yellott says of Katie Browne.
After Katie and her family lost their house and all their belongings, Hope decided to move the family out of Ohio. Her first concern, though, was that the family get to a location where Katie and Jessie could gain visibility for their softball prowess and potentially earn Division I scholarships.
When Hope found Zachary in Louisiana, she started to grill Efferson about the softball program.
"Hope and I talked on the phone for an hour, and she had such good questions," Efferson said. "You could tell how much she cared about her daughters. It was like an FBI interrogation."
Efferson passed the test, and soon Jessie (then a junior) and Katie (a freshman) would don a Zachary High uniform. Katie, a 6-footer even as a freshman, adjusted to the southern migration especially well.
"I've coached sports and strength and conditioning for a long time, and I've never coached a kid like Katie Browne," said Robert Yellott, an assistant coach for Zachary's softball team and also the school's strength coach. "She always wants to get better, and you so rarely see that in kids today."
Exactly as mom had planned it, Katie's stats in Louisiana and her notable performances on diamonds all over the southeast awoke the mightiest of college softball programs, including the University of Georgia and University of Alabama. In the fall of her junior year, she got offers from both schools on the same day. While on her visit at Georgia's campus in Athens, Patrick Murphy (Alabama's head coach) contacted Katie to offer her a full scholarship. Hours later, during Hope and Katie's drive back from the Georgia visit, Bulldogs head coach Lu Harris-Champer called Katie to also extend a full offer.
"My mom and I were on Cloud 9," said Katie. "We made a deal that we weren't going to talk about it for an hour; we were just going to be happy."
It was one of the last and one of the most priceless moments they ever enjoyed together. A mom who enjoyed softball but whose generation set limitations for women who wanted to play sports, and her daughter, who, thanks in part to Title IX and an evolving awareness of female athleticism, is living her mom's dream. That, to Hope, was surely more fulfilling than if she had gotten to play high-level softball herself.
Months later, Katie would get that horrifying knock on the door. When the police officer notified her that her mom had been killed in a car accident, the officer explained that her sister Jessie was already on the way home from Southeastern Louisiana and asked if they could contact anyone else to come stay with her. Katie replied, "My coaches, they're all I've got."
Efferson and Yellott were actually together on that fatal evening, driving all the way to Houston, Texas, to see a concert. As soon as they received the call, Yellott pulled a U-Turn and made the three-and-a-half-hour drive back from Houston in about two hours and fifteen minutes.
The Zachary softball team, which to most members was a second family, had now become Katie's primary family. The team's motto this year is "Check Your Baggage," a slogan born out of necessity after another teammate's father died a mere month after Hope's death. Coaches and teammates alike will tell you that nobody embodies the slogan better than Katie, who will be playing at Georgia next year. Softball serves as her release, as an asylum for the horrors in life that she's had to overcome. Even on the softball field, though, it's been challenging.
"Last summer we played one of my former club teams from Ohio, and I heard them talking about my mom's accident in the dugout," Katie said. "I had to call a timeout and go to the pitcher's mound to stop the game for a little bit. Then in between innings I went to the bathroom and pulled myself together."
It is moments like this that inspired Efferson to nominate Katie for the Louisiana Young Heroes Award, an award that Katie won just last week. With it, the State of Louisiana declared April 18 Katie Browne Day. Upon winning the award, Katie immediately called her big sister Jessie and said, "Hey, I just wanted to wish you a Happy Katie Browne Day."
To those that know her and are inspired by her, however, every day is Katie Browne Day.