High-SchoolSoftball:

North Carolina softball
June, 3, 2012
6/03/12
9:03
AM ET
By
Mark Tennis
| ESPN.com
Norco (Calif.) clinched the No. 1 spot in the final
POWERADE FAB 50
national softball rankings on Saturday night with a 6-4 win over Santiago (Corona, Calif.) in the CIF Southern Section Division I title game in Irvine, Calif.
Norco (31-2), which became a national title contender in March when it won top honors at a national invitational tournament in Bullhead City, Ariz., started the week No. 1 in the FAB 50. The Cougars advanced to Saturday's final with a 4-0 win over Vista Murrieta (Murrieta, Calif.) in last Tuesday's semifinals.
While Santiago entered Saturday's game with nine losses, the Sharks did get a win over Norco during league play and had been averaging 9.7 runs per game since a change in the lineup nearly four weeks ago. Santiago also was the CIFSS Division I defending champion.
Amanda Sandoval gave Norco a 1-0 lead in the second inning with an RBI single. Pitcher Emily Lockman then helped her own cause with an RBI double in the third to make it 2-0, and later in the game she ripped a second RBI double.
Taylor Koenig also had two RBI singles, and the Cougars took a 6-0 lead into the fifth inning. That's when Santiago came up with a four-run outburst that was helped by a two-run error.
Lockman, who is headed to Nebraska, then knuckled down and set down the Sharks in the sixth and seventh innings.
If Norco had lost, Porter Ridge (Indian Trail, N.C.) would have likely claimed the national title.
The Pirates were No. 3 in the most recent FAB 50 and on Saturday completed a two-game sweep against Holly Springs (N.C.) to win the North Carolina Class 4A state title. Their final record stands at 33-1. Auburn-bound Lexi Davis pitched shutouts in both of the team's 2-0 victories.
Amador Valley (Pleasanton, Calif.) was No. 2 and entered the CIF North Coast Section Division I championship on Friday at St. Mary's College in Moraga, Calif., with a 26-0 record. The Dons, however, fell out of No. 1 contention by losing 1-0 to James Logan (Union City, Calif.).
Amador Valley came within inches of scoring the tying run in the bottom of the seventh inning. With two outs and sophomore Ashley Lotoszynski at second base, Zoe Price singled to center. Lotoszynski did not score because of a strong throw by Logan center fielder Marissa Perez and a perfectly executed tag by catcher Caley Bonansea.
"We had to play flawless in the field, and we knew that just one mistake might be too much," said Logan coach Teri Johnson, whose team avenged its only loss and is sure to move up from No. 16 in the FAB 50. "The way we bonded this year was just great. This couldn't have happened to a better group of girls."
Note:
Norco also won the CIF Southern Section Division I title three years ago and finished No. 3 in the final POWERADE FAB 50 national rankings with a 32-2 record. Archbishop Mitty (San Jose, Calif.) went 32-0 and was No. 1 in the nation. Mitty's standout player at the time, Keilani Ricketts, is now starring in the College Softball World Series for Oklahoma.
May, 23, 2012
5/23/12
1:20
PM ET
By
Mark Tennis
and
Doug Huff
| ESPN.com
While the order for this week's
POWERADE FAB 50
was finalized earlier on Tuesday, it was hard to ignore that the top three teams in the nation were all playing later in the evening and that all three could have lost.
Those results won't be reflected in the rankings until next week, but the big news was that No. 3 Alexander Central (Taylorsville, N.C.) lost 1-0 in its showdown with unbeaten No. 7 Porter Ridge (Indian Trail, N.C.) in the fourth round of the Class 4A state playoffs.
Auburn-bound Lexi Davis of Porter Ridge outdueled Georgia-bound Chelsea Wilkinson of Alexander Central, although Wilkinson had a perfect game going with 17 strikeouts until the seventh inning. Porter Ridge got two hits in that inning, including a two-out RBI single by Kayleigh Jones. Davis then set down Alexander Central in the bottom of the inning.
The top two teams in the FAB 50 -- No. 1 Norco (Calif.) and No. 2 Pacifica (Garden Grove, Calif.) -- both won in CIF Southern Section Division I playoff games. Norco topped Etiwanda (Calif.) 2-0 while Pacifica blanked No. 23 Royal (Simi Valley, Calif.) 2-0. The two could meet in the title game on either June 1 or June 2.
Click here for the complete Week 12 rankings.
April, 18, 2012
4/18/12
11:53
AM ET
By
Mark Tennis
and
Doug Huff
| ESPN.com
The most difficult choice in this week's
POWERADE FAB 50
was which team to put in the No. 3 position after previous No. 3 Plano East (Plano, Texas) suffered its third loss of the season and fell to 26-3.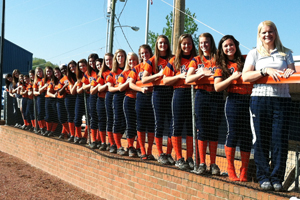 Courtesy of Beech SoftballBeech (Hendersonville, Tenn.) joins the top 10 in this week's rankings.
It's always with reluctance to move up a team that isn't from one of softball's four power states -- Arizona, California, Florida, Texas -- but this was a week that No. 5 Amador Valley (Pleasanton, Calif.) was idle.
That left No. 4 Alexander Central (Taylorsville, N.C.) to be considered. The Cougars have shown more enthusiasm for playing teams from other states and they are led by a pitcher, Chelsea Wilkinson, who is headed to the Southeastern Conference to play at Georgia. Since Alexander Central improved to 17-1 (Wilkinson didn't play in the only loss), it gained the No. 3 ranking.
Another team on an even more rapid rise is new No. 9 Beech (Henderson, Tenn.). It was just two weeks ago when that team was sitting at No. 45, but since then the Buccaneers have won two tournaments and their record has snowballed to 38-1.
Click here for the complete Week 7 rankings.
April, 17, 2012
4/17/12
11:49
AM ET
By
Andrew Linnehan
| ESPN.com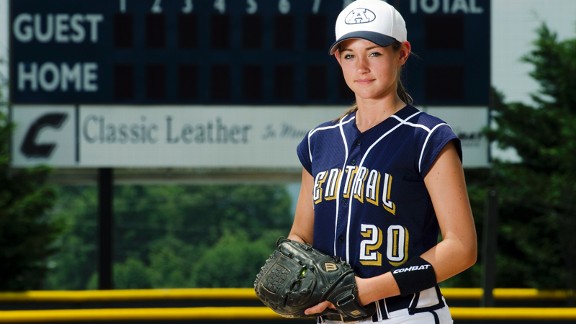 The Charlotte Observer/Jeff WillhelmDuring one stretch this season, Alexander Central's Chelsea Wilkinson sandwiched back-to-back no-hitters and back-to-back one-hitters around a perfect game.
Don't get mad at Alexander Central (Taylorsville, N.C.) senior pitcher Chelsea Wilkinson if she can't recall the last time she gave up a run in a high school softball game. Since the last time an opponent crossed the plate against the righteous right-hander, her family has paid a couple electric bills, students have left for and come back from spring break and horoscopers have flipped their Zodiac calendars from Pisces to Aries and soon to Taurus.
During her 10-game shutout streak, Wilkinson has rarely even allowed a ball out of the infield, allowing her Cougars to vault up to fourth in the
POWERADE FAB 50
national softball rankings. Such was the case last Thursday, when Wilkinson one-hit J.L. Mann (Greenville, S.C.) in a border battle between the North Carolina and South Carolina defending 4A state champions.
The victory also served as a colossal milestone for Wilkinson, who earned her 100th win in the contest and inched ever closer to her third Gatorade Player of the Year Award in North Carolina. Last year, she became the first-ever high schooler from the Tar Heel state to win multiple POY hardware from Gatorade and only the third softballer nationally to accomplish the feat.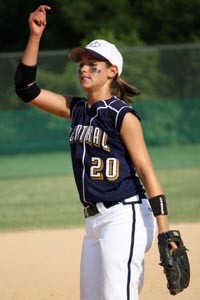 DN Pennell, Jr. /The Taylorsville Times"I love setting records and winning awards," Chelsea Wilkinson says. "But I love being successful even more."
"I have worked so hard to get to the position I am at today, and it feels good to know it is paying off," said Wilkinson, who has signed with the University of Georgia. "I love setting records and winning awards, but I love being successful even more."
Success has come in bunches since Wilkinson entered high school in 2009 with battery-mate Lauren Elder and outfielders Brianna Elder and Cortlin Hartness. Elder has caught every pitch of Wilkinson's high school career, which has seen Alexander Central win state titles in both 2009 and 2011, furthering the team's proclamation that its home be called Title Town.
And while a routine of success has become rather customary in Title Town, the growth of this year's graduating senior class has been fascinatingly noteworthy. Wilkinson was forced to establish herself as a young freshman in the circle in 2009, and has since budded into a dominant force that inspires confidence and intense work ethic in all who surround her.
"In 2009 I was just trying to earn acceptance and make a name for myself," Wilkinson said. "By my junior year, people knew who I was and what I was capable of, so I had to live up to that."
You'd need a forklift to set the bar as high as Wilkinson has set it through her first three years of high school. Amazingly, she's still clearing that bar. Through the first 18 games Alexander played (they won 17 of them), Wilkinson has dished out more doughnuts than a rookie cop at a police station's morning meeting. The string of shutouts is at 10 straight games. During the streak, Wilkinson had a stretch in which she hurled back-to-back no-hitters against Hibriten (Lenoir, N.C.) and St. Stephen's (Hickory N.C.), then a perfect game against East Rowan (Salisbury, N.C.), and then back-to-back one-hitters against Fred T. Foard (Newton, N.C.) and Grove City (Ohio). On Monday night, she threw another no-hitter, and got her 101st win, in a 10-0 win over Hickory (N.C.).
A quote on the Alexander Central softball website says, "Don't measure yourself by what you have accomplished, but by what you should accomplish with your ability."
If Wilkinson and her fellow seniors live up to that statement, they're about to leave a wake of destruction in what could arguably be one of the most impressive four-year runs in high school softball history.