High-SchoolSoftball:

Paige McDuffee
February, 22, 2012
2/22/12
11:58
AM ET
By
Andrew Linnehan
| ESPN.com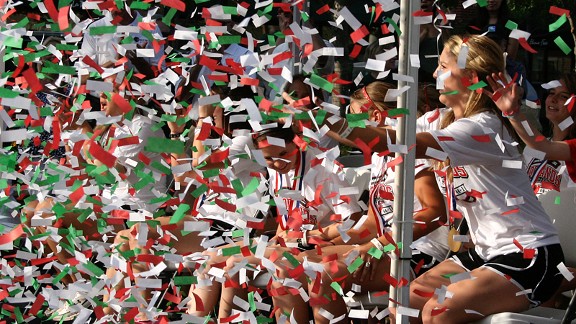 Courtesy of John Mann The Woodlands softball team got the ticker-tape treatment after capturing the POWERADE FAB 50 national championship last spring.
POWERADE FAB 50 ESPNHS Team Rankings
|
Meet the No. 1 Team: The Woodlands
The noise reverberated off the trees in The Woodlands, Texas. Ripples of excitement could be felt as far away as Houston, 30 miles south. After all, it was time for the first pep rally of the 2011-12 school year, which meant football was in the air.
A closer examination of the fervor, though, would reveal that it was actually another sport at The Woodlands High garnering the attention of the school's community. It was the softball team that people had come to see.
"ESPN showed up for
us
, not football," said softball coach Richard Jorgensen, whose team had been basking in the glory of a Texas state title and
No. 1 national ranking
in the POWERADE FAB 50 last spring. "The girls absolutely stole the show, and the community had confetti for us and everything. It was such a wonderful thing for the girls to experience."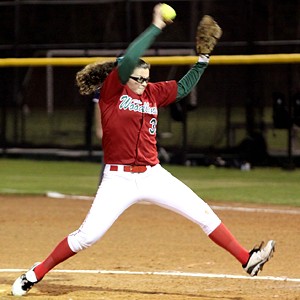 Courtesy of John Mann The Woodlands will rely on sophomore Caitlin Bartsch (pictured) in the absence of ace Paige McDuffee.
But with big celebrations come bigger expectations, and the Highlanders didn't leave much margin for error in 2012 after winning 44 of 45 games in 2011. Adding to Jorgensen's headache is the departure of two All-State players, 3B Brooke Riemann (now at Blinn College) and OF Kelsey Jolly (now at McNeese State). And turning that headache into a full-fledged migraine is the fact that the team's pitching ace, senior Paige McDuffee, is expected to miss the season while she recovers from surgery on her pitching arm.
"Now it's going to get more intense," said Jorgensen. "I'm not as relaxed as a coach this year for sure. When we had Paige healthy, we felt going into every game that if we could score three runs we would win."
Perhaps sophomore RHP Caitlin Bartsch can be the aspirin and 6-foot freshman LHP Abby Langkamp can serve as the tall glass of water.
Rewind 11 months to the first tournament of last season for The Woodlands and a game against Vista Ridge (Austin, Texas). McDuffee was going hard into second base after a hit and collided with a defender, injuring her leg and ensuring that she would miss several games.
"You never think about your star pitcher getting injured and then when it happens the place gets so quiet," Jorgensen said. "You could hear a pin drop. But then Caitlin just comes in and starts throwing strikes, and by the second and third innings I looked at my assistants and said, 'Shoot, we're gonna be good.'"
Bartsch's early season experience was critical in The Woodlands' championship run last year. She went 9-0 during the season while eating some innings from McDuffee in the playoffs as the latter tried to battle through another injury, this time to her pitching arm.
"My forearm would swell to the size of a softball and I didn't have a lot of my physical stuff during the playoff run," said McDuffee. "It made me grow a lot mentally. I just had to get through innings by telling myself, 'Last pitch and you're done ... last pitch and you're done.'"
McDuffee concedes that the excruciating pain brought her to tears countless times.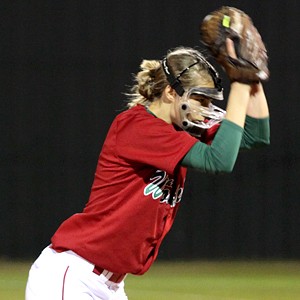 Courtesy of John Mann Abby Langkamp, a 6-foot freshman southpaw, could be vital in the Highlanders' title defense.
"All through the rest of the playoffs, she really had to gut it out because she was only playing at about 60 percent," said Jorgensen. "We really had to rely heavily on Caitlin to take some of the tension off of Paige."
In the bleachers witnessing this emotional drama was Langkamp, an eighth-grader who would rush over to the softball games after her track meets (her middle school doesn't have a softball team) so she could cheer for the team she eventually hoped to play for.
Funny thing is, Langkamp might not have been on the varsity team this year as a freshman, but the absence of McDuffee led Jorgensen to opt for the rookie as his second hurler.
"There's going to be a lot of pressure on me and it's a tough situation to be in because I feel so bad for Paige," said Langkamp. "But I love Coach [Jorgensen] because he's all about having fun and that's something that I really respect, so I'm just going to go out there and that's what I'm going to try to do."
The fun these girls display on the softball diamond serves as a refuge from all of the laborious hours committed to becoming the No. 1 team in the nation.
As Bartsch will tell you, "Everyone sees the fun we have but they don't see the hours and hours of work that stand behind the relatively few minutes we spend playing the games."
Someone should tell Bartsch that it's difficult for fans to see that hard work through all the confetti. At this rate, they'd better be careful: The football players are going to get jealous.
December, 23, 2011
12/23/11
2:17
PM ET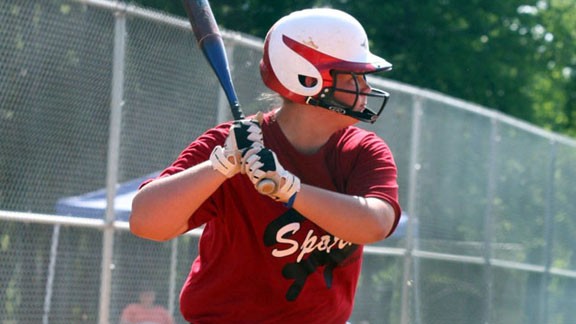 Courtesy of Laz DenesShelby Holley set two national home run records in 2011 and led Pisgah (Ala.) to a state title.
Softball featured dramatic rallies, historic seasons, inspirational players and a whole lot of reasons to celebrate in 2011. Here are 10 stories we'll remember well into the New Year.
Winning Woodlands

The Woodlands put together one of the best seasons in Texas history, posting a 44-1 record to claim the Class 5A state championship and the POWERADE FAB 50 national championship. The Highlanders beat defending champion Pearland 6-0 in the semifinals and then clipped O'Connor (San Antonio) 7-5 to win the championship. Faith Bohack and Jessica Snyder hit home runs to back pitcher Paige McDuffee, who ended her season with a 37-1 record.
Gabriel goes international

Pitcher Erin Gabriel of Poland Seminary, the Gatorade State Softball Player of the Year for Ohio, became the lone high schooler to represent the United States as a member of the Junior National Team. She also was the first player from Ohio ever to be selected to the squad. The senior, who plans to play at Tennessee next year, went 1-0 as the U.S. won the
2011 ISF Junior Women's World Championship
in South Africa in mid-December.
Sweet ending

With two outs and two strikes and her team trailing 1-0 in the bottom of the seventh inning of the CIF Southern Section Division I championship, Lauren Sweet of Santiago (Corona, Calif.) hit a grand slam to give her team a 4-1 win. Sweet was later named an Under Armour All-American, the Cal-Hi Sports Ms. Softball Player of the Year and an ESPNHS first-team All-American. Santiago's victory also enabled the Sharks to finish No. 1 in the final state rankings and No. 5 in the final POWERADE FAB 50.
Catcher recovers

Catcher Bella Secaira of Newport Harbor (Newport Beach, Calif.), who suffered a collapsed lung, a spinal-cord fracture and a concussion after falling 30 feet from the roof of her apartment building in June, recovered and returned to her club team with a new perspective. "You strike out five times, your life's not over," she told the
Orlando Sentinel
in September. "Are you healthy? Are you happy? Then you're good." Secaira expects to be back playing for her high school team in the spring and has given a verbal commitment to the University of Utah.
McDuffee stays busy

It was quite a year for lefty pitcher Paige McDuffee. Arguably the top recruit in the country, McDuffee decommitted from LSU and then committed to UCLA after legendary LSU head coach Yvette Girouard retired. McDuffee also won the Gatorade National Softball Player of the Year Award after she led The Woodlands (Texas) to a state and national title.
Crandol on the mend
After a six-month battle with cancer, pitcher Katie Crandol of Andrean (Merrillville, Ind.) celebrated the Thanksgiving holiday with family and friends. After Crandol was diagnosed with the disease in March, doctors removed a three-inch tumor from her brain, and she underwent rounds of radiation and chemotherapy. In October, an MRI came back clear. Through it all, the community rallied around the Crandol family -- softball teams cleaned her parents' house and cooked meals, T-shirts were sold, dinners were hosted in her honor and local businesses held fundraisers. Now Crandol can start to look ahead to 2012. "This spring I want to get out there and show my coach -- all of them -- that I can do it," she told nwitimes.com in November.
Alabama slammer

With her big bat, Shelby Holley of Pisgah (Ala.) set two national home run records in 2011. Her last blast, which came in her final at-bat, set the single-season mark at 35. For her career, Holley hit 72 home runs, another national record. Holley's record-setting season helped lead Pisgah to the Class 3A state championship. She has signed with Jacksonville State.
Sweet repeat

Down by a run and down to their final out, the SoCal Athletics staged a dramatic rally to defeat the favored Worth Firecrackers and claim their second consecutive PGF Nationals national championship. "Our team was on the same page in the dugout because we had done it last year," catcher Aubree Munro said. "We were all like, 'We can do this!' It's never over with our team."
Whole lot of Swagger

Playing in their final game before heading off to college, Team Swagger got an extra-inning, walk-off double from Sara Driesenga to defeat Team Hype 6-5 at the 2011 Under Armour All-America Game at ESPN Wide World of Sports in Lake Buena Vista, Fla. Driesenga, who was named MVP, is set to play at Michigan in the spring.
Sport spreads

Beverly Bandits, a top travel team based in Illinois, won the Louisville Slugger Independence Day Tournament in Boulder, Colo., for the second time in four years. By winning one of the summer's biggest and best tournaments, which is a combination of recruiting and championship play, the Bandits showed that softball is alive and well throughout the country.