High-SchoolSoftball:

Porter Ridge
July, 11, 2012
7/11/12
10:02
AM ET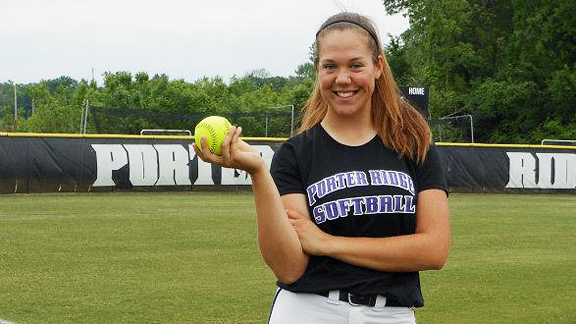 Courtesy of Lael RorieAuburn recruit Lexi Davis pitched every game for Porter Ridge and posted a 33-1 record, including 22 shutouts.
There was one constant during the first softball state title run for Porter Ridge (Indian Ridge, N.C.).
Lexi Davis was in the cirlce for all 34 games.
The result: a 33-1 record, a Class 4A state championship and the No. 2 spot in the final
POWERADE FAB 50 national rankings
.
For her performances as a pitcher and as a batter, the Auburn University recruit has been selected the ESPNHS National Softball Player of the Year. Players from the handful of states that conduct softball as a fall sport were not considered for the award.
"That's awesome," Davis said when informed of her selection. "Our team felt we had some unfinished business this season and we really bonded together to close the deal with the school's first state title. This is icing on the cake and I'm very grateful."
The 6-foot-1 right-handed pitcher has been a dominant player for four seasons, but the Pirates couldn't pocket a state crown until this year. Last spring, they lost in the state playoffs to eventual champion Alexander Central (Taylorsville, N.C.). This spring, they avenged the state quarterfinal loss with a 1-0 win over an Alexander Central team that was ranked No. 6 in the final FAB 50 and was led by two-time state player of the year
Chelsea Wilkinson
.
"That win was the first of two straight games which were keys to our season," Davis said. "The next playoff game was our only loss (4-1 to North Davidson) and was our wake-up call that we had to stay focused to achieve our main goal of a state title."
The Pirates rebounded from their only loss of the season in the best-of-three semifinal series with wins of 2-1 and 1-0 over North Davidson before posting two 2-0 wins in the one-day finals over Holly Springs (N.C.).
Davis and her teammates played nine playoff games in 22 days with wins over teams ranked No. 1, No. 3, No. 4 and No. 5 in the final regular-season state poll. Porter Ridge was ranked No. 2 behind defending champion Alexander Central.
The National Player of the Year ended the season with a 33-1 record, 22 shutouts and a 0.23 ERA. The three-time all-state choice and
Gatorade State Player of the Year
as a senior also led her team at the plate. She hit .450 with eight home runs and 42 RBIs. She was one of only two seniors -- along with shortstop Haley Secrest -- in the underclass-dominated lineup.
"Our team has had some tough losses the last couple of years," Davis said. "We were sort of on a mission to go the distance this year and get the state title. It was the result of a lot of hard work by our team as we improved and grew together. I wouldn't change anything that's happened to us this season."
The softball diamond isn't the only place Davis excels. She maintained a 3.89 GPA in the classroom and plans to major in pre-medicine, specializing in biomedical science, at Auburn.
June, 3, 2012
6/03/12
9:03
AM ET
By
Mark Tennis
| ESPN.com
Norco (Calif.) clinched the No. 1 spot in the final
POWERADE FAB 50
national softball rankings on Saturday night with a 6-4 win over Santiago (Corona, Calif.) in the CIF Southern Section Division I title game in Irvine, Calif.
Norco (31-2), which became a national title contender in March when it won top honors at a national invitational tournament in Bullhead City, Ariz., started the week No. 1 in the FAB 50. The Cougars advanced to Saturday's final with a 4-0 win over Vista Murrieta (Murrieta, Calif.) in last Tuesday's semifinals.
While Santiago entered Saturday's game with nine losses, the Sharks did get a win over Norco during league play and had been averaging 9.7 runs per game since a change in the lineup nearly four weeks ago. Santiago also was the CIFSS Division I defending champion.
Amanda Sandoval gave Norco a 1-0 lead in the second inning with an RBI single. Pitcher Emily Lockman then helped her own cause with an RBI double in the third to make it 2-0, and later in the game she ripped a second RBI double.
Taylor Koenig also had two RBI singles, and the Cougars took a 6-0 lead into the fifth inning. That's when Santiago came up with a four-run outburst that was helped by a two-run error.
Lockman, who is headed to Nebraska, then knuckled down and set down the Sharks in the sixth and seventh innings.
If Norco had lost, Porter Ridge (Indian Trail, N.C.) would have likely claimed the national title.
The Pirates were No. 3 in the most recent FAB 50 and on Saturday completed a two-game sweep against Holly Springs (N.C.) to win the North Carolina Class 4A state title. Their final record stands at 33-1. Auburn-bound Lexi Davis pitched shutouts in both of the team's 2-0 victories.
Amador Valley (Pleasanton, Calif.) was No. 2 and entered the CIF North Coast Section Division I championship on Friday at St. Mary's College in Moraga, Calif., with a 26-0 record. The Dons, however, fell out of No. 1 contention by losing 1-0 to James Logan (Union City, Calif.).
Amador Valley came within inches of scoring the tying run in the bottom of the seventh inning. With two outs and sophomore Ashley Lotoszynski at second base, Zoe Price singled to center. Lotoszynski did not score because of a strong throw by Logan center fielder Marissa Perez and a perfectly executed tag by catcher Caley Bonansea.
"We had to play flawless in the field, and we knew that just one mistake might be too much," said Logan coach Teri Johnson, whose team avenged its only loss and is sure to move up from No. 16 in the FAB 50. "The way we bonded this year was just great. This couldn't have happened to a better group of girls."
Note:
Norco also won the CIF Southern Section Division I title three years ago and finished No. 3 in the final POWERADE FAB 50 national rankings with a 32-2 record. Archbishop Mitty (San Jose, Calif.) went 32-0 and was No. 1 in the nation. Mitty's standout player at the time, Keilani Ricketts, is now starring in the College Softball World Series for Oklahoma.
May, 23, 2012
5/23/12
1:20
PM ET
By
Mark Tennis
and
Doug Huff
| ESPN.com
While the order for this week's
POWERADE FAB 50
was finalized earlier on Tuesday, it was hard to ignore that the top three teams in the nation were all playing later in the evening and that all three could have lost.
Those results won't be reflected in the rankings until next week, but the big news was that No. 3 Alexander Central (Taylorsville, N.C.) lost 1-0 in its showdown with unbeaten No. 7 Porter Ridge (Indian Trail, N.C.) in the fourth round of the Class 4A state playoffs.
Auburn-bound Lexi Davis of Porter Ridge outdueled Georgia-bound Chelsea Wilkinson of Alexander Central, although Wilkinson had a perfect game going with 17 strikeouts until the seventh inning. Porter Ridge got two hits in that inning, including a two-out RBI single by Kayleigh Jones. Davis then set down Alexander Central in the bottom of the inning.
The top two teams in the FAB 50 -- No. 1 Norco (Calif.) and No. 2 Pacifica (Garden Grove, Calif.) -- both won in CIF Southern Section Division I playoff games. Norco topped Etiwanda (Calif.) 2-0 while Pacifica blanked No. 23 Royal (Simi Valley, Calif.) 2-0. The two could meet in the title game on either June 1 or June 2.
Click here for the complete Week 12 rankings.