High-SchoolSoftball:

Softball strategy
June, 8, 2012
6/08/12
8:34
AM ET
By
Casey Stangel
| ESPN.com
Casey Stangel is a junior pitcher at Lake City High School (Coeur d'Alene, Idaho) who also plays for the SoCal Explosion. She was named the Gatorade State Player of the Year in Idaho in 2012 and has committed to play college softball at the University of Missouri. She will blog for ESPNHS throughout the 2012 season.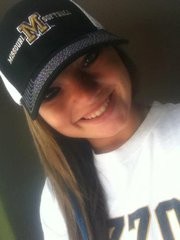 Courtesy of Casey StangelCasey Stangel
The first, the fourth and the seventh; they change a game. Every inning of a game is important, and must be filled with focus and effort. But these three innings are so huge to me and are what I consider game-changers.
The first
When you run out onto the field, it is time to make a statement. The other team gets its first look at you and they evaluate you. It is crucial to leave no doubt in the opponent's mind that they have a challenge ahead. When I throw the first pitch, it has to pop, and from that moment forward, it's on. A goal for me is to always get the momentum on our side in the first inning. When you go 1-2-3 through their hitters, it leaves a mark. The top of a lineup is typically the "igniters," they are the people who are the strongest and really know how to get the job done. When you shut them down, it puts on a lot of pressure. On the offensive side of things, the first inning is when it really counts. When you are loud and get base runners on, it creates an energy and momentum that is critical in big games. When your team is taking some strong hacks and putting people on base in the first inning, it puts a lot of pressure on the opposing side.
The fourth
By now, you are more familiar with the other team's hitters and their pitcher. In this inning, it is time to take all of the information you have gathered and hit the gas. I have found that this is where teams get lazy, because you're halfway through and people are getting tired. The fourth inning is where I really tell myself to focus and work hard at spinning and spotting the ball on the mound. It is a point in the game when teams can steal back momentum, and that is the last thing I want to happen. Really pushing yourself, and upping your focus from this moment in the game forward, is extremely important.
The seventh
When you are training outside of games, and you are on your last sprints of the day, that is when you need to think
seventh inning.
You're tired, emotions are all over the place, and the game is on the line. This is closing time, and it requires everything you have physically and mentally. As an example, in Game 2 of the Women's College World Series, Alabama was up 8-1 in the seventh on Oklahoma. The second Jackie Traina stepped on the mound she needed to focus and put OU away. I felt like she did something that so many players do in situations like this -- she relaxed. In games like that, you cannot let up or lose focus until the last out of the seventh inning. Oklahoma showed its strong hitting skills and came back with five runs in the seventh. Opposite of Alabama, Oklahoma approached the seventh correctly and went all-out. Luckily for Traina, she got refocused and executed, leading her team to an 8-6 victory. Even players as amazing as Traina have these moments, and that is why I believe it is so important to practice them in every game.
If you are playing an exposure game that nobody is keeping score of, or if you are in the World Series in Oklahoma City, you have to play all-out. Seven innings of pure competing with the other team and never letting up. Have fun, be crazy with your team in the dugout; but when it comes time to do your job, make sure you do it with focus. Take every inning seriously – especially the first, fourth and seventh -- and you will never be disappointed.
Read the previous installment of Casey's blog – on the lessons she learned from her state championship loss – here.
May, 1, 2012
5/01/12
9:50
AM ET
By
Andrea Hawkins
| ESPN.com
Andrea Hawkins is a senior center fielder for Bay City (Texas) and Texas Impact Gold. She has signed to play at Alabama. She will blog for ESPNHS throughout the 2012 season.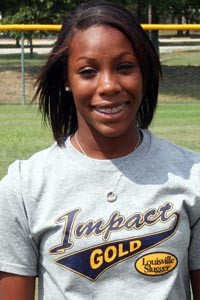 ESPNHSAndrea Hawkins
Being versatile is a big plus in softball today. I am a slapper, and my objective is to put the ball in play. I start in the left-handed batter's box, run toward the pitcher and make contact with the ball moving toward me. My goal is to hit the ball to the left side of the infield, utilize my speed to get on base and to put pressure on the defense.
Being able to read the defense allows me to determine if I am going to slap, bunt or swing away, and that keeps the defense guessing.
When I come up to bat, I usually show bunt the first pitch to see how the second baseman moves. I look to see how fast she gets to first base, or if she breaks early. The shortstop might even break to second base. If I see this, I know I can fake bunt, slap and get on first safely.
If I see the defense playing back close to the bases, I lay down a bunt and beat the throw to first base.
If the field is hard, I slap the ball into the ground to get a high bounce.
If the defense is playing in, I can pop it over the infielders' heads as a blooper shot.
A slapper's goal is to put the ball in play, get on base, then steal a base to get into scoring position and score on the next base hit.
When I come up to bat later in the game, the defense thinks I can't hit a long ball and they will be playing shallow. When you see this, feel free to swing away and drive the ball over their heads. They will not be expecting it. After they see you swing away, they will not know whether to play you shallow or deep.
All of this takes a lot of practice, a lot of discipline at the plate and getting to know how the defense works. But as you can tell, being a triple threat is a tremendous advantage. It keeps the defense guessing and increases your chances of getting on base.
Read the previous installment of Andrea's blog -- on the importance of swagger -- here.