High-SchoolSoftball:

Softball workouts
August, 17, 2012
8/17/12
8:12
AM ET
Casey Stangel is a senior-to-be pitcher at Lake City High School (Coeur d'Alene, Idaho) who also plays for the SoCal Explosion. She was named the Gatorade State Player of the Year in Idaho in 2012 and has committed to play college softball at the University of Missouri. She will blog for ESPNHS throughout the 2012 season.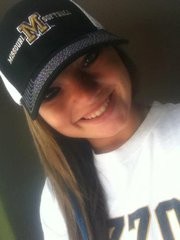 Courtesy of Casey StangelCasey Stangel
As my summer season came to an end, it was a very sad time for me because softball was all over for the year. That said, I am coming into one of my favorite seasons of softball (because there is never an offseason). The season I am talking about is what I call my "rebuilding" period. Most players out there are taking some time off right about now. Here are some good tips and things to do to stay at the top of your game without actually playing the game!
Yoga:
I have found that as I get older, I get a lot more sore. Yoga is huge for me because while I am letting my muscles heal from the pounding over the whole year, I get to stay flexible and active. I recommend doing yoga up to three times a week to stay functional and flexible. It also gives you a great core workout and works muscles that softball players don't typically use.
Pilates:
As a softball player, the majority of our motions are rotational, so core is huge. I think a lot of players overlook how important it really is. During this rebuilding period, tear up your core workouts, and Pilates is a great way to do it. A one-hour class will leave your midsection feeling stronger, and it will also focus in on muscles that we don't normally focus on using.
Long-distance running:
Nobody wants to do it, but it's a very important element of your overall athleticism. It will also help break up some of the lactic acid that has built up in your muscles from all the work over the spring and summer. I recommend starting around 25-30 minutes, and then adding 5 minutes every other run. Push yourself, but know your limits.
Swimming:
Swimming is such a great workout because it is easy on your joints and it is total cross training from a normal softball player's workouts. If you are lucky to live by a lake, swim along a shoreline for 30-45 minutes, or in a pool at the gym, and that should be around one mile. It is a fantastic full-body exercise that will leave you feeling tired but not torn up.
Mix up your cardio:
Running up and down all of the bleachers at your high school football field, and then around the track continuously for 30 minutes is a different workout that will be challenging but not overwhelming. Sprints up hills are good as well, targeting different muscles that will help with explosiveness. Dynamic workouts in the sand (High knees, high skips, long jumps, shuffles, lateral jumps, karaokes, etc.) are awesome as well.
Working your body out beyond playing catch, taking ground/fly balls, hitting and pitching is huge during this period. Find your weak muscles, and make them stronger. Work on flexibility and break up all of the soreness that you have from the long summer season. Just because you are taking time off of softball doesn't mean you can drop your endurance and athleticism.
Remember, to be the best, you have to outwork everyone else!
Read the previous installment of Casey's blog -- on playing without fear -- here.
April, 6, 2012
4/06/12
9:00
AM ET
By
Casey Stangel
| ESPN.com
Casey Stangel is a junior pitcher at Lake City High School (Coeur d'Alene, Idaho) who also plays for the SoCal Explosion. Her high school team won the Class 5A state softball championship last season and she has committed to play college softball at the University of Missouri. She will blog for ESPNHS throughout the 2012 season.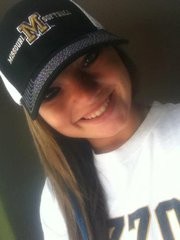 Courtesy of Casey StangelCasey Stangel
There is no better feeling than that last sprint after practice or that last rep in the weight room because you feel so accomplished. Working out is an important part of our sport, whether it's lifting, running, yoga, pilates, or even swimming.
Lifting:
As a softball player, having strong fast-twitch muscles is crucial. We go from being at a standstill to having to react in the blink of an eye, so strengthening those muscles is something that should be a priority. We must also keep strong lower and upper bodies to maximize our power at the plate. Time in the weight room is a must to work on these different muscle groups.
Running:
Our sport is not like soccer or basketball, where we have to be running 24/7, but we do have to be in good shape. To be able to keep you legs under you in that nine-inning 0-0 game, you must have endurance. I do a good 30-minute run a couple times a week to make sure I have the endurance to get through a game. In addition to long-distance running, sprint and agility work helps. Try running 40-yard dashes, speed ladders, sprinting football fields, shuttle runs, resistance cord sprints and quick sprints while changing direction.
Yoga/Pilates:
Don't we all just love getting into random positions and holding them until it feels like our muscles are going to snap? Oh yes, the beauty of yoga! But yoga is such a great benefit to us because we have so much more range if we're flexible. When your muscles have that range and flexibility, you move freer and quicker. Yoga also provides the benefit of learning to control your breathing. For example, when you hit, you should be exhaling, letting it all out and putting all your power into the ball. Knowing how to control my inhales and exhales are something I have really enjoyed and apply to my work on the field every day. As for Pilates, when you ask someone who hasn't tried it, they will usually tell you it's an easy thing old people do. If you ask someone who has, they will start ranting about how hard it was, and how the next day their abs hurt so bad that they didn't think they would ever recover. Pilates is core, core, core and more core. In our sport, we use our core in everything -- hitting, pitching, fielding, throwing, all of it. To get your core to its strongest, I recommend going to a Pilates class, because it will kick your abs.
Swimming:
As a pitcher, I rely on my swim work to the extreme. It opens up my hips and strengthens my shoulders and forearms as well. Swimming movements are nice on your body, too, if you're really sore from a game the day before but need to get a workout in. And, it's not just for pitchers, either, position players can benefit, too.
Remember that there are a lot of different things we have to do to be the best, and hard work is the driving factor. Though it is a lot to do in a day, all of these are important to our success.
Our bodies are a reflection of us as athletes, and we need to take care of them, and make them ready for all the things we put them through.
Don't be afraid to hit the weight room, or pound the pavement, it can only make you better.
Read the previous installment of Casey's blog – how she knew Missouri was her perfect fit – here.