High-SchoolSoftball:

Women's College World Series
June, 13, 2012
6/13/12
11:09
AM ET
By
Andrew Linnehan
| ESPN.com
It was an atmosphere of heightened excitement that a tourism bureau salivates over. Earlier this month, Oklahoma City aroused the jealousy of even the country's premier metropolises.
On one side of the city, you found the Oklahoma City Thunder hosting the San Antonio Spurs in the NBA's Western Conference finals, where superstars crowded the hardwood as they vied for the most coveted prize in their sport. Across town was the Women's College World Series, the mecca for softball players, coaches, parents, fans and families who immerse themselves in what is one of the fastest-growing women's sport in America.
One father and daughter undertook a 16-hour drive from Watkinsville, Ga., to partake in the softball festivities. Both have backstories that aren't quite typical of the average ticket-holders.
In the driver's seat was Gerry Glasco, father of three girls who all grew up playing softball. Glasco is the associate head softball coach at the University of Georgia, and he was hoping to be on a flight with his team to Hall of Fame Stadium. Instead, his Bulldogs lost a hotly contested battle with Tennessee in the NCAA Super Regionals, and days later Glasco was booking his own hotel room and pulling in and out of rest areas on I-40 en route to the WCWS.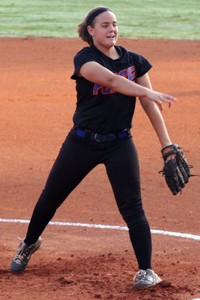 Courtesy of the Glasco familyGeri Ann Glasco went 19-0 during her senior season at Oconee County (Watkinsville, Ga.).
Next to Gerry was his youngest daughter, Geri Ann, a highly touted senior pitcher from Oconee County (Watkinsville, Ga.) who will play for her dad at Georgia next fall. As Geri Ann unpacked in her Oklahoma City hotel room, she couldn't help but hope that there's a black and red jersey in her suitcase next year.
And, perhaps thankfully for both father and daughter, Geri Ann's arm and bat might help dictate the Bulldogs' path back to softball's Graceland.
As a senior at Oconee County, Geri Ann set the Peach State ablaze last fall with a dual-threat repertoire that so many top-tier college coaches covet nowadays. From the circle, she was rarely touchable, compiling a 62-8 record and a 0.91 ERA over her four-year career at Oconee that culminated in a perfect 19-0 senior campaign and a state championship. At the plate, Geri Ann was just as successful, hitting for average (.480) and power, setting Georgia state records for both homers (47) and RBI (177). On Wednesday, she was named the Gatorade National Player of the Year.
"One thing that's amazing about her is her work ethic," said Gerry. "She'll just go hit on a tee for 45 minutes every night before bed. And she never gets burned out because all of this work she does is because she wants to do it, not because someone else is telling her to do it."
One catalyst for Geri Ann's drive and determination might have been her constant need to impress a much older softball contingent. When she was 12, Geri Ann found herself playing on 16-and-under travel teams where conversations centered on where her teammates were going to play college softball. Geri Ann didn't even know what high school she would attend. A year later, she found out. Gerry was offered a position on the coaching staff at the University of Georgia, and the family migrated south from Illinois.
For the next four years, Geri Ann lived a mere 10 minutes away from the field on which her dad's college team practiced. So she had the unusual opportunity to spend a lot of time, as a high school player, on a college softball field, practicing with Division I college stars like Alisa Goler and Taylor Schlopy.
And as her elder role models were busy making trips to Oklahoma City to compete in the Women's College World Series (Georgia made the field of eight in 2009 and 2010), Geri Ann kept dominating the high school scene, garnering scholarship offers from the most storied of college programs.
"She was invited to UCLA and Arizona and just about every other school in the Pac-12," said Gerry. "And she kept telling me that she didn't want to go and have to say 'no.' "
That was because, even as a sophomore in high school, Geri Ann had already made up her mind. With her mom battling breast cancer (she's cancer-free now) and her dad working just down the road, she wanted her future home to be as close as possible to her current home. In an era where it is common for high school stars and their families to visit upwards of 20 colleges, Geri Ann had only seen two, but she knew where she wanted to be. She quickly told Georgia head coach Lu Harris-Champer that she would love to be a Bulldog.
"I had never been on Georgia's campus until my sophomore year in high school, but as soon as they brought me on a visit and I saw campus I knew it was where I wanted to be," said Geri Ann. "It is a perfect combination of things. They have two of the majors I'm interested in (sports management and special education), it's close to home, and my dad will be my hitting coach and he knows my swing really well."
Gerry says a big part of Geri Ann's unabashed commitment to Georgia was the attention and care Harris-Champer showed the family.
"She's been like an aunt to her, and I think that, combined with how important her mom is to her, left little doubt of where she wanted to be."
June, 11, 2012
6/11/12
10:43
AM ET
By
Andrea Hawkins
| ESPN.com
Andrea Hawkins just finished her senior season at Bay City (Texas), and she also plays for Texas Impact Gold. The center fielder has signed to play at Alabama. She will blog for ESPNHS throughout the 2012 season.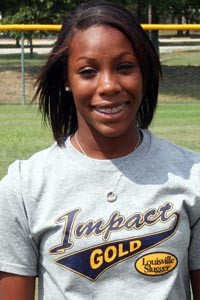 ESPNHSAndrea Hawkins
I just want to start off with a big Roll Tide Roll!
Ever since I was a child, I've always loved watching softball. During my freshman year, while I was visiting different colleges, Alabama really caught my attention -- I knew this college was something special.
Now everyone knows.
Ever since Alabama made it to the World Series, I could just picture the Tide winning the first SEC national championship. I came home every day that week and hopped on the couch ready to watch the games. When Alabama won the game that put it in the championship series, I knew I had to get together all my close friends to come over to watch with me. Even though I was away at freshman orientation in Alabama last Monday and Tuesday for the first two games, I still found a way to find a TV and watch the games with a lot of new friends I had just met.
The
championship game
was most exciting to me. I woke up Wednesday morning with the game on my mind. It felt like time was dragging! What made it even worse was the weather delay. All kinds of thoughts were going through my head. I wondered how the weather was going to impact the teams. Will they be pumped up? Since it was late, are they going to be tired? And then, finally, the game began.
My friend's dad invited my family over to eat and to watch the game. My emotions were all over the place. I sat on the edge of my seat the entire game. I would jump up and down and do a little dance every time a great play was made or Jackie Traina struck someone out.
Alabama made an amazing comeback in the fourth inning and it pumped me up even more. The only thing I was thinking was I hope I have the opportunity to experience this excitement next year.
In the seventh inning, my heart was racing. I didn't know what to think, but I had faith in my team. As soon as Jackie struck out the last batter, I jumped and screamed for joy!
It's such a blessing to know that I will be a part of such an amazing program. I can't wait to get back to Alabama in August to start this next chapter of my life.
Roll Tide!
Read the previous installment of Andrea's blog – secrets of a slap hitter -- here.