High-SchoolTexas:

ESPNHS Magazine
November, 30, 2011
11/30/11
5:15
PM ET
By
Brandon Parker
| ESPN.com
This story originally appeared in the Holiday issue of ESPNHS magazine's Texas edition. Marcus is now 8-0 entering Friday's game against Lancaster.

Just about everywhere
Phil Forte
turned, the painful reminder was there. Plastered on his bedroom wall and hanging in his basketball locker was an article about Marcus' 45-43 loss in the 2010 Class 5A state semifinals.
"I wanted it there because I knew it was going to push me and our team to work harder," Forte says.
Marcus Smart
couldn't avoid the memory, either. So the talented guard made a pact with his best friend that the 2010-11 season would not end in defeat. The duo made good on that promise, leading the Marauders to the coveted state championship.
"Barely a year from that day, we had been on the ground crying because we lost," says Smart, the reigning Gatorade State Player of the Year, "and now we were on the ground crying because we had won. It was amazing."
Just as amazing is that Marcus, which has gone 75-4 over the last two years, returns its four top players in Smart, Forte,
Nick Banyard
and
A.J. Luckey
. With the talent and experience brimming from this squad, a repeat title might seem like a foregone conclusion. But Marauders coach Danny Henderson says not so fast.
"I know the fans mean well, but when you're constantly focusing on a repeat, it takes the fun out of the season and pressure mounts," the coach says. "Sometimes the journey can be just as good as — or better than — the end."
The road will certainly be a tough one. On the Marauders' schedule are games against
POWERADE FAB 50
teams Findlay Prep (Henderson, Nev.) and Montrose Christian (Rockville, Md.). But Forte, who still keeps those articles in clear view, knows Marcus has the tools and drive to produce another happy ending.
"There's a target on our back," he says. "But we're not going to let anyone outwork us."
Brandon Parker covers Texas for ESPNHS magazine and ESPNHS.com. Follow him on Twitter @brandoncparker or email him at brandon.c.parker@espn.com.
November, 18, 2011
11/18/11
10:41
AM ET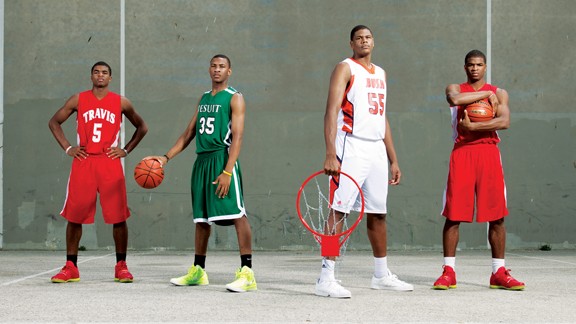 Kelly Kline/ESPNHSHere are four reasons why Texas hoops is the cream of crop this year: (from left) Fort Bend Travis junior Andrew Harrison, Strake Jesuit senior Rasheed Sulaimon, Bush senior Cameron Ridley and Fort Bend Travis junior Aaron Harrison.
This story originally appeared in the Holiday issue of ESPNHS magazine's Texas edition.
The Lone Star State has turned out plenty of basketball talent over the years, from a surefire Hall of Famer like Shaquille O'Neal to a modern superstar like Deron Williams. Texas has produced a few juggernaut teams as well, including Chris Bosh's 40-0 Lincoln team from 2001-02 and Yates' record-setting 34-0 squad in 2009-10 — both teams that finished as state and national champions.
But no matter how good the individuals or the teams, Texas has always been thought of as a football state. That's never going to change. Nor should it. Texas is the home of high school football. But this winter, it's also the home of high school basketball.
The 2011-12 season has the potential to go down as the best in state history. There are individual superstars aplenty and teams built to dominate. There are established seniors and upstart underclassmen. And ultimately, there's sure to be plenty of drama along the way.
We couldn't cover it all in these four pages, but we did our best. So read on for a sampling of the players and teams to watch in what is sure to be an unforgettable season of high school basketball.
September, 28, 2011
9/28/11
12:45
PM ET
By
Brandon Parker
| ESPN.com
Our annual Texas All-State soccer team was unveiled in the October edition of
ESPNHS magazine
, which hit schools this week. See who made the cut in the Lone Star State and let us know your thoughts:
Texas All-State Soccer
Starting 11
[F] Caleb Richardson, Marcus, Senior, Dallas Texans
Had 12 goals, five assists for Texans; top-rated SPARQ player in USSDA
[F] Leobardo Vazquez, South Houston, Senior, Texans SC Houston
Scored a team-high 10 goals for club team this past season
[MF] Bryan Celis, Mayde Creek, Senior, Houston Dynamo Academy
Scoring threat had stint in U-17 Residency Program as sophomore
August, 22, 2011
8/22/11
11:43
AM ET
By
Brandon Parker
| ESPN.com
As featured in the ESPNHS Texas magazine that hits schools this week, here is our All-State Football Team along with 100 other players to watch.
(
The team is based on projected on-field performance and accomplishments, not necessarily recruiting potential. For a list of the top football recruits in the state, click here
)
Want to see the All-State teams for the other 49 states?
We've got 'em right here
.
2011 TEXAS ALL-STATE FOOTBALL
FIRST TEAM OFFENSE

Bralon Addison, Hightower, QB, Senior

Dual-threat Texas A&M pledge totaled 2,926 yards and 43 TDs in '10
Johnathan Gray, Aledo, RB, Senior

No. 8 recruit in ESPNU 150 broke stake mark for rush TDs in a year with 59
Jonathan Williams, Allen, RB, Senior

Ran for 2,048 yards and 19 TDs; big key to state's top-ranked team