High-SchoolTexas:

Alec Morris
November, 17, 2011
11/17/11
4:14
PM ET
By
Brandon Parker
| ESPN.com
Allen versus Euless Trinity. It's not every day or year that a matchup like this happens in the second round of all times in the playoffs. Only in Texas.
The No. 1 Eagles face their greatest test of the year in No. 3 Trinity, pitting an explosive offense against a defense that hasn't broken — let alone bent — this season. The Trojans actually enter this matchup with the momentum and upper hand for several reasons:
-Trinity ended Allen's season last year in the second round with a 37-35 decision.
-Allen has had to put together late-game rallies in each of its last six games.
-The Trojans D isn't much for allowing comebacks, as it's given up less than 12 points per game this year.
Still, there's a reason Allen has been able to avoid so many upset bids. Having the likes of RB Jonathan Williams and efficient QB Alec Morris leading the offense makes it hard for defenses to hold down the Eagles, who can score in bunches and in a hurry. The Trojans love to eat up the clock behind their running back Joel Kimplea, and it's safe to say they will do the same to reduce Allen's offensive opportunities.
The onus will be on Allen's defense to slow down Trinity's run game and make sure the Eagles' offense can take control of the contest. Should be another classic matchup.
My pick:
Allen 38, Trinity 35
Skyline vs. DeSoto
These two also met in the playoffs last year, but it was far from a barnburner as DeSoto shut out Skyline, 38-0. Like most, I'm expecting a much closer game this time around. Division I talent will be all over the field in this matchup, from Skyline WR Thomas Johnson and LB Peter Jinkens to DeSoto DB Bryson Echols and OL Curtis Riser. On paper, Skyline has the advantage from the offensive firepower wielded by Johnson and QB Devante Kincaide along with a nasty defense that's surrendered just 5.7 points per game this year. But DeSoto has played a slightly tougher schedule, facing the likes of Longview and Cedar Hill. This could be a shootout, leaving it up to one of the defenses to assert itself as the X-factor.
My pick:
Skyline 35, DeSoto 31
Southlake Carroll vs. Cedar Hill
After struggling in their first-round contests, these two face off with high offensive hopes. Quarterback Kenny Hill leads the way for Southlake Carroll, as he's capable of making plays with his arms and legs. Cedar Hill gets most of its yards behind junior running back Laquvionte Gonzalez, who averages almost 10 yards per carry. Neither defense has been great this season, but Cedar Hill showed signs by allowing less than 200 yards in last week's win against L.D. Bell.
My pick:
Southlake Carroll 24, Cedar Hill 20
Brandon Parker covers Texas for ESPNHS magazine and ESPNHIGHSCHOOL.com. Follow him on Twitter @brandoncparker or email him at brandon.c.parker@espn.com.
October, 24, 2011
10/24/11
12:31
PM ET
By
Randy Jennings, Mark Tennis
and
Brandon Parker
| ESPN.com
Results as of Sunday, October 23
It has been a perilous three weeks for No. 1 Allen. The Eagles (8-0) have trailed in three consecutive games, but somehow found ways to remain unbeaten thanks to clutch comebacks. Allen couldn't have cut it much closer than in its latest victory, 38-35 over 7-1 Marcus (Flower Mound) on Friday. With eight seconds on the clock, Eagles quarterback Alec Morris threw a 16-yard touchdown pass to Oliver Pierce for the winning score.
Although it hasn't cost Allen yet, opponents are averaging 34 points a game over the last three games, a number the Eagles need to lower come playoff time. With one slip by Allen, No. 2 Katy is poised to take over the top spot. The Tigers (8-0) have outscored opponents, 350-30. Seven points is the most surrendered by Katy in a game this season. Allen could have its hands full again on Friday when it goes on the road to play another strong District 8-5A team, 6-2 Hebron (Carrollton) at Hawks Stadium.
Allen-Marcus was one of three district showdowns matching top 25 ranked teams last weekend. In the San Antonio area, No. 7 Steele (Cibolo) prevailed over No. 23 Judson (Converse) 34-20 and in North Texas, No. 24 Cedar Hill held off No. 25 Mansfield, 42-34.
Nationally, Steele moved up one spot to No. 38 in the
POWERADE FAB 50
.
Here's this week's top 25 (Last week's ranking in parentheses):
1. Allen 8-0 (1)
The Eagles used only 90 seconds on their winning drive that ended in a 16-yard Alec Morris to Oliver Pierce touchdown pass with eight seconds remaining for a 38-35 win over 7-1 Marcus (Flower Mound). Morris, an Alabama commit, threw for 341 yards and four touchdowns. Allen visits 6-2 Hebron (Carrollton) on Friday.
2. Katy 8-0 (2)
Freshman Rodney Anderson rushed for 115 yards and two touchdowns while quarterback Brooks Haack threw for two scores in the Tigers' 45-0 rout of 5-3 Memorial (Houston). On Saturday, the Tigers face 1-7 Taylor (Katy).
3. Euless Trinity 9-0 (3)
Trinity's defense limited 4-4 Grapevine to 156 total yards in a 38-0 whitewash, its third shutout of the season and its 26th consecutive regular season victory. The Trojans, open this week, close the regular season on the road against MacArthur (Irving) on Nov. 3.
Click here for the full POWERADE weekly Texas football rankings
October, 20, 2011
10/20/11
11:34
AM ET
By
Brandon Parker
| ESPN.com
After a relatively normal week of Texas football, plenty of fireworks could take place in some big weekend showdowns.
Let's start with the state's top team, 7-0 Allen, which battles a surging FM Marcus squad (7-0) that's reached No. 14 in the rankings. Both teams are coming off cardiac wins. Allen needed 13 points in the fourth quarter to complete a come-from-behind, 40-28 win against Plano West. Likewise, if not for a 14-yard touchdown run by Jeff Smiley with 24 seconds left, Marcus wouldn't have escaped with a 28-24 victory against Plano.
Offense won't be a problem for either team. Allen boasts quarterback Alec Morris (five total TDs last week) and has benefited from the return of tailback Jonathan Williams. On the other side, Smiley paced the Marauders last week with 103 rushing yards and three scores.
One team will leave the field with its first loss and the X-factor will be the Marcus defense, which has struggled of late, allowing an average of 36.3 points in its last three games against high-powered offenses.
My pick:
Allen 42, FM Marcus 31
No. 7 Steele (7-0) at No. 23 Judson (6-1)
It's been 20 games since Steele lost a game, and with the way quarterback Tommy Armstrong has been playing, the defending Class 5A, Division II champs seemed primed for another title run. The Nebraska commit had five touchdowns (three passing, two scoring) in last week's win against New Braunfels.
But the Knights will enter a hostile environment Thursday night when they travel to face Judson. After falling to Wagner, the Rockets got back to their winning ways last week with a 45-6 victory against Seguin. RB Quaylon Jones serves as the Rockets' sparkplug, as he had 170 yards and two scores last week.
Whether Judson can stop Armstrong from opening up the field with his dual threat will be key in deciding this District 25-5A showdown.
My pick:
Steele 35, Judson 27
No. 9 Southlake Carroll (7-0) at Keller Central (6-1)
An upstart Fossil Ridge squad that nearly knocked off Southlake Carroll handed Keller Central its first loss of the season last week, leaving the Chargers in search of redemption entering this week's big Division 7-5A matchup.
The quarterbacks and top receivers for each squad will be the focus in this contest. For Southlake Carroll, Kenny Hill can make plays with his arm (1,584 passing yards and 13 TDs) and legs (nine rushing scores), but he's most proficient when hooking up with WR/DB Sabian Holmes through the air. The senior wideout has 584 receiving yards and six touchdowns.
Holmes will also likely be lined up against Keller Central's top WR, Zach Sanchez, who has 28 catches, 769 yards and eight TDs. The Dragons defense will be tasked with slowing down Central QB Tanner Tausch, one of the area's top gunslingers with 1,445 yards, 15 scores and just three picks.
Southlake Carroll's defense was stout last week against Coppell, allowing just 10 points, and a similar effort will be needed versus Keller Central's slew of weapons.
My pick: Southlake Carroll 27, Keller Central 20
Brandon Parker covers Texas for ESPNHS magazine and ESPNHIGHSCHOOL.com. Follow him on Twitter @brandoncparker or email him at brandon.c.parker@espn.com.
October, 17, 2011
10/17/11
2:15
PM ET
By
Brandon Parker
| ESPN.com
Results as of Saturday, Oct. 15.
With few upsets in Week 7, there was very little movement in the state rankings. But that could change this week. Three Week 8 games pit Top 25 teams against each other in district contests.
Heading the list, No. 1 Allen visits No. 14 Marcus (Flower Mound). Both teams are 7-0 and the winner will take command of the contentious District 8-5A race in North Texas.
San Antonio area powers Steele (Cibolo) and Judson (Converse) meet in a District 25-5A showdown on Thursday night. No. 7 Steele (7-0), the defending Class 5A Division II state champion, has won 20 games in a row, dating back to the third game of the 2010 season. No. 23 Judson (6-1), has a rich tradition, having won six state championship titles.
Debuting in the rankings this week at No. 25 is Mansfield. The Tigers are 7-0 for the first time in 41 years and will host No. 24 Cedar Hill (5-2) with the District 5-5A lead at stake. Cedar Hill's losses have come at the hands of Allen and No. 5 DeSoto.
Nationally, Southlake Carroll is now knocking on t
he POWERADE FAB 50
doorstep, as the Dragons received votes for the first time this season.
Here's this week's top 25 (last week's rankings are in parentheses):
1. Allen 7-0 (1)
The Eagles survived a scare for the second straight week, scoring 13 points in the fourth quarter of a come-from-behind 40-28 triumph over 4-3 Plano West (Plano). Alabama-bound quarterback Alec Morris, who threw for four scores, put Allen ahead with an 18-yard touchdown run. Next is a road showdown with 7-0 Marcus (Flower Mound) for the District 8-5A lead on Friday.
2. Katy 7-0 (2)
The Tigers took care of business quickly, reeling off five touchdowns in the first 14 minutes of a 52-0 pasting of 1-6 Mayde Creek (Houston). Quarterback Brooks Haack threw for three touchdowns and rushed for another. On Friday, the Tigers face 5-2 Memorial (Houston).
3. Euless Trinity 8-0 (3)
The Trojans took command early with 42 points in the first 13 minutes of a 49-9 sinking of 2-5 Nimitz (Irving). On Friday, Trinity goes for its 26th consecutive regular season win at 4-3 Grapevine.
Click here for the full POWERADE weekly Texas football rankings
October, 6, 2011
10/06/11
11:24
AM ET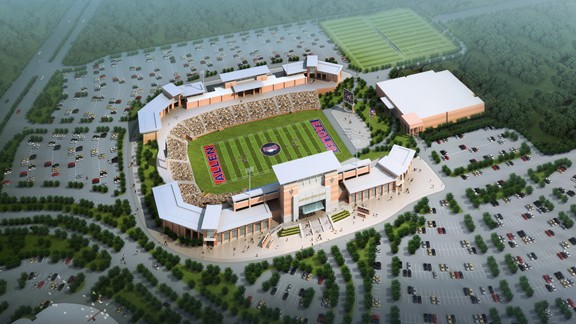 PBK/OtherAllen's new $59.6 million stadium will be open in time for the 2012 kickoff.
Entering this season ranked
No. 3 in the POWERADE FAB 50
and
tops in the state of Texas
, Allen (Allen, Texas) has lived up the hype by going 5-0 and maintaining its lofty spot in the rankings. The Eagles have been led by quarterback
Alec Morris
(1,357 yards, 19 touchdowns, zero interceptions) and a defense that is allowing just 11.2 points per game. They will look to continue this dominance tonight against Plano East (Plano, Texas) at 6 p.m. on ESPN2.
Just as big as the Eagles' play on the field is
the huge stadium slated to open at the start of the 2012 season
. For an idea of just how major this new stadium will be, here are some numbers that break it all down:
$59.6 million
— Overall cost of the project. The money was allocated as part of a larger $119 million bond to upgrade the school, including an allotment toward building a new performing arts center. The bond was approved with 63 percent of a public vote in 2009.
5,250
— Current enrollment at Allen High School. There are 3,855 students in grades 10-12 in the main building, while 1,395 freshmen are housed in another building.
18,000
— Approximate seating capacity at the new stadium, which will be called Eagle Stadium. There will be an upper deck, a weight room, an indoor practice space, a training room and a giant video scoreboard.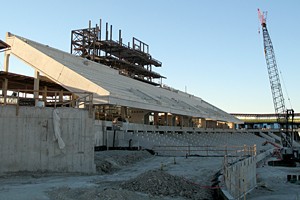 Matt Strasen/ESPNHSEagle Stadium will house a weight room, indoor practice space, training room and a giant video scoreboard.
14,000
— Approximate seating capacity at Allen's current stadium. Built in 1976, the current space can't handle the crowds that come out for Allen games, forcing the school to erect temporary bleachers or just turn some fans away.
600-plus
—
Active members of the Allen High marching band, making it the largest in the country. The stadium will also benefit the band, which will also use the new performance center.
1
— State championships won by the Allen football team. The Eagles went 15-1 in 2008, defeating Fort Bend Hightower (Missouri City, Texas) in the Class 5A Division I championship game.
October, 5, 2011
10/05/11
1:05
PM ET
By
Brandon Parker
| ESPN.com
Before the season starts, everybody's an expert, making predictions here and there about which teams will make noise in the rankings and which players will dominate on the gridiron. But with the midway point of the Texas football season upon us, now it's time to see who has really lived up to their billing, along with a few surprises.
And what better way to commemorate this time than with awards? So I now present to you the ESPNHS Texas midseason football awards (Feel free to offer your thoughts because, like I said, everybody has an opinion):
Player of the Year:

Johnathan Gray, Aledo RB
Were you expecting anyone else? There's really not much needed to justify
Gray's name
here except:
-93 carries, 1,384 yards (that's 14.88 yards per carry) 24 touchdowns.
-He's rushed for at least 209 yards and four touchdowns in all five of Aledo's games.
-He's the new state career leader in total points (932 and counting) and touchdowns (160 and counting), and he's moving up the national lists for total yards and touchdowns.
Offensive MVP:

Alec Morris, Allen QB
This spring,
Morris had zero college offers
. Now, with Allen sitting as the nation's No. 3 team at 5-0, the senior has a commitment to BCS power Alabama under his belt and plenty of national attention (This Thursday, the Eagles play Plano East on ESPN2). Morris has thrown for 1,387 yards, 19 touchdowns and
zero interceptions
, completed more than 61 percent of his passes and also rushed for two scores. Mind you, most of this production came as standout RB Jonathan Williams missed most of the first four games with a back injury. Perhaps his biggest performance came on the road in a tough Longview environment, where he threw for 368 yards and five scores in a 42-23 win.
September, 23, 2011
9/23/11
1:06
PM ET
By
Brandon Parker
| ESPN.com
Here's a shocker: Johnathan Gray set another record.
In the Bearcats' 62-17 win against Keller Timber Creek on Thursday, the senior tailback needed just eight carries to rack up 209 rushing yards and four touchdowns. That scoring output earned him the title of Texas' most prolific prep scorer ever, as Gray's current total of 920 points surpasses Sugar Land's Kenneth Hall (899) for most career points.
What's more, Gray, who's averaging almost five touchdowns a game, is just four points from moving into fourth nationally on the all-time scoring list.
To all Texas Longhorn fans: Yes, your team have questions at quarterback, but with freshman RB Malcolm Brown emerging and Gray headed to Austin next season, Mack Brown's squad might not ever need to pass the ball again.
With that said, let's move into this weekend's contests. As most teams move from their bye week into district play, there are quite a few intriguing matchups, but it's only natural to start at the top. So....
No. 1 Allen (3-0) at Plano (3-0)
History and the rankings aren't on Plano's side in this District 8-5A matchup, but when has that ever stopped an upset from happening? It's been six years since the Wildcats last beat Allen, with last season seeing them squander a 13-7 halftime lead. The Wildcats has shown offensive firepower during their 3-0 start, putting up 51 points per contest behind quarterback Richard Lagow's play (six TDs, no picks). But of course, the Eagles have their own standout QB in Alabama commit Alec Morris, who thrown for 13 touchdowns and zero interceptions. Plus, the bye week allowed tailback Jonathan Williams to get some much-needed rest for his ailing back, which could give the Eagles yet another weapon in an offense that was already averaging 43 points. It could be a shootout, but ultimately, Allen will again be too explosive for the Wildcats.
My pick:
Allen 42, Plano 31
Coleyville Heritage (4-0) at No. 3 Euless Trinity (4-0)
For just about the entire season, Coleyville Heritage has been knocking on the state rankings door. But with a win against a very tough Trinity squad, the Panthers could finally make their way in. Heritage has shown an ability to spread around the ball while shutting down the opposition, winning their last two games by a count of 75-3 and before that beating a solid Hebron squad. Thing is, Trinity has been just as good, if not better. The Trojans have put together consecutive 64-0 shutouts and won last week without throwing the ball once (See, I'm not crazy). Plus,
All-State defenders Brian Nance and Polo Manukainiu are back from injury
, making that unit even scarier.
My pick:
Trinity 38, Heritage 21
Bowie (2-1) at No. 10 Arlington Martin (3-0)
This one really could go either way, as both offenses and defenses are ones that deserve a salute. Not to mention it's a heated, District 4-5A rivalry game. Bowie is looking to bounce back after a big loss to No. 8 Skyline and the Warriors have the tools to do so. The offense boasts dual-threat QB Kolby Listenbee and tailback Russell Hansbrough while the defensive line is a handful. But Martin has successfully rode the backfield tandem of Kyle Hicks (361 rushing yards, six scores) and Cameron Williams (335 yards, four TDs). Plus, All-State defensive lineman Devonte Fields has rarely been stopped this year. Martin has the homefield advantage, but that can mean little in town rivalries. I smell an upset brewing.
My pick:
Bowie 24, Martin 21
Brandon Parker covers Texas for ESPNHS magazine and ESPNHIGHSCHOOL.com. Follow him on Twitter @brandoncparker or email him at brandon.c.parker@espn.com.
September, 13, 2011
9/13/11
2:17
AM ET
By
Randy Jennings, Mark Tennis
and
Brandon Parker
| ESPN.com
Allen and Lake Travis (Austin), No. 1 and No. 5 respectively in the ESPNHS Texas High School Rankings, proved worthy of high standing with convincing road wins on Friday against ranked foes.
Allen went to 3-0 with a 42-23 win in Longview, where Lobos losses are rarer than rain these days.
Lake Travis unveiled a passing attack featuring junior Baker Mayfield that had Aledo on its heels all evening. The Cavaliers proved a fifth straight state title is doable after a 62-35 blowout.
Running back Johnathan Gray did give the Aledo fans reason to cheer when he broke the state's all-time career touchdown record. He now has 148 after scoring four times against Lake Travis.
Defending Class 5A Division I state champion Pearland was the first casualty among top five ranked teams, losing to 2-1 Memorial, 17-14. The Oilers slipped 16 slots to No. 20.
Nationally, Steele moved into the final slot of the
POWERADE FAB 50
, leaving the number of Texas teams on the list at eight with Pearland dropping out.
Here's this week's top 25 (Last week's ranking in parentheses):
1. Allen 3-0 (1)

Senior quarterback Alec Morris threw for 368 yards and five touchdowns and Andrew Rodriguez made 11 catches for 212 yards and two scores in a 42-23 rout of 2-1 Longview. The Eagles, after an open week, begin District 8-5A play at 3-0 Plano on Sept. 23.
2. Katy 2-0
(2)

The Tigers enjoyed an open date and return to face 3-0 West Brook (Beaumont) on Saturday.
3. Euless Trinity 3-0 (3)

The Trojans out-gained Richland (North Richland Hills) 523 yards to 57 and rang up a 25-4 first down edge in a 64-0 landslide in a District 6-5A opener. Up next is a road trip to 0-3 Irving.
Click here for full POWERADE Weekly State Rankings
September, 12, 2011
9/12/11
2:43
PM ET
By
Brandon Parker
| ESPN.com
A mix of revenge, momentum and pride fueled Lake Travis in its Friday matchup against Aledo. The result was a stunning statement, a 62-35 victory for the Cavaliers and a 1-2 mark for the defending Class 4A, Division II champs.
The contest began as expected, with each team trading touchdowns on their way to a 14-14 tie in the first quarter. But the Cavaliers took over from there, using a high-powered passing offense behind once-backup, now-starter Baker Mayfield (434 yards and sixh touchdowns) to keep the Bearcats at bay. Griffin Gilbert did his usual damage, with seven catches for 116 yards and four TDs, and Zach Austin continued his emergence, snagging seven passes for 194 yards and two scores.
Even Colin Lagasse, who hasn't started at quarterback since Mayfield took over in the opener, got into the action, rushing for 105 yards and two touchdowns on 13 carries. With so many weapons at their disposal, the Cavaliers look primed for a fifth straight 4A state title.
Aledo, meanwhile, continues to struggle despite getting the typical production from
Johnathan Gray
. The Bearcats tailback finished with 263 yards and four touchdowns, moving him into first on the Texas career scoring list with 148. But the record was overshadowed by the loss, as an Aledo defense that's surrendered 39 points per game continued its struggles.
Allen 42, Longview 23
The Eagles did what seemed to be the impossible, not only winning but blowing out Longview on its homefield Friday. Alec Morris again led the way, putting up 368 passing yards and five touchdowns in the rout. Andrew Rodriguez was Morris' biggest target, catching 11 passes for 212 yards and two scores. Jonathan Williams missed his second straight game with back problems, but with a bye week on the horizon, chances are good that the senior RB can finally return and add yet another weapon to the loaded Eagles.
Pearland 17, Memorial 14
The defending Class 5A, Division I champs went down to Memorial in surprising fashion. The Oilers held on to a 14-10 lead with less than two minutes remaining, but Memorial marched down the field with ease before Justin White punctuated the drive and victory on an 11-yard score. White finished 209 total yards on the night.
Brandon Parker covers Texas for ESPNHS magazine and ESPNHIGHSCHOOL.com. Follow him on Twitter @brandoncparker or email him at brandon.c.parker@espn.com.
September, 9, 2011
9/09/11
4:37
PM ET
By
Brandon Parker
| ESPN.com
Class 4A supremacy is on the line as No. 6 Aledo (1-1) and No 14 Lake Travis (2-0) face off in a highly anticipated battle.
Aledo, the two-time defending Division II champs, looks well past its season-opening loss to a Stephenville team that appears to be no slouch. Johnathan Gray has been his normal self through it all, rushing for 556 yards and nine touchdowns. The Texas commit sits just three touchdowns away breaking the state record for career scores, a mark that most expect him to break tonight.
Also on the Bearcats' side is a home win streak that dates back to 2007 and momentum from last year's meeting, when Aledo snapped Lake Travis' 48-game win streak. (The Cavaliers still went on to win their fourth straight Class 4A title and third consecutive Division I crown.)
This year's contest could take on a feel similar to 2010. Back then, the Cavaliers were without injured star quarterback Michael Brewer, who is now at Texas Tech. This time around, a shoulder injury could keep starting QB Colin Lagasse out of the lineup. Even so, the Cavaliers won't be too worried. Junior Baker Mayfield has stepped in nicely during the last two weeks, scoring nine total touchdowns. Who they will need, though, is leading wideout Griffin Gilbert. The senior missed last week's win against Hendrickson with an injury but is expected to play.
This game will be plenty physical and should include tons of scoring, as both teams are anchored by their offense. Lake Travis has the better defense, holding its opponents to less than three yards a carry and 10.5 points a game, but neither team will be depending on its defensive unit to pull out the win.
Prediction:
Aledo 35, Lake Travis 31
No. 1 Allen (2-0) at No. 11 Longview (2-0)

The top-ranked Eagles face their first test of the season on the road against an emerging Longview squad. Injuries could play a role in this game, as both starting tailbacks have struggled to recover this year. Allen's Jonathan Williams missed last week's game with back spasms, while J'Haston Faggans missed the Lobos' week two contest with a concussion. In the Eagles' case, quarterback Alec Morris has picked up the slack, throwing for six touchdowns last week in their experienced, high-powered offense. The Lobos, on the other hand, discovered a treasure at tailback, as Tory White filled in and ran for 172 yards last week. An upset isn't out of the question, what with Longview known for its intense home atmosphere. But the wisdom and skilled players that fill Allen's roster are hard to go against, so...
Prediction:
Allen 28, Longview 24
No. 8 DeSoto (2-0) vs. No. 22 Cedar Hill (1-1) at Kincaide Stadium in Dallas
A heated rivalry renews itself tonight, when these two Southern Dallas teams face off. DeSoto's defense has yet to allow a touchdown this season, but that will likely change against an explosive Cedar Hill squad. Andre Anderson threw for three touchdowns to help the Horns bounce back from an opening loss and down a solid Denton Guyer program. Still, Cedar Hill will need to play mistake-free football to get past DeSoto.
Prediction:
DeSoto 28, Cedar Hill 14
No. 18 Skyline (2-0) vs. No. 20 Bowie (2-0)
Both teams looked impressive in the Herbstreit Classic last weekend, with each putting up 36 points in their victories. Thing is, Skyline's win proved bigger with the Raiders knocking off a talented but reeling Cocoa squad from Florida. Bowie will need another big game from Russell Hansbrough (172 rushing yards and two scores last week) and Devin Williams (two forced fumbles) to pull out a win.
Prediction:
Skyline 31, Bowie 20
Brandon Parker covers Texas for ESPNHS magazine and ESPNHIGHSCHOOL.com. Follow him on Twitter @brandoncparker or email him at brandon.c.parker@espn.com.
September, 6, 2011
9/06/11
2:11
PM ET
By
Randy Jennings, Mark Tennis
and
Brandon Parker
| ESPN.com
Allen and Lake Travis (Austin), the top-ranked Class 5A and 4A team, respectively, in ESPNHS Texas High School Rankings, face a ranked opponent Friday in a difficult road setting.

No. 1 Allen (2-0) travels deep into East Texas to No. 11 Longview (2-2) where the Lobos' record is 33-1 since 2004. Longview will be out to avenge a 24-20 loss at Allen last season.

No. 6 Lake Travis (2-0) heads north to play No. 14 Aledo (1-1) where the Bearcats haven't lost since 2007. Aledo in 2010 ended the Lake Travis' 48-game winning streak, 14-10. Lake Travis went on to win its fourth consecutive state title (Class 4A Division I) and Aledo won its second straight Class 4A Division II state championship.

Without further ado, here's this week's top 25 (Last week's ranking in parentheses):

1. Allen 2-0 (1)
Senior quarterback Alec Morris threw for 326 yards and five touchdowns and Andrew Rodriguez made seven catches for 199 yards and two scores in a 59-0 rout of 1-1 Justin Northwest (Fort Worth). The Eagles complete non-district play Friday on the road against 2-0 Longview.

2. Katy 2-0 (2)
The Tigers' defense permitted 0-2 Alief Taylor (Houston) only seven first downs 87 total yards and forced 10 punts in a 31-0 road shutout. Katy entertains 2-0 West Brook (Beaumont) on Saturday.

3. Euless Trinity 2-0 (3)
Senior Joel Kimpela rushed for 197 yards and two touchdowns in a 34-17 victory over 1-1 Abilene. The Trojans kick off District 6-5A play at home against 1-1 Richland (North Richland Hills).

4. Pearland 2-0 (4)
Jacob Garner completed 10 of 11 passes for 234 yards and John Gibberman punched in three touchdowns in the Oilers' 27-7 win over 0-2 Fort Bend Kempner (Sugar Land). The defending Class 5A Division I state champions face 1-1 Memorial (Houston) Friday on the road.

5. Coppell 2-0 (5)
Jake Larson threw for 236 yards and two touchdowns as the Cowboys stormed from behind, outscoring 1-1 Arlington 24-0 in the second half of a 38-24 victory. Next up is a road trip to 2-0 Jesuit (Dallas).
September, 6, 2011
9/06/11
2:10
PM ET
By
Brandon Parker
| ESPN.com
During last year's Herbstreit Classic, Skyline appeared out of its league against Florida power St. Thomas Aquinas in a 31-3 loss. On Monday, the Raiders exacted revenge against the Sunshine State by not only beating Cocoa (Fla.) handily, but also sending the Tigers — who brought a 38-game win streak into the season — to its second straight loss.
Known for his prowess at linebacker, Peter Jinkens showed off his offensive skills with two rushing touchdowns for the Raiders. The senior also pitched in to help his defensive comrades hold the Tigers' normally potent rushing attack to just 39 yards on 30 carries.
For more on this contest, as well as Bowie's 36-6 win against New Orleans' Edna Karr, click
here
. And to read how DeSoto capped off a Texas sweep at the Herbstreit Classic in a major way, click
here
AROUND THE STATE
*A week after falling to Stephenville, Aledo is back to its winning ways after easily defeating Weatherford, 50-7, on Friday. What didn't change was Johnathan Gray, who continued his dominant ways with 336 rushing yards and five touchdowns on 15 carries. The senior is now just three touchdowns away from breaking the state record for most career scores.
*With QB Colin Lagasse (shoulder), WR Griffin Gilbert (WR) and RB Shaun Nixon all sidelined, the forecast for Friday's matchup against Hendrickson appeared dire. But for the second week in a row, Baker Mayfield carried the load. The junior quarterback racked up 256 yards through the air and totaled six touchdowns in the Cavaliers' 43-14 win against the Hawks.
Once Lagasse is healthy enough to play, coach Hank Carter has quite the decision on his hands between Lagasse and Mayfield. And with Aledo on tap this Friday, having Gilbert and Nixon back will be key if the Cavaliers hope to beat a team that snapped its 48-game win streak last year.
*Injuries also affected Allen, as tailback Jonathan Williams sat out Friday with back spasms. But just as Mayfield did for Lake Travis, Allen quarterback Alec Morris picked up the slack — and then some. Morris threw for 326 yards and totaled six scores before sitting out most of the second half in the Eagles' 59-0 win over Justin Northwest.
*Marshall Williams continued his assault through the air in Flower Mound's 44-36 win against McKinney Boyd. A week after throwing 505 yards (tops in the nation for Week 1) to go with six total TDs, the senior had 437 passings yards and four scores for the Jaguars. Check back later this week for more on Williams' quick start.
Brandon Parker covers Texas for ESPNHS magazine and ESPNHIGHSCHOOL.com. Follow him on Twitter @brandoncparker or email him at brandon.c.parker@espn.com.
August, 29, 2011
8/29/11
11:10
AM ET
Headlining the ESPN High School Football Kickoff this past weekend was none other than the nation's No. 1 recruit Mario Edwards Jr. and Denton Ryan (although Hillcrest, Missouri's Dorial Green-Beckham made a case of his own).
Edwards Jr. did not disappoint, recording one sack and forcing a fumble that led to a touchdon in the Raiders' 25-9 win in front of a national TV audience. All-State linebacker Jordan Richmond also made his mark, intercepting a pass to help hold Sulphur Springs to 159 yards versus Denton Ryan's 320. Tailback Jerrick Harvey chipped in 115 yards and a score on the ground, squelching any chance of the Wildcats backing up their coach's
guarantee of a victory
.
Allen also lived up to its top billing with a complete effort in its 28-13 win against Cedar Hill.