High-SchoolTexas:

Cameron Ridley
February, 14, 2012
2/14/12
5:00
PM ET
By
Brandon Parker
| ESPN.com
After games on Sunday, Feb. 12
It was a big week on the national stage for Texas hoops stars and programs. Here's a quick rundown:
-Four local players in Isaiah Austin, Cameron Ridley, Marcus Smart and Rasheed Sulaimon earned spots on the
McDonald's All-American team
.
-Julius Randle dropped 46 points in a blowout win against Bishop Lynch. The super junior scored 50 points earlier this season.
-Three Texas teams entered the
POWERADE FAB 50
, as South Grand Prairie, Richland and Churchill made their debut riding lengthy win streaks.
Here are this week's rankings (last week's rankings in parentheses):
1. Marcus (Flower Mound) 31-2 (1)
Marauders downed Hebron before beating Plano East behind 15 points from McDonald's All-American Marcus Smart.
2. Prestonwood Christian (Plano) 22-4 (2)
Julius Randle went bananas with 46 points in a rout of Bishop Lynch.
3. Grace Prep (Arlington) 22-3 (3)
Lions ended the regular season with a victory against Faith Christian, a nice recovery from their loss to No. 9 Trinity Christian. Next up: the TAPPS playoffs.
Click here for the full POWERADE weekly Texas basketball rankings.
December, 29, 2011
12/29/11
10:10
AM ET
By
Brandon Parker
| ESPN.com
The year 2011 is winding down to an end and what a year it was in the world of sports. Here are the top 10 stories from the Texas high school sports scene:
10. Double Dip

All Craig Nowak and Daniel Vertiz did in the last two months of the year was run — and run well. After winning the 5A state championship, Nowak of Cypress Woods took third at the NXN and 14th at Foot Locker Nationals in consecutive weeks. Vertiz of S.A. Reagan performed the same gauntlet, taking second at the state meet, second at NXN and fifth at Foot Locker Nationals. Vertiz and Nowak finished fourth and seventh, respectively, in the DyeStat rankings.
9. Ballers 'R Us
Texas has always been known for football but with the talent brimming from the hardwood this year, basketball has stepped into the spotlight. Led by the likes Isaiah Austin, Cameron Ridley, Marcus Smart and Rasheed Sulaimon, 13 players made the ESPNU 100.
8. Dragons Net Crown

For the second straight season, a Class 5A team went unbeaten en route to the state crown. This time it was Southlake Carroll, which finished 28-0-3 behind tournament MVP Oshick Sams' dominant play in goal.
7. Watch the Throne
As you've already seen and will find out later (see No. 2), Southlake Carroll had a good year, to say the least. After winning in soccer, the Dragons went on to make noise in cross country by dethroning five-time Class 5A champ The Woodlands by scoring a meet-record 20 points. The Dragons nearly completed a perfect season but finished second behind CBA at Nike Cross Nationals.
6. Lions Shine at City of Palms
Just a few days after suffering a loss to Grace Prep in front of a national TV audience, Prestonwood Christian got even in a big way at the City of Palms tournament in Florida. The Lions knocked off Bishop Gorman (Nev.) and nationally ranked Riverside (Calif.)
before beating Grace Prep by 20 points to become the first Texas team to win the City of Palms.
5. Super Mario
A year after being named Class 4A Defensive Player of the Year, Denton Ryan's Mario Edwards Jr. left little doubt as to who was the nation's top player. As for where the No. 1 player in the ESPNU 150 will head to college, that isn't so sure. Edwards is committed to Florida State but is still strongly considering Oklahoma, among other schools.
4. Drive for Five
Lake Travis' push for a fifth straight Class 4A football title appeared to take a hit when QB Colin Lagasse went down in the first game. But junior Baker Mayfield stepped up big, throwing for 3,788 yards, 45 touchdowns and just five interceptions to lead the Cavaliers to a 16-0 record and another championship. The Cavs are the first 11-man team to win five straight titles.
3. Marcus Makes its Mark in Hoops
Almost a year to the day after shedding tears of sadness over losing in the Class 5A state semis, Marcus Smart and FM Marcus hoops team shed tears of joy this past winter when they capped a 38-1 campaign with the Class 5A crown. Smart sits as the reigning Gatorade State Player of the Year in the Marauders' drive to repeat this season.
2. Gridiron Kings
Southlake Carroll had quite a ride to the Class 5A, Division I title. The Dragons have to come back in every playoff game, had some question whether a late onside kick travelled 10 yards in the semifinal against Skyline and saw a fox join the action during Kenny Hill's game-winning TD run in the same game.
Hill, not the fox, proved to be the star of the 36-29, title-game win against Fort Bend Hightower as the junior QB totaled 345 yards and four scores to earn offensive MVP honors. The Dragons are now tied with Celina for the most football titles in state history.
1. Gray's Anatomy
It's safe to say that no football player boasts a better rèsumè than Johnathan Gray.
The Aledo senior tailback broke the national record for career touchdowns with 206, won Gatorade National Player of the Year, repeated as Gatorade State Player of the Year and Mr. Football USA, won a second Class 4A, Division II title and finished in the top five nationally in career rushing yards, points, carries and 100-yard games. Texas Longhorn fans are more than happy that UT hooked this legend.
Brandon Parker covers Texas for ESPNHS magazine and ESPNHS.com. Follow him on Twitter
@brandoncparker
or email him at brandon.c.parker@espn.com.
December, 15, 2011
12/15/11
11:20
AM ET
By
Brandon Parker
| ESPN.com

Monday | Tuesday | Wednesday

|

Thursday

| Friday

Whether you're putting together a grouping of best quarterbacks or worst albums, or you're making that special list for Santa, there's nothing quite like a good list. So in honor of the holiday season we're bringing you lists all week long — Merry List-Mas! Today: The five best NBA players ever to come out of Texas.

Isaiah Austin, Cameron Ridley and Marcus Smart are all standout basketball recruits who are headed to D-I colleges — and possibly beyond. Texas has a long history of sending top high school players to the NBA. But who's been the best? Here's our list of the five best players from the Lone Star State to play in the NBA.

5. Chris Bosh


Credentials: He may be on the most-hated team in the league right now, but Chris Bosh is a Texas legend. It all began at Lincoln High, where he led his school to a 40-0 record and the state and national titles. He went on to play one year at Georgia Tech before being drafted fourth overall by the Toronto Raptors in 2003. He starred in Canada for seven seasons before joining the newest Big 3 with LeBron and D-Wade in Miami last season.

4. Clyde Drexler


Credentials: Clyde the Glide's roots stretch back to Sterling High before he went on to form the Phi Slamma Jamma at Houston with Akeem Olajuwon. Drexler was then drafted by the Portland Trailblazers in 1983 where he starred for 11 seasons before being traded to the Rockets. Back in Houston and reunited with Olajuwon, Drexler won his only NBA title in 1995. He was inducted into the Hall of Fame in 2004 after averaging 20.4 points per game.

3. Deron Williams


Credentials: Deemed by many as the NBA's best point guard today, Williams began playing at The Colony as a teenager before enrolling at Illinois. After leading his school to the 2005 NCAA title game, Williams was drafted third overall by the Utah Jazz in 2005. In six seasons there, he averaged 17.2 points and 9.2 assists before being traded last year to the New Jersey Nets. He now stands as one of the most coveted free agents for this coming summer.

2. Dennis Rodman


Credentials: Perhaps the greatest rebounder of all time and easily one of the most controversial players ever, Rodman's humble beginnings stem from his at South Oak Cliff, but he didn't play much basketball. It wasn't until his days at Southeastern Oklahoma State University that he caught on, averaging 24.4 points and 17.8 rebounds. The Pistons drafted him 27th in 1986 and he caught on as part of the infamous "Bad Boys." He won two titles in Detroit before being traded to the Spurs and then joining the Bulls where he won three more rings alongside Jordan and Pippen. Rodman, who averaged 13.1 boards for his career, was inducted into the Hall of Fame in 2011.

1. Shaquille O'Neal


Credentials: Before he started making nicknames for himself and breaking backboards, Big Shaq at Cole High. He then went on to dominate at LSU for three years, averaging 21.6 points and 13.5 rebounds. The Orlando Magic selected him first in the 1992 NBA Draft and he was named Rookie of the Year. After four seasons, he signed with the Lakers, where he joined with Kobe Bryant to win three titles and a league MVP. Shaq was then traded to the Miami Heat and won another title, this time alongside Dwyane Wade. The Big Aristotle retired this past summer and is a surefire Hall of Famer.

Tomorrow: Wild Card! Check back tomorrow to find out what our list is. Brandon Parker covers Texas for ESPNHS magazine and ESPNHS.com. Follow him on Twitter@brandoncparker or email him at brandon.c.parker@espn.com.
November, 18, 2011
11/18/11
10:41
AM ET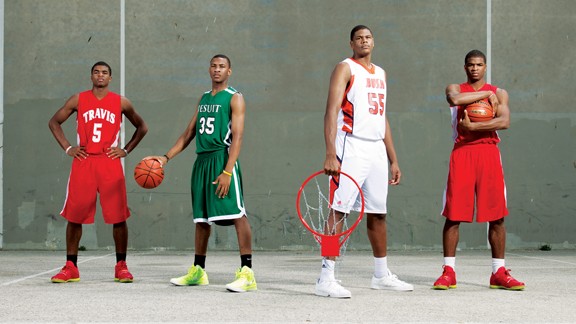 Kelly Kline/ESPNHSHere are four reasons why Texas hoops is the cream of crop this year: (from left) Fort Bend Travis junior Andrew Harrison, Strake Jesuit senior Rasheed Sulaimon, Bush senior Cameron Ridley and Fort Bend Travis junior Aaron Harrison.
This story originally appeared in the Holiday issue of ESPNHS magazine's Texas edition.
The Lone Star State has turned out plenty of basketball talent over the years, from a surefire Hall of Famer like Shaquille O'Neal to a modern superstar like Deron Williams. Texas has produced a few juggernaut teams as well, including Chris Bosh's 40-0 Lincoln team from 2001-02 and Yates' record-setting 34-0 squad in 2009-10 — both teams that finished as state and national champions.
But no matter how good the individuals or the teams, Texas has always been thought of as a football state. That's never going to change. Nor should it. Texas is the home of high school football. But this winter, it's also the home of high school basketball.
The 2011-12 season has the potential to go down as the best in state history. There are individual superstars aplenty and teams built to dominate. There are established seniors and upstart underclassmen. And ultimately, there's sure to be plenty of drama along the way.
We couldn't cover it all in these four pages, but we did our best. So read on for a sampling of the players and teams to watch in what is sure to be an unforgettable season of high school basketball.
August, 26, 2011
8/26/11
4:37
PM ET
By
Brandon Parker
| ESPN.com
Of course, most of the focus this weekend will be on football, but for those who need a basketball fix, tune in to the
Boost Mobile Elite 24 showcase
.
Texas players abound in this year's class, as Prestonwood Christian's Julius Randle, Bush's Cameron Ridley, Strake Jesuit's Rasheed Sulaimon and Fort Bend Travis twins Aaron and Andrew Harrison are all in Venice Beach, ready to show their stuff. The festivities jump off Friday night with the dunk contest, which will air at 5 p.m. on ESPNU. The big game takes place the next day at 6 p.m. on ESPNU.
The players have been busy all week, playing in the midnight run, undergoing drills and hanging out with each other. Check out
this article
with Randle and Sulaimon discussing how to divide up the touches in a game full of stars. And click
here
to see how Sulaimon extended his win streak in HORSE against former Duke star Jay Williams.
Brandon Parker covers Texas for ESPNHS magazine and ESPNHIGHSCHOOL.com. Follow him on Twitter @brandoncparker or email him at brandon.c.parker@espn.com.