High-SchoolTexas:

Chris Bosh
December, 15, 2011
12/15/11
11:20
AM ET
By
Brandon Parker
| ESPN.com

Monday | Tuesday | Wednesday

|

Thursday

| Friday

Whether you're putting together a grouping of best quarterbacks or worst albums, or you're making that special list for Santa, there's nothing quite like a good list. So in honor of the holiday season we're bringing you lists all week long — Merry List-Mas! Today: The five best NBA players ever to come out of Texas.

Isaiah Austin, Cameron Ridley and Marcus Smart are all standout basketball recruits who are headed to D-I colleges — and possibly beyond. Texas has a long history of sending top high school players to the NBA. But who's been the best? Here's our list of the five best players from the Lone Star State to play in the NBA.

5. Chris Bosh


Credentials: He may be on the most-hated team in the league right now, but Chris Bosh is a Texas legend. It all began at Lincoln High, where he led his school to a 40-0 record and the state and national titles. He went on to play one year at Georgia Tech before being drafted fourth overall by the Toronto Raptors in 2003. He starred in Canada for seven seasons before joining the newest Big 3 with LeBron and D-Wade in Miami last season.

4. Clyde Drexler


Credentials: Clyde the Glide's roots stretch back to Sterling High before he went on to form the Phi Slamma Jamma at Houston with Akeem Olajuwon. Drexler was then drafted by the Portland Trailblazers in 1983 where he starred for 11 seasons before being traded to the Rockets. Back in Houston and reunited with Olajuwon, Drexler won his only NBA title in 1995. He was inducted into the Hall of Fame in 2004 after averaging 20.4 points per game.

3. Deron Williams


Credentials: Deemed by many as the NBA's best point guard today, Williams began playing at The Colony as a teenager before enrolling at Illinois. After leading his school to the 2005 NCAA title game, Williams was drafted third overall by the Utah Jazz in 2005. In six seasons there, he averaged 17.2 points and 9.2 assists before being traded last year to the New Jersey Nets. He now stands as one of the most coveted free agents for this coming summer.

2. Dennis Rodman


Credentials: Perhaps the greatest rebounder of all time and easily one of the most controversial players ever, Rodman's humble beginnings stem from his at South Oak Cliff, but he didn't play much basketball. It wasn't until his days at Southeastern Oklahoma State University that he caught on, averaging 24.4 points and 17.8 rebounds. The Pistons drafted him 27th in 1986 and he caught on as part of the infamous "Bad Boys." He won two titles in Detroit before being traded to the Spurs and then joining the Bulls where he won three more rings alongside Jordan and Pippen. Rodman, who averaged 13.1 boards for his career, was inducted into the Hall of Fame in 2011.

1. Shaquille O'Neal


Credentials: Before he started making nicknames for himself and breaking backboards, Big Shaq at Cole High. He then went on to dominate at LSU for three years, averaging 21.6 points and 13.5 rebounds. The Orlando Magic selected him first in the 1992 NBA Draft and he was named Rookie of the Year. After four seasons, he signed with the Lakers, where he joined with Kobe Bryant to win three titles and a league MVP. Shaq was then traded to the Miami Heat and won another title, this time alongside Dwyane Wade. The Big Aristotle retired this past summer and is a surefire Hall of Famer.

Tomorrow: Wild Card! Check back tomorrow to find out what our list is. Brandon Parker covers Texas for ESPNHS magazine and ESPNHS.com. Follow him on Twitter@brandoncparker or email him at brandon.c.parker@espn.com.
November, 18, 2011
11/18/11
10:41
AM ET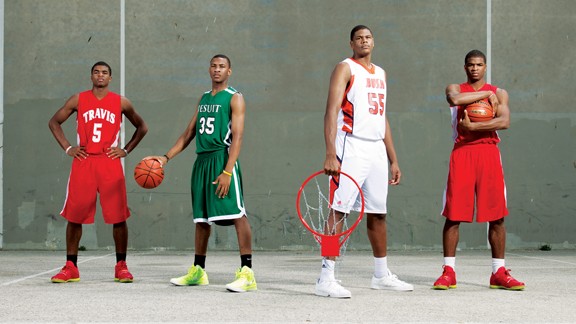 Kelly Kline/ESPNHSHere are four reasons why Texas hoops is the cream of crop this year: (from left) Fort Bend Travis junior Andrew Harrison, Strake Jesuit senior Rasheed Sulaimon, Bush senior Cameron Ridley and Fort Bend Travis junior Aaron Harrison.
This story originally appeared in the Holiday issue of ESPNHS magazine's Texas edition.
The Lone Star State has turned out plenty of basketball talent over the years, from a surefire Hall of Famer like Shaquille O'Neal to a modern superstar like Deron Williams. Texas has produced a few juggernaut teams as well, including Chris Bosh's 40-0 Lincoln team from 2001-02 and Yates' record-setting 34-0 squad in 2009-10 — both teams that finished as state and national champions.
But no matter how good the individuals or the teams, Texas has always been thought of as a football state. That's never going to change. Nor should it. Texas is the home of high school football. But this winter, it's also the home of high school basketball.
The 2011-12 season has the potential to go down as the best in state history. There are individual superstars aplenty and teams built to dominate. There are established seniors and upstart underclassmen. And ultimately, there's sure to be plenty of drama along the way.
We couldn't cover it all in these four pages, but we did our best. So read on for a sampling of the players and teams to watch in what is sure to be an unforgettable season of high school basketball.