High-SchoolTexas:

Mario Edwards Jr.
December, 29, 2011
12/29/11
10:10
AM ET
By
Brandon Parker
| ESPN.com
The year 2011 is winding down to an end and what a year it was in the world of sports. Here are the top 10 stories from the Texas high school sports scene:
10. Double Dip

All Craig Nowak and Daniel Vertiz did in the last two months of the year was run — and run well. After winning the 5A state championship, Nowak of Cypress Woods took third at the NXN and 14th at Foot Locker Nationals in consecutive weeks. Vertiz of S.A. Reagan performed the same gauntlet, taking second at the state meet, second at NXN and fifth at Foot Locker Nationals. Vertiz and Nowak finished fourth and seventh, respectively, in the DyeStat rankings.
9. Ballers 'R Us
Texas has always been known for football but with the talent brimming from the hardwood this year, basketball has stepped into the spotlight. Led by the likes Isaiah Austin, Cameron Ridley, Marcus Smart and Rasheed Sulaimon, 13 players made the ESPNU 100.
8. Dragons Net Crown

For the second straight season, a Class 5A team went unbeaten en route to the state crown. This time it was Southlake Carroll, which finished 28-0-3 behind tournament MVP Oshick Sams' dominant play in goal.
7. Watch the Throne
As you've already seen and will find out later (see No. 2), Southlake Carroll had a good year, to say the least. After winning in soccer, the Dragons went on to make noise in cross country by dethroning five-time Class 5A champ The Woodlands by scoring a meet-record 20 points. The Dragons nearly completed a perfect season but finished second behind CBA at Nike Cross Nationals.
6. Lions Shine at City of Palms
Just a few days after suffering a loss to Grace Prep in front of a national TV audience, Prestonwood Christian got even in a big way at the City of Palms tournament in Florida. The Lions knocked off Bishop Gorman (Nev.) and nationally ranked Riverside (Calif.)
before beating Grace Prep by 20 points to become the first Texas team to win the City of Palms.
5. Super Mario
A year after being named Class 4A Defensive Player of the Year, Denton Ryan's Mario Edwards Jr. left little doubt as to who was the nation's top player. As for where the No. 1 player in the ESPNU 150 will head to college, that isn't so sure. Edwards is committed to Florida State but is still strongly considering Oklahoma, among other schools.
4. Drive for Five
Lake Travis' push for a fifth straight Class 4A football title appeared to take a hit when QB Colin Lagasse went down in the first game. But junior Baker Mayfield stepped up big, throwing for 3,788 yards, 45 touchdowns and just five interceptions to lead the Cavaliers to a 16-0 record and another championship. The Cavs are the first 11-man team to win five straight titles.
3. Marcus Makes its Mark in Hoops
Almost a year to the day after shedding tears of sadness over losing in the Class 5A state semis, Marcus Smart and FM Marcus hoops team shed tears of joy this past winter when they capped a 38-1 campaign with the Class 5A crown. Smart sits as the reigning Gatorade State Player of the Year in the Marauders' drive to repeat this season.
2. Gridiron Kings
Southlake Carroll had quite a ride to the Class 5A, Division I title. The Dragons have to come back in every playoff game, had some question whether a late onside kick travelled 10 yards in the semifinal against Skyline and saw a fox join the action during Kenny Hill's game-winning TD run in the same game.
Hill, not the fox, proved to be the star of the 36-29, title-game win against Fort Bend Hightower as the junior QB totaled 345 yards and four scores to earn offensive MVP honors. The Dragons are now tied with Celina for the most football titles in state history.
1. Gray's Anatomy
It's safe to say that no football player boasts a better rèsumè than Johnathan Gray.
The Aledo senior tailback broke the national record for career touchdowns with 206, won Gatorade National Player of the Year, repeated as Gatorade State Player of the Year and Mr. Football USA, won a second Class 4A, Division II title and finished in the top five nationally in career rushing yards, points, carries and 100-yard games. Texas Longhorn fans are more than happy that UT hooked this legend.
Brandon Parker covers Texas for ESPNHS magazine and ESPNHS.com. Follow him on Twitter
@brandoncparker
or email him at brandon.c.parker@espn.com.
December, 22, 2011
12/22/11
1:18
PM ET
By
Brandon Parker
| ESPN.com
Trust me, we don't look for ways to write about Johnathan Gray — the guy just keeps earning accolades. What can you do?
The Aledo tailback's latest honor is being named to the ESPNHS All-American first team along with the nation's top recruit, Mario Edwards Jr. of Denton Ryan. Arlington Martin's Devonte Fields and Brenham's Malcolm Brown also represented Texas on the second team. Griffin Gilbert from the five-time Class 4A champ Lake Travis and Thomas Johnson of Skyline earned spots on the third team.
Click here
to see the full list of players.
Brandon Parker covers Texas for ESPNHS magazine and ESPNHS.com. Follow him on Twitter @brandoncparker or email him at brandon.c.parker@espn.com.
October, 5, 2011
10/05/11
1:05
PM ET
By
Brandon Parker
| ESPN.com
Before the season starts, everybody's an expert, making predictions here and there about which teams will make noise in the rankings and which players will dominate on the gridiron. But with the midway point of the Texas football season upon us, now it's time to see who has really lived up to their billing, along with a few surprises.
And what better way to commemorate this time than with awards? So I now present to you the ESPNHS Texas midseason football awards (Feel free to offer your thoughts because, like I said, everybody has an opinion):
Player of the Year:

Johnathan Gray, Aledo RB
Were you expecting anyone else? There's really not much needed to justify
Gray's name
here except:
-93 carries, 1,384 yards (that's 14.88 yards per carry) 24 touchdowns.
-He's rushed for at least 209 yards and four touchdowns in all five of Aledo's games.
-He's the new state career leader in total points (932 and counting) and touchdowns (160 and counting), and he's moving up the national lists for total yards and touchdowns.
Offensive MVP:

Alec Morris, Allen QB
This spring,
Morris had zero college offers
. Now, with Allen sitting as the nation's No. 3 team at 5-0, the senior has a commitment to BCS power Alabama under his belt and plenty of national attention (This Thursday, the Eagles play Plano East on ESPN2). Morris has thrown for 1,387 yards, 19 touchdowns and
zero interceptions
, completed more than 61 percent of his passes and also rushed for two scores. Mind you, most of this production came as standout RB Jonathan Williams missed most of the first four games with a back injury. Perhaps his biggest performance came on the road in a tough Longview environment, where he threw for 368 yards and five scores in a 42-23 win.
September, 15, 2011
9/15/11
4:11
PM ET
By
Brandon Parker
| ESPN.com
As if Florida State didn't have enough to worry about with Oklahoma coming to town. Not only are the Sooners looking to steal a precious road victory, but the Sooners football program is also trying to steal the Seminoles' biggest high school recruit — Denton Ryan's
Mario Edwards Jr.
In
this article
by ESPN's Mitch Sherman, the nation's
No. 1 recruit in the ESPNU 150
admits that, even though he committed to the Seminoles back in March, he believes he's earned the right to look at other schools, including Oklahoma. Despite his wandering eye, the senior defensive lineman still makes clear that Florida State is his number one school.
Edwards Jr., whose dad starred at Florida State, was scheduled to travel to Tallahassee for this Saturday's game between FSU and Oklahoma, but he recently cancelled because it's his high school's homecoming weekend. During the Raiders' 3-0 start, Edwards Jr. has racked up 5.5 sacks, 21 tackles, including 11 for loss, and two forced fumbles, pushing his team to
No. 36 in the POWERADE FAB 50
and
seventh in the state
.
Brandon Parker covers Texas for ESPNHS magazine and ESPNHIGHSCHOOL.com. Follow him on Twitter @brandoncparker or email him at brandon.c.parker@espn.com.
August, 29, 2011
8/29/11
11:10
AM ET
Headlining the ESPN High School Football Kickoff this past weekend was none other than the nation's No. 1 recruit Mario Edwards Jr. and Denton Ryan (although Hillcrest, Missouri's Dorial Green-Beckham made a case of his own).
Edwards Jr. did not disappoint, recording one sack and forcing a fumble that led to a touchdon in the Raiders' 25-9 win in front of a national TV audience. All-State linebacker Jordan Richmond also made his mark, intercepting a pass to help hold Sulphur Springs to 159 yards versus Denton Ryan's 320. Tailback Jerrick Harvey chipped in 115 yards and a score on the ground, squelching any chance of the Wildcats backing up their coach's
guarantee of a victory
.
Allen also lived up to its top billing with a complete effort in its 28-13 win against Cedar Hill.
August, 26, 2011
8/26/11
11:56
AM ET
By
Brandon Parker
| ESPN.com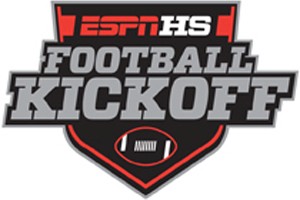 nullESPNHSThe ESPNHS Football Kickoff starts tonight.
Finally...football has come back to Texas!
(In my best impression of The Rock)
Yep, it's that time of year again, where the big crowds, crackling tackles and dreams of a state title make beautiful music on the gridiron. A few teams kicked off across the state Thursday, but the fun continues throughout the weekend, highlighted by the
nation's No. 1 recruit, Mario Edwards Jr.
, leading his Denton Ryan squad against Sulphur Springs at 6 p.m. Saturday on ESPN.
Click
here
for a game preview and
here
to check out the full schedule of contests during our ESPN High School Football Kickoff. Also check back Monday for a recap of the big storylines from week zero.
In the meantime, here 's one other in-state battle to keep an eye on this weekend:
Cedar Hill vs. No. 3 Allen
The top-ranked team in Texas will get an early-season test against a tough Cedar Hill squad on Saturday night. Allen is filled with talented players, most notably senior tailback and Missouri commit Jonathan Williams (2,073 rushing yards last season) and quarterback Alec Morris (2,354 passing yards, 22 touchdowns). But Cedar Hill also fields one of its best squads in recent years. Junior Laquvionte Gonzales can make plays from multiple positions and senior defensive David Harris often finds his way into the opponent's backfield.
Brandon Parker covers Texas for ESPNHS magazine and ESPNHIGHSCHOOL.com. Follow him on Twitter @brandoncparker or email him at brandon.c.parker@espn.com.
August, 24, 2011
8/24/11
1:23
PM ET
By
Brandon Parker
| ESPN.com
Each week, we'll take a deeper look into our
All-State football team
to see whose stock is rising and falling based on recent performance and news. I know some of you are wondering, how can you have a stock watch when football hasn't officially started? Easy. Every football fan knows that the season never truly ends.
UP — LaDarrell McNeil, DB, Wilmer Hutchins
Last week, McNeil broke several schools' hearts while making Tennessee fans very happy with his commitment to the Vols. Now, with a college pledge under his belt, McNeil can focus on what should be another big year. Last fall, the senior racked up 132 tackles and three interceptions for now-closed A. Maceo Smith High. McNeil's presence at the reopened Wilmer Hutchins should make the Eagles' return to prep football a good one.
DOWN — Brian Nance, LB, Euless Trinity

Nance had ACL surgery this past summer, placing his availability for the start of the season in jeopardy. The
latest word
out of Trinity is that the talented linebacker will be ready for Friday's opener against Lee, but just how healthy Nance will be remains to be seen. The skills to succeed are definitely there, what with Nance posting 121 tackles (10 for loss) and three sacks for the Trojans last year.
UP — Jordan Richmond, LB, Denton Ryan
The more Mario Edwards Jr.'s stock continues to rise, so too will Richmond's.
Edwards Jr.
, the reigning Class 4A Defensive Player of the Year and nation's top recruit in the
ESPNU 150
, is bound to draw his share of double teams on the defensive line, which should open the way for Richmond to excel. The senior linebacker took advantage last year, recording 120 tackles (20 for loss) for a solid Raiders defensive unit.
Brandon Parker covers Texas for ESPNHS magazine and ESPNHIGHSCHOOL.com. Follow him on Twitter @brandoncparker or email him at brandon.c.parker@espn.com.
August, 23, 2011
8/23/11
11:25
AM ET
By
Brandon Parker
| ESPN.com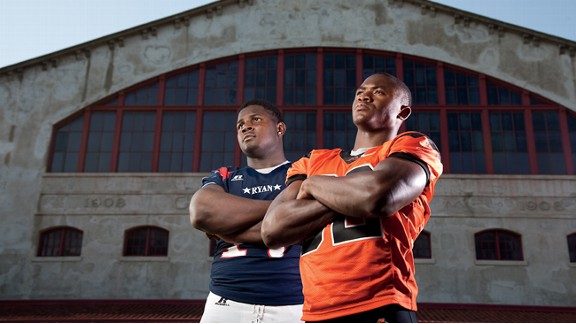 Sean Gallagher/ESPNHSDenton Ryan senior DL Mario Edwards Jr. (left) and Aledo senior RB Johnathan Gray have already taken the Texas prep football scene by storm. Now the duo has its sights set on even more success.
Their names often inhabit the same sentence, and few would argue that they are top two prep football players in Texas. Still, Denton Ryan senior defensive lineman Mario Edwards Jr. and Aledo senior tailback Johnathan Gray had never met ... until now.
The two sat down to interview each other for the ESPNHS September edition in Texas, discussing their hectic recruitment and many accomplishments on the gridiron.
For Gray, a Texas commit and the reigning
ESPNHS Mr. Football USA
, that includes setting the state record for touchdowns in a season with 59 last year while leading the Bearcats to the Class 4A, Division II state title. And for Edwards Jr., who has pledged to Florida State, the top ranking in the
ESPNU 150
and a Class 4A Defensive Player of the Year award are just a few of the accolades under his belt.
Click
here
to read more about the toast of Texas high school football.
Brandon Parker covers Texas for ESPNHS magazine and ESPNHIGHSCHOOL.com. Follow him on Twitter @brandoncparker or email him at brandon.c.parker@espn.com.
August, 22, 2011
8/22/11
11:43
AM ET
By
Brandon Parker
| ESPN.com
As featured in the ESPNHS Texas magazine that hits schools this week, here is our All-State Football Team along with 100 other players to watch.
(
The team is based on projected on-field performance and accomplishments, not necessarily recruiting potential. For a list of the top football recruits in the state, click here
)
Want to see the All-State teams for the other 49 states?
We've got 'em right here
.
2011 TEXAS ALL-STATE FOOTBALL
FIRST TEAM OFFENSE

Bralon Addison, Hightower, QB, Senior

Dual-threat Texas A&M pledge totaled 2,926 yards and 43 TDs in '10
Johnathan Gray, Aledo, RB, Senior

No. 8 recruit in ESPNU 150 broke stake mark for rush TDs in a year with 59
Jonathan Williams, Allen, RB, Senior

Ran for 2,048 yards and 19 TDs; big key to state's top-ranked team
August, 22, 2011
8/22/11
1:30
AM ET
By
Randy Jennings
and
Mark Tennis
| ESPN.com
Talent, tradition and experience make the Allen Eagles the logical choice to head the ESPNHS Texas High School Football Preseason Rankings.
Three years removed from winning its first Class 5A Division I state title, Allen has 14 returning starters including running back Jonathan Williams (Missouri commit) and quarterback Alec Morris (Alabama commit). Williams rushed for 2,073 yards and 20 touchdowns in his junior season and Morris threw for 2,534 passing yards and 32 touchdowns.
Defensively, linebacker Thaddeus LaGrone (Baylor commit) had 87 tackles, five sacks and three interceptions. Such talent is also good enough to earn them the No. 3 spot in the
POWERADE FAB 50 preseason football team rankings
.
In its 2010 area-round playoff elimination, Allen played valiantly in a 37-35 loss to then-No. 1 Euless Trinity.
Starting on top is nice recognition, but it will mean a lot more to Allen coach Tom Westerberg if 17 weeks down the road his team is still No. 1.
ESPNHS Texas High School Football Preseason Rankings

(Last season's record in parentheses)
1. Allen (10-2)

The Eagles open against speedy Cedar Hill in the nightcap of the Tom Landry Classic Saturday at Southern Methodist University's Ford Stadium.