High-SchoolTexas:

Marshall Williams
September, 29, 2011
9/29/11
11:31
PM ET
By
Brandon Parker
| ESPN.com
A few weeks ago, as I talked with Flower Mound quarterback Marshall Williams for
the feature that ran in this space
, he told me that one of his favorite things about Texas high school football is playing rival Marcus.
"There's two schools in Flower Mound — us and our rival, Flower Mound Marcus," Williams said. "Half the town is on our side, half the town is on the other. I love it. I love being around that atmosphere. There's nothing like it."
The two will meet again Friday at Marcus, and even though their records vastly differ, the stakes remain high. Marcus, which has started 4-0 and currently sits at No. 23 in the state rankings, will look to avenge last year's 52-49 loss, while 1-3 Flower Mound hopes to get its offense in gear again after scoring just 15 points last week against Hebron.
Check out the above video from our guys at ESPN Dallas for more on this rivalry game as well as big contests this weekend.
Brandon Parker covers Texas for ESPNHS magazine and ESPNHIGHSCHOOL.com. Follow him on Twitter @brandoncparker or email him at brandon.c.parker@espn.com.
September, 14, 2011
9/14/11
12:36
PM ET
By
Brandon Parker
| ESPN.com
By now, hopefully you've all had a chance to check out my
feature
on the interesting journey of Flower Mound quarterback
Marshall Williams
. If not, do yourself (and me) a favor by reading about his trek from the next great gunslinger to wide receiver to QB 1.
Additionally, this blog post will mark the start of a new element called "The Chop Chop." In most of the stories we write for the ESPNHS magazine or website, there's often material we can't fit in and instead gets left on what we call the cutting room floor — hence, the "chop chop" name. So since the Internet has unlimited space (or so they say), I figured this is a way to let you guys see some of those golden quotes and anecdotes that don't make it into print. So here we go....
On the approach of Flower Mound's high-powered offense:
"Our goal is to score every single drive. Not a field goal, but a touchdown. We expect six points every time. If we come off the field and punt, we're pissed."
On if "Friday Night Lights" is a valid depiction of Texas high school football:
"Definitely. When you win, it's great and people are happy. But if you lose, you're the bad guy and not many people like you that week. It's intense, but that's what makes it great. I love being in Texas and playing in this atmosphere."
On which character in the TV show or movie that he most resembles
: "I would probably say I'm like the quarterback [Mike Winchell] from the movie. Like me, he's trying to prove himself and play in college, but he doesn't have much time to do it, so there's a lot of weight on his shoulders. That's pretty much like me. I'm not coming into this season with 10 offers, so I've got to prove it all in my senior year."
On who he looks up to in the NFL:
"The two guys I watch are Peyton Manning and Tom Brady. Just their leadership skills are amazing. Manning is known for watching hours of film and always being prepared. And when Brady headbutts all five of his offensive lineman before every game, that even gets me pumped up watching that."
On his goals for this season:
"I don't really care about my stats as much as our team goals. As a team, we want to do well in district play, win enough games to get to the playoffs and get a win because our school has never won a playoff game in its (12) years. Individually, if there was anything, I guess I'd say do something crazy like throwing for 5,000 yards or 50-plus touchdowns. Something crazy like that."
Brandon Parker covers Texas for ESPNHS magazine and ESPNHIGHSCHOOL.com. Follow him on Twitter @brandoncparker or email him at brandon.c.parker@espn.com.
September, 13, 2011
9/13/11
3:33
PM ET
By
Brandon Parker
| ESPN.com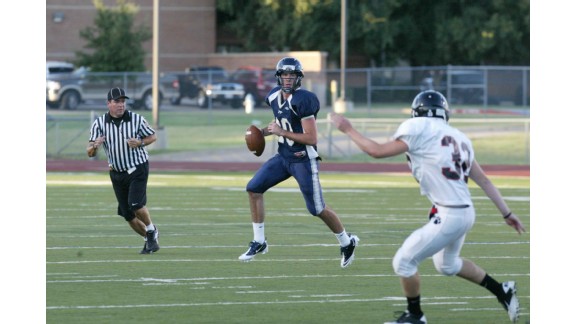 Carly Everett/Your Action ArtFlower Mound senior quarterback Marshall Williams looks downfield before making a throw. In his first year as the starter, Williams has excelled, racking up 1,383 passing yards and 15 total touchdowns through three games.
Make no mistake about it —
Marshall Williams
was going for the jugular. The 2011 season wasn't a minute old and the end zone rested 80 yards away, but this play, a touchdown-or-bust bomb, had been years in the making for the Flower Mound quarterback.
"We wanted to start the season off right and prove people wrong with one play," the senior quarterback recalls. "So we had Chaz Taylor lined up on the outside for a one-on-one post route. The middle was open and I got a little pressure, so I just stepped up and let it go. Chaz ran under it and took it all the way.
"It happened so fast then, but when I think about it now, I'm like, 'Wow, did that really happen?'"
For the first time in more than two years, Williams wasn't dreaming. He'd waited that long to return to his natural position, snagging passes at wideout in the meantime while now-graduated Paul Millard rewrote the school record book.
But now Williams' wildest fantasies — starting as varsity quarterback, passing for a national-best 502 yards in Week 1 and racking up 15 touchdowns through three games — were finally real.
September, 6, 2011
9/06/11
2:10
PM ET
By
Brandon Parker
| ESPN.com
During last year's Herbstreit Classic, Skyline appeared out of its league against Florida power St. Thomas Aquinas in a 31-3 loss. On Monday, the Raiders exacted revenge against the Sunshine State by not only beating Cocoa (Fla.) handily, but also sending the Tigers — who brought a 38-game win streak into the season — to its second straight loss.
Known for his prowess at linebacker, Peter Jinkens showed off his offensive skills with two rushing touchdowns for the Raiders. The senior also pitched in to help his defensive comrades hold the Tigers' normally potent rushing attack to just 39 yards on 30 carries.
For more on this contest, as well as Bowie's 36-6 win against New Orleans' Edna Karr, click
here
. And to read how DeSoto capped off a Texas sweep at the Herbstreit Classic in a major way, click
here
AROUND THE STATE
*A week after falling to Stephenville, Aledo is back to its winning ways after easily defeating Weatherford, 50-7, on Friday. What didn't change was Johnathan Gray, who continued his dominant ways with 336 rushing yards and five touchdowns on 15 carries. The senior is now just three touchdowns away from breaking the state record for most career scores.
*With QB Colin Lagasse (shoulder), WR Griffin Gilbert (WR) and RB Shaun Nixon all sidelined, the forecast for Friday's matchup against Hendrickson appeared dire. But for the second week in a row, Baker Mayfield carried the load. The junior quarterback racked up 256 yards through the air and totaled six touchdowns in the Cavaliers' 43-14 win against the Hawks.
Once Lagasse is healthy enough to play, coach Hank Carter has quite the decision on his hands between Lagasse and Mayfield. And with Aledo on tap this Friday, having Gilbert and Nixon back will be key if the Cavaliers hope to beat a team that snapped its 48-game win streak last year.
*Injuries also affected Allen, as tailback Jonathan Williams sat out Friday with back spasms. But just as Mayfield did for Lake Travis, Allen quarterback Alec Morris picked up the slack — and then some. Morris threw for 326 yards and totaled six scores before sitting out most of the second half in the Eagles' 59-0 win over Justin Northwest.
*Marshall Williams continued his assault through the air in Flower Mound's 44-36 win against McKinney Boyd. A week after throwing 505 yards (tops in the nation for Week 1) to go with six total TDs, the senior had 437 passings yards and four scores for the Jaguars. Check back later this week for more on Williams' quick start.
Brandon Parker covers Texas for ESPNHS magazine and ESPNHIGHSCHOOL.com. Follow him on Twitter @brandoncparker or email him at brandon.c.parker@espn.com.