High-SchoolTexas:

San Marcos
September, 16, 2011
9/16/11
3:29
PM ET
By
Brandon Parker
| ESPN.com
Before we get to this week's football preview, I'd be remiss not to tell you guys to check out a touching story on how the Bastrop football team has helped the post-wildfire recovery.
Great story here
by Matthew Muench. And speaking of Bastrop, the Bears won 48-23 last night against San Marcos, giving some joy to a town that saw fires destroy 1,200 of its homes. Trae Bunton led the way with four touchdowns.
This weekend, a number of the state's top programs have their bye weeks, including Allen, Coppell, Skyline and Arlington Martin. But you should know better than to think that means there won't be some good football played. First up.....
No. 6 DeSoto (3-0) at Stony Point (1-1*)
(does not include forfeit wins)
Several factors make this an intriguing matchup. Last year, Stony Point had DeSoto's number, winning both of their contests, including a 72-48 win in the Class 5A quarterfinals. But as the saying goes, what a difference a year makes. DeSoto has been nearly invincible, outscoring opponents 151-16 through its first three games. Raheem Wilson has led the charge at quarterback with 10 touchdowns in the last two weeks. Expect another high-scoring contest, but this time, DeSoto will be out in front.
My pick:
DeSoto 38, Stony Point 14
No. 14 Lufkin (3-0) at No. 22 Longview (2-1)

Last week saw Longview, which rarely loses on its turf, suffer its worst home defeat in 11 years. Granted, the 42-23 loss came at the hands of No. 1 Allen. Though the Lobos' defense is young, it should fare better against Lufkin. But that's not to say Lufkin is a pushover. Far from it, in fact. The Panthers showed their offensive firepower by scoring 42 points in 13 minutes during a 69-14 blowout of Nacogdoches last week. Both these teams have beaten a solid Tyler squad this year, but the Lobos earned a 38-22 win while Lufkin squeaked by 34-31. In my opinion, this small factor, mixed with the Lobos' big home-field advantage, will brew an upset.
My pick:
Longview 28, Lufkin 24
No. 17 Cypress Falls (2-0) at Cypress Creek (2-0)
Bragging rights as well as an unblemished record are on the line tonight in this battle. This should be a tight one, with both teams sporting explosive offenses. Cypress Falls has vaulted into the state rankings behind Bryce Peters, who rushed for 250 yards against another Cypress squad (Woods) last week. But the Cougars have a talented runner of their own in Devan Demas. The Boise State commit has tallied 522 yards and five scores through two games.
My pick:
Cypress Falls 21, Cypress Creek 17
Brandon Parker covers Texas for ESPNHS magazine and ESPNHIGHSCHOOL.com. Follow him on Twitter @brandoncparker or email him at brandon.c.parker@espn.com.
September, 14, 2011
9/14/11
10:28
PM ET
By
Matthew Muench for ESPNHS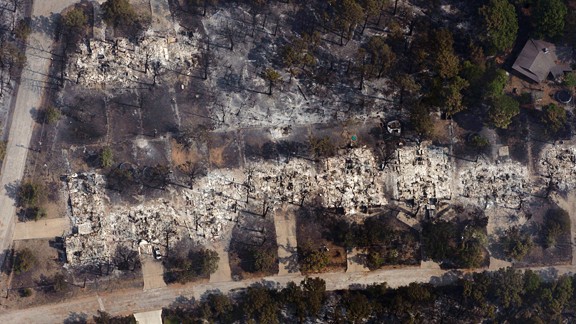 Eric Gay/AP PhotoThis aerial image shows a row of homes destroyed by a wildfire in Bastrop, Texas. Eleven Bastrop football players and two coaches lost their homes in the wildfires.
Dillon Becker never imagined he would ask the question he did when he approached a 70-year old man last week in the Bastrop High School gym.
Although it was a little embarrassing, the senior quarterback knew he had to ask it – "Boxers, or briefs?"
"He came into the shelter where I was volunteering and said he needed a pair of underwear because he lost everything in the fire," Becker said. "So I went to the store and bought him a brand new pack. You could tell he was thrilled just to get a pair of underwear. It made us both smile a little."
After a week of what the Bastrop community had just endured, smiles were hard to come by after wildfires spread faster than a quick screen pass, destroying more than 1,500 homes and hundreds of acres of land in Central Texas.
Bastrop was hit the hardest and the disaster led to the cancellation of classes and all sporting events, including Bastrop's Friday night tilt with Akins.
"Football was the last thing on our minds," head coach Gerald Perry said. "We were concerned about our families, our community."
Senior Parker Poe was one of 11 football players who lost his home in the flames. Two Bastrop coaches also lost their homes and many students and community members still don't know the full amount of damage on their homes.
"To be honest, I feel sorry about the things me and my family lost," Poe said. "But really, all that stuff doesn't matter. I still have my family. I still have my teammates. That's what matters."
What also mattered to him was helping the community. He didn't sulk. He didn't complain. He went right to work in community shelters along with many of his teammates and other student-athletes.