High-SchoolTexas:

Tanner Rahier
March, 16, 2012
3/16/12
9:49
AM ET
By
Jason A. Churchill
| ESPN.com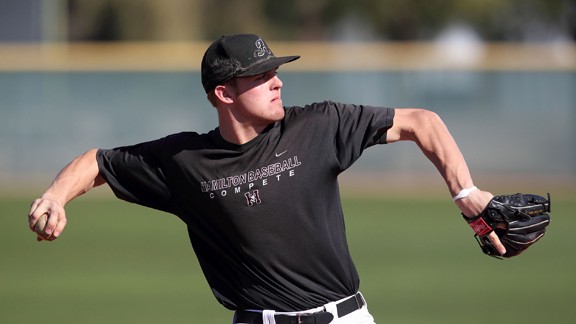 Mike Janes/Four Seam Images via AP ImagesHamilton (Chandler, Ariz.) senior third baseman Mitch Nay has seen his MLB draft stock rise thanks to a strong start to the 2012 season.
Jason A. Churchill, who covers the MLB draft for ESPN Insider, looks at the high school senior baseball prospects who've either helped or hurt their draft stock early in the 2012 season.
The Class of 2012 high school baseball class is one of great promise. While it might lack polish at the top, it offers a lot of projectable, star-level athletes with high ceilings. This class, however, won't sort itself out until late April and May. From our rough sketch of the top 20 high school prospects that was compiled during the preseason (see below), we'll look at who's improving their stock and who's fading in the early going.
Preseason Top 20
1.
Lucas Giolito
, RHP, Harvard-Westlake (Studio City, Calif.)
2.
Byron Buxton
, OF, Appling County (Baxley, Ga.)
3.
Carlos Correa
, SS, Puerto Rico Academy (Gurabo, Puerto Rico)
4.
Walker Weickel
, RHP, Olympia (Orlando, Fla.)
5.
Max Fried
, LHP, Harvard-Westlake (Studio City, Calif.)
6.
Matt Smoral
, LHP, Solon (Ohio)
7.
Stryker Trahan
, C, Acadiana (Lafayette, La.)
8.
Joey Gallo
, 1B, Bishop Gorman (Las Vegas)
9.
Gavin Cecchini
, SS, Barbe (Lake Charles, La.)
10.
David Dahl
, OF, Oak Mountain (Birmingham, Ala.)
11.
Lucas Sims
, RHP, Brookwood (Snellville, Ga.)
12.
Hunter Virant
, LHP, Camarillo (Calif.)
13.
Rio Ruiz
, 3B, Bishop Amat (La Puente, Calif.)
14. Zach Eflin, RHP, Hagerty (Oviedo, Fla.)
15.
Clint Coulter
, C, Union (Camas, Wash.)
16.
Courtney Hawkins
, OF, Carroll (Corpus Christi, Texas)
17.
Addison Russell
, SS, Pace (Fla.)
18.
Carson Kelly
, 3B, Westview (Portland, Ore.)
19.
Tanner Rahier
, SS, Palm Desert (Calif.)
20.
Corey Seager
, 3B, Northwest Cabarrus (Concord, N.C.)
STOCK UP
Mitch Nay, 3B/OF, Hamilton (Chandler, Ariz.)
Nay, Arizona's top prep prospect, has a shot to shoot up the charts with more performances like this week's outing when he went deep to right-center -- the opposite field for Nay, who's a right-handed batter -- for a three-run homer.
Ty Buttrey, RHP, Providence (Charlotte, N.C.)
Buttrey touched 95 mph on the radar gun last week and sat firmly in the low-90s. He fanned 12 in 5.2 innings in one start and offers projection at 6-foot-6 and just over 200 pounds. He's committed to Arkansas, but he could move up into first-day consideration.
Eflin
In his latest start, Eflin, a 6-foot-5, 200-pound Central Florida commit, tossed six hitless frames and struck out 12. He has 29 strikeouts in 15 innings on the season, using a 90-94 mph fastball and a potentially plus curveball. He has yet to allow an earned run.
Weickel
Weickel, already a potential top 10 pick and a Miami commit, whiffed 10 in his start last week and has scouts drooling over what might be in a few years. "Sometimes I get lost and imagine him four years down the line," said an area scout. "He could be an absolute horse. The sky's the limit."
STOCK DOWN
Keon Barnum, 1B, King (Tampa, Fla.)
Barnum is hitting for average and power early on, but is not showing a consistent ability to recognize and adjust to the breaking ball. Since he's already 19, Barnum has less developmental time ahead of him than most prep draft prospects and is limited to first base defensively, so he has to show even better at the plate than if he offered defensive value. He does possess plus bat speed and the ball jumps off his barrel, but he's slumped a bit early this season.
Lance McCullers Jr., RHP, Jesuit (Tampa, Fla.)
While McCullers started this year 4-0, he lands on the Stock Down list because scouts hoped to see improvements in some key areas that have not yet been displayed. He's still inconsistent with his command and there are issues with his delivery, including a lot of effort, and the buzz is that he's headed for the bullpen as a professional.
Fried
After faring very well in his first few outings and impressing over the summer, fall and early winter, Fried has looked very pedestrian of late. He's sat 89-92 mph with his fastball and has not commanded his arsenal well in his last two starts, getting touched up in both. It's far too early to suggest this will ultimately impact his draft stock, but the trend isn't rosy.
Giolito
Giolito lands here based solely on his elbow injury.
It's been described as a UCL sprain
-- I coined it a potential "UCLA sprain" for its impact on Giolito's decision to sign a pro deal or head to UCLA next fall -- but sprains too often turn up as tears, which generally require Tommy John surgery. The right-hander is my No. 1 overall prospect, prep or college, and will remain at the top of the prep list until more is known of his condition.
If Giolito returns and shows he's 100 percent, he's still likely to be selected in the top 5-10 picks, if not the top three.
INJURIES
On top of Giolito's injury, there have been two others that may weaken the prep class and drop the stock of the player in question. Albuquerque Academy (Albuquerque, N.M.) catcher/infielder
Alex Bregman
broke the tip of his middle finger and is expected to miss the rest of the season. Showing the toughness clubs want to see, Bregman hurt the finger in pre-game yet played and had two hits.
Ringgold (Ga.) left-hander
Matthew Crownover
, the nation's No. 8 lefty, recently had Tommy John surgery and will miss the rest of the season. He wasn't considered a first-round talent, but he has touched 95 mph and had a shot to sneak into the top 100 despite his lack of ideal height at 6-0. He's likely headed for Clemson and will be draft eligible in 2015.
Jason A. Churchill covers scouting, player development and the MLB draft for ESPN Insider, as well as Prospect Insider, where he's the founder and executive editor. You can follow him on Twitter @ProspectInsider and email him at churchill@prospectinsider.com.
March, 2, 2012
3/02/12
9:39
AM ET
By
Jason A. Churchill
| ESPN.com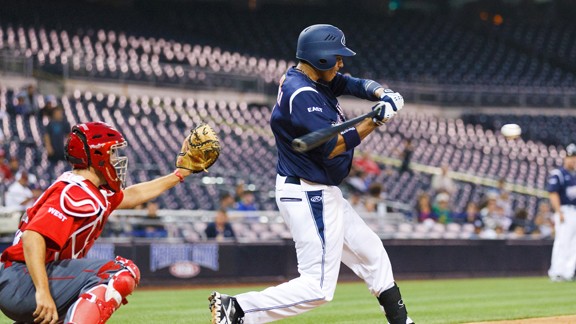 Cal Sport Media via AP ImagesPuerto Rico Baseball Academy (Gurabo, Puerto Rico) shortstop Carlos Correa is projected to be a top-10 pick in June's MLB draft.
Each week since early February, we've been taking a look at the elite Class of 2012 high school baseball prospects by ranking the Top 10 players at each position. This week, we unveil our final set of rankings with the Top 10 middle infielders, which is led by Puerto Rico Baseball Academy (Gurabo, Puerto Rico) shortstop Carlos Correa. The Miami commit is projected to be a top-10 pick in June's MLB draft.
Note: The rankings below are partially based on each player's chance of remaining at a middle infield position well into professional baseball.
1. Carlos Correa, Puerto Rico Baseball Academy (Gurabo, Puerto Rico)
Correa's physical tools suggest he has a bright future at the plate and is top-10-pick material in June's draft. If the 6-foot-4, 190-pounder can stick at shortstop he could be a star, but he possesses the raw power to take his game to third base, if necessary. He has the hands, arm strength, foot speed and agility to play the position, but he could outgrow it in the long term. Correa is committed to Miami.
2. Gavin Cecchini, Barbe (Lake Charles, La.)
Cecchini is a gamer with plus makeup and good athleticism and has a chance to stick at shortstop as a result. His arm is good enough and he's accurate, and there's some pop in the bat thanks to sound mechanics and a solid hit tool. Cecchini is committed to Ole Miss.
3. Addison Russell, Pace (Fla.)
Russell looks more like a third baseman than a shortstop, and his power follows suit. But he moves his feet well and has terrific hands, so there's a chance for him to stick at short in pro ball as long as he remains in top condition. Auburn will miss out on a premium recruit if Russell signs a pro deal this summer.
4. C.J. Hinojosa, Klein Collins (Spring, Texas)
Hinojosa has the arm and hands to play shortstop, and would likely do so if he heads to Austin to play for the Longhorns -- something he nearly did as an early enrollee -- but his thicker build may push him to second base or the hot corner down the line. He squares up fastballs regularly and is considered a tough sign due to his college commitment.
5. Jesmuel Valentine-Diaz, Puerto Rico Baseball Academy (Gurabo, Puerto Rico)
Valentine-Diaz is a switch-hitter with a traditional split; he's stronger from his natural right side in terms of consistency and contact, but there's a little more pop from the left side. He doesn't stride, which can be good and bad. He's quick in the field and on the bases and could earn his way into consideration as a second- or third-round pick. He'll be LSU's starting shortstop in 2013 if he passes on the pro game for now, and he could use that time in school to get stronger.
6. Brandon Lopez, American Heritage (Plantation, Fla.)
Lopez is a bit raw in some areas, but once he defines his future -- he's also a right-handed pitcher who has touched the low-90s -- his game may round into shape. He has good hands and a quick bat at the plate and despite a stiff front arm his swing finishes quick and with good plane producing line drives and hefty fly balls. He tends to over-stride a bit, but that's generally an easy fix.
7. Tanner Rahier, Palm Desert (Calif.)
Rahier brings athleticism, strength and good defensive mechanics to the table, but most scouts bet on him ending up at third base as he matures physically -- he's already over 200 pounds and stands 6-foot-2. He has a plus arm and above-average power potential that he could take to the University of San Diego next fall. If Rahier was a better bet to stick at shortstop, he'd rank higher here because he has a better bat than the three prospects ranked ahead of him.
8. Avery Romero, Pedro Menendez (St. Augustine, Fla.)
Like many prep shortstops, Romero may have to move to second or third base, but the tools are there for his bat to play anywhere. He has a strong arm and average speed, but his hands are soft and his release is quick, though he drops his arm angle a little more than scouts prefer.
9. Richie Martin, Bloomingdale (Valrico, Fla.)
Martin, a Florida signee, gets the most out of his 5-foot-10, 170-pound frame, but could stand to get stronger. He's good with the glove and his release is quick, but a move to second base due to long-term arm strength may be necessary.
10. Tim Lopes, Edison (Huntington Beach, Calif.)
Lopes possesses good instincts on defense and his approach to the game suggests he's a high-makeup talent whose tools will play up as a result. He's not likely long for shortstop but handles the bat well and makes consistent contact.
Jason A. Churchill covers scouting, player development and the MLB draft for ESPN Insider, as well as Prospect Insider, where he's the founder and executive editor. You can follow him on Twitter @ProspectInsider and email him at churchill@prospectinsider.com.