High-SchoolTexas:

Texas Football Recruiting
March, 12, 2012
3/12/12
9:52
AM ET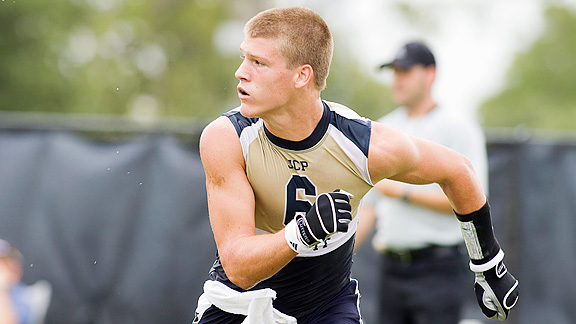 Miller Safrit/ESPN.comJesuit (Dallas) wide receiver Jake Oliver caught 108 passes for 1,637 yards and 24 touchdowns this past fall and was named an ESPNHS Underclass All-American.
Jake Oliver
loves to block. In fact, the 6-foot-4, 200-pound wide receiver says one of his biggest thrills each Friday night is getting a chance to knock a defender on his back.
Oliver also loves to catch passes. And the Jesuit (Dallas) junior catches
a lot
of passes.
This past season, he earned a spot on the
ESPNHS Underclass All-American team
after hauling in 108 passes for 1,637 yards and 24 touchdowns, numbers that most high school receivers would be happy to have in a career. Oliver has snagged 215 passes during his three years with the Rangers.
Oliver has learned a lot about being a wide receiver from his father, Gary, a former standout wideout at Texas A&M who later served as offensive coordinator at Sam Houston State and led Bishop Lynch (Dallas) to two state titles.
The
ESPNU 150 Watch List
receiver also had plenty of support from his dad and the rest of his family during the recruiting process. Though Oliver's father and mother both attended A&M and his brother is a student at Oklahoma, he says none them tried to sway him toward their respective schools.
Instead, they let him handle recruiting on his own terms, and Oliver ultimately decided to
commit to Texas
last month.
So what does Oliver plan on doing now that his commitment is out of the way? Get Familiar with the standout pass-catcher.
ESPNHS:
What's the most important thing you learned from your father about playing wide receiver?
Oliver:
You can have all the athletic talent in the world, but if you can't get open, it will all go to waste. Practice makes you better all the time. Even going out for 30 minutes helps you a lot. I always catch and throw with my dad. I turn to my left and my right, over-the-shoulder catches — every situation I could be in during a game, he throws me that pass. Every possible catch I can think of, we've worked on it. We also work with tennis balls. It teaches you reflexes and hand-eye coordination.
ESPNHS:
What's an underrated aspect of your game?
Oliver:
I take a lot of pride in my blocking. I'm a big receiver, and blocking has to be a big part of my game. If you block for your teammates, it can set up big plays. I also like to get after the DBs just to let 'em know that I'll be there all night and they better be ready. I love contact and love knocking people down.
ESPNHS:
How do you deal with all the attention on the field?
Oliver:
Almost every game I see double coverage. You've got to fight through it. But I could get zero catches and be happy as long as we got the win. Coach (Brandon) Hickman puts me in good position to run the right routes and break these coverages. You've got adjust. It's usually the corner pressing me and then the safety coming over the top (to help).
ESPNHS:
How relieved were you after you committed to Texas?
Oliver:
It was a big weight lifted off my shoulders. There were a lot of things to think about leading up to the decision. Everybody trying to sway you, just thinking about what would be the best place to be — it was kind of overwhelming. Texas was always up there with my favorite schools, but since they didn't offer until their junior day, I wasn't sure. Once they offered, it was really cool. Not too many people can say that's happened to them, and I feel blessed it happened to me.
I can't imagine being anywhere else. My grandparents come to all my games and I'd love for them to come see my college games. It's got a great tradition, great family atmosphere and great academics. Those are just some of the many reasons why I picked Texas.
ESPNHS:
How did your family deal with your recruitment?
Oliver:
My dad loves A&M, but he said, "It's your decision. It's not up to me. I'll support you no matter what." My mom and my brother said the same thing.
JAKE OLIVER
School:
Jesuit (Dallas)
Class:
2013
Position:
Wide receiver
HT:
6-4
WT:
200
College:
Texas
FAVORITES
TV Show:
"How I Met Your Mother"
Movie:
"Dumb and Dumber" and "Friday Night Lights"
Musical Artists:
Blake Shelton and Lil Wayne
Athletes:
Calvin Johnson and Justin Blackmon
Team:
Dallas Cowboys
School Subject:
World history
Food:
Chicken
February, 10, 2012
2/10/12
7:14
AM ET
By
Brandon Parker
| ESPN.com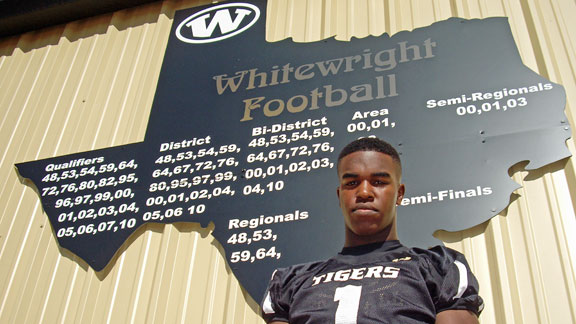 Damon Sayles/ESPN.com Whitewright (Texas) junior quarterback Tyrone Swoopes passed for 1,394 yards and 15 touchdowns and rushed for 2,267 yards and 27 scores this past fall.
Throughout this offseason, we'll spotlight Class of 2013 quarterbacks who have a shot at making the Elite 11 finals in July. This week we profile Whitewright standout Tyrone Swoopes.
Elite 11 Watch Archive
Tyrone Swoopes
knows he's not your average quarterback. Rated a
four-star recruit
in the Class of 2013 by RecruitingNation, the junior quarterback can hurt you with his arm, but at 6-foot-5 and 220 pounds, Swoopes has the imposing, athletic build to make opponents pay on the ground, as well. The proof lies in his 540 rushing yards and seven touchdowns during an October contest for the Tigers this past season. Scary thing is, Swoopes is determined to make his passing ability just as explosive as his rushing prowess.
ESPNHS:
How would you describe yourself as a quarterback?
Swoopes:
I'm not bad, but I think I could work on the passing aspect of it. Sometimes, I tend to drop the ball and run when I feel pressured instead of stepping around and throwing it. I think that'll be important for me to develop going to the next level because there, it won't be as easy as it is now.
ESPNHS:
What was it like rushing for 540 yards in one game as a quarterback?
Swoopes:
It was fun. During the game, I didn't think anything of it. I didn't know what I had done until everybody was telling me after the game. I thought it was pretty cool.
ESPNHS:
After you finishing playing basketball, what do you plan on working on this offseason?
Swoopes:
I'm going to work on my accuracy because when I'm tired, sometimes late in the game I won't do the certain things that I should do with my mechanics.
ESPNHS:
Which quarterbacks do you like to watch and study?
Swoopes:
I watch
Cam Newton
the most because he's exciting to watch. I've paid attention to how he's developed from college to the NFL, where he still runs a bit but he passes a lot more than he did in college.
ESPNHS:
What would it mean to be invited to the Elite 11 camp?
Swoopes:
Well, I got invited to the regionals this summer, and I'm looking forward to that. But I saw the TV show last summer about the national camp and I think it would be fun to go out to California because I've never been there. Just to meet those guys and be around those other great quarterbacks would be a good experience.
ESPNHS:
What does it take to be an elite quarterback?
Swoopes:
I think an elite quarterback has to be able to lead his team through anything that comes up through adversity. You can't get too worked up because you have to be a leader and control the game.
ESPNHS:
Which schools have offered you so far and do you have any favorites?
Swoopes:
I've gotten offers from Notre Dame, Stanford, Oregon, Texas A&M, Texas Tech, Baylor, Oklahoma, Auburn and Alabama. I think Baylor, Oklahoma and Texas are my three favorites right now because I went to their junior days and I enjoyed it. Those will be the only places I've really been so far.
[Note: Swoopes will be attending a Texas junior day this weekend.]
School:
Whitewright
Position:
QB
Class:
2013
2011 Team Record:
7-4 (lost in first round of Class 2A playoffs)
2011 Stats
Completions-Attempts:
110-209 (.526)
Yards:
1,394
TD:
15
INT:
7
Rushing Yards:
2,267
Rushing TDs:
27
Brandon Parker covers high school sports for ESPNHS magazine and ESPNHS.com. Follow him on Twitter @brandoncparker or email him at brandon.c.parker@espn.com.