High-SchoolTrack-and-XC:

POWERADE FAB 50
March, 29, 2012
3/29/12
11:23
AM ET
By
Steve Underwood
| ESPN.com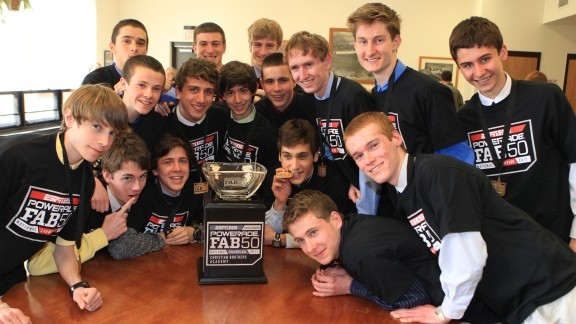 Gregg Armstrong/ESPNHSThe Christian Brothers Academy boys celebrate their POWERADE FAB 50 national championship from last fall.
POWERADE FAB 50 Presentation Gallery | POWERADE FAB 50 Presentation Video
They had won a national record 315 consecutive dual meets. They had collected a state best 17 New Jersey Meet of Champions titles. They'd been a Northeast power for years and three times previously had made the Nike Cross Nationals Finals, placing as high as sixth – guided by veteran mentor Tom Heath and sharp assistant Chris Bennett.
But in 2011, the Christian Brothers Academy (Lincroft, N.J.) boys cross country team reached the top of the mountain. For sustained excellence all fall long, and for their record-low score in taking their first NXN title in December, the Colts earned the 2011 POWERADE FAB 50 national championship. The team was recently presented with their awards at a ceremony at the school's gymnasium – packed with wildly screaming students, as well as school staff, administrators, families, and local media.
Coming into 2011, CBA had lost their top man from the previous fall –
Mike Mazzaccaro
– to graduation. But the returning varsity mainstays, bolstered by some seriously improving newcomers, knew they could be even better. "Going back to right after NXN last year, we sat down and we realized we had enough guys that we could come back and really do something special," said senior
George Kelly
.
They were the Preseason #1 in the FAB 50 rankings to start and never lost focus, with a perfect season that included victories at the prestigious Eastern States in Manhattan and the Shore Coaches Invite, Group and Meet of Champions titles, and an NXN Northeast triumph that set the stage for Portland.
Although Kelly was the team's number one man for almost every meet – including a runner-up finish in 15:37 at the Meet of Champs – one of the strengths of the Colts is that several were capable of stepping up for No. 2. For many of the races, it was super soph
Mike McClemens
, but at NXN Northeast and Finals it was junior
Jack Boyle
, and at the Shore Coaches Invite, senior
Tim Gorman
was actually the team leader. Senior
Conrad Lippert
, junior
Billy Bragg
, and junior
Aaron Libertore
also played key roles all season long.
In Portland, with Kelly, Boyle and Gorman finishing within five seconds of each other, they held off the charge by Southlake Carroll to top the podium for the first time. The margin of victory was just four points, so no one knew who won until the announcement of Carroll's runner-up finish, which led to a celebration on the stage rendered even more memorable by Kelly's bounding up and down like a pogo stick. There was truly joy in Lincroft.
Kelly, Gorman, and Lippert depart, but returnees like Boyle, McClemens, and Bragg are more than capable of leading CBA to national prominence again next fall – a fact not lost on the Colts' grizzled mentor.
"Our long range goal is to make sure they (POWERADE FAB 50 award presenters) come back next year," Coach Heath said to Colt Crazies in the gym, "because we want to be the first (boys) team to win this title two years in a row."
March, 24, 2012
3/24/12
2:23
AM ET
By
Steve Underwood
| ESPN.com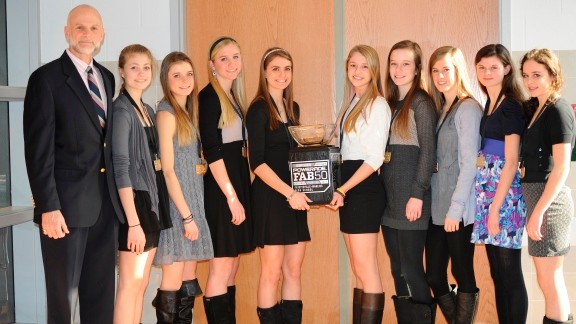 Marnie Carter/ESPNHSThe Fayetteville-Manlius NY girls XC team after winning their second straight POWERADE FAB 50 national championship.
POWERADE FAB 50 Presentation Gallery | POWERADE FAB 50 Presentation Video
The girls of Fayetteville-Manlius (Manlius, N.Y.) have won six consecutive Nike Cross Nationals finals and, now, the first two (and only) POWERADE FAB 50 girls national championships – the latter awarded in a recent school assembly and in recognition of their accomplishments for the entire season.
One might think championships would become routine, but not with the Coach Bill Aris-led Hornets. Every trip atop the podium is different and 2011 was no exception. In 2010, their first POWERADE FAB 50 title year, you could say the theme was "dominance" – as in crushing all opposition like never before. Fay-Man scored a record-low 27 points at the NXN Finals – a score low enough to have beaten the entire remainder of the field as if it was a single team – and won by a margin of 77. Led by runner-up
Christie Rutledge
, they had three of the top six finishers.
But this past fall was different. While the team lost only one scorer –
Courtney Chapman
– they reached a point at mid-season when it was clear that if they were going to repeat, they were going to have to do so without Rutledge and fellow top-5 varsity runner
Heather Martin
– both of whom were sidelined with what were ultimately season-ending injuries.
At the same time, Coach Aris was dealing all fall was his father's fatal illness, with the senior Aris passing away on Nov. 10. The Fay-Man family would have to rally as never before, with leadership at the top and younger, less-experienced runners rising to the fore in support.
By the time the smoke cleared in Portland, they had done just that. Junior
Jillian Fanning
went unbeaten through the state meet and NXN Northeast meet, and placed fourth in leading Manlius in the championships. She was a dominant championship runner (she also won the Eastern States race and ranked #1 in the country until NXN Finals) the likes of which the program had rarely, if ever, had.
Senior
Katie Sischo
was a strong leader, on and off the course, and #2 most of the year. Sischo, junior
Katie Brislin
, soph
Alana Pearl
and junior
Hannah Smith
all scored in the top 20 to secure the victory with 60 points, 24 ahead of state rival and fellow national dynasty Kinetic (Saratoga Springs), and 8th-grader
Jenna Farrell
and freshman
Annika Avery
wrapped it up as sixth and seventh girls. And this was all after they went unbeaten during the rest of the season, with victories in the Eastern States, Class A state meet, and NXN Northeast, among others.
"I think their spirit, heart and soul, and can-do attitude set this team apart," said Coach Aris. "That, with overcoming our setbacks, made it very rewarding."
"I was just so proud of them and of all of us," said Sischo.
In 2011, it was about overcoming odds instead of overwhelming dominance – and it was every bit as sweet.
December, 1, 2011
12/01/11
12:33
PM ET
As if coming up with a reasonable system for ranking high school cross country teams wasn't a thank-less enough job, we've asked
Rob Monroe
to explain the shifting sands of his weekly FAB50 rankings.
Out of a weekend that included three NXN regional meets and the enormous California state meet, here is what he has to say:
Boys Rankings
In New York, preseason favorite
Shaker
continued a late-season climb by avenging a state meet loss to
Rush-Henrietta
and also knocking off favored
Fayetteville-Manlius
for their first NXN-New York title.
St. Anthony's
also improved upon their Federations race to finish third, beating three of the teams that beat them on this same course a week earlier. Shaker's victory moved them up 11 spots from US#20 to US#9, St. Anthony's improvement vaulted it back into the rankings at US#35 after a couple of weeks on the Fab50 bubble, and
Monsignor Farrell
entered the rankings for the first time with a close fifth place finish earning a US#39 ranking. Runner-up Fayetteville-Manlius and third-place Rush Henrietta dropped four spots to #10 and #15, and sixth place finisher
Arlington
moved up one spot to US#40.
At the same course as the New York meet, the Northeast meet saw a talented
Pembroke
MA crew finally break through and punch its ticket to Portland for the second year in a row with a runner-up finish to US#1
Christian Brothers
NJ. After finishing second at the Massachusetts All-State meet, Pembroke shined with strong front running power and finished eight spots ahead of All-State D2 champion
Bishop Feehan
. That vaulted Pembroke up to US#21. Meanwhile, CBA showed again why they were the preseason No. 1, running the second-best cumulative time in Bowdoin Park history (to my knowledge) behind only the 2004 team from Fayetteville-Manlius. CBA also sported a lethal 22-second spread from 1 to 5.
Westfield
NJ, third at the New Jersey Meet of Champions, moved up a spot to finish as the second team from New Jersey and a mere seven points behind Pembroke. That improvement is reflected in a 12-spot climb to US#22.
Bishop Hendricken
RI returns to the national rankings after a two-week hiatus by finishing fourth, a performance that yielded them a US#42 ranking. Fifth-place
Don Bosco
NJ fell 21 spots to US#43.
The Southeast race saw the Florida 3A Champions from
Belen Jesuit
take the race with a course record team average of 15:38. The undefeated Magis continue to show they are a force to be reckoned with and were rewarded by moving up 10 spots to US#8. Runner-up
Brentwood
TN also moves up to US#32, an improvement of 15 spots, while
Brookwood
GA and
Lexington
SC fell out of the rankings by finishing a distant third and a shorthanded 11th.
California's State Championships provided slight upsets in both genders. In the boys race,
Trabuco Hills
returns to their previous US#11 spot as they avenged their fourth-place CIF-Southern Section finish with a D1 State Championship. The top six teams were all from the Southern Section, and aside from Trabuco Hills, they all finished in the same order as they had at the CIF-SS Finals:
Arcadia
,
Rancho Cucamonga
,
Great Oak
,
El Toro
, and
Dana Hills
. However, the gaps between these teams was wider this time and that resulted in teams falling back a few spots in the rankings. The Southern Section dominated other races as well, with
Golden Valley
and
Loyola
claiming the top two spots in the D2 race over San Diego powers
Ramona
and
La Costa Canyon
as well as SJS champion
Del Campo
.
Palos Verdes
and
St. John Bosco
knocked off CIF-NCS powers
Piner
and
Camplindo
.
Girls Rankings
At Bowdoin Park,
Saratoga
showed how drastic a difference two weeks can make. A full minute 1-5 gap shrunk to a mere 19 seconds as Kinetic finished behind US#1
Fayetteville-Manlius
and gave the Stotans their closest race since 2006, 43-57.
North Shore
finished third with 87 points but also showed it is one of the best teams in the nation by averaging 19:09.0 on the challenging course. Saratoga moved up to US#2 and North Shore to US#4, while
Canandaigua
moved up from the Fab50 bubble to US#37 on the heels of a fourth-place finish.
The Northeast regional championship saw an upset on the girls side as
Hamilton-Wenham
, second at the Massachusetts D2 All-State, won the event by 55 points over New England champion
Champlain Valley
. The surprises didn't stop there.
Weston
MA, the D2 All-State third place team, finished third in the regional meet and D2 All-State Champions and pre-race favorite
Bishop Feehan
was eighth. The bigger story might be the teams that were missing from the field, though. Pennsylvania 3A Champion
Pennsbury
was the top-ranked team in the region at US#8 but opted not to compete, as did New Jersey MOC Champion
Rumson-Fairhaven
and Pennsylvania 3A Runner-up
Unionville
PA. Of the teams that did race, only Hamilton-Wenham ran well in comparison to the top New York teams and are the only squad to make the top 50.
Tatnall
DE won the Southeast region with their best team time at WakeMed.
Assumption
KY finished second in the race, while
Midlothian
VA finished a mere three points behind in third. Tatnall and Midlothian essentially stayed the same in the national rankings. Midlothian remained at US#27 and Tatnall slid one spot to US#3 because of Saratoga's race impressive race in New York. Assumption moved up six spots to US#20 behind their performance, while
Green Hope
dropped 19 spots to US#31 by placing fourth.
Saugus
CA showed why it was so highly rated in the preseason, winning their sixth straight state title and avenging a 60-69 loss to
Simi Valley
at the Southern Section finals. The victory moves Saugus into the Top 5 for the first time this season.
La Costa Canyon
finished second as their previously tight pack spread out a bit with a 43-second gap between the 4-5 runners. Simi Valley fell to fourth behind two teams they beat a week earlier because one of their scorers was DQ'd. Third-place
Redondo Union
and fifth-place
Woodbridge
ran their best races of the season to make the biggest moves of all the Division 2 teams. Redondo moved up eight spots to US#11 and Woodbridge 21 spots to US#26. The Division 1 race showcased Southern Section dominance with six of the top seven teams, including the top three:
San Clemente
,
Vista Murrieta
and
Marina
. The Division 3 race saw the Southern Section's
Palos Verdes
run its best race of the year to claim the state title over strong competitors from Northern California.
October, 29, 2011
10/29/11
7:41
PM ET
The latest FAB50 team rankings produced a big change at the top of
the boys rankings
. On the heels of their competition at the Utah state meet, American Fork and Davis rose in this week's rankings. American Fork moved all the way to the top, unseating Christian Brothers Academy NJ as the new No. 1.
The Mt. SAC Invitational caused the most disruption on
the girls side of the rankings
. Simi Valley CA moved up from 10th to fourth with a huge victory at Walnut, Calif.
October, 21, 2011
10/21/11
6:42
PM ET
There are a few programs across the country that have distinguished themselves as first-rate across the board -- with nationally ranked boys and girls. Three of them have boys and girls squads ranked in the top 15 nationally --
Fort Collins
CO,
Fayetteville-Manlius
NY and
Southlake Carroll
TX.
Southlake Carroll stepped up big at the Chile Pepper Invitational in Arkansas last weekend. The boys bumped up to No. 2 in the nation (from 3) and the girls rose seven spots to No. 15.
The competition is getting fierce for rankings recognition as the season begins to move toward state championships from coast to coast. Here are the Week 6 Powerade FAB50
boys team rankings
and
girls team rankings
.
October, 21, 2011
10/21/11
1:51
AM ET
Utah holds its state championship meet on a Wednesday, and is the second state after Alaska on the calendar. Not sure why that is, but it does sort of stick out and maybe that's the point.
The event at Sugarhouse Park in Salt Lake City had our attention
.
In the 5A boys meet, FAB50 top-10 teams American Fork and Davis went head to head. It was hard to pick a winner, sort of like deciding between Zion and Bryce for best canyon. As it turned out, American Fork defended its title with 25 points and Davis had to settle for second with 33.
On the girls side of things, Box Elder's Kelsey Braithwaite broke the state meet record. And top Utah teams Ogden (3A) and Skyline (4A) were upset.
Upcoming state meets (on Saturday) include Montana, Wyoming, Oklahoma, Nebraska, Michigan, North Dakota and South Dakota.