KTC Indoor Classic: US#1 in 200 for Martin; Owers gets another 50-footer in shot
January, 29, 2012
1/29/12
4:51
PM ET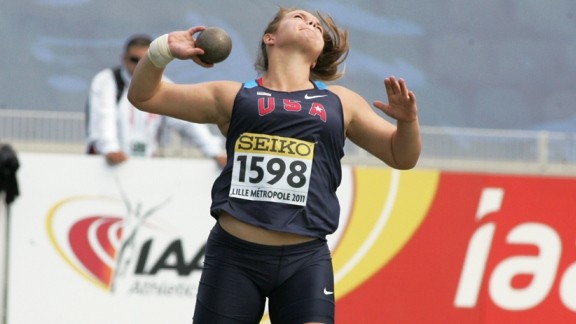 John Nepolitan/ESPNHSTori Owers (photo from 2011 World Youth Champs) nailed her 2nd 50-footer of the year.
Coverage of the 2012 KTC HS Indoor Classic
Fri.-Sat., Jan. 27-28, 2012 - E. Tenn. St., Johnson City TN
LINKS:
Meet Home Page
|
Live Results Page
DyeStat Elites
|
Complete Results
HIGHLIGHTS
G-200: Two US#1s for Martin Luther King GA jr Jada Martin (Sprint Athletics): 24.20 in the prelims, then 24.15 in the final, with Union Grove GA sr Brianna Vaughn (Sprint Athletics) 2nd in 24.91 (24.72 prelim).

G-60: The aforementioned Vaughn got the best of Georgia rival Martin here, US#5 7.54 to #7 7.57

G-SP: Athens Academy GA sr Tori Owers (Throw1Deep), already US#1 at 50-6, gets another 50-footer with 50-2.5.

B-WT: Another big throw (69-2.75) for Ravenwood TN sr Cameron Brown, who is already US#3 at 70-6.25.

G-WT: Throw1Deep swept the first 8 places, with its US#1-2-3 throwers battling and while none of them hit their PRs, it was #2 Pope GA sr Monica Phillips winning with 55-1.

G-LJ/55H: Kell (Marietta, Ga.) jr Kendell Williams (The Heat TC) had another impressive double, a US#4 19-6 and #4 8.56 prelim (8.57 in final).

B-60H/LJ: Kendell Williams' senior brother Devon continued working his way into the elite with an US#14 8.14 in the prelim, though he lost to Union Grove's Byron Burney in the final, 8.20-8.22. Williams also won the LJ in 21-7.5.

G-800: US#6 2:13.79 800 for Ridgeway TN sr Rhavean King.

G-400: US#11 56.18 for Chamblee GA jr Chelsea Caldwell.

B-PV: US#15 15-5 for Flowery Branch GA sr Austin Eckenroth.