'Running with the Buffaloes' out of bounds?
February, 1, 2012
2/01/12
7:33
PM ET
By
Tim Catalano
and
Adam Goucher
| ESPN.com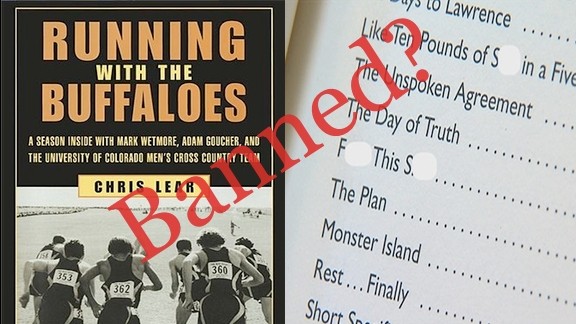 Photo illustration Tim CatalanoThe 1998 book "Running With The Buffaloes" has been popular with young runners ever since it was released. But is it too profane for a middle school library shelf?
Foul language can be found just about everywhere these days, but does it belong in a middle school library? A
media outlet
in Virginia reported on Monday that at least one parent wants the book
Running With the Buffaloes
removed from the shelves of her son's school.
For readers of this blog who are unfamiliar with the book, here is why we care: The book is about the 1998 University of Colorado men's cross country team. Adam was a senior that year. Tim had graduated a few years earlier. Both of us are friends with the author
Chris Lear
.
It is a non-fiction book that tries to capture and describe the essence of what it is like to run at the collegiate level. Here is how
Running Times
described the book in a review,
"Set in the fall of 1998, the book chronicles the Colorado Buffaloes' cross country campaign - taking the reader on a ride from the anticipation of pre-season camp, through the mid-season shock of losing a teammate, to the elation of competing at the NCAA championships."
Is the book full of "bad" language? Yes. One look at the table of contents and you can see that Lear pulls no punches in depicting the crude language used by the members of the team. The question is not whether the book contains foul language. The question is whether the book should be allowed to be carried in a middle school library. Here are our thoughts:
Adam:

I know I am partly to blame for the language used in Running With the Buffaloes, but that is how we talked. Chris wanted the book to be authentic, so he took down our words verbatim. In that sense, the book is honest and does a great job of portraying real people on a real team going through a real season. He did not water it down to make it appropriate for all ages.

As bad as the language is in the book, I probably used worse language when I was in middle school. By the time I was in the sixth grade, I knew all the bad words and exactly how to use them. My friends and I tried not to curse around adults, but when we were by ourselves, we filled our sentences with as many swear words as possible. In that sense, I do not think the language in Running with the Buffaloes will come as any shock or surprise to middle school kids.

However, it would be inappropriate for an adult in a school to curse in front of students. It does not matter that students curse themselves. It matters that the adult knows what is appropriate in specific environments. For example, just because a school knows that students have probably already seen pornography, does not mean they should have a subscription to Playboy in the library.

I don't think this book is bad for kids. There is no violence, sex, or drug use, but there is a heavy dose of foul language which is enough reason for a middle school library not to carry it.

Adam's verdict: Running With the Buffaloes

probably does not belong in middle school libraries.

If young runners want to read it, they can find it on Amazon.com, the community library, or at the bookstore.

However, I would definitely let Colt read this book when he's in middle school if he wants to.

Tim

I taught and coached in high schools for eleven years after I graduated from CU. I am not sure if I ever walked into a middle school bathroom where I did not see graphic illustrations of genitalia on the walls, along with language that would have made the characters in Running With the Buffaloes blush. I did not use foul language as a coach because I knew I was supposed to set a standard of intellectual maturity. I was not always mature, but I did uphold those standards fairly well.

A library is the same thing. It sets a standard by what it carries on its shelves. Not carrying books such as these will not prevent kids from cursing. Just as not carrying books about violence and sex will not stop fights and teen pregnancies.

Tim's verdict: Although middle school kids are already familiar with the language used in Running With the Buffaloes, a middle school library is not the place for them to find this book.
So what does the author think? We spoke with Chris Lear about the possible ban.
Chris:

Middle school is, for most, a dreadful, awkward time....generally speaking, middle school XC runners are not at the top of the social hierarchy, and let's be honest, many end up in XC by default. So that's our starting point.

Now here's a book that (paraphrasing others) shows that this place where they ended up can be a really special place. They may surmise after reading it that running can provide an avenue by which they will gain a sense of fulfillment and a sense of self. They may even learn that this melting pot of folks on the team may become like kin should - through shared effort and sacrifice - they commit to chasing some big goals.

There are worse takeaways to be found all around in media accessible to middle schoolers everywhere.

Are there some f-bombs along the way? You bet. Try training like those men trained, and you'll find it's not all unicorns, butterflies and cotton candy.

Chris's Verdict: At the end of the day, you weigh the cost/benefit of language and message. Would I let my kids read this when they're in middle school. No doubt.
Running With the Buffaloes
is a great book. Runners of all levels enjoy reading it because it is so honest and because it depicts a slice of running life that few people get to experience for themselves. If you have not read it yet, check it out - though probably not from the middle school library.
***We would love to hear your thoughts. Feel free to share your opinions in the comments below even if you disagree with us.