Drazba lands on national stage with big USATF XC finish in big freeze
February, 14, 2012
2/14/12
11:51
PM ET
By
Michael Newman
| ESPN.com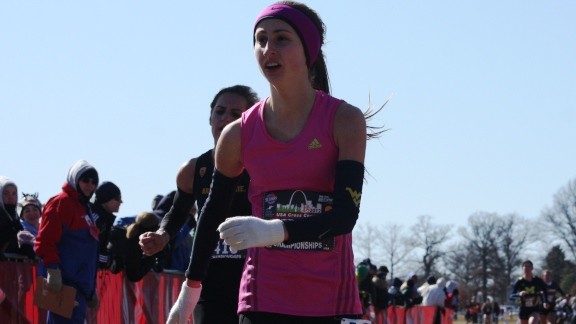 Bob Geiger/ESPNHSMaggie Drazba of St. Mary's, W. Va., completes her amazing run in 2nd place.
USATF CROSS COUNTRY INDEX
At first glance Saturday, it looked like the weather would be the big winner at the USATF Cross Country Championships at St. Louis' Forest Park. The temperature was at 20 degrees at the time the junior races went off, with a wind chill below zero.
"Those were the coldest conditions that I have run in," La Costa Canyon (Encinitas, Calif.) senior
Darren Fahy
told his coach, Bill Vice.
"Well, you better get used to that," his coach replied. Fahy recently committed to Georgetown University.
The weather was just another setback for Fahy (more on him, later), who would finish 7th in the Junior Men's race. But among those who seemed to get through the frigid conditions with flying colors was St. Mary's (St. Mary's, W. Va.) junior
Maggie Drazba
. The West Virginia AA-A state champ (fastest in all classes) was the highest prep finisher in either Junior race, taking 2nd in 21:07.7 for 6K behind University of Michigan frosh Shannon Osika (21:04.3) in the Women's battle.
There were no IAAF World Championship berths on the line for the first time as that meet has gone to an every-other-year format and will not return until 2013. But Drazba will join the 11 other collegians from the two races in qualifying for Team USA for the North America, Central American, & Caribbean (NACAC) Cross Country Championships, which will be conducted in Port of Spain, Trinidad on March 17, 2012.
Drazba was not even on the radar in the pre-race discussion, though she also finished the fall off with a 13th place finish at the Foot Locker South Regional.
"I decided to jump in the race in mid January," Drazba said. "My training was looking good and we thought it was a good chance to get some big meet experience. I had my biggest mileage week in early January. It was 80 miles. I had pretty high mileage coming into it. I backed down a lot last week coming into the meet, because I wanted to do well."
The pack thinned out quickly during the race. By the halfway point, there were only five runners contending for the lead as Gabrielle Anzalone of the University of Wisconsin set the tempo. But it was Drazba that seemed to want the pace to go faster.
"My strategy was just to stick with them and see what I could do," she said. "My goal was to qualify for the NACAC team, but I just wanted to do my best. I was just trying to stick with it and stay out of the wind. I did not think that I was pushing the pace."
In the last 1k, Drazba made a veteran move that only Osika responded to. Osika – a 2010 Foot Locker 8th-place finisher who's had an amazing winter for the Wolverines, including a 4:38 mile – would kick to win by the three-second margin. Drazba had made her first national team. She was no longer a novice on this stage, no longer an afterthought. A smile from ear-to-ear on her face in the back of the chute confirmed that.
"I thought that I might qualify," she said, "but finishing in second was more than I could hope for."
"We knew that she had that race in her," said her coach Glenda Cottrill. "She is a special runner. She looked so strong throughout the race."
On this Saturday, it was the runner from the small West Virginia town along the Ohio River turn to shine. In the town of St Mary that has over 2000 people living there, she is a household name. This race opened the door for her to become a household name on the national spotlight.
Fahy's La Costa teammate
Emma Abrahamson
, was the second prep in the race in 7th place (21:37.8). Xavier College Prep (Phoenix, Ariz.) junior
Sarah Fakler
was 11th (22:00.1), Eureka (Eureka, Mo.) frosh
Hannah Long
13th (22:07.9) and Chilne (Chilne, Ariz.) senior
Rolonda Jumbo
16th (22:13.8). Three-time Foot Locker Finalist and Presbyterian Day (Macon, Ga.) junior
Grace Tinkey
, among the early leaders after being considered the strongest prep entry, faded to 18th.
On the men's side, the high-schooler expected to finish highest was Fahy, but in addition to the weather adjustment, he entered Saturday's race after being sick for the last week. This had also happened to him at the Foot Locker National Meet where he ran sick and finished 17th after going unbeaten in California all fall.
The pace in the 8K Junior Men's race was cautious considering the severe weather conditions. Through the 5k mark, there were 10 runners together coming by in a pedestrian 15:47. Coaches yelling at their athletes, "Let someone else lead! Be patient!"
Going into the final 2k loop of the Forest Park course, Fahy decided to make the first move while the group of predominately college runners just sat and let him do the work.
Fahy was in position to win or at least make the top six, despite being under the weather. "I felt good," he told his coach, "so I decided to push the pace. I felt like I needed to make the move."
In the hilly back section of the course, Syracuse frosh Jace Lowry made a definitive move that the rest of the pack could not respond to. He cruised to a 3 second win over the University of Minnesota duo of Adam Zutz and Aaron Bartnik. Fahy was the first high school runner to cross the line with his 7th place finish in 25:09.2.
"Despite that he was feeling bad and did not want to run, he ran a great race," said Vice.
The next two preps were Hebron (Carrollton, Texas) senior teammates
Kevyn Hoyos
and
Robert Domanic
, in 11th (25:27.2) and 13th (25:35.3). Cypress Woods (Cypress, Texas) senior
Craig Nowak
, who was 3rd at NXN Finals and didn't lose to the above rivals all year, was 16th (25:49.6) this time.