Cameron James, Garrett Sweatt prevail at inaugural Centennial Charger Invitational
March, 4, 2012
3/04/12
2:17
PM ET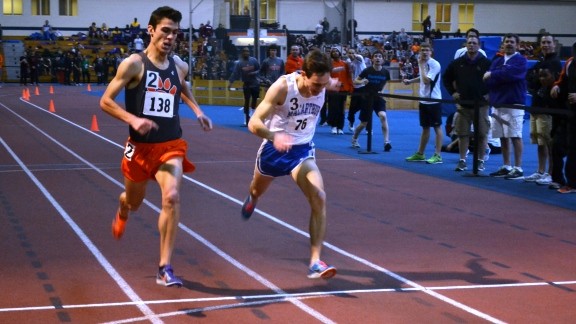 Larry Thompson/ESPNHSGarrett Sweatt (138) and Michael Clevenger (76) cross the finish line almost simultaneously on Saturday in Champaign, Ill. A photo finish showed Sweatt go their first, by .04 seconds.
The inaugural
Centennial Charger Invite
, held in the historic Armory Track and Floor on the campus of the University of Illinois at Champaign-Urbana received approval from from coaches for its timely meet management and superb quality.
The three-tiered meet finished 20 minutes ahead of schedule - including awards, medals and trophy presentations - a delight to the teams who had a long commute back home.
As for the quality of the meet, more than 181 Dyestat state elite performance were produced, including two Illinois #1 marks in the 55 dash and 1600.
Sprints get things perking
The hype surrounded Edwardsville's emerging star sprinter Cameron James even as he tried to shield himself in his sweats and hoodie during the warm-ups. It was obvious that he knew all eyes were on him when it was show time. After the field was announced and the speedsters were in the blocks it was as quiet as an empty barn. At the sound of the starter's pistol, the 5-foot-6 James moved so explosively that by the time he hit 20 meters the crowd was up in a frenzy. The gap that James put on a solid field was ridiculous and the outcome wasn't even as close. He finished in 6.40 seconds and second-place finisher Kendrick Foster (Peoria Richwoods) ran 6.51. James is clearly the best sprinter in Illinois right now.
Sweatt vs. Clevenger, part 2
There wasn't much tension to speak of between the two friendly rivals. Their ongoing competition has stretched from
cross country to track and Michael Clevenger has gotten the better of Sweatt either directly or indirectly.
"I had to stop feeling sorry for myself whenever I got beat," Sweatt admitted.
The focus has been more about gaining confidence and being the best runner possible when it counts.
"Some of what has happened with Garrett [not finishing the season as strong] has been my fault. I realized that when we moved into speed work too soon, he doesn't respond well to it," coach George Patrylak said.
Sweatt opened his team duties Saturday with a 1:58.8 carry on the second leg of the 4x800 relay and helped lead his team to an easy victory. He obviously has a ton of leg speed for a person who considers himself a true long distance runner. So how would the 1,600-meter clash with Clevenger go?
The meet announcer did a tremendous job in getting the paying crowd up on its feet before the start of the meet.
"Folks, this is going to be another thriller between two of the nation's best distance runners," Dike Stirrett loudly and proudly announced.
The opening two laps weren't spectacular but it was interesting to see an unknown, senior Lucas Beltran (Chicago Lane Tech), sandwiched between Sweatt and Clevenger to cause interference. Beltran had told one of his coaches that he had a surprise for the field. But he never actually revealed what he had in mind until after the race started.
The first 400 was in an average 64.6 seconds. The three runners separated from the field and went through the 800 in 2:10.0. Clevenger and Sweatt seemed content having someone else push the pace.
Finally, as the 1,200 began to approach, Clevenger moved to the front. He was first to the checkpoint in 3:17. Sweatt was still shadowing him. Beltran began to tire. It was now Sweatt/Clevenger time. The bell rung and Sweatt had less than an eyelash lead. Then, with less than 100 to go Clevenger found his fifth gear but Sweatt would not be deterred. It came down to a photo finish. The times were not shown, adding to the drama and excitement.
Sweatt's name came up first in 4:17.86 and then Clevenger's 4:17.90. It was that close.
"Not a lick of speed work yet," said Clevenger, a Notre Dame signee. "We haven't touched it, just tempos and building the miles. I feel great."
The race of the season was great as well.
A few more highlights
Peoria Richwoods' Clayton Glasper overpowered a decent 55HH field to notch the IL #2 mark in 7.60.
Jeremy Randolph (Belleville West) used a late comeback to nip Plainfield North's Quest Young at the finish line in the 400 in a season best 50.72.
Belleville West took the final track race of the day, the 4x400, in a season best 3:29.89. Randolph anchored home his team in 50.7.
The triple jump was the field event thriller of the day as Decatur MacArthur's Carlos Harris needed a late effort to pull out a victory over foe Jamion Nash (Belleville West). Harris was down to his last jump when he dug down and got 45-8 to overtake Nash's 45-0.
"That's the winner right there," Harris said as he pointed into the pit.
A somber moment away from the track
A portion of Illinois and the track and field community was touched recently by a violent storm that spawned a deadly tornado that killed six people in Harrisburg. The town of 9,000 is located in the far southeastern part of the state near the Indiana border.
The thoughts and concerns for those affected did not go unnoticed by the coaching fraternity in attendance on Saturday. Plainfield North head coach Tony Holler spent 23 years as a member of the Harrisburg community teaching and coaching.
"It's hard not to think about a place that you spent a great chunk of your life there. It's a small community where you know everyone … a third of the town was destroyed and I'm glad more people were not hurt or killed," Holler said.