High-SchoolTrack-and-XC:

arcadia
April, 11, 2012
4/11/12
10:39
PM ET
By
Doug Binder
| ESPN.com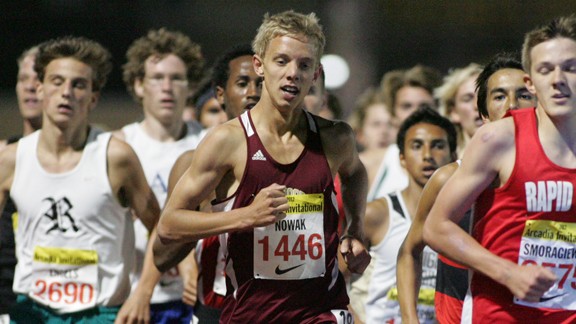 John Nepolitan/ESPNHSCraig Nowak (1446) was in the middle of the action during the Arcadia 3,200, mustering up the best kick of anyone for third in 8:49.12, second best in Texas history.
ARCADIA COVERAGE
Four laps into the 3,200 meters at the Arcadia Invitational,
Craig Nowak
had a sinking feeling over what he saw on the clock: 4:33. He and the other runners at Arcadia's signature event needed to pick up the pace if they wanted to dip under nine minutes.
"I was extremely nervous," the senior from Cypress Woods (Texas) said. "I knew I was I great shape and I'd heard all the great things about the race at Arcadia. I was thinking 'I can't come all this way and not break nine.'"
Collectively, 31 runners went through the midpoint of the eight-lap race between 4:31 and 4:36. Twenty-three of them ran the second half of the race faster than the first. Winner
Futsum Zeinasellassie
of North Central (Indianapolis) ran 4:33.37 for the first half and 4:14.38 for the second, according to FAT split data compiled by EPI Sports.
And no one closed as hard as Nowak, who ran 27.25 seconds for his final 200 and 56.33 for his final 400.
"I was more excited than any race I've ever been in," he said. "When I saw 7:52 on the clock with one lap to go, I thought if I ran like 63 I'd get my goal time."
Nowak finished third – behind Zeinasellassie and Cibola (Arizona) junior
Bernie Montoya
– in 8:49.12. That's the second-fastest 3,200 time ever by a Texas runner.
And in the wave of runners over the finish line ahead there were a total of six new state records: Indiana (Zeinasellassie), Arizona (Montoya 8:48.25), North Dakota (
Jake Leingang
8:51.23), Montana (
Zach Perrin
8:55.24), Idaho (
Dallin Farnsworth
8:55.28) and Delaware (
Sam Parsons
9:00.61).
The pace probably came off perfectly. Zeinasellassie ensured a fast first lap when he bolted out to a 64.77. Then, the entire field slowed down on Lap 2 to 72-73. The third lap picked up to 67-68 for most of the field and the fourth lap was slightly faster.
Jonah Diaz
of Palos Verdes (Calif.) was in the lead at the midpoint (4:31.72). And
Tony Smorgawiecz
of Rapid City Central (S.D). edged into the lead on the fifth and sixth laps as the pace improved a bit more.
"It was a big group, but Jonah picked it up and so did Tony," Nowak said. "They set up the middle of the race."
Montoya asserted himself with a seventh lap in 61.54 and Zeinsellassie, back in the lead, ran 61.91. Montoya's burst propelled him into the lead on the back stretch and he was the first to 3,000 meters (8:18.81), a half-second up on Zeinasellassie and three seconds ahead of Nowak.
Zeinasellassie caught Montoya with about 75 meters left and won it in 8:47.75 for an Indiana record. Montoya (previous PR: 9:22) was next in 8:48.25 for an Arizona record. And on it went.
Nowak feels he could have been in the hunt if he'd gone with the leaders from 600 out, instead of try to reel them back in from 400. It's a recurring theme for him, because he has finished with similar late flourishes as Nike Cross Nationals and the Brooks PR Invite mile.
But three days later, the afterglow had not worn off.
"It's boosted my confidence tremendously, in a big way," Nowak said.
Futsum on college, Cheserek
Zeinasellassie is the one of the top recruits nationally who has not yet made a decision on which scholarship offer to accept.
He said Saturday that he is still weighing the pros and cons of the five schools he has visited: Indiana, Purdue, Butler, Northern Arizona and Oklahoma State. The first three schools are all close to home, in Indiana, and the fourth is where his older brother,
Bahlbi Gebreyohanns
, runs.
UPDATE (4/12):
Zeinasellassie has chosen Northern Arizona
, according to the Indianapolis Star.
Zeinasellassie also commented on the absence of Foot Locker champion Edward Cheserek from Arcadia's 3,200.
"I wish he was in this race, but he would have been 10 seconds or 20 seconds ahead of me," Zeinasellassie said. "He's having a great track season, so good luck to him the rest of the season."
Event 34 Men 3200 Meter Run Invitational (
FinishLynx Image
)
================================================================
Name Year School Finals
================================================================
1 Futsum Zienasellassie 12 Ind. N Cen (In) 8:47.75
64.77 (64.77),2:17.44 (72.67),3:25.83 (68.40),4:33.37 (67.54),5:39.89 (66.53),6:48.75 (68.86),7:50.65 (61.91),3K-8:19.38 (28.73),8:47.75 (28.38)
2 Bernie Montoya 11 Cibola (Az) 8:48.25
67.40 (67.40),2:20.73 (73.33),3:27.77 (67.05),4:35.33 (67.57),5:40.99 (65.66),6:49.33 (68.35),7:50.86 (61.54),3K-8:18.81 (27.95),8:48.25 (29.44)
3 Craig Nowak 12 Houston CyprW(TX 8:49.12
64.85 (64.85),2:17.68 (72.83),3:25.95 (68.28),4:33.04 (67.09),5:39.87 (66.83),6:48.47 (68.61),7:52.80 (64.33),3K-8:21.87 (29.08),8:49.12 (27.25)
4 Jake Leingang 11 Bismarck(ND) 8:51.23
65.83 (65.83),2:19.44 (73.61),3:26.49 (67.06),4:33.91 (67.43),5:40.67 (66.76),6:48.84 (68.18),7:52.66 (63.83),3K-8:22.15 (29.50),8:51.23 (29.08)
5 Michael Clevenger 12 MacArthurGen(IL) 8:54.12
67.14 (67.14),2:19.54 (72.40),3:27.31 (67.78),4:34.49 (67.19),5:41.26 (66.77),6:49.60 (68.34),7:54.97 (65.38),3K-8:25.45 (30.49),8:54.12 (28.67)
6 Darren Fahy 12 La Costa Cnyn/SD 8:54.51
66.94 (66.94),2:18.10 (71.16),3:26.25 (68.16),4:33.86 (67.61),5:40.46 (66.61),6:49.52 (69.06),7:55.12 (65.61),3K-8:26.48 (31.36),8:54.51 (28.04)
7 Blake Haney 10 Stockdale /ce 8:54.65
66.03 (66.03),2:18.69 (72.67),3:26.70 (68.01),4:33.42 (66.73),5:40.32 (66.90),6:49.28 (68.96),7:55.46 (66.19),3K-8:25.61 (30.15),8:54.65 (29.05)
8 Zach Perrin 11 Flathead (Mt) 8:55.24
65.69 (65.69),2:19.07 (73.39),3:26.19 (67.12),4:33.69 (67.50),5:40.19 (66.51),6:49.16 (68.97),7:53.94 (64.78),3K-8:23.90 (29.97),8:55.24 (31.34)
9 Dallin Farnsworth 12 Highland (Id) 8:55.28
65.46 (65.46),2:18.13 (72.67),3:25.90 (67.77),4:32.89 (67.00),5:40.03 (67.14),6:49.30 (69.28),7:54.61 (65.31),3K-8:26.06 (31.45),8:55.28 (29.23)
10 Craig Engels 12 Ronald Reagan(NC 8:55.51
66.11 (66.11),2:18.83 (72.72),3:26.75 (67.92),4:33.95 (67.21),5:40.97 (67.02),6:48.95 (67.99),7:52.92 (63.97),3K-8:24.16 (31.25),8:55.51 (31.35)
11 Leland Later 12 New Trier (Il) 8:55.61
66.08 (66.08),2:18.52 (72.45),3:26.82 (68.30),4:34.68 (67.87),5:41.40 (66.72),6:49.55 (68.15),7:55.45 (65.91),3K-8:26.17 (30.73),8:55.61 (29.44)
12 Jack Keelan 11 St.Ignatius (Il) 8:55.86
66.43 (66.43),2:20.38 (73.95),3:27.96 (67.59),4:35.13 (67.18),5:41.68 (66.55),6:49.76 (68.09),7:55.69 (65.93),3K-8:26.45 (30.77),8:55.86 (29.41)
13 Thomas Graham 12 Cary Acad (Nc) 8:56.21
66.54 (66.54),2:19.20 (72.66),3:26.61 (67.42),4:33.90 (67.29),5:40.53 (66.63),6:49.11 (68.59),7:53.27 (64.16),3K-8:24.76 (31.50),8:56.21 (31.45)
14 Tony Smoragiewicz 12 Rapid City C (Sd 8:57.10
65.64 (65.64),2:18.18 (72.54),3:25.75 (67.57),4:32.64 (66.90),5:39.59 (66.95),6:48.24 (68.65),7:53.14 (64.90),3K-8:24.52 (31.38),8:57.10 (32.58)
15 Jacob Thomson 11 Holy Cross (Ky) 8:58.12
66.89 (66.89),2:18.93 (72.04),3:27.18 (68.26),4:34.99 (67.81),5:43.11 (68.12),6:50.37 (67.27),7:58.10 (67.73),3K-8:29.04 (30.95),8:58.12 (29.09)
16 Brock Baker 11 Oakland (Tn) 8:58.51
67.04 (67.04),2:19.94 (72.91),3:26.97 (67.03),4:34.13 (67.17),5:40.76 (66.63),6:48.96 (68.20),7:53.05 (64.10),3K-8:24.05 (31.00),8:58.51 (34.47)
17 Billy Gaudreau 12 St. Margarets/SS 9:00.24
66.69 (66.69),2:18.80 (72.12),3:27.23 (68.43),4:35.44 (68.22),5:43.24 (67.81),6:51.98 (68.74),7:59.42 (67.44),3K-8:30.67 (31.26),9:00.24 (29.58)
18 Sam Parsons 12 Tatnall (De) 9:00.61
66.34 (66.34),2:20.07 (73.73),3:27.17 (67.11),4:34.53 (67.36),5:41.58 (67.05),6:49.83 (68.25),7:55.83 (66.01),3K-8:28.20 (32.38),9:00.61 (32.42)
19 Korey Krotzer 12 Auburn Riv (Wa) 9:01.11
65.56 (65.56),2:18.77 (73.21),3:27.03 (68.26),4:34.89 (67.87),5:40.75 (65.86),6:49.69 (68.95),7:57.08 (67.39),3K-8:29.12 (32.04),9:01.11 (32.00)
20 Jonah Diaz 12 Palos Verdes /ss 9:01.42
67.01 (67.01),2:18.40 (71.39),3:25.33 (66.93),4:31.72 (66.40),5:39.41 (67.69),6:48.57 (69.17),7:54.96 (66.39),3K-8:27.33 (32.38),9:01.42 (34.09)
21 Tyler Yunk 11 Belvidere N (Il) 9:03.09
66.88 (66.88),2:20.29 (73.42),3:27.62 (67.34),4:34.23 (66.62),5:41.78 (67.55),6:50.70 (68.92),7:59.22 (68.53),3K-8:32.52 (33.30),9:03.09 (30.58)
22 Thomas Joyce 12 Campolindo /nc 9:03.23
66.82 (66.82),2:20.06 (73.24),3:27.43 (67.38),4:35.58 (68.16),5:42.75 (67.17),6:51.68 (68.94),8:00.34 (68.66),3K-8:32.69 (32.35),9:03.23 (30.55)
23 Drew White 12 Festus (Mo) 9:04.08
66.39 (66.39),2:19.06 (72.67),3:26.58 (67.52),4:34.41 (67.83),5:41.95 (67.55),6:50.90 (68.96),7:58.24 (67.34),3K-8:31.27 (33.04),9:04.08 (32.81)
24 Bryan Guijarro 12 Knight /ss 9:07.42
65.04 (65.04),2:17.93 (72.90),3:25.98 (68.05),4:33.14 (67.17),5:40.08 (66.95),6:48.90 (68.82),7:56.41 (67.51),3K-8:30.89 (34.49),9:07.42 (36.54)
25 Cameron Miller 12 Stockdale /ce 9:08.08
65.94 (65.94),2:17.08 (71.14),3:25.10 (68.02),4:33.64 (68.55),5:41.42 (67.79),6:50.46 (69.04),7:59.76 (69.30),3K-8:33.89 (34.14),9:08.08 (34.19)
26 Sam Roberson 12 Needham Br (Nc) 9:08.58
66.64 (66.64),2:20.50 (73.86),3:26.92 (66.42),4:34.15 (67.23),5:41.02 (66.87),6:49.18 (68.17),7:56.47 (67.29),3K-8:31.26 (34.80),9:08.58 (37.32)
27 Keifer Johnson 12 ThunderRidge(CO) 9:11.01
66.61 (66.61),2:20.02 (73.41),3:27.41 (67.40),4:35.07 (67.67),5:42.16 (67.09),6:51.23 (69.08),8:02.70 (71.47),3K-8:37.51 (34.82),9:11.01 (33.50)
28 Kevin Bishop 12 Monta Vista /cc 9:13.24
66.27 (66.27),2:18.49 (72.22),3:26.30 (67.82),4:34.22 (67.92),5:41.84 (67.62),6:51.01 (69.18),8:02.96 (71.95),3K-8:37.88 (34.93),9:13.24 (35.36)
29 Gil Walton 12 McCallie (Tn) 9:18.11
66.63 (66.63),2:19.34 (72.72),3:27.70 (68.36),4:35.23 (67.54),5:43.82 (68.59),6:55.24 (71.43),8:09.07 (73.83),3K-8:43.85 (34.78),9:18.11 (34.26)
30 Troy Fraley 11 Glacier (Mt) 9:26.78
65.95 (65.95),2:19.38 (73.43),3:26.51 (67.14),4:34.86 (68.35),5:43.63 (68.78),6:58.27 (74.64),8:13.73 (75.47),3K-8:50.56 (36.83),9:26.78 (36.23)
DNF Anthony Armstrong 12 Kamiakin (Wa)
65.30 (65.30),2:19.80 (74.50),3:27.76 (67.97),4:36.28 (68.53),5:46.04 (69.76),7:01.58 (75.55),8:20.70 (79.12)
April, 7, 2012
4/07/12
4:35
AM ET
By
Doug Binder
| ESPN.com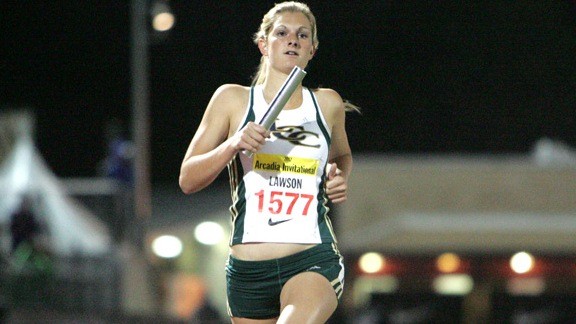 John Nepolitan/ESPNHSGiven a big lead by her teammates, Kelly Lawson handles the anchor duty for La Costa Canyon (San Diego) in the 4x1600 relay on Friday at the Arcadia Invitational.
ARCADIA COVERAGE
ARCADIA, Calif. – On a night that celebrated the overwhelming depth of talent of track programs in Southern California and several points beyond, capable teammates were as valuable as superstars at the Arcadia Invitational.
Athletes such as
Tori Myers, Imani Cook-Gist, Kelly Lawson
and the members of Loyola's boys 4x1600 relay did things that spoke volumes about trusting one another, strength-in-numbers and good coaching.
Myers is a senior at Long Beach Poly, possibly America's most prolific assembly line of top-flight high school sprinters and hurdlers. Within the span of an hour, she helped her team move to No. 2 all-time in the shuttle hurdle relay (58.11 seconds) and also led off a 2012 US#1 in the 800-meter sprint medley relay (1:44.37).
"I worked hard for four years and stayed committed to track," Myers said.
She is a cog in the Long Beach Poly machine, but the work to move up the chain to the varsity group is paying off.
"I'm excited today," she said. "I think it's a really special year for everybody (in the program)."
Cook-Gist and fellow freshman
Shea Copeland
made favorable impressions on Harvard-Westlake stars
Amy Weissenbach
and
Cami Chapus
, teaming up with them to break the meet record in the 1,600-meter medley relay.
Cook-Gist arrived in Los Angeles earlier Friday morning after a long flight home from Tahiti, where she had spent Spring Break studying marine biology.
"We knew the atmosphere (at Arcadia) would bring it out of the freshmen," said Chapus, who anchored the 800-meter leg in 2:09.9.
Watching Cook-Gist, and then Copeland, bring the baton around with 25.5 and 25.6 splits, was a welcome sight for the veterans.
"I was jumping around, it was so exciting," said Weissenbach, who split 55.1 for 400.
In the girls 4x1600 meters, Lawson of La Costa Canyon (San Diego) had a 60-meter lead when she took the baton for the anchor leg but knew she needed every bit of that cushion to stay in front of Simi Valley sophomore
Sarah Baxter
and Campolindo senior
Carrie Verdon
, two of the nation's best distance runners.
Lawson didn't let her teammates down, turning a 4:57.7 leg and not yielding an inch on the final lap to Baxter, who trimmed 60 meters to 25 in the first three circuits.
"I was nervous but I'm really confident in my team," Lawson said. "I had faith in them and they pulled through."
La Costa Canyon arranged its lineup with the intent of being first, with as wide a margin as possible, in order to overcome Baxter, Verdon and the other anchors.
Emma Abrahamson
, the school's top runner, went first.
But it was Lawson, out there by herself and knowing that she had a target on her back, who ran the fastest for the team, turning in a 4:57.7 carry. (Baxter closed for Simi Valley in 4:52.0).
"I need to have a lead," Lawson said. "We were coming in here just to see how it goes. When I got the baton my mentality was, 'We can do this.'"
La Costa Canyon finished in 20:23.88.
Loyola got four consistent efforts – ranging from 4:15 to 4:20 – to hold off its rivals and break the meet record in the 4x1600 relay, clocking 17:12.23. Right behind them, Trabuco Hills also went under the previous record with 17:12.60.
A year ago, Loyola leaned heavily on its big gun,
Elias Gedyon
, to win this race at Arcadia. This time, Loyola was stronger one-through-four and broke the school record by 12 seconds.
"We knew we had the talent," Loyola's Andrew Verdin said. "Last week we had four guys go sub-4:20."
On Friday, they pieced it all together.
"We brought four to the table and all clicked at the same time. That's why the record went down,"
Charles Marquardt
said.
The evening session began with US#1s in the boys and girls 4x800s.
Redondo Union's girls ran 9:05.86 for the fifth-fastest performance in meet history.
Lyndsey Mull
anchored the win by running 2:15.8 and helped her team win by nearly seven seconds.
Centennial (Nevada) got the stick to anchor
Nick Hartle
about 20 meters behind Bishop O'Dowd but the UCLA-bound senior split 1:50.6 and moved to the lead with 300 meters left. Centennial finished in 7:44.00 – third-fastest in meet history.
"I felt I could catch him if I just stayed strong," Hartle said. "(My teammates) ran great. They knew they had to run strong. I told them they were going to have to run fast, run PRs, and I'm pretty sure they did that."
Wakefield (North Carolina) put on another dazzling display of team excellence. The New Balance Nationals Indoor champions began their outdoor campaign by winning the 4x200 title in 1:35.98. That's second-fastest in meet history, trailing only the 2004 Long Beach Poly team.
Anchor
Ariah Graham
was one of the night's brightest stars and she gladly explained the success as a team effort.
"One thing we bank on is our team," she said. "Everything we do, from stretching, counting, running, warming up, it's all team. There's nothing individual there. We motivate each other and run."
April, 5, 2012
4/05/12
8:21
PM ET
By
Doug Binder
| ESPN.com
Arcadia Invitational Page
|
Arcadia Multis
Grant Zebold
and
Tori Usgaard
have a couple of things in common.
They both finished eighth in their respective multi competitions last year at Arcadia, and on Thursday they both sprung out to the lead.
Zebold, a junior from Cathedral Catholic (San Diego), scored 3,365 points to open up a 234 point lead after the first five events of the decathlon at Arcadia High School. That's 229 points ahead of where he was at this point last year.
His biggest gain was in the 400, where he ran 51.02 to lead all 12 competitors. That was a 108-point improvement from 2011, when Zebold ran 53.51. He also posted the best time in the 100 meters, clocking 11.08.
Brendan Weaver
of Palos Verdes (Palos Verdes Estates, Calif.) is second with 3,131 points and
Keith Messinger
of Dana Hills (Dana Point, Calif.) is third with 3,086.
In the girls heptathlon, Usgaard has 2,707 points and a 42-point lead over
Alyssa Thompson
.
Usgaard, from Dana Hills, staked her lead on first-place peformances in the 100 hurdles (15.17) and high jump (5-5). She is 300 points ahead of where she was after four events last year, the biggest improvement coming from a 151-point bump in the high jump.
Thompson, a junior from Salpointe Catholic (Tucson, Ariz.), closed the day with the fastest 200 meters (25.51).
Shaina Burns
, a sophomore from Lakeville South (Lakeville, Minn.) is third with 2,633 points and freshman
Lauren McCluskey
of Pullman (Pullman, Wash.) is fourth with 2,578.
The multis competition concludes Friday.
April, 5, 2012
4/05/12
12:29
AM ET
By
Mike Newman
| ESPN.com
Last week was the first full week of outdoor track in the state. So what do you think happened?
The 80 degree temperatures that we experienced while we were competing under roof disappeared replace by the seasonal weather that we are more used to.
For example on Tuesday, the temperature throughout most of the Chicago area was pleasant with temperatures in the upper 60's. Right before the start of most of the meets in that area, a front went through dropping the temperatures into the 50's with 20 mph winds.
There have still been some great performances so far. Let's take a look.
~~ This just in ~~
On Tuesday April 3, there were some stunning performances throughout some of the triangular meets that were contested in the Chicago area. At Schaumburg, Tyler Schneider of Conant parlayed his indoor mile performances to the outdoors to run a stunning 3200 Meter Run. He ran 9:16 solo running negative splits. He went by the first 1600 in 4:40.
"He ran it like it was nothing," said Conant Head Coach
John Powers
. "With the wind, I'd say it was a sub 9:10 effort."
Down south at O'Fallon, the two southern distance powers Edwardsville and O'Fallon put on 2 good distance races with some great times. In the 800 Meters, Sophomore Patrick Perrier of O'Fallon turned in a blazing 1:56.3 to turn back teammate Alex Riba and Edwardsville's Garrett Sweatt. Perrier's time is the fastest time currently (as of April 4) in the state.
In the 1600 Meter Run, Sweatt came back to run 4:20.7 to hold off Riba and Perrier to win. Great doubles by all 3 runners. What also needs to be mentioned is that there were 16 runners under 5:00 in that race. That is a credit to these two great programs.
Not to be outdone, the triangular at York with Neuqua Valley and Proviso East showed some great results despite the blustery weather. Mark Derrick of Neuqua Valley ran the first 400 in 61 and went on to run a solo 4:21.7 to win over teammates Taylor Soltys and Alekh Meka. Overall, 18 runners from both the varsity and the frosh/soph race also ventured under 5:00.
In the 800 Meter Run, Neuqua's 400m ace
Jacob Bender
was not affected by the conditions or the jump in distance. He blew by the first 400 in 56 seconds and finished in 1:56.4. He came back 40 minutes later to win the 200 in 22.0 hand timed. He showed he is in shape to run in the 48's this early in the season. Expect him to go lower than that in May.
The conditions did not affect the York vault duo of
Nick Sgarbosa
and Shawn John. Both picked up where they left off indoors both clearing 15-0.
~~ From last weekend ~~
One performance that was noteworthy was that from Jamison Dale of Jones College Prep at the Mather Invitational on the campus of North Park College in Chicago. The junior held off Stedman Foster of Morgan Park winning in 1:57.12. That is a 6 second improvement from what he ran at the beginning of March indoors.
You can call it surprising but I would not consider it a surprise. He did run 4:20 at IPTT the week prior and was the one runner that pushed the pace in the third part of the race. These last two races are setting him up for a great outdoor campaign. I would not be surprised if in the right race, he could go under 9:20 in the 3200 Meter Run.
The other came from Ethan Adifinger of Rock Island Alleman at the Gene Shipley Invitational in Moline. Even though he ran 9:34 last year, this junior showed that he could surprise in Charleston. It came down to a close finish with Machesney Park Harlem's Nick Miller with Adifinger winning by .76 seconds running 9:29.12.
~~ Arcadia ~~
This is the first weekend of big invitationals throughout the state. Some of the top distance runners from Illinois will head to California to go after some of the nation's best at the Arcadia Invitational just outside of Los Angeles.
The 3200 Meter Run could be the spotlight race of the meet with
Futsum Zeinasellassie
of Indiana,
Jake Leingang
of North Dakota, and
Dallin Farnsworth
of Idaho lead a loaded field. Illinois runners that were placed in the elite race include
Michael Clevenger
of Decatur MacArthur,
Leland Later
of New Trier,
Jack Keelan
of St. Ignatius, and
Tyler Yunk
of Belvidere North. Last year,
Anthony Manfrin
and
Paul Zeman
got sucked in to running great times, close to 9:00. Do not be surprised if all 4 of the Illinois runners are close to that on Saturday night.
Will Crocker
of Belvidere North, the IPTT 3A champ in the 800m, will run the invitational section.
Will Brewster
of Grayslake Central and
Garrett Lee
of Belvidere North will run in the invitational section of the 1 mile run.
Good luck to all these great athletes this weekend!
~~ This Weekend ~~
The first weekend of full action for Boys Meets starts up this weekend. Possibly the best meet of the weekend will be Friday afternoon at the Belleville West Invitational. There should be some sizzling relays with Edwardsville, East St. Louis-Senior, Cahokia, and host Belleville West involved.
Garrett Sweat
of Edwardsville and the O'Fallon duo of
Alex Riba
and
Patrick Perrier
will headline the distance races.
Eric Gordon
of Normal West will go at it again in the Pole Vault looking to rebound from a disappointing performance at the IPTT meet.
Other meets to watch:
Saxon Invitational at Schaumburg.
Al Bohrer Invitational at Cary-Grove
Conant Relays at Hoffman Estates
Gans-Zeedyk Invitational at Niles West
Hinsdale Relays at Hinsdale Central
Kiwanis ABC Meet at East Moline
Les Hodge Invitational at Batavia
McCormack Invitational at St. Charles East
New Trier Invitational at Winnetka
Prospect Relays at Mt. Prospect
Pirate Relays at Proviso East
One meet to keep an eye on will be Saturday afternoon at York. The host Dukes and 3A state cross country champions Palatine will go at it. The first event of the afternoon will be a Distance Medley between these two distance powers. Palatine will be going after their school record of 10:22 that was set back in 1969.
The conditions should be great throughout the state this weekend. I am looking forward to seeing some great times on this Easter weekend.
~~ And finally ~~
Not much to say here though I am looking forward to going to some great meets in the next 8 weeks leading up to Charleston. Have not packed my gloves yet. I know what April weather in Illinois has to offer.
I did put out a new feature last Sunday: Dyestat Illinois Distance Digest. I will be upgrading the last edition with some more of the videos from the IPTT Classic in the next few days. I also mentioned about distance runner participation in the blogs. Have not received any yet nor am I giving up hope.
To read more about this,
click here
to read.
Have a Great Easter weekend and take a few minutes to remember what this holiday is all about.
September, 26, 2011
9/26/11
3:39
AM ET
Another week of full tilt cross country action across the country brought a few more grand entrances into the 2011 season.
You sort of had a feeling that after
Futsum Zeinasellassie
grabbed headlines with an impressive run last week that
Edward Cheserek
was not going start the season with a whimper. Quite the contrary. Cheserek broke the Garret Mountain (N.J.) course record by a whopping 22 seconds on Saturday, running 14:53 at the
Passaic Coaches Invitational
. He won the race by 107 seconds!
Meanwhile, US#1
Christian Brothers Academy
(N.J.) also started with a bang, winning the
Bowdoin Park Classic
in New York, sticking four in the top 10. The girls from US#6
Saratoga Springs
, N.Y. got out of the gate fast, too, scoring 17 points at
Queensbury
.
Out West, reigning national champ Arcadia continued its hot streak by winning the boys title at the
Bob Firman Invitational
at Eagle Island State Park on the outskirts of Boise, Idaho.
Doug Binder's meet story
is here details the team wins by Arcadia and the upstart Skyline (UT) girls, plus dominant wins for
Dallin Farnsworth
and
Katie Knight
. Special thanks to
Gregg Mizuta
for sharing his photos.
In Portland, Aloha High School hosted the
Nike Pre-Nationals
, where Washingtonians Maddie Meyers and Jacob Smith took care of business in the Jim Danner championship races. Gig Harbor of Washington won the boys title and Redondo Beach had its No. 6 runner to thank for breaking a tie with Mountain View (Idaho) for the girls title.
At Stanford
,
Carrie Verdon
of Campolindo ran the fastest time of the day for the girls, a blistering 16:59 in the D3 race. That was faster than Glacier Peak WA's
Amy Eloise-Neale's
17:09, which won the seeded race.
Darren Fahy
of La Costa Canyon was also sensational, running 14:54. Check out the coverage on
DyestatCal
.
The US#3
Carmel
girls (and boys) dominated the action at
Culver Academies Invitational
.
Julie Macedo
of Wilmington Charter (Del.) ran a stunningly fast 16:53 5K to win the
Six Flags Wild Safari Invitational
in Jackson, N.J., gapping the field by a full minute.
On the three-mile course at Deer Grove (Ill.), host
Palatine
won the boys meet and Assumption took the girls title. Lake Park's
Kaylee Flanagan
broke the course record, running 16:51.3.
In New Hampshire,
Mike Marsella
of Chariho (R.I.) ran 15:35 to win the
Manchester Invitational
.