High-SchoolTrack-and-XC:

ben bowers
May, 19, 2012
5/19/12
9:45
AM ET
By
Mike Newman
| ESPN.com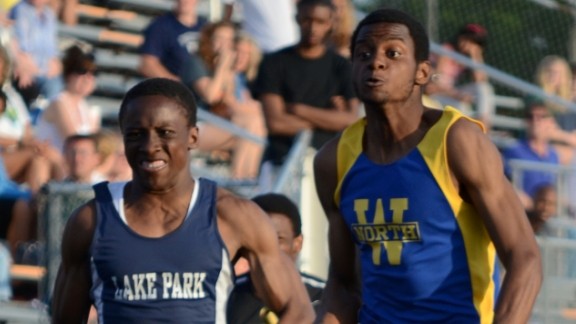 Steven Koch/ESPNHSMarcus Jegede (Lake Park) and Zach Gordon(Wheaton North) go head to head in the 4 x 100 relay at the Wheaton Warrenville South Sectional. Wheaton North had 15 qualifiers out of the sectional.
Meet Results
Warrenville, Ill --- Wheaton North powered its way to the 3A sectional crown at Red Grange Field Friday night just by doing what they were expected to do according to Coach
Don Helberg
. "Everyone has qualified today like we have wanted to. I didn't know if we would get both Pole Vaulters in but we did," said Helberg. "Friday night is a big day and you have to have some luck."
The Falcons qualified eleven individuals and four relays to next weekend's state meet in Charleston. Part of the success of Wheaton North next weekend will come down to the legs of
Zach Gordon
. The junior had a tremendous sectional by anchoring the winning 4 x 100 and 4 x 200 relays. He did win 2 individual events, the Long Jump and the 200 meter Dash, but it was the first event that everyone was talking about.
The first round of the Long Jump started in epic proportions with 3 jumpers going over 23 feet. That left it up to Gordon, who had the second longest effort so far in the state this year. He cranked out an amazing 24-2.50 jump that had the spectators around the pit shaking their heads including Gordon.
"I give credit to the competition. They really came to compete. Once I saw a couple of 23's there, I thought I had to do it," Gordon said. "I just prayed and I was able to get out there." Gordon only needed one jump in the competition to win over fellow qualifiers
Marcus Jegede
&
Scott Filip
(Lake Park, Roselle Ill),
Antwon James
(Glenbard East, Lombard, Ill), and
Jamaal Payton
(Proviso West, Hillside Ill).
Wheaton North also received wins from
Christian Hollinger
in the Shot Put (54-3.5) and the Discus (171-5), and
Brett Kohler
in the 300 Meter Intermediate Hurdles (38.41).
Two time defending 3A team champion Lake Park finished 26 points behind Wheaton North. The Lancers however set themselves up with a great chance to repeat their team championship by qualifying ten individuals and two relays to Charleston. All ten individuals qualified in field events, which has been the formula for past successes for Coach
Jay Ivory
. They qualified 2 individuals in every field event except the Shot Put. In those events, they received wins from
Kevin Spejcher
in the High Jump (6-9) and
Shawn Koch
in the Triple Jump (47-8).
The warm spring evening spurred on great times in the distance events. In the 3200 Meter Relay, Wheaton-Warrenville South broke open a tight race in the 3
rd
leg when
Andrew Martz
pulled away from the pack running a 1:57.2 split. Luke Schroer maintained the lead for the Tigers as they won by 5 seconds over cross-town rival Wheaton North and Lake Park. York finished fourth, just making it in by twenty-eight hundredths of a second.
The 3200 run was a battle of attrition for the runners in that race. The temperatures will still in the 80's when the athletes lined up on the track for this race. At the gun, the pack thinned out immediately as
Tyler Schnedier
(Conant, Hoffman Estates Ill) and
Pat Niyork
(Willowbrook, Villa Park, Ill) took the pace out quickly with a 64 second opening 400. By the 1600, the duo passed by in 4:34.6 with
Nathan Mroz
(York, Elmhurst, Ill),
Nolan McKenna
(Wheaton-Warrenville South, Warrenville Ill), and
Scott Milling
(York, Elmhurst Ill) holding on for dear life. Finally with about two laps to go, Niyork finally broke away from Schneider and went on to a four second win.
"I tried to plan ahead all day and drink a lot of water but it was flushed out of my system by the time I was racing," said Niyork. "He (Schneider) told me the last few weeks he was getting outkicked in the last 50 meters of the race. I didn't want to do that. I wanted to make it an honest race. I wanted to win this race with guts, and not with a fifty meter kick. The last two hundred meters, my arms and abs were burning. I was wavering a little bit on my stride. I just can't wait until next weekend."
Mike Fahey
(Glenbard East, Lombard Ill) bided his time in the 800 meter Run waiting to break away from the pack with 200 meters to go. He did and went on to a seasonal best win of 1:55.51. James Weaver (Conant, Hoffman Estates Ill) punched his ticket to state by finishing one second behind Fahey. It was a good way to finish the day for the senior. Earlier, he was part of the 4 x 8 quartet that just missed qualifying for state.
Mike Lederhouse
(Glenbard West, Glen Ellyn, Ill) left no doubts that he will be one of the favorites in the 1600 meter run in Charleston with a commanding win in this sectional race. Lederhouse took the lead at the 200 meter mark and passed the 400 in 61.7 with a pack trailing behind him led by Schneider,
Aidan Askin
(North HS, Wheaton Ill),
Chris May
(York, Elmhurst Ill), and
Derek Anderson
(Wheaton-Warrenville South, Warrenville, Ill). Instead of waiting for 700 meters to go, Lederhouse stretched the lead out to 40 meters on the second lap passing by in 2:05.8 while the pack was nearly 3 seconds behind.
Anderson made a move to catch Lederhouse on the third lap, but the Glenbard senior heard the cheers and the yells from the South crowd and pulled away in the final 500 meters to win by four seconds.
"Tonight, I was just trying to focus on bringing it hard the second and third lap. That is where I have been lacking the past couple of weeks," Lederhouse said. "My last lap was better than last week and I am excited about that. Last week I locked up the last one hundred meters. Today I finished strong which is encouraging."
The sectionals lone 3 event qualifier was
Ben Bowers
(Conant, Hoffman Estates Ill). The talented senior qualified early in the meet clearing 6-5 in the High Jump. Then he controlled the 110 Meter High Hurdles as he surges away from the pack at the fifth hurdle to win by almost half a second. He also qualified in the 300 Meter Intermediates Hurdles finishing second behind Wheaton North's Brett Kohler.
April, 25, 2012
4/25/12
11:03
AM ET
By
Mike Newman
| ESPN.com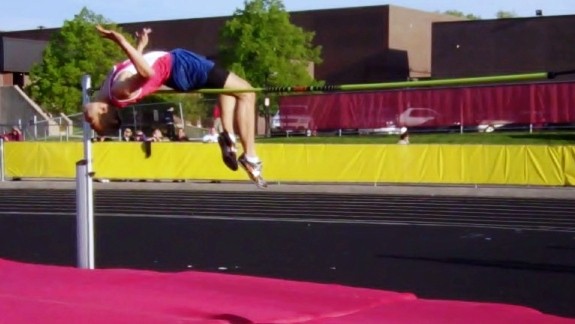 Mike Newman/ESPNHSBen Bowers of Conant won three events at the MSL West Division Championships
Schaumburg, Ill ---
Ben Bowers
(Conant HS, Hoffman Estates Ill) could do no wrong at the MSL West Boys Divisonal Meet at Schaumburg on Tuesday evening. He started off the day in fine form by clearing a seasonal best of 6-7 in winning the High Jump. After his jump, he told his coach that it was the best that he felt all season.
He moved to the track and dominated both hurdle events. He won the 110 Meter High Hurdles in a hand timed 14.5. He came back an hour later and won the 300 Meter Intermediates in a convincing 39.5. Both times are seasonal best for Bowers.
However, the fans that walked out of the stadium were not talking about the 3 event win by Bowers but rather what they had seen in the 1600 Meter Run.
Marcus Garcia
(Palatine, Ill) took the pace out hard going past the 800 in 2:10.4. He had a dominant 4 second lead as he entered the final lap. Behind him were two runners that have great finishing speed in
Erik Peterson
(Barrington, Ill) and
Evan Prizy
(Schaumburg, Ill).
The action began with 200 meters to go as Garcia started to falter and the duo behind him started to make ground. Out of the final curve, Peterson started to move out into lane 2 to get into position to pass Garcia. Prizy was on Peterson's shoulder in lane 2 and did not give ground. Some contact was made and Prizy moved into lane 3. Peterson did pass Garcia 5 meters from the finish to win in 4:24.0.
The starter / referee, standing at the finish line, saw the action at the other end of the track. He went over to the track clerk, then went over to Peterson and told him that he was disqualified for the contact that was made with Prizy. The Schaumburg junior, who also passed Garcia, was awarded the win.
"I kind of hung back for the first 3 laps. My stomach was a little upset before the race," said Peterson. "I did not think I was going to catch him." Peterson then described what happened in regards to the disqualification.
"It didn't really start here what the ref said was saying. It was more over on the curve. He was hitting my elbow but it was just incidental. He was trying to go into lane 2 and my arm was there. Nothing wrong there. He (the referee) said I threw an elbow but nothing there. I wasn't trying to elbow him. I was just cutting into lane 2 to pass Garcia."
The win for Prizy sets up a decision for him on Friday at Prospect on whether he should run the 3200 or now the 1600.
"For the race, I just wanted to hang back in the back of the pack and get a comfortable split. We kind of just grooved through it then. The last quarter was dash for the cash then," Prizy said. "I definitely thought I had a chance. I have raced him (Garcia) before with the same outcome." He then described the incident with Peterson.
"I was trying to make a move around him and he just kept dancing out to the right, scooting and scooting. Finally, I just kind of crashed into him when I could not go over any farther. I wasn't going to take it to lane 8 just because he didn't want to race."
The disqualification in the 1600 tainted a great 800 win that Peterson had 45 minutes earlier. The Barrington senior made up a 5 meter deficit in the last 200 meters to catch the Conant duo of
James Weaver
and
Tyler Schneider
to win in a open personal best of 1:55.9. Peterson had run a 1:54 split last year at the state meet.
"It felt pretty good going through the 400 and the two from Conant made a surge on a back stretch," said Peterson. "I don't think he was expecting me."
Weaver did come back at the end of the meet and anchored the Conant team to a come from behind win in the 4 x 400 Meter Relay.
Fremd won the team title showing great depth and strength with only 2 event wins (4x1, 4x2). The Vikings scored 143 to win by 24 points over host Schaumburg, who was paced by wins by Prizy, a double win by
Jauwan Richard
in the 100 and the 200 (10.8, 22.3),
Andy Selep's
win in the Pole Vault (14-6), and
Shelley Smith's
victory in the Long Jump (21-2.25).
Palatine placed third with 111 points. They were paced by wins by
Kendric Cornelius
in the 400 Meter Dash (49.6) and
Peter Tomkiewicz
in the 3200 Meter Run (9:24.6).