High-SchoolTrack-and-XC:

carl heinz
May, 12, 2012
5/12/12
1:04
AM ET
By
Mike Newman
| ESPN.com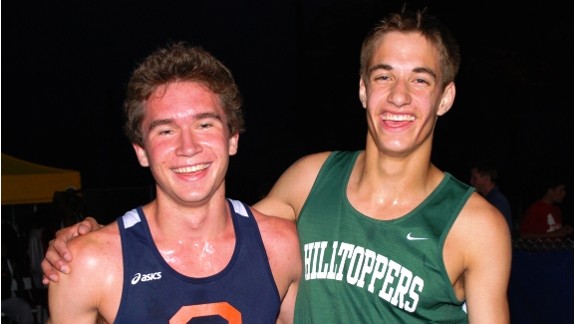 Steven Koch/ESPNHSMalachy Schrobilgen and Mike Leaderhouse run impressive 1600 meter times of 4:10 & 4:11 at the West Suburban Silver
Western Springs, Ill --- All during the day on Friday, the winds on the Lyons Township south campus whipped up from the south at a pace averaging 20 mph. Right before the start of the finals of the West Suburban Conference Boys Silver Division Championships, the winds ceased to exist. Conditions were almost perfect and ripe for fast performances on the blue oval.
Malachy Schrobilgen
(Oak Park-River Forest, Oak Park Ill) and
Mike Lederhouse
(Glenbard West, Glen Ellyn, Ill) were up for the challenge.
Both distance runners were scheduled to run the 1600 Meter Run towards the end of the meet. Both runners took different paths to get to that race. Lederhouse anchored the Glenbard West 4 x 8 relay bringing the team from fifth to third. Lederhouse's split was 1:52.0 to Glenbard West under 8 minutes. Schrobilgen came to the track ten minutes later and sat behind Chris May (York, Elmhurst Ill) for the first six laps. The Oak Park senior moved away in the final two laps to win comfortably by five seconds. As he left the track, he smiled and said, "That was a nice warm-up."
By 8 PM, the conditions were nearly perfect and the runners in the 1600 would be foolish if they let this opportunity slip by. The weather dictated a fast pace and a tactical slow run was not going to happen on this night.
The only problem that spectators around the finish line speculated about was who would push the pace for these two elite runners? The answer: none. These two would handle it themselves. "My plan was to try to push the pace from the gun," said Schrobilgen. "But Mike rushed to the front and I decided to go with him."
The pace was quick with Lederhouse leading Schrobilgen,
Nathan Mroz
(York, Elmhurst Ill), and
Kevin Proffitt
(North, Downers Grove, Ill) through the first 400 in 61.6 seconds. The pace did not waver as the same four passed through the 800 in 2:05.5 in a single file line.
With 700 meters to go, Lederhouse made the move to break the race open, similar to what he did last week at the DuPage County Meet. Schrobilgen pushed to stay close to the Glenbard runner, but the pace broke both Mroz and Proffitt.
At the gun, Lederhouse had close to a second lead and it looked like he would extend it on Schrobilgen on the back stretch. On the final straight away, Schrobilgen made the final push to get past a tiring Lederhouse and had enough to win: 4:11.44 to 4:12.31. Schrobilgen's closing 400 was 60.6 seconds.
"Today my goal was to run close to 4:10 as possible," said Lederhouse after the race. "The pace kind of lagged the third lap. But, I am so excited about it."
For Schrobilgen, it was redemption for the Oak Park senior in a way. Early during the outdoor season, he lost a pair of races. The first was to
William Hennessy
(Jacobs, Algonquin Ill) at the Gus Scott Invitational. The next week, it was to
Leland Later
(New Trier, Winnetka Ill) at the Bob Cohoon Invitational.
"I really did not know what was going on. I had some injuries in the off season, I think I had some residual effects from it. I was afraid to push it. After that DGS meet, I told my coaches I knew I should be doing better."
The past two weeks he has rebounded. Last week, it was the solo 4:12 at Hinsdale. Then came Friday night's win. "I'm running where I am enjoying it. I am not running scared," he said. "This race tonight was I was either here or I would not be in the competition at the state meet. I feel good about it."
~~ Oak Park's first conference outdoor title since 1987 ~~
Oak Park dominated the team race in Friday WSC-Silver meet outdistancing York by 55 points. It came down to incredible quality and incredible depth.
Tim Hasso's
squad scored in all but one event. It is a good build block for what lies ahead.
"We had three goals at the beginning of the year: win conference, win sectional, and win state. We accomplished one of them tonight," said Hasso. "There is a natural progression in this sport and not to peak too early. The kids are confident. But you might as well erase the leader board after today because none of that matters. One false start, one dropped baton can change the whole thing. The idea is to advance to the next level. Focusing on places and focusing on doing your very best.
The domination started for the Huskies in the field events. Multi all-stater
Carl Heinz
won the High Jump clearing 6-10. He missed at three attempts at 7-1. He moved over to the Triple Jump where he won with a leap of 45-7.5.
Oak Park had six wins on the track which included the wins by Schrobilgen in the 3200 & 1600. In the 4 x 100, Oak Park used a lineup of two sophomores and two juniors to win over Downers Grove North by about a second. The Oak Park time of 41.85 is currently the fastest in the state. The same quartet came back and ran 1:28.27 to win the 4 x 2.
Zach Booth
, a member of both relays, exploded out of the turn to run 22.50 in winning the 200 Meter Dash.
Evan Fisher
withstood a slow first lap and being boxed in for the first 550 meters of the 800 Meter Run. He broke away in the final 100 meters for a 1:58.72 win.
Oak Park is another school that will be in the hunt for a state championship in two weeks in Charleston. They have good quality and some strong relays. That's the recipe that could bring back a trophy to Oak Park.
~~ News of note ~~
Jordan Munar (North, Downers Grove, Ill) dominated the two individual races that he ran on Friday night. He ran 11.12 into a slight headwind to win the 100. He came back in the 400 Meter Dash and won making a strong move with 150 Meters to go to run 49.12 for the distance.
Nick Scarbossa (York, Elmhurst Ill) was one of two event winners for the team runner up Dukes. Scarbossa set a new conference record and took over the state lead in the Pole Vault winning with a clearance of 16-0. Teammate Paul Golen set a personal best in winning the Discus with a throw of 171-7.
Relatively unknown Long Jumper Daniel Hinspeter (Central, Hinsdale Ill) took advantage of state leader Matt Harris' (Lyons Township, LaGrange, Ill) misfortune of fouling on all three of his jumps, to win the event jumping a personal best of 23-0. The Red Devils had other wins by Ryan Daleen in the 110 High Hurdles (15.34), Ryan Callen in the Shot Put (53-10), and their 4 x 8 relay (7:57.10).
Other wins of the night included a 4 x 4 relay title for Glenbard West (3:22.63) and Lino Morgorvic (Lyons Township, LaGrange, Ill) in the 300 Meter Hurdles (39.43).
April, 21, 2012
4/21/12
3:04
AM ET
By
Mike Newman
| ESPN.com
FULL RESULTS
One year ago,
Jordan Munar
was competing on his local soccer club team. On Friday night, the Downers Grove North senior established himself as one of the favorites in the 3A sprints in Charleston with convincing wins in both the 100 & 200 Meter Dashes at the Bob Cohoon Invitational in Downers Grove.
He did have help from a 20 MPH North wind at his back. But after his preliminary performances, this night was destined to be special for him. He had the fastest time in the prelims of the 100 with a time .35 ahead of
Jon Aldrin
of Downers Grove South running 10.78. He came back 15 minutes later in the 200 prelims and laid down a spectacular 21.62, the fastest time so far this season in the state.
Munar broke out of the blocks even with
Tavaris Binion
of Hinsdale South. At 50 meters, he pulled away to run a wind aided 10.64, another state best in all conditions.
Later in the evening, Munar took the blocks against Neuqua Valley's
Jacob Bender
, who had defeated him 45 minutes earlier in the 400. Both runners came out of the turn even and were together with 25 meters to go. Munar, the novice in the event, got a step up on the veteran Bender and nipped by the line by .05 seconds, 21.96 to 22.01.
Still after the 200 race, Munar had not grasped what he had done. He was excited that he won. "When guys come and tell me this track lingo, I don't understand it," Munar said.
The coaching staff of Downers North was raving about the performance of this sprinting "rookie" on this brisk Friday night. "I wish we could have got him out of club soccer 2 years ago" was the consensus of the group.
Neuqua Valley made a big statement in the team competition and stamped themselves as one of the team favorites next month at the state meet. The Wildcats scored in 14 out of 18 events and ran away with the championship on Friday night by 39.75 points over Oak Park-River Forest.
The team is deep. But regardless of how it looks, the spotlight is on Bender, who placed second in the 400 in 2011. The senior was a part of the victorious 4 x 1 relay. In the 400, he bided his time on the back stretch heading into the strong headwind and broke away from the pack in the last 150 meters to defeat South Elgin's
Jeff Broger
and Munar. It was the 200 that had the Neuqua star shaking his head.
"What I wanted to do in the 400 is set myself up for the last 100 where I knew I could outkick a lot of people in the whole state. Especially with this wind, I did not want to risk going out that hard," Bender stated. It was still the 200 that had him shaking his head.
"I really want another chance at it now," Bender continued. "That was my first open loss of the year so it's going to sit in my stomach. I want another shot at it, but I've got to live with it I guess."
While the wind benefitted the sprinters on this cold April evening, it wreaked havoc on a star studded field in the distance events. Some fans were hoping for fast times in the four distance events, the tough north wind would not allow it. It was standing runners up as they ran into it on the back stretch, so tactical racing was the order of the day.
In the 4 x 8 relay, Downers South with
Harry Miles
had a slight lead heading into the final 800 meters over Minooka's
Dan Popek
and Oak Park's
Malachy Schrobilgen.
Popek tried to move away from the Oak Park all-stater but Schrobilgen was stuck on Popek's shoulder. Schrobilgen broke away in the final 20 meters for a quarter of a second win over Popek and Minooka. Downers South ended third. One thing to take note of in this race was that Neuqua Valley placed fourth in this race running freshmen and sophomores.
In the 800 Meter Run, no one wanted to take the lead which left Oak Park's
Evan Fisher
to take the lead with an opening 62.6 400. On the back stretch, Fisher felt Popek and Whitney Young's
Logan Means
on his shoulder. He covered the last 200 in 26.9 seconds to win in 2:01.39, not the time he was hoping for on this night.
"I felt them coming up. I always judge that by the crowd or how the other team is cheering when I come by," Fisher said. "I had enough energy to kick. I ended up coming in with not a bad time in these conditions."
The 1600 & 3200 Meter Runs figured to be the spotlight races with fast times, but hopes of that went out the window with the strong winds.
With no one wanting to take the lead in the 3200, Beecher's
Grant Nykaza
was the sacrificial lamb for the first half of the race as the pace crawled through a 4:49 first mile. At that point, Neuqua's
Mark Derrick
took command of the lead with
Leland Later
of New Trier,
Kevin Proffitt
of Downers Grove North,
Nick Kirk
of Downers Grove South and
Taylor Soltys
of Neuqua Valley close behind.
With 700 meters to go, Soltys passed his teammate with Later following close behind. The gun lap went off at 8:25 and Later charged to the lead with Derrick close behind. Later's speed was no match for Derrick on this day. With a last 400 of 58.3 seconds, the New Trier senior had a 4 second win.
The wind had gotten stronger as the gun went off in the 1600. This meant…no one wanted to push the pace, which was fine for Later. He took the lead at 300 meters into the race with Schrobilgen, Derrick, Minooka's
Joey Santillo
, and Neuqua's
Drew Smith
close behind.
The 2:18 that they passed at the half way point was a pace that was falling into the hands of Later on this night. Schrobilgen seemed content to stay on his rival's shoulder. 3:27 at the gun and then the sprinting began. Later took off and Derrick, Schrobilgen, and Smith followed close behind. At 300 meters to go, Derrick passed Later catching the New Trier runner by surprise. With 200 to go, Later made one final move that no one could keep up with. His final time: 4:26.23 and another finishing 59 second quarter.
"I knew today there was not going to be a lot of fast times. Definitely not a PR in the works probably. It was satisfying to come down here and race against some of the elite guys in the state," Later said after his 1600 win. "I figured since I was coming back in the mile that I did not want to do any unnecessary work. It just played out very well for me."
He continued to describe his 1600. "Before the race I asked coach (
David Wisner
) about my plan. He told me I could do what I want but I do not want you to do all the work up front. But if that is what it takes to get a decent time then that is what should be done. I knew Derrick was very strong. He is a true distance guy. I knew I needed a good final 200 meters to catch him."
Besides the double wins of Munar and Later, the only other double winner was
Carl Heinz
of Oak Park River Forest. He won the Triple Jump with an effort of 44-7. He moved over to the High Jump and dominated the pit winning with a clearance of 6-7, which was not bad on a night like this.
View the 1600 Meter Run here.
April, 11, 2012
4/11/12
10:09
PM ET
By
Mike Newman
| ESPN.com
It was not the worst conditions for the first weekend in April. There have been years where we have not had any meets because there has been snow on the ground. No snow and the athletes responded to the conditions. I think I have said it before and I think I will say it again: can't wait until the end of May.

So while I am dreaming about that blue oval on the campus of Eastern Illinois University, let me give you some of the things that happened on the boys side in the last week.

~~ How high can they go? ~~

Last year at the Hinsdale Relays, Carl Heinz of Oak Park-River Forest cleared 7-0 for the first time in his high jump career. "I was excited to come back here. I had success here last year," Heinz told George Wilcox of Chicago Sun Times / Pioneer Local.

He one upped himself last Saturday. He cleared on his first attempt at 6-10. The bar was raised to 7-0, which he cleared nicely on his second attempt.

The bar was raised to 7-1. On his third attempt, he cleared and the crowd around the pit went crazy. He made 3 attempts at 7-2. Looking at the video, his calf hit the bar each of the three failed attempts. I would not call it failed. But I would say that he is close to making the next step up. The 7-1 clearance ties him for #1 in the nation with Alex Austin (San Marcos, TX).

The only jumper to defeat Heinz so far this year has been Kevin Spejcher of Lake Park. The University of Wisconsin bound High Jumper started off his outdoor season by clearing 6-10 at the Best Four Invitational at Wheaton North.

Like I said, dreaming about the end of May.

~~ Keep an eye on the Jones College Prep distance guys ~~

Last fall at the Detweiller Park, Jones College Prep finished 7th at the 2A state championship with an all underclassman crew. Jamison Dale has been the one runner that has been in the spot light having placed 6th in that race and then a few weeks ago running 4:20 at the IPTT Classic.

He has company now from a few of his friends, especially after some great performances at the Glenbard South Open last Saturday in Glen Ellyn. In the 3200 Meter Run, Dale led a 1-4 Jones sweep. Dale won running 9:28.60. Junior Luke O'Connor finished second running 9:32.0, Junior Kirby Lawson finished third running 9:43.5 with Freshman Kyle Maloney closely behind in 9:47.5.

Dale came back later in the day to win the 1600 in 4:22.7.

Fans this summer will be talking about the possibility of a Belvidere North four-peat. Those fans should take note of this Chicago Public League school.

~~ Some more news and notes from the Belleville West Invitational ~~

I'm glad that I made the trip down to this meet last Friday. Thanks to Patton Seagraves and all the people at Belleville West HS for the hospitality that was given to me . Coming to this meet gave me a chance to see some of the top teams in the state in this high powered invitational. Besides wanting to see the distance races like I always do, I like to see some good relay action.

I was not disappointed last Friday.

East St. Louis-Senior is back. Some impressive performances in the sprint relays against some great competition. The Flyers looked good in the 4 x 1. Their handoffs I would have to say were safe in this race. They still had enough distance to hold off a charging Belleville West squad to run 41.97. They have room to drop their time in thi race even further.

Collinsville won the 4 x 2 with an impressive 1:28.74, but Belleville West Coach Patton Seagraves came running across the infield very excited. Even though the Maroons finished second in this race, Seagraves was more than happy about the 1:29.03 that they ran. "We had two freshman (Romello Hatter & J'Vont Hammond-Williams) running in that relay today," he told me after the race. To show the depth of their team, they did not have 2 of their top sprinters Raymond Scott or Jeremy Randolph in that quartet. It will be interesting to see how this team improves during the season.

Cahokia looked so strong in the 4x4. Hard to say if anyone in 2A will touch them in this race if they are running 3:20 this early in the season. In the 4x8, take a look at the splits that they ran last Friday: (2:02, 1:58.6, 2:03.5, 1:56.5). Belleville West had command of the race until that last leg. I believe Darren Payton anchored for the Comanches. They will contend also in May in this relay.

~~ Some more on Arcadia ~~

Some of the neat splits that the people at EPI sports gave for this meet:

800m

7 Will Crocker 12 Belvidere N (Il) 1:52.66

55.40 (55.40),1:52.66 (57.27)

1 Mile Run

2 Luke Zygmunt 12 Grayslake Cen(IL 4:14.90

1:04.14 (1:04.14),2:06.46 (1:02.32),3:10.19 (1:03.73),1500-3:57.31 (47.13),4:14.90 (17.59)

7 Will Brewster 12 Grayslake Cen(IL 4:15.77

1:04.99 (1:04.99),2:09.05 (1:04.06),3:13.42 (1:04.38),1500-4:00.60 (47.19),4:15.77 (15.17)

9 Garrett Lee 11 Belvidere N (Il) 4:17.75

1:04.93 (1:04.93),2:09.25 (1:04.33),3:13.76 (1:04.51),1500-4:01.93 (48.18),4:17.75 (15.83)

3200 Meter Run

5 Michael Clevenger 12 MacArthurGen(IL) 8:54.12

67.14 (67.14),2:19.54 (72.40),3:27.31 (67.78),4:34.49 (67.19),5:41.26 (66.77),6:49.60 (68.34),7:54.97 (65.38),3K-8:25.45 (30.49),8:54.12 (28.67)

11 Leland Later 12 New Trier (Il) 8:55.61

66.08 (66.08),2:18.52 (72.45),3:26.82 (68.30),4:34.68 (67.87),5:41.40 (66.72),6:49.55 (68.15),7:55.45 (65.91),3K-8:26.17 (30.73),8:55.61 (29.44)

12 Jack Keelan 11 St.Ignatius (Il) 8:55.86

66.43 (66.43),2:20.38 (73.95),3:27.96 (67.59),4:35.13 (67.18),5:41.68 (66.55),6:49.76 (68.09),7:55.69 (65.93),3K-8:26.45 (30.77),8:55.86 (29.41)

21 Tyler Yunk 11 Belvidere N (Il) 9:03.09

66.88 (66.88),2:20.29 (73.42),3:27.62 (67.34),4:34.23 (66.62),5:41.78 (67.55),6:50.70 (68.92),7:59.22 (68.53),3K-8:32.52 (33.30),9:03.09 (30.58)

Great job guys!

~~ Let's try something different ~~

Something that I would like to see in more of the dual meets that are out there are coaches taking chances and trying different things.

Last May, I went to a triangular with district rivals Metea Valley, Neuqua Valley, and Waubonsie Valley putting the majority of their distance runners in the 3200 Meter Run. Many of the runners in that race achieved PR's.

Last Saturday, York and Palatine put together a great Distance Medley.

The track geek that I am, I would love to see some more different things tried. What about a 4 x 1 Mile? Or even a Sprint Medley?

My one wish would be having a Distance Medley at the Midwest Distance Gala. I would be great to see the top teams in Illinois battling it out for the championship in a race like that. Make it a big deal. Get the top schools there. See O'Fallon battle Palatine. The matchups are endless.

With my imagination running wild, what would a Neuqua Valley team look like? Would you run Jacob Bender in the 800 with Julius Garcia running the 400, or do you keep Bender in the 400? They would be a team that I think could run sub 10:10 right now.

I guess my dreams will be dreams right now. Anyone want to take a chance and make them a reality?

~~ Coming up this weekend ~~

This is the first weekend where we will have great meets on both Friday and Saturday. Have not decided where I will be. So many to choose from. Here are some of the meets to watch for this weekend. Sorry if I missed your meet if it is not included here:

Thursday:

Fremd Throwers Invitational

Patriot Relays @ Stevenson

Friday

Al Joyner Relays @ East St. Louis

Galesburg Invitational

Granite City Invitational

Gus Scott Invitational @ Naperville North

Lee Farmer Invitational @ Proviso East

Matt Wulf Invitational @ Yorkville

Minooka Invitational

Orphan Relays @ Centralia

Ottawa ABC Meet

Saturday

Bartlett Invitational @ Streamwood

BATE Invitational @ Buffalo Grove

Bud Mohns Invitational @ Downers Grove South

Capitol City Classic @ Springfield

Freeport Invitational @ Freeport

Geneva Invitational

Haake Invitational @ Glenbard West

Homewood-Flossmoor Invitational

Hub Relays @ Rochelle

John Bell Invitational @ West Aurora

Metea Valley Invitational

Palatine City Challenge (Palatine/Fremd) @ Palatine

Urbana Open

GOOD LUCK TO ALL THIS WEEKEND!

~~ And Finally ~~

Luke Decker is a Sophomore on the track team that is a co-op between the schools of Palestine and Hutsonville HS located in southern Illinois. On Tuesday while running the 3200 Meter Run, medics said that Decker had basically had a heart attack while running the race.

Doctors at the hospital said that this young man is going to be okay, but was moved to Indianapolis to have some tests run on him.

This is a close knit community.The school enrollment at Palestine is 106 students. Hutsonville has an enrollment of 110 students. There are only 17 members on the boys track team. So when something like this happens, it is mind numbing especially to some one young like this.

All we can hope is that there is recovery in Luke and that there is recovery in the school and the community. Our thoughts and prayers are with him, his family, and everyone in the Palestine and Hutsonville communities.

I wish I could say more on this. All I know is that sometime we take granted some of the things that are given to us. Completing a competition is a blessing. There are sometimes where we think it is a given that we will finish the race.

Thank you to Blake Hale of Robinson HS for alerting everyone to this on his Facebook account. Hopefully, we will get some great news soon on Luke. It would be great to see him back on the track and going after personal bests.