High-SchoolTrack-and-XC:

edward cheserek
December, 8, 2011
12/08/11
12:19
AM ET
By
Doug Binder
| ESPN.com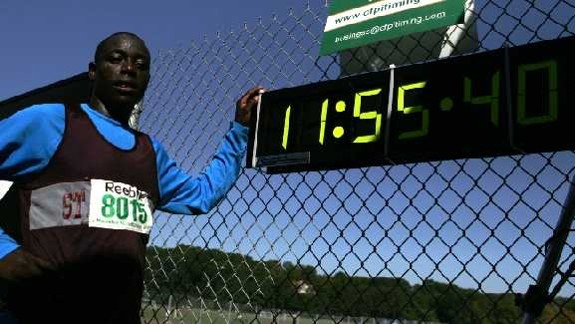 John Nepolitan/ESPNHSEdward Cheserek poses with his winning course-record time at the Oct. 9 Manhattan Invitational at Van Cortlandt Park in New York.
Edward Cheserek
touched down in San Diego late Tuesday, arriving early with St. Benedict's Prep School coach
Marty Hannon
in order to prepare for Saturday's
Foot Locker finals
.
Cheserek's 2011 cross country season has been nothing short of spectacular. The junior from Kenya's Rift Valley is in his second year as a student in the U.S. – and this fall has broken seven course records in seven races.
If Cheserek goes 8-for-8 and breaks
Reuben Reina's
1985 Balboa Park record of 14:36 the achievement will surely go down as one of the greatest in prep cross country history. So far this season, Cheserek's closest race was a 24.9-second win in the Foot Locker Northeast regional.
The clock, and each course, served as motivation when competition was absent.
"I try to keep myself motivated all the time," Cheserek said. "Last year, I had lots of competition. This year there is not as much."
On Saturday, Cheserek knows there will be competition. He will race
Futsum Zeinasellassie
of North Central (Indianapolis, Ind.), the Nike Cross Nationals champion, for the first time.
"For me, in my mind, I would like to win and get the course record," Cheserek said. "But Futsum is a great runner, so it will not be easy."
Season in review
The groundwork for Cheserek's course records assault began over a summer that included highs and lows. He strengthened his friendship with the
Rosa twins, Jim and Joe
, and went on training runs with them at New Jersey's famed Holmdel Park. He also
attended the Nike Elite camp in Oregon, getting a chance to socialize and make friends with some of the top runners in the country. And he continues to become more sophisticated with his approach to training. He bumped his mileage up to about 55 per week.
But the summer also held bad news and heartbreak. Cheserek's father died in Kenya. He made a trip home to be with his family, but the visit was short – just three days.
"It was a very difficult time for me," he said.
Back at school in Newark, N.J., Cheserek poured his energy into his training – and began one of the most impressive cross country campaigns ever.
Sept. 24, Garret Mountain Reservation (N.J.):
After bypassing an early-season meet, Cheserek opened his season by running on familiar ground at the Passaic Coaches Invitational. Garret Mountain is not far from Newark and he has done training runs there occasionally. From the starting gun, he took off and left the field behind, hitting the first mile in a scorching 4:25.
"I knew when I came through two miles in 9:25, I could get (the record)," he said. "With 800 meters to go, I sprinted."
Final time: 14:53, the first under 15 minutes on the layout.
Oct. 1, Holmdel Park (N.J.):
Holmdel Park is hallowed ground in the state of New Jersey because it is the site of not only the Shore Coaches Invitational, but also the Meet of Champions. It is the ultimate measuring stick for high school cross country in the Garden State and has been for many years.
Cheserek had never raced at Holmdel before, but he was certainly aware of his friend Joe Rosa's 2009 record of 14:56.
"This course is really tough," Cheserek said. "I wanted to see what I can do on it."
He peeled three seconds off Rosa's time, running 14:53.
As Cheserek met to answer questions from Star-Ledger newspaper reporter
Jim Lambert
, "there were 100 kids around the interview," Hannon said.
Lambert reported that Cheserek went through the challenging uphill first mile in 5:01, six seconds ahead of Rosa's record pace.
"He was signing autographs and was very happy with his performance," the St. Benedict's coach said. "He was also cognizant of Joe Rosa and the time he spent with him over the summer. So I think he had some mixed feelings about breaking a friend's record."
Oct. 9, Van Cortlandt Park (N.Y.):
The Manhattan Invitational, held on one of the most historic courses in the U.S., arrived on an unusual day – much to Cheserek's liking. With temperatures in the mid 80s, he tore out after the first sub-12 minute time in history on the 2.5-mile course.
Cheserek accomplished the feat, running 11:55.4 to win the Eastern States championship by nearly 26 seconds. Again he bettered a Joe Rosa record, this time by more than eight seconds. At the 2010 meet, one of Cheserek's first in the U.S., he had finished second to Jim Rosa.
"He knew the course a little bit better this year," Hannon said. "Having broken (the record) at Holmdel, I think he had a lot of confidence. He got out well, had some people with him through the woods and then poured it on at the end."
Said Cheserek: "That course is hard. There are more hills. But you can sprint at the end of it."
Oct. 15, Goddard State Park (R.I.):
Traveling outside of the New York City metro area for the first time, Cheserek made a return to the Brown Invitational, where he had missed the course record (15:00.5, Cory Thorne in 2004) by three-tenths of a second in 2010.
Conditions were far from perfect.
"We went up Friday and jogged (the course). It had rained heavily and we were concerned there would be mud puddles. It was in much better shape by the time of the race," Hannon said.
Meet organizers put hay down over the soggiest points on the course to help with footing. But it was quickly apparent that the wet track wouldn't slow down Cheserek.
"The Brown Invitational was the most shocking (record) to me, to be honest," Hannon said. "We thought he might get it by five or 10 seconds – but he broke it by 25 seconds."
Cheserek finished in 14:34.6.
"I didn't think I was going fast like that because it was a muddy course," he said. Yet once again, he knew by the two-mile mark that he had the record. He won the race by nearly 47 seconds over fellow Foot Locker finalist
Joel Hubbard
of Massachusetts.
Oct. 28, Brookdale Park (N.J.):
Flat and fast like a road race, Cheserek let it rip –hammering out a first mile in 4:28 and a second mile in 4:48 – on the way to 14:20.0 at the Essex County Championships.
He knocked 22 seconds off his own course record from 2010 and lowered it to a realm where it may be untouchable by anybody else. He won by 44 seconds – over another Foot Locker finalist
Blake Udland
of New Jersey – and produced one of the fastest prep 5K times anywhere.
After the race, he complained of a bothersome twinge in his hamstring, which caused him to hold back a bit.
"He's got a lot of speed," Hannon said. "When he first came to us we thought he was probably more of a 10K guy."
Last spring's 4:03 mile on the track, a sophomore class record, suggested otherwise.
Nov.5, Warinanco Park (N.J.):
In 2010, Cheserek beat a 22-year-old course record by 10 seconds. Coming back to the New Jersey Catholic Track Conference championships, and running all alone yet again, he kept the record streak alive, but just barely.
Cheserek ran 4:50 for the first mile and 4:40 for the second and completed the 5,250-meter course in 15:18.2 –three-tenths of a second ahead of his 2010 time. Warinanco isn't his favorite place to run, he said, because stretches of the course are paved. He prefers softer surfaces.
Nov. 26, Sunken Meadow State Park (N.Y.):
On the north shore of Long Island, a rested and ready Cheserek intended, first and foremost, to qualify for the Foot Locker Finals.
But the course record dangled like a carrot and Cheserek couldn't resist trying to keep his streak alive.
John Gregorek
, who would go on to represent the U.S. at two Olympic Games, held the record of 15:32.3 since 1977. Cheserek said he did not give an all-out effort, but merely wanted to qualify for the trip to San Diego. He finished in 15:20.5.
Hannon had instructed him to go conservatively for the first mile, a strategy designed to ensure a win but not necessarily a record.
"I told him after the first mile, if you feel good, then you can take off," the coach said.
Cheserek listened to his coach, and went through the mile in 4:52.
"It was exciting to get the record, but it wasn't really my best (effort). I was aiming only to qualify," he said.
Is an eighth course record in the cards?
Hannon said he tries to keep a lid on expectations that rise so high, but this fall they have been difficult to contain.
"I think we all feed off other people's expectations sometimes," he said. "But I don't like that stuff. I tell everybody I talk to that it's not a given (he's) going to win Foot Locker. Everyone goes to the starting line even."
The number to keep in mind on Saturday is 14:36 – a standard that has been on the books since Reina, a Texan, led nine runners under 15 minutes 26 years ago.
December, 4, 2011
12/04/11
2:16
AM ET
By
Doug Binder
| ESPN.com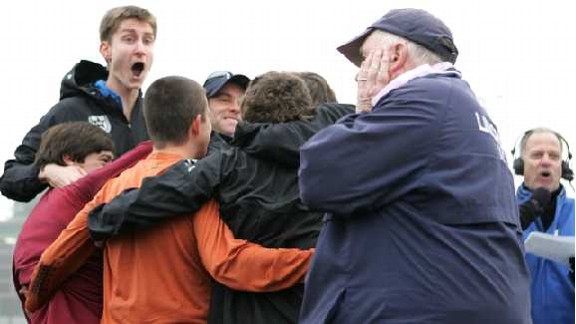 John Nepolitan/ESPNHSGeorge Kelly (top left) and Christian Brothers Academy NJ react to the announcement that they have won the NXN championship by four points.
PORTLAND –
Futsum Zeinasellassie
and the
Christian Brothers Academy
NJ ruled the day and walked off the Nike stage wearing "Champions" jackets at Portland Meadows.
Zeinasellassie broke the course record by running by 15:03 and set the table for a blockbuster showdown with
Edward Cheserek
at the Foot Locker Finals in San Diego on Dec. 10.
But it was the team race between CBA (Lincroft XC) and worthy contender
Southlake Carroll
TX that produced the most dramatic moments of Saturday's
Nike Cross Nationals
– a frenzied final kilometer and a four-point victory (95-91) for CBA and legendary coach
Tom Heath
.
"This is the biggest moment in CBA cross," Heath said. "It's an incredible achievement."
It was all the more incredible for how it played out over 5,000 meters of semi-squishy terrain. The Texans rolled the dice and went out fast from the gun, hurtling themselves to the front of the pack early. At the 1-kilometer split, Southlake Carroll was up on CBA 38 to 120.
"We knew we had to get out that first 400 and to be in the top pack if we had a chance of winning this," Carroll's
Jordan Chavez
said. "We knew from past experiences here that if you don't get in that front pack it's going to be tough to pass throughout the race."
Getting out fast is a workable theory with a lot of merit, but it also has consequences.
With each passing kilometer, CBA kept getting closer. The score was 64-111 at 2K and 92-106 at 3K. Southlake Carroll had an 85-101 advantage at 4,000 meters.
CBA's mission all along was to remain a bit more conservative early and close with a rush late. That strategy worked. Knowing that their team was trailing,
George Kelly
,
Jack Boyle
and
Tim Gorman
rallied and picked up valuable points.
CBA moved up late
And the difference in the teams' No. 3s was the most revealing. Gorman closed in 3:01.10 over the final 1,000 meters and finished 36th overall in 15:54.46. Southlake Carroll's No. 3,
Alexander Johansson
, closed in 3:09.06 to finish 47th in 15:59.16.
"We told them in the first K to get out, and they did pretty well, but not as well as Carroll did," Heath said. "After the moguls there's a good patch where they can really move. And from there it was a battle."
CBA's cumulative time of 79:58 was one second faster than Southlake Carroll's.
The fastest mover early on was
Nick Ryan
of
Fayetteville-Manlius
NY, who had seven seconds on the entire field after the first split. Ryan's gambit at the front was intended to inspire his team and create a sense of shock among the leaders.
Ryan held up pretty well. He finished fifth overall and was the only runner in the top 19 who was connected to team. Fayetteville-Manlius finished 12th, however.
Futsum ran away with it
Zeinasellassie, a senior from
North Central
of Indiana, remained calm and controlled. He pulled up alongside Ryan before the 3K mark and then moved past him. And then he surged and left everyone behind him.
Zeinasellassie ran the third kilometer almost 10 seconds faster than anyone else in the race (3:16.42) and the fourth kilometer eight seconds faster than anyone else.
The winner made a point of thanking his coach, his teammates and his parents before moving into questions about his race and the challenge of facing Cheserek next week for the first time.
"When I caught up to (Ryan) I had a good lead on the pack I didn't want to slow down so I just picked it up and kept going," he said.
Zeinasellassie, who was born in Eritrea, won the NXN Midwest and Foot Locker Midwest regionals with measured efforts, knowing that he had to run more times than Cheserek before their eventual showdown.
As he was going over the final set of hay bales, he heard that he was in range of
Craig Lutz's
course record and so he pushed himself to go after it.
He now has a chance to match
Lukas Verzbicas
' historic NXN-Foot Locker double in 2010.
"I wanted to relax as much as I could and I was hoping for an easy win but it wasn't," Zeinasellassie said. "I went all out but winning this race has given me a lot of confidence. I've still got one more, but I've got one in my bag. I've won a national race."
Also finishing strong were Texan individual qualifiers
Daniel Vertiz
(15:26.4) and
Craig Nowak
(15:26.7), who were second and third overall. Both of them are doubling back to San Diego next week also and both felt good about the way they finished. Nowak (2:52.04) ran the fastest fifth kilometer and Vertiz (2:53.95) was second-fastest.
Izaic Yorks
of Lakes WA also had a strong kick and placed fourth (15:29.9), three spots ahead of the in-state rival who had beaten him three times in the past month, Kamiakin WA's
Anthony Armstrong
(15:31.4).
Jonah Diaz
of Palos Verdes CA was sixth and
Jake Leingang
of Bismarck NC was eighth. Rapid City SD's
Tony Smoragiewicz
, the top returning finisher from 2010, was 11th.
Beyond CBA and Southlake Carroll – the third and fourth teams in NXN history to score less than 100 points –
Davis
UT finished third (157) and
Arcadia
CA was fourth (184). The 5-8 spots were separated by just six points: At-large qualifier
Palatine
IL was fifth (255),
American Fork
UT was sixth (256),
North Central
WA was seventh (259) and newcomer
Arrowhead
WI was eighth (261).
October, 31, 2011
10/31/11
1:58
PM ET
Fourteen states conducted state meets on Saturday, making it the biggest weekend of the season so far.
This week there are 18 more state meets.
Here is a look at the action over the weekend, starting in New England, where a huge Nor'easter swept in and dumped a lot of pre-Halloween snow.
State meets in
Maine
,
New Hampshire
,
Vermont
and Rhode Island were spared the snow -- ducking under the wire before the storm hit.
The storm was in
Connecticut
by Saturday morning and races were conducted in white-out conditions. Check out
this Hartford Courant resport,
which quotes Glastonbury's
Reid Watson
saying she had to squint through the race to keep the snow and bright reflected light out of her eyes. Some of the races were originally postponed to Monday, but power outages are preventing them from happening today, either.
Working our way west, in
West Virginia
,
Maggie Drazba
set a record and
Jacob Burcham
did his thing.
In
Indiana
, it was
Futsum Zeinasellassie's
time to shine, breaking a course record held by
Lukas Verzbicas
on the way to his third state title. Plus the US#6 Carmel girls and US#6 Columbus North boys rolled.
In
Wisconsin
,
Molly Seidel
was a scene-stealer, breaking her own meet record. You should know that when we entered her 4K time into the TFX rankings system, we were met with a warning. Are you sure? (Her 13:39 is faster than the parameters we have set, prompting a warning).
In
Iowa
, it's all about Dowling Catholic, which swept the team titles.
In
Oklahoma
,
Arya Bahreini
of Edmonds Santa Fe posted an impressive win.
In
Kansas
,
Jacob Morgan
won his second straight title for Washburn Rural.
There was a blockbuster girls race in
Colorado
and Monarch emerged on top of the 5A heap and
Jordyn Colter
won the individual title as a freshman. The Fort Collins boys and Classical Academy girls (3A) also were headliners at the Arapahoe County Fairgrounds.
In
Idaho
, the era of seniors
Emily Nist
and
Dallin Farnsworth
reach their zenith. Nist won her third title, Farnsworth his second.
And in
Hawaii
, on the beautiful island of Maui, the Hawaii Preparatory girls and Leilehua boys won titles.
Also, US#1
Edward Cheserek
conquered yet another course record, this time at the
Essex County Championships
.
October, 21, 2011
10/21/11
6:33
PM ET
Steve Underwood was obviously impressed by Julie Macedo's big win at the Joe O'Neill Invitational in Delaware.
Macedo, who was unranked and coming off a broken leg
suffered during outdoor track season, continued to build on an already sterling season with a 16:55.3 victory, her second sub-17 this season. The senior from Charter School of Wilmington DE beat a field that included Tatnall's Haley Pierce by 40 seconds.
Macedo rose from 4 to 1 in
the girls Top 25 rankings issued by Steve U
.
There were some minor tweaks to this week's
boys Top 25 rankings
, but Edward Cheserek of St. Benedict's NJ has a firm grip on No. 1.
October, 13, 2011
10/13/11
6:40
PM ET
Special thanks to guest host/interviewer
Nicole Blood
for taking time out of her schedule to help us out at Van Cortlandt Park on Sunday. Is it too early to call her a New York running legend?
Here is a rundown of the videos from
the Manhattan Invitational
, where a bunch of No. 1s -- CBA, F-M and
Edward Cheserek
-- did work.
The
Eastern States boys
wrap-up. The
Eastern States girls
wrap-up. In addition to Blood, photographer
John Nepolitan
and videographer
Moses Galindo
documented the meet.
Here is the line-up of post-race interviews:
The man himself,
Edward Cheserek
.
Christian Brothers Academy ring-leader
George Kelly
.
Coach
Bill Aris
and the fabulous
Fayetteville-Manlius girls
, including
Jillian Fanning
, the overall race winner.
The mega-watt sophomore from Bronxville NY,
Mary Cain
.
And talented North Shore NY standout
Brianna Nerud
.
October, 3, 2011
10/03/11
2:02
AM ET
For the second week,
Edward Cheserek
ran not only to win but also make a statement. The St. Benedict's junior ran 14:53 on the 5K course at Holmdel (N.J.) at the
Shore Coaches Invitational
, a massive undertaking with 26 races. The next five runners behind Cheserek (competing without a team) were all from
US#1 Christian Brothers Academy
. Yep, they scored 15 points.
John Nepolitan
covered the meet for Dyestat with his camera lens.
At the
Great American Cross Country Festival
in North Carolina, there was a pretty big upset in the boys Race of Champions, where Holy Trinity FL's unranked
Daniel Moore
flew past US#4
Jacob Burcham
and set a course record of 14:57.6. In the process, Moore erased a record held by
Alan Webb
. Cardinal O'Hara PA won the team title with 119 points, followed by Great Oak CA with 129. On the girls side of things,
Wesley Frazier
won the University Race of Champions on Friday (17:41) and
Haley Pierce
won the high school ROC on Saturday in 17:32.1. Meanwhile, Saratoga Springs got the better of Pierce's Tatnall DE team, 64-72 for the title.
In Yakima, Wash. at the
38th Sunfair Invitational
, Northwest power was on display. Glacier Peak WA's
Amy-Eloise Neale tore away
from North Central WA's
Katie Knight
late and smashed the three-mile course record with a stunning 17:03.9 -- taking down a
Brie Felnagle
record. Glacier Peak also won the flighted team competition with 18, with surprising Camas WA next with 25.
Anthony Armstrong
of Kamiakin WA won a marquee matchup with Mead WA's
Andrew Gardner
as both went under 15:10.
At
the Paul Short Invitational
in Pennsylvania,
Julie Macedo
showed there was nothing flukey about her sub-17 a week earlier. She ran 17:26 for the win and won by 28 seconds.
At the
Desert Twilight Festival
in Gilbert, Ariz., Cibola AZ's
Bernie Montoya
ran 15:02.6 to win the boys race and
Sarah Fakler
of Xavier AZ clocked 17:30.9 to beat the girls field by 30 seconds.
At the
flrunners.com Invite
in Titusville, Fla.,
Josh Brickell
from Peachtree Ridge GA (15:02.14) and
Olivia Ortiz
of Lakewood Ranch FL (17:35.82) were the individual winners.
At the
Wendy's Invite
in North Carolina,
Darcy Middlebrook
of Watauga NC led wire to wire and won the girls invitational race in 17:36. Hardin Valley NC brothers
Will and Aaron Templeton
recorded two of the three fastest times of the day in the open race.
At the
Harrier Classic
in Albany, Ore., the US#15
Summit
OR girls put all five of its scorers between 17:53 and 18:47 on a flat 5K course.
Check out the photo album that
Kirsten Leetch
put together at the
Palos Verdes Invitational
for DyestatCal.
And lastly, there was a state meet on Saturday. It starts getting cold early up in
Alaska
, where the Service boys and Wasilla girls repeated their Class 4A titles. Meanwhile, it was a rough ending for talented freshman
Allie Ostrander
of Kenai. She collapsed at about 4K and walked to the finish line. Here's hoping she comes down to the Lower 48 for one more race.
September, 29, 2011
9/29/11
6:54
PM ET
Steve Underwood
released his weekly individual rankings today, and while he allowed
the boys list
to simmer, without much significant movement, he gave
the girls list
a stir.
A couple of highly ranked preseason athletes,
Sarah Baxter
and
Haley Pierce
, dropped out because they haven't competed yet this season. Both are reportedly on the mend from injuries, but will have to work their way back into the rankings. Campolindo CA's
Carrie Verdon
rocketed up the list from 18 to 6 on the heels of her 16:59 performance at Stanford. And
Julie Macedo
moved from 20 to 7 after running 16:53. (Macedo wasn't in
the preseason Top 25
).
There were no changes in the top 16 on the boys list. Even
Edward Cheserek's
course-record season debut at Garret Mtn. didn't move him past
Futsum Zeinasellassie
. So Cheserek is No. 2, at least for now.
September, 27, 2011
9/27/11
2:26
PM ET
September, 26, 2011
9/26/11
3:39
AM ET
Another week of full tilt cross country action across the country brought a few more grand entrances into the 2011 season.
You sort of had a feeling that after
Futsum Zeinasellassie
grabbed headlines with an impressive run last week that
Edward Cheserek
was not going start the season with a whimper. Quite the contrary. Cheserek broke the Garret Mountain (N.J.) course record by a whopping 22 seconds on Saturday, running 14:53 at the
Passaic Coaches Invitational
. He won the race by 107 seconds!
Meanwhile, US#1
Christian Brothers Academy
(N.J.) also started with a bang, winning the
Bowdoin Park Classic
in New York, sticking four in the top 10. The girls from US#6
Saratoga Springs
, N.Y. got out of the gate fast, too, scoring 17 points at
Queensbury
.
Out West, reigning national champ Arcadia continued its hot streak by winning the boys title at the
Bob Firman Invitational
at Eagle Island State Park on the outskirts of Boise, Idaho.
Doug Binder's meet story
is here details the team wins by Arcadia and the upstart Skyline (UT) girls, plus dominant wins for
Dallin Farnsworth
and
Katie Knight
. Special thanks to
Gregg Mizuta
for sharing his photos.
In Portland, Aloha High School hosted the
Nike Pre-Nationals
, where Washingtonians Maddie Meyers and Jacob Smith took care of business in the Jim Danner championship races. Gig Harbor of Washington won the boys title and Redondo Beach had its No. 6 runner to thank for breaking a tie with Mountain View (Idaho) for the girls title.
At Stanford
,
Carrie Verdon
of Campolindo ran the fastest time of the day for the girls, a blistering 16:59 in the D3 race. That was faster than Glacier Peak WA's
Amy Eloise-Neale's
17:09, which won the seeded race.
Darren Fahy
of La Costa Canyon was also sensational, running 14:54. Check out the coverage on
DyestatCal
.
The US#3
Carmel
girls (and boys) dominated the action at
Culver Academies Invitational
.
Julie Macedo
of Wilmington Charter (Del.) ran a stunningly fast 16:53 5K to win the
Six Flags Wild Safari Invitational
in Jackson, N.J., gapping the field by a full minute.
On the three-mile course at Deer Grove (Ill.), host
Palatine
won the boys meet and Assumption took the girls title. Lake Park's
Kaylee Flanagan
broke the course record, running 16:51.3.
In New Hampshire,
Mike Marsella
of Chariho (R.I.) ran 15:35 to win the
Manchester Invitational
.
September, 14, 2011
9/14/11
3:30
PM ET
Edward Cheserek
hasn't run yet, but he remains firm grasp of the No. 1 ranking in
Steve U's individual rankings
for Sept. 14.
Mike Marsella
of Rhode Island's Chariho High School, and
Robert Domanic
of Texas' Hebron High are the week's biggest movers, entering the rankings at Nos. 16 and 17.
Girls rankings ... are pending.